M.F.S.D
Harlem Richard$ -M.F.S.D (Money,Fame,Sex,Drugs)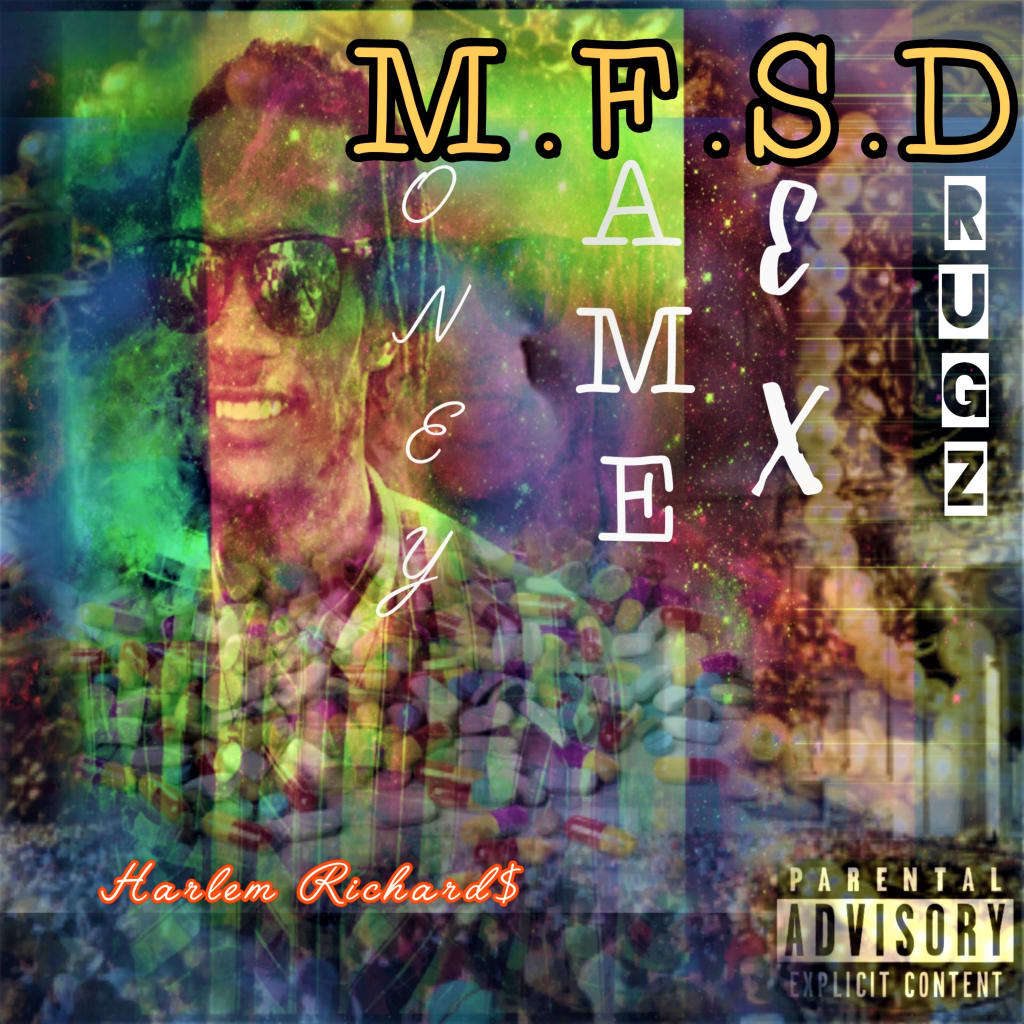 M.F.S.D out now
Title M.F.S.D
Jamaican rapper, singer and producer Harlem Richard$ just started his music career and is already making headlines. From being featured on billboard hiphop charts to dropping his debute album "M.F.S.D" Money, Fame, Sex, Drugs. Giving the world a new sound thats unexpected from a Jamaican artist. A true fuscion of rap,hip hop, and R&B.
The album to date has generated 10000000 streams to date on all streaming platform which is a great achievement for an indenpendent artist coming from the small caribbean island of jamaica .
The biggest hits to date off the album so far" INDEPENDENT " JEZEBEL " Angel on my Shoulder " Poppin Pills " Zodiac " Serve In Heaven & the album titled single M.F.S.D are most trending songs of the album and two of those songs has hit the billboards hip hop charts for 2022 .
Now touring the world to promote his new hit album Harlem Richard$ has headlined in america,Untied Kingdom,Lagos,Kenya And Spain, making it into the mainstream on his first try ,is a true story worth reading and sharing with friends.
A breif history on who is Harlem Richard$ born April 8th 1994 is son to Marcia Richards and four brothers and four sisters hail from the caribbean island of jamaica.
Jamacia is known for it's Dancehall and Reggae fused music so it's a surprize to find an artist such as Harlem Richard$ a singer and rapper with the gift to bring melodies and flow like no other . The music created is a perfect fusion of Hip Hop ,Rap and R&B , Harlem Richard$ was exposed to music at an early age he always wanted to be a rapper ,singer says his mother when asked about him and when Harlem Richard$ was asked who is his motivation he replied in interview " my mother and my fans are the reason i do it to make them proud .
Here Is an interview with Harle Richard$ to know more about him and his music
"What 1st drew you used to do music?
Mixcraft
Tell us a little bit about yourself. Your (music) background?
I'm a rapper, singer from Jamaica my music is a fusion of Hip Hop , Rap, R&B, and Dancehall to give it that international feel.
Do you write your own music, or do you collaborate?
I write and produce all my songs by myself.
You just released a new album M.F.S.D., is there a special meaning behind the acronym?
The meaning to M.F.S.D '" is Money, Fame, Sex, Drugs"
Were there any challenging aspects to writing and/or recording the album?
The album was all fun no problem to doing it came natural for me I love music
In terms of the overall composition, do you have a favorite song on the album and why?
The energy to create songs and albums comes from the universe I only put it in words, I do drugs, meditations, Yoga
You have an impressive discography. Where did the ideas come from? What is your creative process like?
The song I like most is the opening song on the album titled M.F.S.D, it's my favorite cause the of melody, lyrics and flow.
This artist is one to be great coming from a place where you may never have heard of but sure you'll hear about the rising star Harlem Richard$ and his hit album M.F.S.D the first ever Hip Hop album to be featured on billboards hip hop album charts for 2022 by an jamacian artist debuting at # 4 and still active with more chats and trend surrounding the hype and buzz created by this unknown artist truly is a story one in a million .
About the Creator
I'm a creator ,an indepenpent record label from the caribbean showcasing the undiscovered talents in the hidden islands
Reader insights
Be the first to share your insights about this piece.
Add your insights