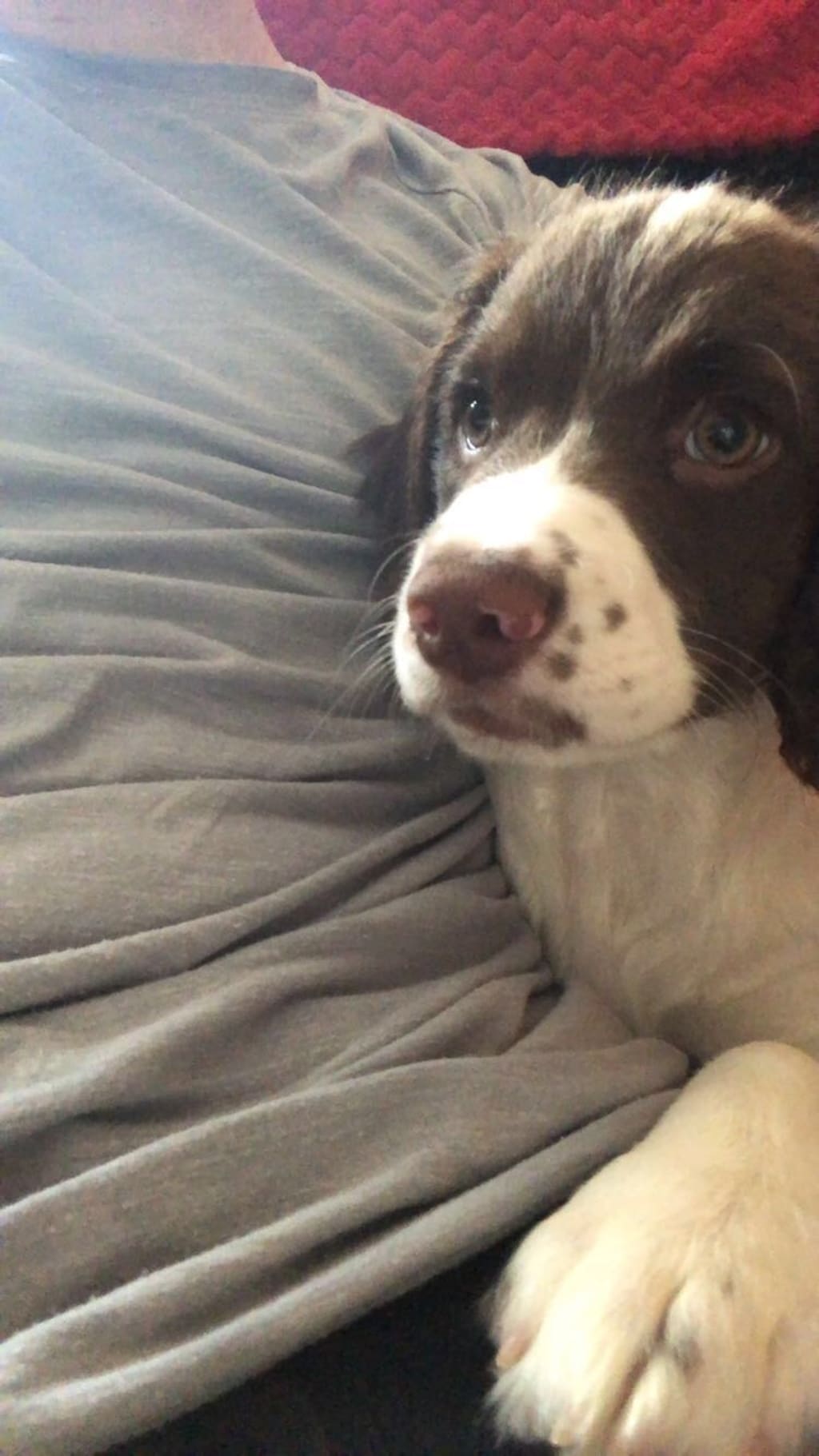 Here's a picture of my Pup. Because you've already seen enough doom and gloom photos in the news at the moment.
I'm writing this to everyone in the world right now. It's taken me a good month to finally have something click in my head, but it's happened. It randomly happened at 11pm as I sat down and thought about what the year was like on January 1st. This year for many people was supposed to be their big year, and now something has taken over that most likely won't happen on this scale ever again.
In times like this it's important that you set yourself goals and something to get out of bed for. It's also a perfect time to do things you never had the time to do before the world went crazy. Read those books, write that screenplay, learn a new skill or even just finish those video games you bought but never had the time to fully play. Anything that makes you feel achieved and happy, do it. Try to workout for at half an hour a day if possible, to keep your mind positive and your body healthy.
Make sure you check on your neighbour. Ask them if they need anything from the shop or just ask if they want to talk on the phone. Make the most of that 1 hour of exercise you're aloud. Spend the hour walking, or go for a jog and aim for that personal best time or personal best distance.
If you're off work, or even out of a job completely, don't let that get you down. Practice your trade so when you do finally get back to work you'll be even better than before. If you have a lost a job that you wasn't fully happy with, take the time to think about what career you want to do for the rest of your life and make a plan on how you want to reach that career. You've got all the time in the world at the moment to think about these things. Watch the news once a day for updates, but stay away from the media for the most parts as that wont help your mental mindset.
Listen to Music.......ALL THE TIME!
Listening to music in lockdown has been the key to me getting out of my bed and still doing workouts and running even when I've not actually been doing anything else productive.
I listen to music as soon as I wake up to get me in the mood for my early morning run. It works a treat at getting you motivated as long as you listen to right music (subject to personal taste). I stay away from sad songs in times like this. I'll provide a list below of some of my favourite songs that I listen to during my workouts and runs or just in general to keep me in a good mood.
These are all on soundcloud.
1. Quintino x cheat codes - Can't fight it
2. Pusha T & Kanye West - New God Flow
3. Joel Corry - Lonely (Absolute BANGER)
4. Take me back - Nadia Lucy & Ali B - S3AN J4Y remix
5. Lucky Luke- LYD
6. WHTKD - Not Missing u
7. Yola Recoba - Wicked Game
8. Sigma - Stay (Kat Krazy Remix)
There's an endless list of songs I listen to and I would happily make a full post on all my favourite songs for different occasions.
All my liked songs are on my soundcloud. Joshua-Collinson-1
Working Out has never been more important than right now !
Working out is always very important, and everyone should try and make time a few times a week to get some exercise done in order to feel good and stay healthy. But right now, it should be essential that everyone works out regularly as popssible and gets the correct nutrition, so if they do catch this horrible virus, or any other illness, their body will have a better chance at fighting it off.
Working out in times like this will also keep your mind positive, which is also essential for good health. If you don't know how to work out from home, I recommend a channel called 'ThenX', they have countless amount of videos explaining workouts and circuits you can do at home to improve your strength and overall fitness. He also has an app which you can download that will let you track the workouts and see your improvements.
Resistant bands are great if you don't have weights, but you can still get just as good a workout in by using your body and a few things that everyone will have lying around the house like towels or maybe paper plates.
To eat healthy I use the MyFitnessPal app to count my calorie intake, because I am not burning as many calories as I do when in the gym I need to make sure I am not in taking more than what I am burning at the moment as I don't want to put extra weight on. Everyone's goals will be different and that's why this app is so great because it allows you to set your on goals and will teach you how to reach them.
Reading is great for the mind
Finally, I have been reading more during the lockdown. I chose to read to positive mindset books, in order to help me keep a good outlook on life and not let current situations get me down too much.
Here's a list of books I've been reading and I recommend you check out.
- The chimp paradox
- Good vibes, Good Life
- Stranger Things : Suspisious minds (great story if you like stranger things)
- ALLEZ ALLEZ ALLEZ by Simon Hughes (one for the Liverpool fans)
I hope this has helped a few people get some ideas on what to do in lockdown in order to keep them sane and in a good mood. Make sure to follow my twitter where I let you know when I have a new post on here on on YouTube.