Lessons from Topmost Entrepreneurs
Be Inspired With Lessons on Life, Business or Money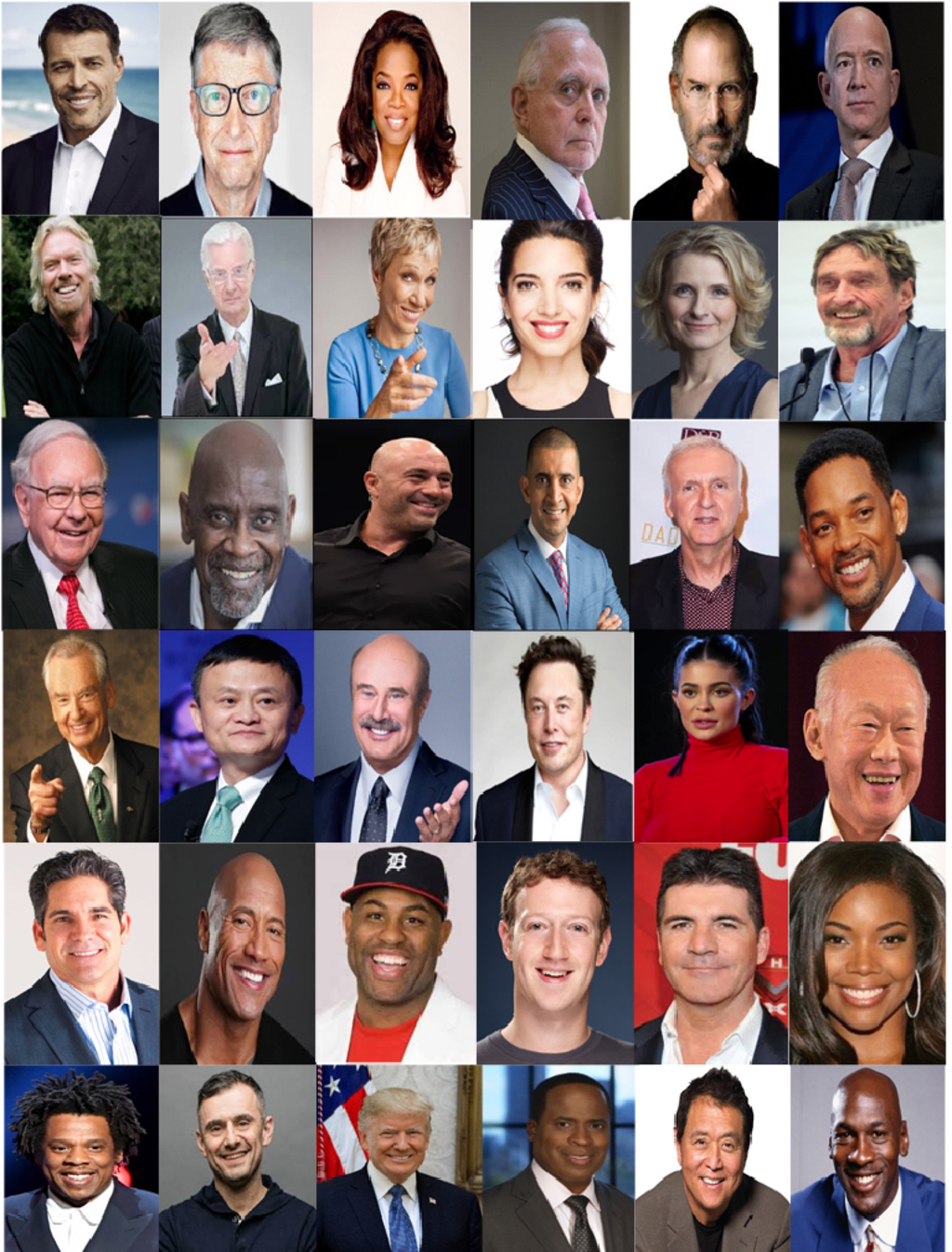 Randombuyers.com
These principles and lessons these entrepreneurs will share with you are mostly suitable for those looking to steer their business and financial dealing to highest growth in success. The lessons are mapped out for you to learn, apply, & someday teach to others that are seeking entrepreneurial development. Each success coach can help you examine your own business & decisions that you make and choose from.
1. ANTHONY ROBBINS
American author, philanthropist, and life coach. Robbins is known for his infomercials, seminars, and self-help books, including Unlimited Power and Awaken the Giant Within.
Raise your standards.
Be truly fulfilled.
Progress equals happiness.
Love your customers.
Add value.
Have an exit strategy.
Be resourceful.
Pay attention to the little things.
Look for leverage.
Change your mindset.
2. ZIG ZIGLAR
American author, salesman, and motivational speaker.
Have a dream.
Think as a champion.
Be committed.
Do it right now.
Be prepared.
Keep your word.
Set goals.
Evaluate where you are.
Have integrity.
Don't quit.
3. DR. PHIL
American television personality, author and psychologist who is the host of the television show Dr. Phil.
Find out who you are.
Take control.
Deliver value.
Be the star of your own life.
Make the change.
Forgive.
Examine your thinking.
Become essential.
Find fulfilment.
Dance.
Get into healthy relationships.
4. OPRAH WINFREY
American media executive, actress, talk show host, television producer and philanthropist.
Understand the next right move.
Seize your opportunity.
Everyone makes mistakes.
Work on yourself.
Run the race as hard as you can.
Believe.
We are all seeking the same thing.
Find your purpose.
Stay grounded.
Relax, it's going to be OK.
Turn your wounds into wisdom.
5. BILL GATES
American business magnate, investor, author, philanthropist, and humanitarian. He is best known as the principal founder of Microsoft Corporation.
Have energy.
Have a bad influence.
Work hard.
Create the future.
Enjoy what you do.
Play bridge.
Ask for advice.
Pick good people.
Don't procrastinate.
Have a sense of humour.
6. LEE KUAN YEW
Politician and lawyer who was prime minister of Singapore from 1959 to 1990. During his long rule, Singapore became the most-prosperous country in Southeast Asia.
Follow the rainbow.
Never give up.
Be open-minded.
Make the best of your life.
Be passionate.
Stand your ground.
Show effort.
Learn from your own experience.
Be consistent.
Dedicate your life to something great.
7. ELON MUSK
The founder, CEO, and lead designer of SpaceX; co-founder, CEO, and product architect of Tesla, Inc.
Act despite fear.
Focus on the customers.
Have a high-pain threshold.
Be rigorous in self-analysis.
Expect to fail.
Have a sense of humour.
Aim for perfection.
Do your chores. Responsibility teaches management.
Be an adventurer.
Inspire greatness.
You fall down, you get back up.
8. ROBERT KIYOSAKI
American businessman and author. Kiyosaki is the founder of Rich Global LLC and the Rich Dad Company, a private financial education company that provides personal finance and business education to people through books and videos.
Always be a student.
Have an entrepreneur mindset.
Learn how to sell.
Be a team player.
Strive to do better.
Seek mentors.
Do your research.
Become a leader.
Have a Midas touch.
Don't quit.
9. CHRIS GARDNER
American businessman and motivational speaker. He became a stock broker and eventually founded his own brokerage firm Gardner Rich & Co in 1987.
Commit to plan A.
Put family first.
Decide to be world-class.
Have self-worth.
Keep your team motivated.
Change is necessary.
Baby steps count.
Follow your passion.
Do whatever it takes.
Start where you are.
10. JORDAN BELFORT
American author, motivational speaker, and former stockbroker. He published the memoir The Wolf of Wall Street in 2007, which was adapted into a film with the same name and released in 2013.
Be a visionary.
Get rid of limiting beliefs.
Learn to influence & persuade.
Manage your state.
Do what you love.
Have absolute certainty.
Learn new skills.
Manage your standards.
Hustle.
Always be prepared.
Market properly.
Get money.
Learn to build rapport.
11. DONALD TRUMP
Was a businessman and television personality.
Create your own luck.
Don't do it for the money.
Go against the tide.
Just keep going.
Change your mindset.
Project against downside.
Be able to handle pressure.
Never settle.
Live healthy.
Help others.
12. WARREN BUFFET
American business magnate, investor, and philanthropist who serves as the chairman and CEO of Berkshire Hathaway. He is considered one of the most successful investors in the world.
Love the game.
Understand accounting.
Delight the customers.
Conquer your fears.
Do things your way.
Stick to your area of expertise.
Read…. A lot!
Maintain a good reputation.
Be the person you want to be.
Learn from mistakes.
Find your gift.
13. DAN PENA
High Performance Executive, Business Success Coach and founder of QLA (Quantum Leap Advantage). He is also known as the 50 Billion Dollar Man.
Practice success before you are successful.
Follow what you are passionate about.
Surround yourself with great people.
Perfection = Paralysis
Focus on the few, not the many.
Believe passionately.
What gets measured gets accomplished.
Just do it.
Be extremely positive.
Love yourself.
Self-esteem is the key to high performance.
14. MICHAEL JORDAN
American former professional basketball player and the principal owner of the Charlotte Hornets of the National Basketball Association.
Keep working hard.
Ignite the fire.
Be different.
Fail your way to success.
Have high expectations.
Be positive.
Be who you were born to be.
Have a vision.
Stop making excuses.
Practice.
15. WILL SMITH
American actor, rapper and media personality. In April 2007, Newsweek called him "the most powerful actor in Hollywood."
Don't listen to the little man.
Where you are, isn't where you are going.
Make a choice.
Have a purpose.
Be great.
Commit.
Don't be outworked.
Work on your skills.
Let fear motivate you.
Be amazing at what you do.
16. JEFF BEZOS
American technology entrepreneur, investor, and philanthropist. He is the founder, CEO, and president of Amazon.com, Inc.
Take bold bets.
Step ferociously.
Earn a good reputation.
Take action.
Find work – life harmony.
Execute your idea.
Have role models.
Do what you love.
Be a team player.
Think long-term.
17. RICHARD BRANSON
British business magnate, investor, author and philanthropist. He founded the Virgin Group in the 1970s, which controls more than 400 companies.
Be creative.
Believe in what you do.
Start small.
Be positive.
Get out of your comfort zone.
Play hard, work hard.
Have a great team.
Care about people.
Keep moving forward.
Have fun.
Give your all.
Be bold.
Focus on your passion.
18. ARNOLD SCHWARZENEGGER
Austrian-American politician, actor, filmmaker, businessman, author, and former professional bodybuilder.
Develop hunger.
Go through the pain.
Make the time.
Be a fanatic.
Have your own vision.
Find mentors.
Love what you do.
Execute your ideas.
Give back.
Tell great stories.
Have a strong mind.
Break the rules.
Keep your eyes on the ball.
19. SAM WALTON
American businessman and entrepreneur best known for founding the retailers Walmart and Sam's Club.
Model success.
Work together.
Build your company on people.
Genuinely care about people.
Take risk.
Focus on being the best.
Set goals.
Have a vision.
Nurture great relationships.
Keep your promise.
20. STEVE JOBS
American business magnate, entrepreneur, industrial designer, investor, and media proprietor. He was the chairman, chief executive officer (CEO), and co-founder of Apple Inc.
Be willing to fail.
Be the thinker & doer.
Question everything.
Focus.
Reiterate the vision.
Make great products.
Persevere.
Act now.
Be a great story teller.
Get A players.
Don't do it for the money.
Don't live a limited life.
Marketing is about values.
Stay hungry, stay foolish.
21. JAMES CAMERON
Canadian filmmaker and environmentalist. After working in special effects, he found major success since directing and writing the science fiction action film The Terminator.
Failure is an option but fear is not.
Paint your dreams for real.
Just do it.
Strive for excellence.
Value your past experiences.
Visualise your success.
Find your dream.
Be a person of your word.
Do something good.
Seize the moment.
22. JOE ROGAN
American stand-up comedian, mixed martial arts colour commentator, podcast host, and former actor and television host.
Have discipline.
Write it all down.
Discomfort is your friend.
Overcome resistance.
Don't dwell on the past.
Have goals.
Pay attention to criticism.
Get after it.
Be creative.
Practice martial arts.
Eat what you kill.
23. PATRICK BET DAVID
Successful start-up entrepreneur, CEO of PHP Agency, Inc., emerging author and Creator of Valuetainment on YouTube.
Pursue your dreams.
Read people.
Leverage your time.
Don't change yourself.
Have the right attitude.
Retain energy & stamina.
Learn how to sell yourself.
Copy genius.
Why not you?
24. BOB PROCTOR
A motivational speaker, entrepreneur, author, and business consultant, best known for his work as a success coach.
Act on your ideas.
Believe.
Overcome fear.
Visualise.
Know what you want.
Be more patient.
Tap into your genius.
Get good mentors.
Practice forgiveness.
Develop confidence.
Think & grow rich.
25. BARBARA CORCORAN
American businesswoman, investor, speaker, consultant, syndicated columnist, author, and television personality.
Over-work & Over-prepare.
Focus on what you do well.
Have a plan.
Keep on going.
Believe.
Find your strengths.
Get started.
Stand apart from the pack.
Turn negativity into motivation.
Have fun.
Be hyper-focused.
26. MARIE FORLEO
American life coach, motivational speaker, author and web television host of Marie TV.
Find your path.
Listen to your gut.
Be fully engaged.
Live in the moment.
Behave like you're the best.
Define success for yourself.
Be okay with uncertainty.
Take action.
Express yourself.
Live a good life.
Get passionate about entrepreneurship.
Position yourself to be different.
Find your drive.
27. GABRIELLE UNION
American actress, activist, and author. Her breakthrough role was in the 2000 film Bring It On.
Work on yourself.
Stand up for yourself.
Choose who you listen to.
Don't expect to have balance.
Value yourself.
Be your own leader.
Overcome your own insecurities.
Be fearless.
Work in a team.
Be your authentic self.
Have fun.
28. ELIZABETH GILBERT
American author. She is best known for her 2006 memoir, Eat, Pray, Love, which as of December 2010 had spent 199 weeks on the New York Times Best Seller list, and which was also made into a film by the same name in 2010.
Find your home.
Follow your curiosity.
Check in with your soul.
Don't expect to have balance.
Find your path.
Don't blow the stack up.
Find inner peace.
Don't be childish.
Find your creative process.
Challenge your fears.
29. GARY VAYNERCHUKS
A Belarusian American entrepreneur, New York Times bestselling author, speaker and internet personality.
Bet on strengths.
Work//Creativity
Put business in perspective.
Execute your ideas.
Don't overlook story-telling.
Care about your customers.
Stick to your DNA.
Do the things that matter.
Don't make excuses.
There is no overnight success.
30. GRANT CARDONE
Famous as a professional sales trainer, he has successfully built a real estate empire from scratch which is now valued in excess of $740 million and comprises of a diversified portfolio of multi-family properties spanning multiple US states.
Be willing to pay the price.
Meet the world head on.
Commit fully
Be courageous.
Don't keep you mind wide open.
Work in a team.
Embrace every moment.
Have loftier goals.
Surround yourself with success.
You can do anything.
Pay the price today so that you can pay any price in the future.
31. DWAYNE (THE ROCK) JOHNSON
Also known by his ring name The Rock, is an American actor, producer, and former professional wrestler. Johnson was a professional wrestler for the World Wrestling Federation for eight years prior to pursuing an acting career.
Be a trailblazer.
Know what you want.
Be yourself.
Find the right balance.
Have an incredible work ethics.
Follow your heart.
Work on yourself.
Swing away.
See the potential in others.
Have fun.
32. ERIC THOMAS
American motivational speaker, author and minister.
Don't be outworked.
Man up.
Want it bad enough.
Fight for your breakthrough.
Break your bad habits.
Take care of yourself first.
Master your craft.
Become a beast.
Find your gift.
Take action.
Always give 120%.
33. MEL ROBBINS
American television host, author, and motivational speaker. Robbins is known for covering the George Zimmerman trial for CNN; her TEDx talk, "How to Stop Screwing Yourself Over"; and her book, The 5 Second Rule.
Chase energy
See your friends more
Be with the right group of people
Change your story
Have good intent
Interpret nervousness as excitement
Make energizing decisions
Value your own attention
Get real with yourself
Use the 5 second journal
Help people
34. EVAN CARMICHAEL
Toronto-based entrepreneur, international speaker, and founder of EvanCarmichael.com, a site he developed out of his passion for helping entrepreneurs succeed.
Change your environment
Add more value
Find your number 1 word
Be unique
Follow your flow
Expect to suck
Model the masters
Have passion
Impact people
Believe
35. SARA BLAKELY
American billionaire businesswoman, and founder of Spanx, an American intimate apparel company with pants and leggings, founded in Atlanta, Georgia.
Use humor to your advantage
Be smart with your ideas
Believe in your idea
Embarrass yourself
Go against the grain
Be persistent
Be vulnerable
Visualise
Fail
Grow organically
Just be who you are