Keeping Track Of 2021
Journaling to 'manifest' a better year.
2021 is somehow here.
I have never been a resolutions or goal oriented person. It says much about my character because I don't know what I am doing with my life like many 20 year old somethings navigating this world. I have kept it simple for this year after I don't know what happened in the past year.
I started journaling.
The power of journaling
I have always read and watched people talk about how life changing it is to write down everything without any distraction. It serves as a productivity activity where it can be done either in the morning or night. People have used it as a way to write out their goals for the day and what they want do achieve. The results shows where goals and wishes are achieved by motivating themselves to do what they want to get that goal.
I'm the type of person who is forgetful and trust me it's bad. I forget what I ate last week even though I do basically nothing besides procrastinating university work and study.
It's become a small daily writing habit and to recount my eventful remote learning days because I haven't done much in January.
January is the Monday's of the year.
Digital or Physical?
The many times I have attempted journaling in the past few years failed because I went for the handwriting route.
Handwriting is great to continuously write out every thing and vent out what is in your head is what people suggest. It's unedited and it truly shows what you want to say right at that moment. I figured for myself, it wasn't practical because I am constantly on my phone or my laptop. I needed to find the personal time to write and find a place to do it. It's not hard to find that time but I wanted an easier way to do it.
I have digitalised journal on Notion where they have a great journaling template which I recommend. It helps with organising your thoughts from having a daily section to a personal thoughts where I use it to vent out all my emotions.
I use the daily and personal section exclusively along with adding a section where I add daily photos that I take of myself. I'm a fan of using the emoji's that reflect the emotion or a key thing that happened on that day.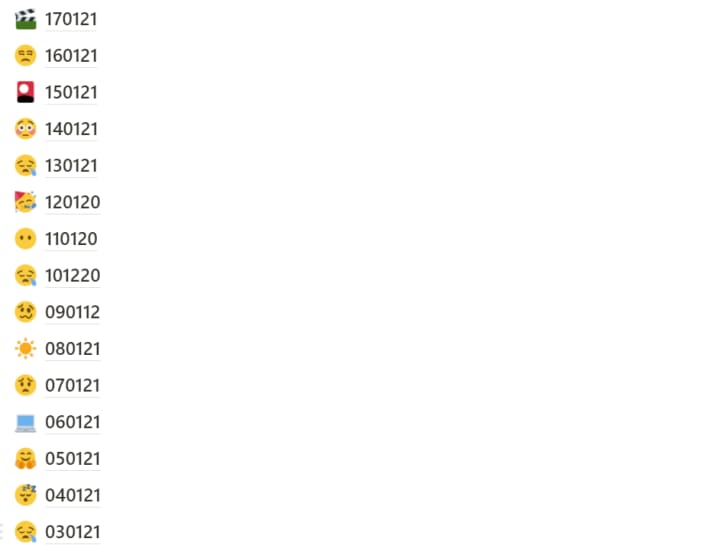 How is it going?
I'm an emotional person and it's become a diary where I can write anything I want. For me, it's helped me vent out my many emotions that I have experienced so far in 2021. It's me being dramatic most of the time but as someone who bottles up their emotions, it sorts out my messy emotions.
I'm a overthinker and it constitutes the many imaginary scenarios that I think of. I could write a cliché romantic fanfiction or a book about the scenarios that I imagine of the many crushes that I've had. The scenarios that I think of always end up being inspired by shows that I have watched or events that I want to experience myself.
Am I trying to manifest situations that I want to happen?

Maybe.
It helps me keep track of the days which many of us struggled last year with lockdowns and even now. The feeling of the days clashing into each other and not knowing what day or month we were in isn't the greatest.
I have missed out on doing some days because I don't do anything too eventful. On the days that I go out, I put in the photos that I have taken which is always the food that I have eaten or the rare group photo that is taken.
It's become a therapeutic exercise every night where I write out what's in my head and a way to wind down before I head to sleep. It's a place where I can 'manifest' my thoughts out to the world. A safe place where I can speak out my thoughts without judgement and for future me to look into.
goals
About the author
Just a 20 something-year-old taking life day by day writing her thoughts out loud for the world to read.
Communications Student and Content Creator
Reader insights
Be the first to share your insights about this piece.
Add your insights