Journal Entry #1
A Journey of Self Re-Discovery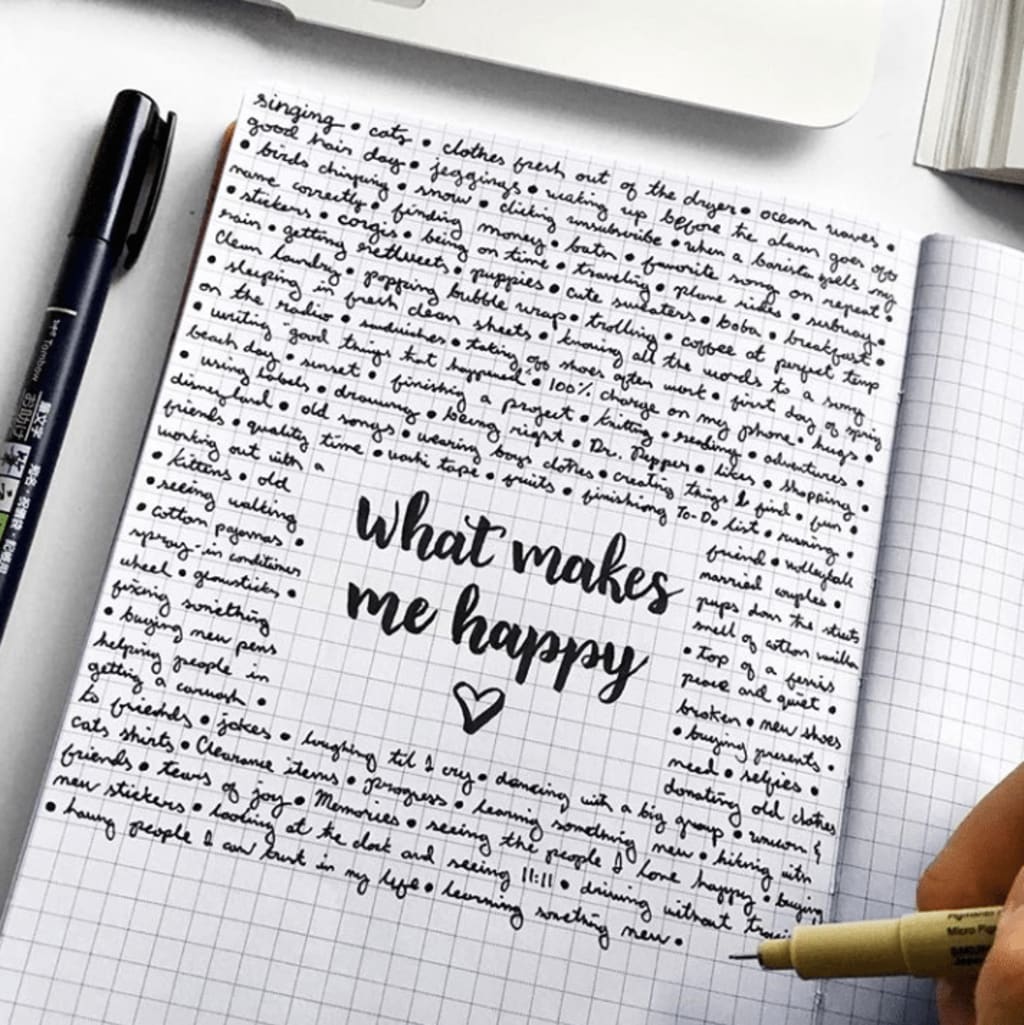 January 15th
There's something about a new journal. The way the blank pages lay perfectly flat against each other. The fresh, blank lines waiting to have a purpose. To be filled with your deepest thoughts and rawest emotions. There's something about the smell of the paper as you fan out the pages. Dragging your thumb across the straight edge of each clean sheet. There's something comforting in the strength of its sleek, stiff spine. Still unbroken and strong. Ready to carry the weight of your life in its binding.
I saw a post on Facebook once. "What is the one thing that you always have a tendency to overbuy?" I overbuy journals. Each one I buy has to have its own special purpose. The most important one is, of course, my good old-fashioned diary-style journal. The one that contains my life hidden within the pages. Then there are the ones for planning, for list-making, some are for studying, some are for personal development. Maybe one for work, one for my purse, just in case. It may take me six months to actually write in one once I buy it. That's not the point though. At that moment, standing in the stationary aisle of the store, I have to have it. It could be the journal that helps me get my life together, the one that I write something life-changing in.
Growing up, I was always a writer. Journaling, poetry, and the sorts. Writing was always my favorite and strongest subject in school. It just came so naturally to me. My English teachers would always tell me that I needed to be a writer when I grew up. I would laugh and roll my eyes, not taking them as seriously as I should have, just like any other typical teenager. And just like any other typical teenager, I was wrapped up in my friends and social life. Too busy being careless and carefree to think about being a grown up. I had my poems and occasional "Dear Diary" entries, and to me, that was enough.
But as I got a little older, even that part of me slowly started to slip away. Not on purpose, of course. Life got busy. Friends turned into boyfriends, school turned into work. I had responsibilities and bills. And then I had a baby and suddenly my life didn't have room for passions anymore.
Don't get me wrong, raising my two girls have been such amazing experiences. From the moment they each took their first breaths, I knew that I was destined to be their mom. But like with many women, part of ME was put on the back burner. It's easy to get so caught up with being a good mom that you kind of forget about yourself in the process. For eight years I've been changing diapers, cooking meals, folding laundry, and singing the ABC's. Meanwhile, my inner goddess has been wondering if I'll ever remember that she's there.
It took a while before it occurred to me that she was the reason behind my journal fetish. I know that she's there because every once in a while when I'm alone, I can hear her. The part of me that has passions and aspirations and dreams. I can feel her, sending silent SOS's every time I picked up a pen. She's still there, waiting and eager to come out. Ready to tell the world our story. I've decided that it's time to find that part of me again.
I think she'll be different than I remember her though. Wiser, kinder, stronger, softer. She's going to be so beautiful.