Introducing The SAGECons Crisis Stabilization Task Force at Connie's House
Launching My Role as America's (Artsy, Crafty) Homeless Recovery Coach
Crisis Relief Is Stalled In Congress, So Let's Talk About Grass Roots Solutions at Connie's House.
There are many voices sharing their opinions about the covid relief bill that is currently stalled in Congress, but I don't hear much conversation about relief strategies that could be implemented on a grass roots level.
There are even more voices engaged in the election chaos, but that situation makes it even more important for us to discuss practical, strategic solutions that could be springing from the depths of American ingenuity...
So, let's do that! Let's have THAT conversation, shall we?

The crisis relief package is of great relevance in my personal life, because once upon a time, I became homeless myself. I was chronically ill, which led to my inability to sustain employment, which led to my eventual decline into homelessness. That harsh reality led to applying for disability benefits, which led to a measure of stability that allowed me to pursue the long-term process of trauma recovery.
My illness alone was shocking enough, but becoming "unemployable" was the real shocker for an alpha-numeric, color-coding workaholic with perfectionistic tendencies like myself!!
Although I have been unable to maintain employment during my years of trauma work, I unwittingly applied my workaholic tendencies to my mental health recovery journey. The results of that experience has provided me with an abundance of thoughts, insights, and ideas about how we could improve our strategies for helping people, and that is the reason I am launching my self-proclaimed role as America's Homeless Recovery Coach.
You see, the illness that overtook my life actually wasn't an illness at all. I was exhibiting symptoms of what we call "mental illness," but what I was actually experiencing were the repercussions of decades of unresolved trauma.
My experience was the classic journey. You know, one misdiagnosis after another after another, after another...
Until, finally! Yes, we finally got to the truth, but it took a complete mental breakdown with numerous long-term hospitalizations to uncover the depths of my mental health situation.
Oh, and the irony of the entire situation is the fact that I was a Bible-thumper with an iron-clad faith in God. Well, you can just about imagine how betrayed I felt, and wow, did those emotions ever complicate my recovery process!!
So, as we fast-forward back to present day, you can clearly see why I have made the decision to lay claim to the role of America's Homeless Recovery Coach.
My mental health education has been a long-term, classic tale of flying by the seat of my pants, but the necessity of navigating years of chronic crisis has given me a heightened awareness of the incongruencies we see in the stalled crisis relief.
The good news from my Recovery Coaching perspective is the fact that my alpha-numeric, color-coding tendencies found a place to belong when I discovered blogging, graphic design and the mind-boggling power of web development. (Did YOU Squidoo?!)
Web Mastery For Beginners is one of my many passions, and I found my sub-title as I discovered my "voice," and began to cultivate the courage to use my voice!
Today is the day that I am doing what I have long been encouraging my readers to do, and that is to "Step Up To The Windows of The World, and Let YOUR Voice Be Heard!"
I have a lot of information to share with you, so this post will be my first in what is necessarily a long-term conversation about homeless recovery and creating a new way of providing crisis relief for those in need.
I know these are uncomfortable issues to discuss, but I will do my best to regale you with my gift to gab while we work! You see, I've already done my boots on the ground work, so my task now is to help create solutions by showing you what went right, what went wrong, and why it took so long for me to overcome the rigors of American homelessness.
Our story will be a grand adventure in national problem-solving, and I certainly hope you will join me as I share the insights, ideas, and strategic initiatives I would like to help put into place for our nation.
I created my video introduction on Thursday, November 5, 2020, as I began the process of preparing to "hang out my shingle" as America's Homeless Recovery Coach.
Today, I am thrilled to take the next step in launching my quest to help create practical solutions.
Oh, and just so you know...
YES! My faith took a beating, but, that too, has been reborn and now it is my great privilege to share my journey to wholeness from the perspective of someone who has been SET FREE of toxic faith tenets, and has now become,
"Spiritual, NOT Religious!"
I hope you will enjoy my artwork, my craft tutorials, my stories, and my proverbial gift to gab. We have much to discuss and I look forward to seeing you again soon!!
With much love for all,
Connie, Clara, and the rest of my Armchair Adventure Team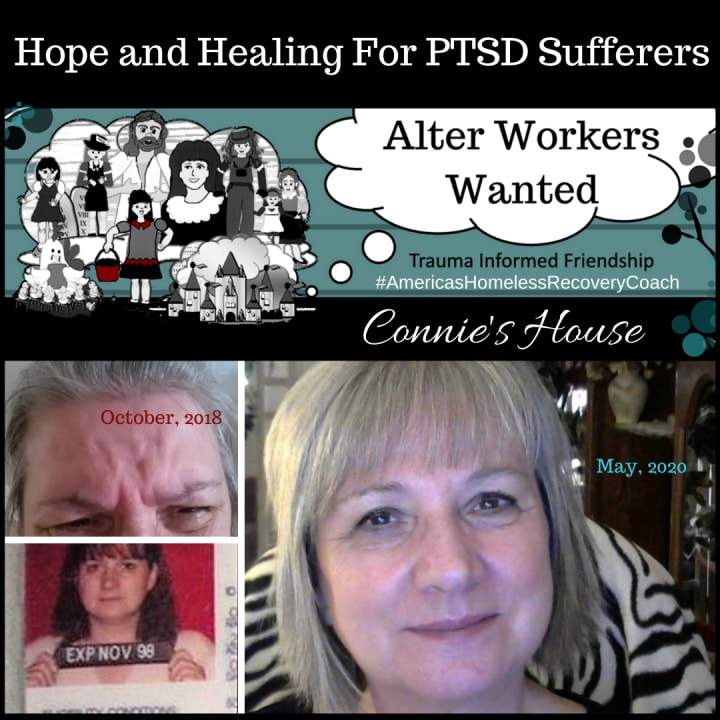 Connie Spurlock
Connie's House is a family-friendly think tank for those who want to learn to help end American homelessness. Connie is an artist, author, and mental health educator whose faith took a beating, but was reborn during her process of recovery.
See all posts by Connie Spurlock →