Inner Monologue of a Pole Dance Instructor
Choreographed Peace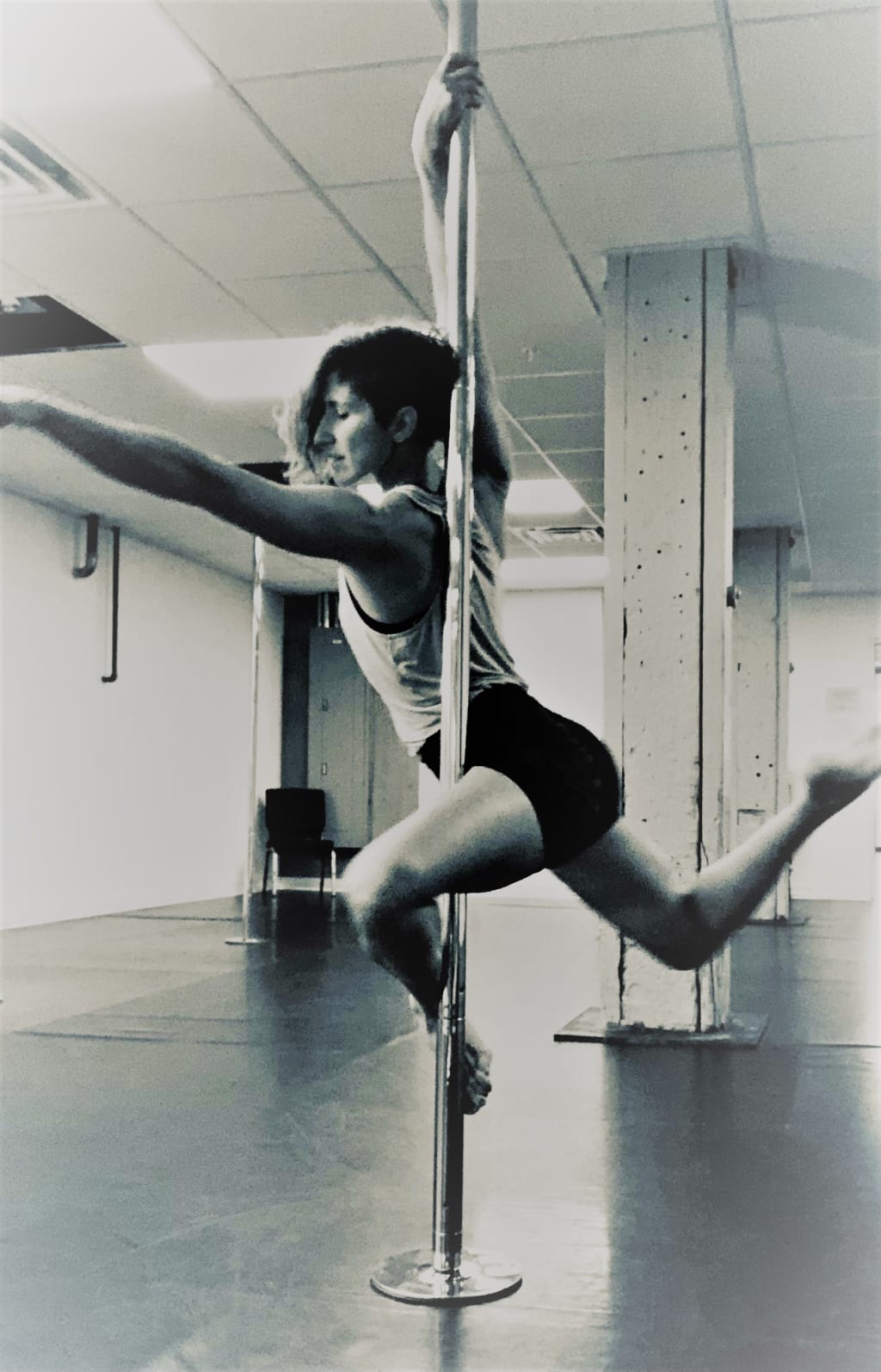 It's there waiting for you.
You're usually right on time. You'd rather be three hours early than three minutes late, but today was tough, and it's taking forever to get anywhere. You know it takes 15 minutes to set up the studio, then another 15 minutes to sign students in. You also know you didn't choreograph the dance for this week yet, so you're a half hour early, but you should've been here already.
Unlock the door with the electronic key fob that was installed so that the studio could be open during the pandemic. Make sure the door closes tightly. Set the inner switch to unlock now that the mask restrictions have lifted and people can come and go more freely. They can let themselves in while you practice.
Grab a water bottle from the fridge in the front room because you were in too much of a hurry to remember to grab the one that you chilled this morning when you had thirty seconds to yourself.
Lights on in the studio, pull back the curtains and greet yourself in the mirror for the first time that day.
A quick, "Hello," you say with a smile. "Welcome home," you answer back.
Pull the window shades down until they close, so no one can peek in from outside. Turn the lights down low and the air conditioning up.
Head back to the storage cages to grab your pole and speaker.
Remember to bring the keys. If you forget, you'll lose time. Two minutes per trip. You need all the minutes you have.
Grab and balance the pole with one hand, roll the speaker down the hallway with the other. Pull your shoulder blades in to safely support the weight of the nine-foot piece of metal equipment. Set the pole down, plug the speaker in, dial the volume up high, and set up your pole.
Working in silence slows you down. You function best in chaos.
Put the song on. Press repeat.
It finds you when the beat kicks in like a salve, a thick blanket to smother the chattering flame of ongoing mental loops of distraction. And it feels like nothing. It feels like how it's supposed to feel. It feels like what was stolen from you by the monotony of worldly existence has been returned.
Move when you feel it, when the music moves you, when you know how it goes.
You listen. You trust that there will be something worth listening to, worth listening for. You get it wrong a dozen times until it feels right in your body. You laugh at yourself until that moment comes.
Choreograph the phrase that strikes you the most. What resonates, start there. Your source. Anchor to it for when you lose your focus.
You will. You will quit. You will get halfway through something, lose all interest in it, and go back and start again. You will start again until it's complete.
Find the bones of the piece. What the lyrics express. What the music conveys. Find the style that connects with the song.
Start on the floor, slow and sharp. Demonstrate flexibility and grace. Transition to knees, add a spin and a hold, then transition again to a stand. Lock eyes with the pole, greet it with your touch and walk the circle track around it. The dance partner you trust to support you. Toes follow hips as each step is a movement. Stop and pose. A show of strength in restraint. Step into a spin and start turning. Adjust your shoulders, extend your core, sweep the room with your eyes, roll through to your wrist to invite the audience. Sequence the spins, two or three in a row, then back down to the floor for some dance work.
Contemporary turns and kicks, ballroom holds and spins. Acrobatic mounts and climbs, aerial inversions. Dénouement back to the floor, and end inside a pose.
A moment to breathe.
Breathe again.
Repeat.
Back in position, and go. Go until the piece is finished. Go until the time is up. Go until someone arrives and your peace retreats. The gears click back on as the thought spirals restart. You write down some notes, a sketch or two, in shorthand descriptions to remind yourself how you were moved.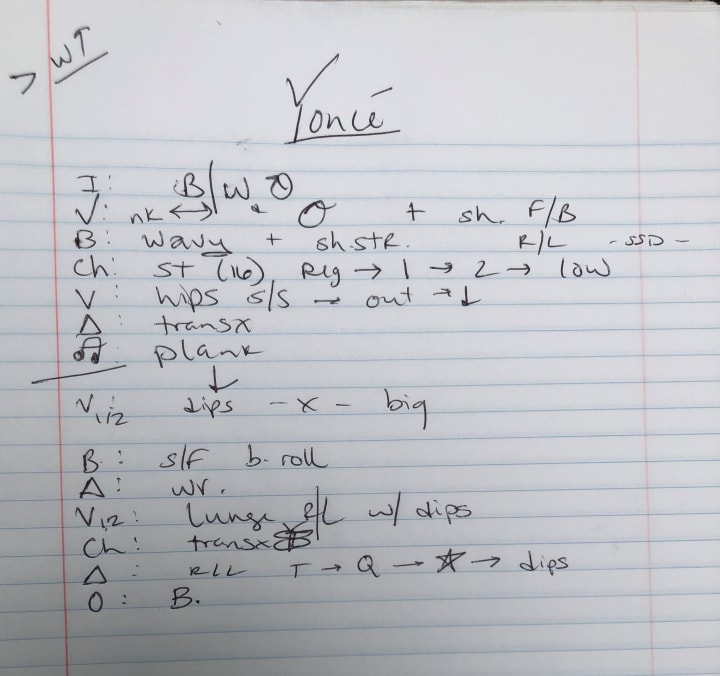 Set the rest of the room up for class, a half dozen more poles. Six feet apart for the last ten months, but truly, that's the space that was needed. A sold-out room, sometimes four times a day. Twenty-four others who need that space to move and breathe and reconnect.
Dial down the volume, greet your students, let them catch up with each other.
Gulp down the water, and start your class.
"Today, we will learn a new dance."
We strip. We strip off our masks, our illusions of perfection. We strip off the sweaty tank tops and t-shirts that we came dressed in. That we came covered in. That we wore to cover the skin we now need to help us hold on. The skin we hid. The skin we believed was imperfect. The exquisitely flawed outer shell of the body that holds you in position so that you can let go.
Every kind of body is there. Every shape, every tone. Every background, every reason to be there.
It finds us there, our peace of mind. We find strength and grace, courage and self-love. We find ourselves in that room.
happiness
Niki is a native of Syracuse, NY. She has had many professional careers: Zookeeper, Magician's Assistant, Organic Chemist, Fairy Godmother in Training, Aerialist. She loves to create and share the stories that demand to be written down.