How Vocal Has Kept Me Writing, And My Goals As I Approach my 6,000th Read.
More Than Tripling My Reads In A Month And My Goals Going Forward.
I'm like anyone else, except that I'm not. When it comes to writing and even writing on Vocal I'm probably similar to quite a few of those that write for the platform. Today, for instance, I found myself with a surprise even though I wasn't feeling the best about things. Vocal shocked me with a 5.00 bonus for a story I wrote about hitting my four thousand reads mark and where I wanted to go next. I'm actually getting closer to making a full one hundred dollars on Vocal, since signing up for Vocal Plus, than I realized.
Realistically I didn't get many goals set as I tried to focus singularly on writing more than worrying about goals and reads. I found myself getting competitive with my stats. If you're picturing a fight with myself you'd be picturing things the way they felt. So, here we are, May the 3rd, and I still don't have a definitive goal list, mission, or picture of where to go.
Someone once told me that setting goals should be kept realistic. Starting with the ones that you have control over and working your way toward those that you have less and less control over. It makes sense. But, I also heard that men's goals should always exceed their reach. It keeps us striving to do more, to outperform yesterday, and never to be satisfied. Sure, being satisfied is something we should all want, but when you're satisfied with your status or your achievements then what motivates you to do more?
First, it appears to me that the top story spots would automatically get the most views. When we go onto vocal they are the first stories presented. They're getting promoted more than our own self-promotion via social media, family, friends, emails, and however else people have found to get their work out there to the public. I've asked this question a million times since starting. What does it take? If I want to be on the front page, a top story, how do I get there?
Besides being a better writer, how many people are reading the top stories? A better question might be, how many readers that want to be a top story, haven't yet made a point to read top stories? It's easy to say, "write what you're passionate about." Successful writers are passionate about writing. This isn't writing novels, although you could do a series, like episodes once a week on television. But, going back to those top stories, my first goal was to read more of those top spots and see what the most successful people on Vocal are doing.
Second, slowing down. Has anyone besides me written something, reread the work, read it again, and then noticed a mistake or two after it's published? While there's an argument for writing every day, there's no reason or real argument for publishing every day.
Third, getting reads. I'm currently sitting just two-hundred-and-fifty reads away from passing six thousand reads. I've had some serious down days. I went from just thirty to forty a day, and considered myself lucky, to three hundred, then a thousand, then onward back down to 37 on Saturday. I've had days I couldn't buy a read. So has everybody else. The Vocal Support groups like the Creators Lounge, The Vocal Media Hub, and The Creators Support Group have many other creators to learn from, to seek knowledge from, and share frustrations with.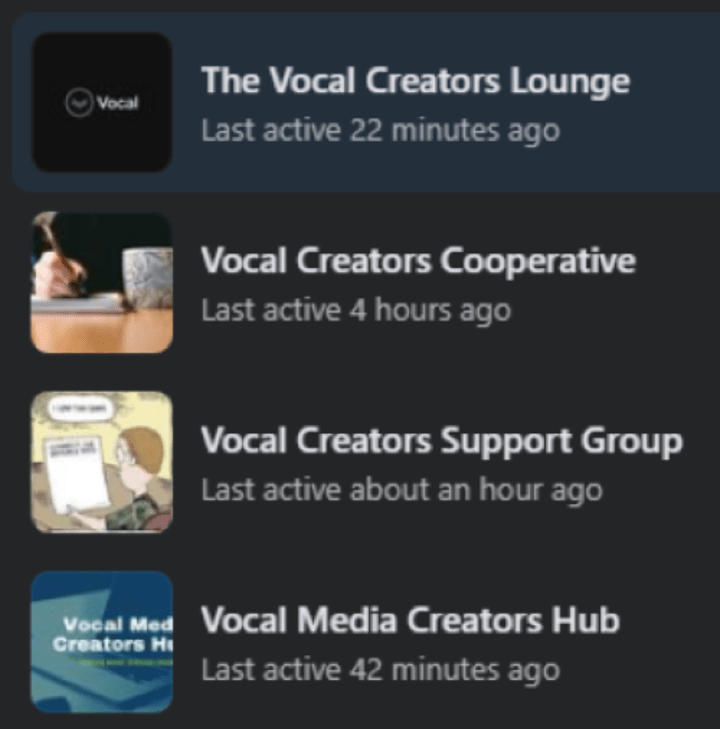 Fourth, and my toughest goal, the challenges. This is the long shot of all of them. I can control becoming a better writer. I can control to a point getting a top story. There are good examples from talented writers and they are there for us to read every day. Like It's Time To Level Up! By Lisa Gerard Braun or A Post-Apocalyptic Ice Cream Truck, By Emma Jones. There are plenty of people to choose from and stories to follow.
"Tacitus did not write a most dangerous book. His readers made it so."
― Christopher K. Krebs
My easiest goal for the month of May is to have fun. Sure, most of the people that signed up for Vocal probably wanted to write for the little extra they might make. However, if it's not fun, why are we doing it? We read books to get to know things, learn new and interesting facts about life, and escape from the world into the fun, exciting, adventures of our favorite characters. We should be writing for the same reasons as we read.
Thanks so much for reading. If you liked this piece please consider leaving a heart. If you really liked it tips are very much appreciated but never expected.

Jason Morton
I have spent a life in uniform, adventuring through this muddled-up world as time passed. I've lived, loved, fallen on my face only to try again. Now, as I get older, my only regret was not writing it down. It's time to start.
See all posts by Jason Morton →