Have you seen Porter?
A hike to remember.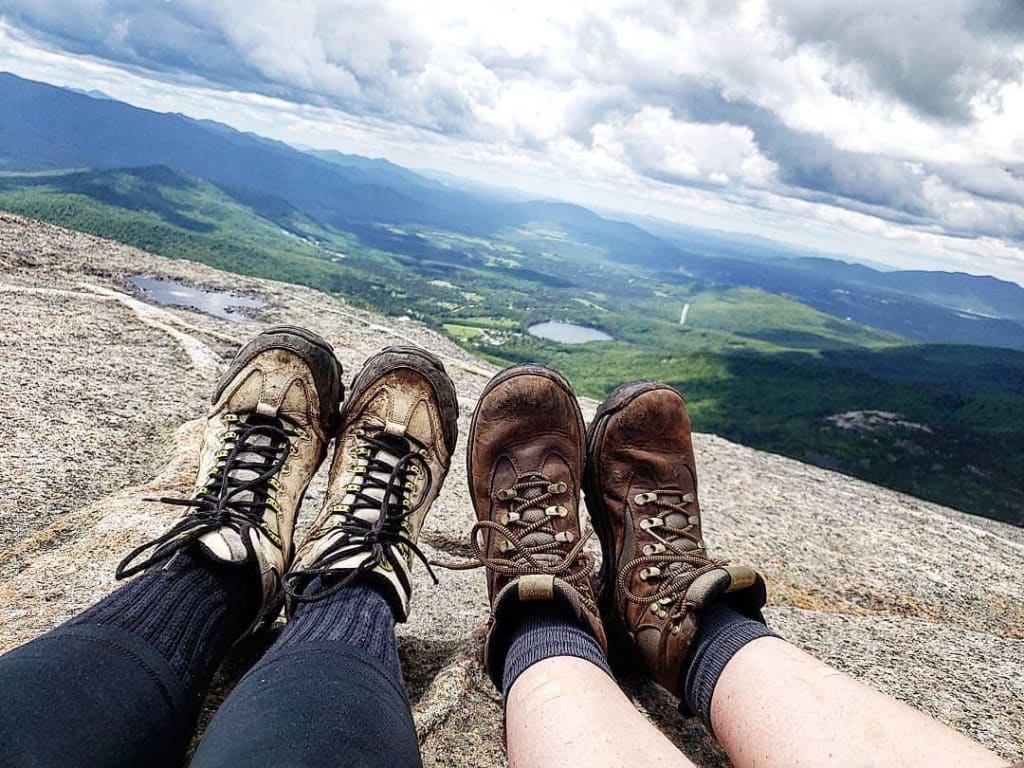 "22 year old me after a night of drinking: I hope I didn't do anything stupid. 29 year old me after a night of drinking: I hope i didn't agree to go on a hike."
So here's what happened.
I moved to NC back in 2013. Every time I go home to upstate NY, I say I want to go hiking. Every time, something comes up and I don't go. Not this time though. I was determined. So I called a few friends to see if they would go with me. Some of them told me the high peaks I wanted to do were too long, some said they were too tough some just flat out laughed and said, "have fun with that." One said, "let's do it." So we did.
That one, however, after a night of drinking, turned into two (the quote above was appropriately sent to me weeks after this hike by the 3rd member of this party"). So three of us, one fairly prepared and in shape, one (aka, me) was way out of shape and ill advised to do this hike, and one of us was completely unaware of what they had just signed up for.
Spoiler alert: All three of us made it to the top and back down to the car moderately safely.
The plan: Wake up at 5, meet up with Laura at 6, begin hike at 7. We all knew this was going to be at least a 6 hour hike. We had done all the (mild) research involved in such a hike. We're basically pros *insert eye roll here*. This was the first high peak any of us had done, so screw it, why not do two in one day. We're totally ready for this.
The reality: Wake up at 5:45, meet up with Laura at 6:45? I'm nearly positive we waited at the WRONG Stewart's (seriously NY, whe is there one on EVERY corner?) for more than 15 minutes. I had fallen asleep in the passenger seat on the drive from Mark's to where we were meeting Laura.
"Mark, this is absolutely the wrong Stewart's. We need to go down the road. What time is it?!"
Finally, at least an hour after our original target start time, we are on the road. We had decided to do 2 high peaks in one day. Cascade and Porter Mountain. These two peaks are really easy to do in one day because you can hike the same path for most of it to get to both.
Since I had wanted to do this hike, I had also done the most research on this hike. I was covered head to toe in clothing. Literally, I had on yoga pants, short sleeve shirt, light weight hoodie overtop, socks that came halfway up my calves, and hiking boots. Mosquitos stood NO chance! Laura was "mildly" prepared. Really, she brought a whole damn hospital, hiking worthy capris, hiking boots, long and short sleeve shirt, and energy packed snacks. Then there was Mark. He had on jeans, cutoff T-shirt, sneakers, backwards baseball hat with hot pink sunglasses on the back and his silver aviators over his own eyes. As you can see, he's totally prepared for this. We sprayed ourselves down with bug spray and headed out. Laura and I were pumped up, ready to go. We stopped and turned around at the outburst of laughter coming from our very own peanut gallery (aka, Mark).
"People will walk by and be like, who the hell are they? Biggest group of misfits ever! I don't even know what you two are supposed to be, and then theres me. The fat kid that's probably going to die."
We all doubled over laughing for about 5 minutes looking at each other in utter amusement at how we looked.
After hiking for about 15 minutes, we got to a point that we thought was probably about a quarter of the way (wasn't even 1/4 of a 1/4 of the way) and take a break. We took some pictures, because really, it's absolutely beautiful in the Adirondacks, and let another hiker pass us with his dog. After a few minutes for hydration and rest, we were back on our way.
At this point we've been hiking for about half an hour and already we're getting tired and fatigued. Ok, Mark and I are, because we're finally sweating out the alcohol from the night before. It was at this point I realized, this hike is going to be hard. My legs were already burning. I started to wonder how we'd know where the turn off for Porter Mountain was. Laura and I spotted a marker on a tree and went to read it while Mark caught his breath about 30 yards behind us. The marker was pretty faded. I was trying to read the numbers so Laura could locate it on the picture of the map (because of course we forgot a map, and they wouldn't let me take the one they had at the entrance to the trail. Rude. You mean I was supposed to bring my own?) we have on my phone. Laura and I switched places and she took a turn trying to make out what it said.
"1001? 1001 feet? Elevation maybe? Do you see it on there?"
"No, I still don't see it. Hold on, let me look at the marker again. F001? That's definitely an F. Is there an F001 on there?"
Laura-"No, I don't see that anywhere either"
Suddenly, it clicked. I burst out laughing! "Foot trail Laura. It say's FOOT Trail!"
Now Laura starts cracking up. We were both laughing so hard we were crying. Literal tears were pouring down our faces and we were gasping for air. Then we hear, "are you kidding me? I hate you two. How have I stuck around with you two for 20 years? How does this keep happening? F001, it says, 'foot trail', you've got to be kidding me," and we started laughing even harder as Mark was just staring at us shaking his head in utter disbelief.
After what seemed like forever, we were able to stop laughing and continue up the trail. We had been hiking for maybe 1.5 hours at this point and we saw a couple catching up to us. They seemed like they knew what they were doing, so we asked them if they've done this hike and if they knew where the trail splits for Porter Mountain. They told us we had about 45 minutes left until we go and we definitely wouldn't miss it. It's clearly marked. We thanked them and continued on our way.
After another 20 minutes, I realized Mark was panting. Heavily. Like a dog. Like he was about to have a panic attack and die. Laura was about 30 yards ahead of us, I stopped and turned around and I was actually afraid he was going to pass out, so I started SCREAMING at him...
"STOP BREATHING LIKE THAT!! You are GOING to PASS OUT! Watch me! Breathe! Like this! (Super exaggerated through the nose, forceful exhale our the mouth) GOOD. Again! Breathe with me!"
Once I was satisfied he was not going to pass out, I gave him some water.
"Mark seriously. Drink this. Don't get to that point again. Concentrate on your breathing. We'll go slower, you'll be alright."
I caught up with Laura and asked her if she thought we should do both peaks in one day? Maybe this really was more than we could handle. She looked at me and said, "we'll re-evaluate once we find the tail. But honestly, I know you. You'll be disappointed if we don't do both. You and I both would be kicking ourselves later for it. Mark will survive. We'll take it easy."
After another couple of minutes we finally found the turn off for Porter Mountain. Yeah. Can't miss that turn off. It's literally impossible NOT to see it. As Mark caught up to us, he yelled out, "Look guys!! It's Porter! I've found Porter! He was right here all along!" Again we all started cracking up, and for the rest of the hike, if things got intense, one of us would yell out "PORTER! Have you seen Porter?" Or "there he is! I've found him! I found Porter!" Like we had lost a hiker and sent out a search party and finally found him. It certainly would cut the tension and make all three of us laugh.
The roughly .75 of a mile over to Porter was definitely a strenuous one. After 15 minutes we came to a false summit. The view was incredible. Laura and I continued on, determined to find the summit. The last .25 of a mile was crazy. We were literally hanging onto tree limbs and using them to help us jump over huge mud puddles like we're Tarzan, because we did not have hiking poles (whoops). At some point I realized that Mark was not with us anymore. Laura and I started calling for him but he did not reply. We assumed he stopped at the false summit because (what we thought was jokingly), he said he found the summit and didn't need to keep going. We decided to keep going and pick him up on our way back down. To our great surprise, only a few minutes after we decided this, Mark caught up to us. We had FINALLY reached the first summit of the day. We were all exhausted. We sat down and enjoyed some lunch. The view was absolutely beautiful.
Lunch was just the pick me up we all needed to get us to the top of Cascade Mountain. What we weren't expecting was the super intimidating rock face we were about to see. After getting back to where the two trails meet, it was only another 10-15 minutes to the top of Cascade. We came around a corner in the trail, Laura was in front, as usual, and we heard, "what the $#@%...". I rounded the corner and seconded her sentiment as I saw what was in front of us.
As we begin this super intimidating climb, I started to feel some anxiety building up. That anxiety was immediately relieved as I saw Mark come out of nowhere and mysteriously run up the whole damn thing. Laura and I looked at each other and just started cracking up. If he could do it, so could we, albeit, we took it a whole lot slower than he did. We finally got to the top, and again, it was so worth every second of this strenuous hike.
Once we had our fill of the scenery, it was time to come back down. The first 15 minutes was terrifying. Coming back down that rock face was one of the hardest and funniest things I've ever done. I'm not necessarily afraid of heights, but I didn't particularly care for turning around and walking down that rock face, when I could see the edges of the mountain around me, and one wrong strep could send me tumbling. Laura however, IS afraid of heights. She literally looked like Spider-Man trying to cling to the side of the mountain to get down. She was absolutely paralyzed with fear. Seeing that she wasn't going to move, and also how insanely funny she looked clinging the side of the mountain, Mark and I began to make her laugh in the only way we knew how, making fun of her. We have all been friends for over 20 years, and this ruthless sense of humor and picking on each other is always what has gotten us through tough spots. Thankfully, it worked yet again and we got her laughing at herself and she began to slowly put one foot in front of the other. Laura and I got down that first part of the mountain by sliding on our butts. Literally.
The rest of the hike went by pretty fast. We were all completely drained and just wanted to get back to the car. We probably made record time getting down. It wasn't completely without its own hilarious moments, one of which where Mark completely ate it and popped back up like a jack in the box and just kept going like it never happened. After about 2 hours, we were finally back to the car. We all chugged a celebratory marathon beer and got in the car to head home.
Moral of the story, none of us were truly prepared for this hike. All of us pushed through something different to get to the top. Health, anxiety, fear, whatever it was, the three of us did what we have been doing for each other for the last 20 years. We met each other where they were at. Recognized the struggle they were having, and together we pulled each other up and kept going. The three of us together made it to the top. This hike was something all three of us needed to do. We had all been in a dark spot in our lives at the time, and we just needed good quality time together. I do not know where I would be without their love, encouragement, and literally picking me up when I fall down. This hike was symbolic in my life. I needed to fight my way through and struggle and come out on top. This hike allowed me to literally do that. I was on top of the world that day. I am so grateful for the friends I have in my life who ALWAYS show up. Even if it's to an ill advised high peak hike after a night of drinking and being up until 2am!
Until next time, keep traveling wanderlusts!