Good Times, Delicious Times
I try like hell to outrun it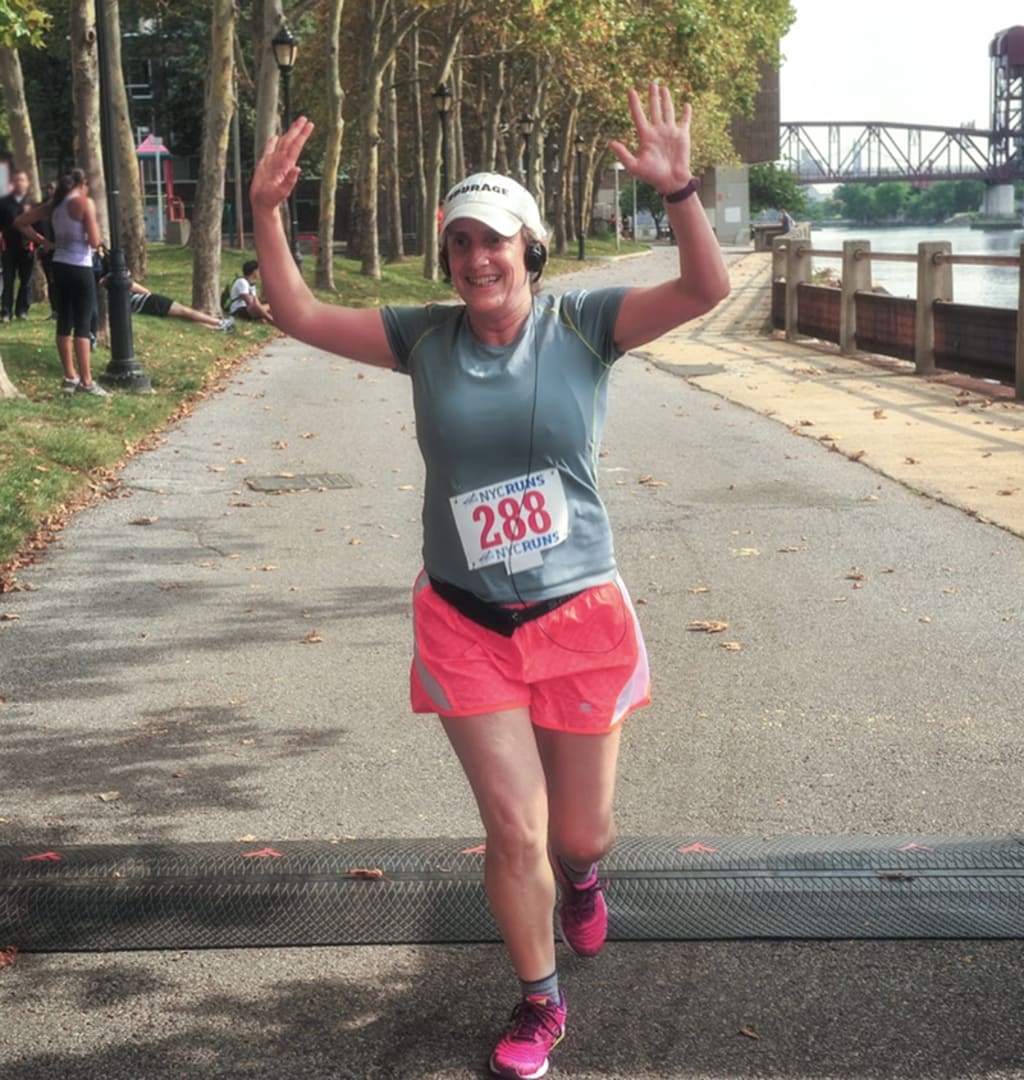 "Every run has a purpose"
--Global Head Coach Chris Bennett, Nike Running
THURSDAY
April 16, 2020
• Meditation, light, hydration, air, movement completed by 8:02am.
• Breakfast was: two little mushroom pizzas on rice cakes. Followed by a smoothie. Oh my gosh, my immersion blender broke while I was making that smoothie. I've had it for years, and yesterday the blade just got jammed on a piece of crystallized ginger. I won it in a sucker bet with a family member. I hate sucker bets, there's no challenge, but I really wanted the immersion blender. Good times my beloved appliance, delicious times.
• Would you rather go to a closer laundromat, which is cheaper and filthy? Or one which is further, more expensive, but is so clean that you would actually consider eating there? Yea, me too. I brought Maria some Gin Gins, Spicy Apple Ginger Chews. I discovered that she is crazy about ginger. I like to bring the employees little, wrapped, healthy treats. They take such excellent care of my clothes. I would like to take a moment to send healthy vibes out into the Universe, for Maria's brother.
• Coach Bennet, of Nike Run Club, says that every run has its purpose. Yesterday, while my clothes were in the laundry machine, I ran around the block as many times as I could during the wash cycles. Several times I passed these two drunken jackasses, I know from my neighborhood. The last time I saw them, I was on my way to my last in-office therapy visit. On that day they were very publicly and verbally assaulting my mailman. I shouted at them both. "He's not Chinese, he's an Asian American, in a red, white and blue uniform." I followed with a few choice, colorful, deserving words. But yesterday, I just mouthed that rainbow to them, from behind my mask.
• I had a great conversation about creativity with a former co-worker, which truly inspired me. I later found out that 70% of our former co-workers are being laid off until the end of August, with neither pay nor insurance. I hope this is hearsay. If not, if it is happening, I'm sending positive vibes out into the Universe to each of them, including those responsible for, and who have to carry out the layoff.
• I cleaned out an entire corner of my room. I found a party gift from a cousin's wedding in 1969. That was some neglected corner, no?
• I am discovering that my little successes in taking control of my insomnia, can be measured by how I am feeling as I get up in the morning, and what I am able to complete. For the past few weeks, my focus has been on myself. Perhaps this is because I haven't had to go to work, but I've needed this time off for months. I am very sorry that at the same time, the world is suffering. I am also discovering that I am falling into a bit of a routine, which changes daily. My genuine hope is that it is sustainable. It feels like it is.
"Eats, Shoots & Leaves" by, Lynne Truss. 2003.
--------------------------
I spent entirely too much time this morning looking for a blog post I wrote in 2014. It's about me crapping my pants, in the middle of a 5K, on Roosevelt Island. I thought the story would relate to my day. Even though, I haven't recently wiped molten lava diarrhea from my ass with leaves, crouched under the 59th Street Bridge recently. I know that you are disappointed that I couldn't locate the original story. But what can I tell you that I haven't already admitted to?
I did find the Nike graph of my run that day, as well as my description:
"You can see me here running a really good race, and picking it up during mile two. And then, I feel it coming and I try like hell to out run it. And then . . . it's happening . . . it's happening . . . it happened. After cleaning myself off as best I could in the bushes, I still managed to cross the finish line at 44 minutes. Mother Nature? That you?. Somewhere on Roosevelt Island."
I was also lucky to have found a repost from the same blog, about a very different race, with a much greater outcome:
"From Robin Arzon. Endurance athlete. The mastermind behind Undo Ordinary. Who I was lucky enough to meet this past summer at the MS 5K on Roosevelt Island.
My Top 7 Lessons from 2014:
1. People will disappoint. Experiences will overwhelm. Don't give them power.
2. Life is too short to pretend you don't like Taylor Swift.
3. Willpower is a muscle. It's finite. And always renewable.
4. Your health is very fucking important.
5. It's not supposed to be easy. And it's OK to be sad.
6. See through chaos. You're not always meant to conquer it.
7. There's nothing scarier than never feeling fear."