Five Tips To Get Five Servings Of Fruits and Vegetables Every Day!
For good reason, nearly everyone has been told to "eat your fruits and vegetables."!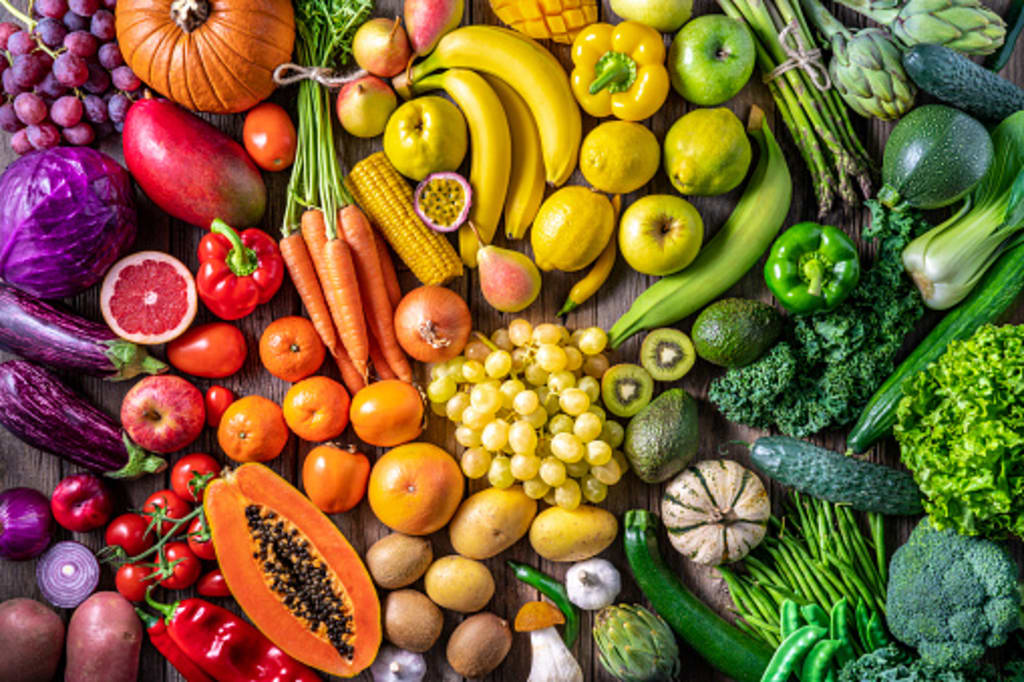 They are high in fiber, which helps in the maintenance of a healthy gut and digestion. They are high in water, which helps to hydrate tissues and lubricate joints. They are high in vitamins and minerals, which help to feed and replace cells and keep the body's biochemistry functioning properly. They are also high in phytonutrients, which help boost the immune system.
In fact, fruits and non-starchy vegetables contain almost everything while being low in calories. Non-starchy vegetables have only 25 calories per serving. Fruit contains only 60 calories per serving. The best part is that these low-calorie foods contain little to no saturated fat.
"There is no getting around it." "For optimal health, children and adults should consume five servings of fruits and non-starchy vegetables per day." "That equates to about two servings of fruits and three servings of vegetables per day," Wright explained.
A serving is roughly half a cup of cooked vegetables or a full cup of raw vegetables or fruit. A serving is also considered a baseball-sized fruit, such as an apple, pear, or orange.
Five servings may appear to be a large order, but it is doable. A registered dietitian explains the five ways to get five servings of fruits and vegetables per day.
1. Purchase them
"Buy fruits and vegetables on a regular basis so that they become a part of your lifestyle." "You can't eat them unless you have them," Wright explained. "Fresh is best, but frozen and canned are acceptable as long as they contain little sugar or salt." "If you eat frozen meals, select those with non-starchy vegetables and avoid those with potatoes, corn, peas, or other starchy vegetables."
2. Make a juice
"Throwing a few servings of fruits and vegetables in a blender is an easy way to get a few servings in at once." Juicing is a great way to get a lot of vegetables into your diet, especially if you don't like them. "You can even add protein to your mix, such as Greek yogurt, tofu, or pasteurized egg whites, to boost its potency," Wright said. "Remember that you can drink your blends with meals or on the go."
When juicing, the amount of vegetables used should be slightly more than half of the amount of fruit used. Make sure to scrape the blender for pulp; it is critical to consume the fiber.
3. Chop them up
"Chopped or diced vegetables can be added to almost anything," Wright says, "including soups, chili, stews, casseroles, pastas, sauces, omelets, and even frozen meals." "When they're in small pieces, like onions, most people won't notice or care." "The food will be more nutritious-and delicious."
Get a variety of colored vegetables to experiment with flavors and nutrients. Chopped vegetables can also be used as a snack or to make delicious low-fat soups.
4. Cook them
"Some people who didn't grow up eating vegetables say they don't know how to cook them," Wright explained. "But if you can cook steak and eggs, you can cook vegetables." "The internet is rife with recipes, so you can read one  or watch a video  and learn to cook a variety of flavorful vegetables."
Vegetables can be prepared in a variety of ways, including boiling, steaming, baking, and stir-frying. Each method imparts a distinct flavor and texture to the vegetables, so experiment with them all.
5. Make a main course with them
"Most of us were taught that fruits and vegetables were merely optional side dishes or garnishes." "The truth is that half of our plate should be non-starchy vegetables with some fruit, and the other half should be protein and grains," Wright says. "You don't have to be a vegetarian to eat vegetables for dinner."
Prepare vegetable-focused dishes like stuffed vegetables, salads, curries, and stir-fries. People can eat more vegetables because they are low in calories and fat.
That's all there is to it! Follow these five steps to get your five a day!
About the Creator
If you have some free time, I'd really appreciate it and be inspired if you read through my stories to learn some advice and find some inspiration. Thank you.
Reader insights
Be the first to share your insights about this piece.
Add your insights