California Healing
by Arlen Fuentes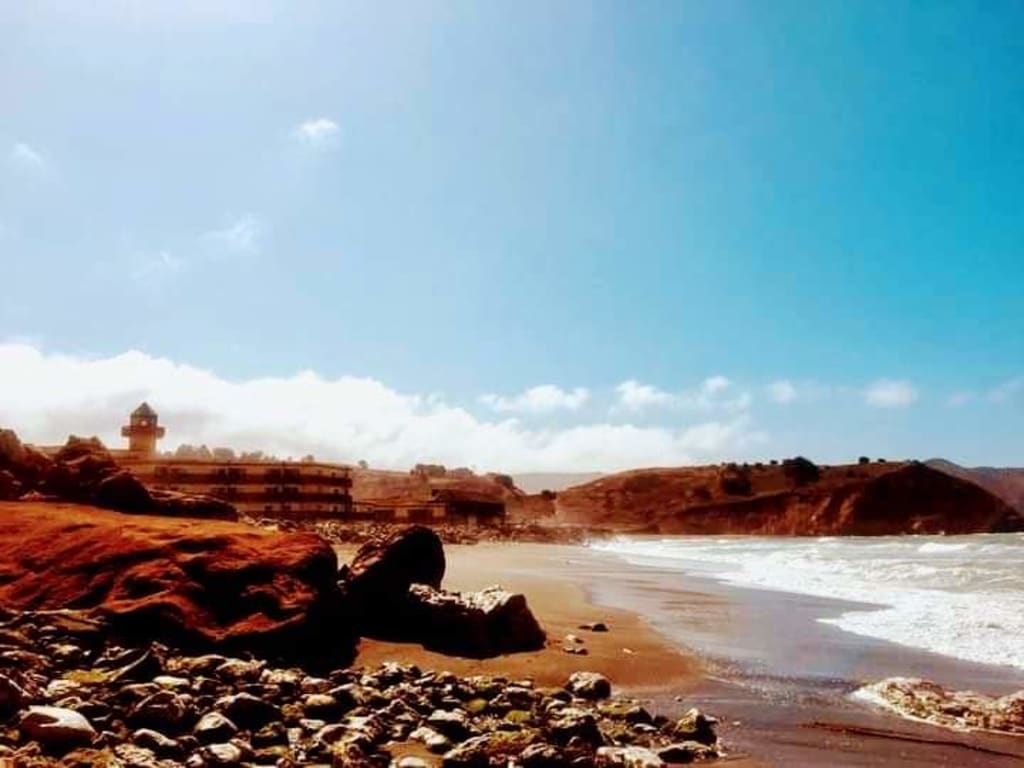 Photographed by Arlen Fuentes
I'm Four.
This L. A boy has never experienced a December cold, all of that is about to change, the winter of 1998. My father who is serving a lengthy prison sentence has signed over custody of me, to my maternal grandmother, who is coming to collect me a week before Christmas. I'm awakened in the early morning hours, by the woman who was like my foster mother. She is packing my few belongings to hand me over to my actual family.
I'll never forget.
The cold or the first time I felt the Aquatic breeze, once the van entered Daly City. The sudden migration and separation of my past life left me in a state of anxiety and depression. I would wet myself constantly, I always felt afraid that I would be taken away and readjust to a new family. My heart never felt grounded in one place, I cried constantly, cried too often because I missed my mother. It was then that her brother, my Uncle Ernesto, started taking me to the Ocean. He took everywhere I was allowed; he taught me how to roller-skate, how to ride a bike, how to box, but the lesson that has been everlasting is that in times of stress, a walk near the ocean cures the rest. It may not solve everything you are carrying, but it can take some weight off of your shoulders, even if it's just for a couple of minutes.
Part of the beauty that compromises much of my home state of California is its iconic aquatic scenery. Whether it'd be a tour of the Golden Gate Bridge or Alcatraz Island or splish-splashing at the Santa Monica Pier. Yet what solidifies this beauty is the simplicity of a walk near or around the ocean where you can decompress. Being around the water is scientifically proven to lower anxiety levels and stress.
What makes my hometown of The Bay Area fascinating is that people from all walks of life, from all over the world, have walked its beaches, have cried, prayed, partied, celebrated, meditated along its coasts. People escaping wars, violence, poverty… people like me, who were abandoned as children, individuals like my Uncle, who as a ten-year-old boy fled a war-torn country, have all found a mechanism of healing, simply by taking a walk or taking in the view of the waters. 
For years, California has been progressive in harvesting a melting pot of different communities. With the rise of intolerance and the ongoing COVID-19 pandemic, our state has been hit hard by targeted violence and intolerance in different ethnic communities, extreme poverty, and homelessness… the issues are a mountain of problems that are still often not addressed properly. In these times of uncertainty, one thing is forever certain: they cannot tame the human spirit. We must rise against the sociological and psychological plagues that separate us from helping our fallen brothers and sisters. Rise above the hatred, look deep within the scopes of your soul to discover that within, each and everyone lives a being with the power to love and be loved. These days, I go for strolls along the waters of the East Bay more than ever. As the world is healing, I am too, letting go of all my mental heartaches that need to be laid to rest, to welcome an uncertain future. I still walk along the waters of the towns that have seen the development of my childhood, the craziness of my youth. My heart seeks peace at all times and may peace always be with each and everyone one of you.
God Bless Us All.
healing
About the author
I'm a dirt person. I trust the dirt. I don't trust diamonds and gold.
-Eartha Kitt
Bay Area Raised 🌉.
Writer/Poet/Designer,
Son of God & California.
♍ 🇺🇸🇸🇻🇭🇳🏳️‍🌈
Reader insights
Be the first to share your insights about this piece.
Add your insights