A Stitch in Time
Silver linings can be found in the darkest of pits.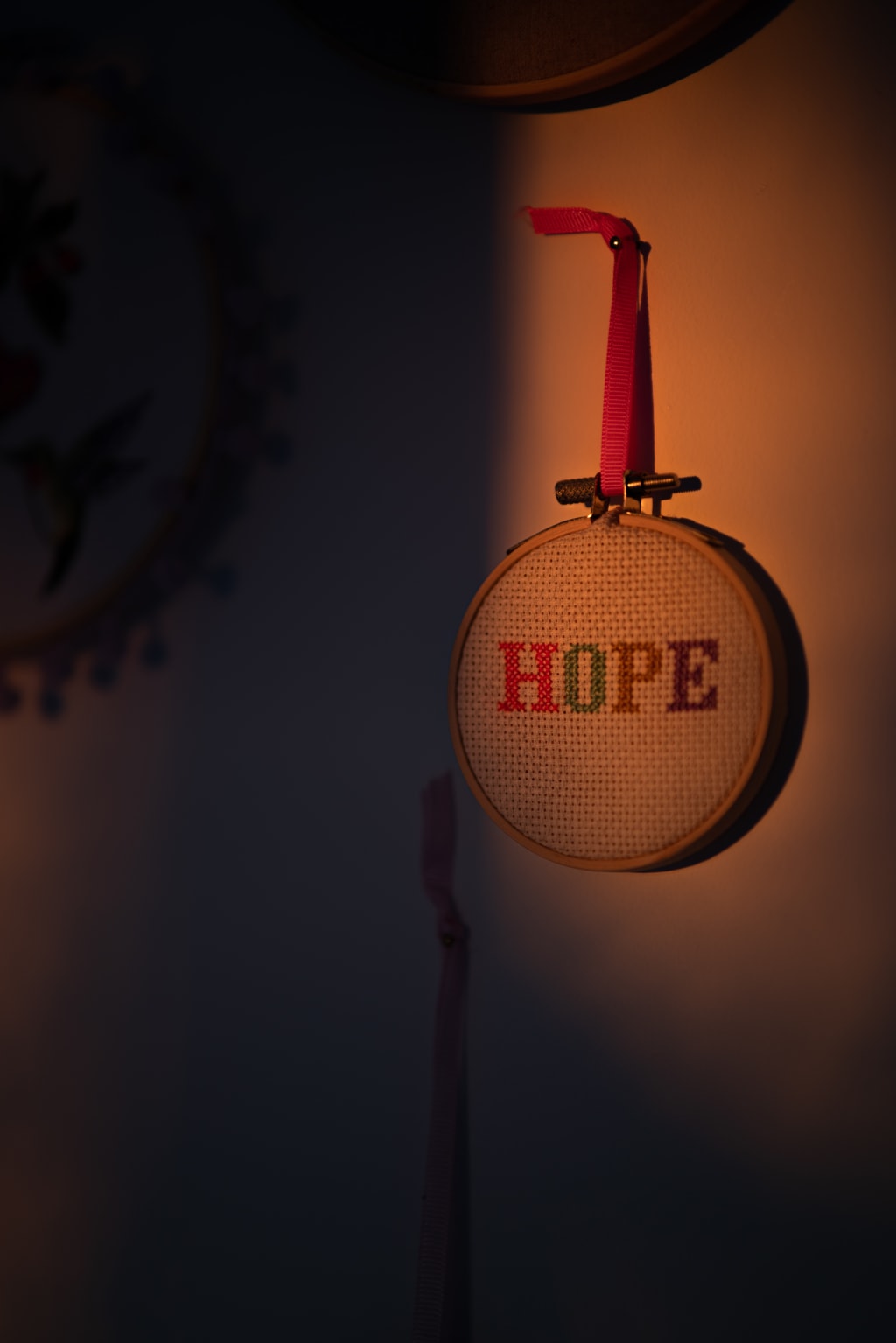 Photo by Eriks Abzinovs on Unsplash
Imagine, if you will, a woman in her early thirties. She'd had a hard life, and despite the many travails and put-downs, she had not only survived but thrived. Slim, fit, and active, she had finally found peace and self-acceptance. After six months of enjoying her new-found freedom, the universe decided she could cope with more.
A lot more!
One: Unravelling
After a life made up of knit-one-purl-one trial and error—where what she'd knitted together often resembled crochet because of the many holes and lumps and bumps—all the stitches came off the needle in one spectacular and sudden upheaval.
Routine varicose vein surgery led to a life-changing and almost life-ending injury when an inept surgeon couldn't tell the difference between a vein and an artery. The specialist vascular surgeon who tried to pick up the pieces said it wasn't even like the difference between apples and oranges, but more like that between oranges and bananas. One of those injuries that should never happen. A 'never event'.
After 10 weeks in the hospital, enduring all sorts of torments, the system spat her out 28 pounds heavier and significantly disabled. The constant pain debilitated and left her exhausted. The next three years were torture—a blur of pain and struggle and trying her best to get along and improve her mobility. Then came the inevitable amputation, for which she had to stay awake, with only a spinal anaesthetic. In the first week post-amputation, the hospital overdosed her on morphine, and she needed resuscitating.
When things travel south, they seldom walk alone.
Life can be like a chain of dominoes, were one piece falls and knocks over another, and on and on. The original surgeon made his mistake, then the recovery staff ignored the patient's report that something felt badly wrong. Next came the nurse charged with checking for foot pulses. She felt a pulse, even though no artery remained in the leg. One can only suppose she felt her own pulse rather than her patient's. Likewise with the eventual overdose.
The ward was desperately short staffed, and the nurses way overworked. To compensate for the drip machines not being refilled for an hour or two hours after they ran out, the pain nurse upped the amount of morphine per dose to try and reduce the amount of pain the young woman would feel during such gaps of supply. One afternoon, the now-mid-thirties patient knew she'd had enough medication, and the final domino in that scenario fell when her visitor thought he knew better and pressed the 'go' button as he was leaving. She yelled, 'no!' but too late. Within minutes, she drifted into unconsciousness and respiratory arrest.
A surprise domino on the positive side, and one which saved her life, stood its ground despite all falling around it when a nurse happened to be in the six-bedded bay when the woman stopped breathing. A rare event to have a nurse in that bay … often, hours would go by with no staff in there. Thankfully, the nurse understood what was happening and raised the alarm.
Six weeks later, the woman left hospital yet again, but already, she had problems walking on her first prosthetic limb. Sadly, the long-delayed amputation wasn't taken high enough and used damaged muscle to wrap the residual limb. Significant nerve damage and a dire lack of blood flow to the remaining limb ensured that chronic pain and debilitation continued. Her life reduced to attempting to get mobile and lose that extra weight—having gained an additional 35 pounds despite her best efforts—and dealing with the constant pain. Her years of meditation practice got her through, but her life was empty of joy and relief. Those around her failed to compensate for her reduced abilities, and she found herself alone and in need of occupation and purpose.
At age 40, the now not-so-young woman decided a drastic change was needed. She'd done all she could in her current situation. And so, emulating the cliché, 'life begins at 40', she set out to start anew. The author writing this short tale was born.
Two: One Stitch at a Time
Upon publishing her first ever novel, The Battle for Brisingamen, Harmony realised she had a lot to learn and got busy re-educating herself. She also made many friends within the writing community. Life developed meaning and purpose. Quickly, another book followed: The Glade, which showed a darker side to her imagination. (Cue evil laughter.)
Along the way, Harmony discovered she had a talent, and enjoyment, for digital design, including making book covers and video trailers for books. Later, she got hooked with book formatting, and after doing a friend a favour, began a career in editing and proofreading, as well as formatting. Through this, she met many more wonderful people.
Outside of working, writing, and reading, Harmony fell in love anew with knitting—a pastime she had enjoyed in her younger years—and spent many a happy hour making for herself and her friends. Somewhere along the way, she also fell in love with the man who is now her husband. Funny how life works … without the injury, she likely wouldn't have made the decisions she did, wouldn't have moved to Cornwall, and wouldn't have met her husband. She might not even have started writing.
Silver linings can be found in the darkest of pits.
Tragedy was to strike again, however. By trying so hard to rehabilitate, Harmony damaged both shoulders and the hip on her 'support' side. Eventually, even knitting became too painful. Shelves of wool stand waiting forlornly for her to get back to that relaxing craft. ... One day.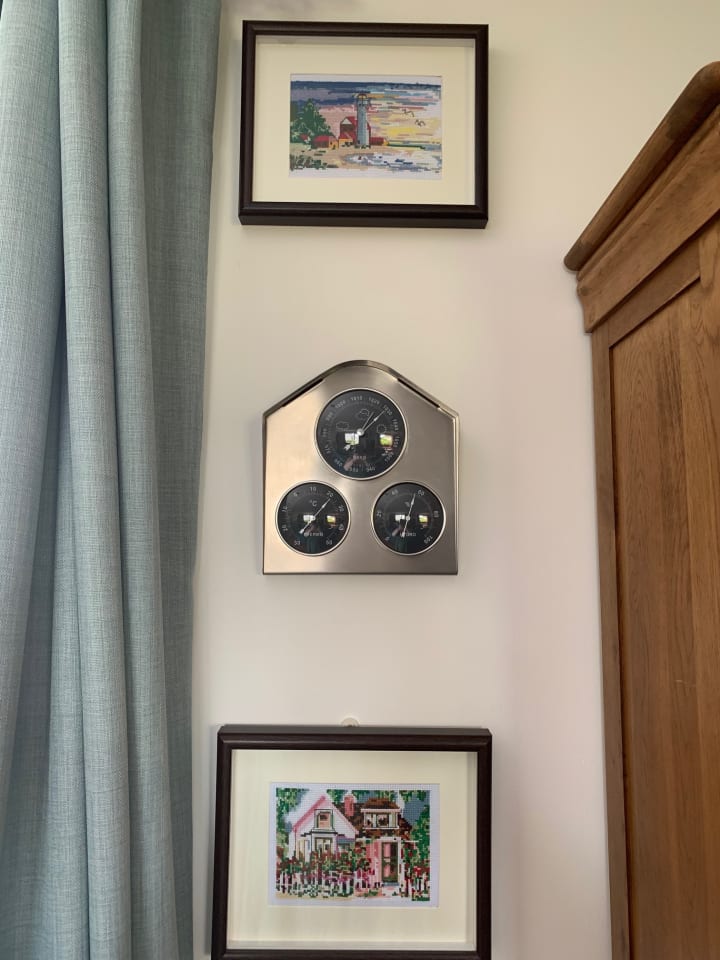 In some frustration, and battling despair, she told her husband and soul mate, 'There's only so much reading I can do in a day. Especially when I read for work as well!' That wonderful man took his wife's words to heart. One day, he returned home with a gift from a mutual friend: three old, unused cross-stitch kits. Harmony hadn't done cross stitch since her early twenties but remembered she used to enjoy the activity immensely.
Tentatively, wary of her troublesome shoulders, she began one of the two small kits and soon had it finished. Then she whizzed her way through the second small kit. At the time of writing, both now hang on her wall in pride of place. Harmony is busy making good progress with the larger kit—a gorgeous pair of wolves—and has a beautiful tiger kit waiting for her, after her husband did his own research and bought her the tigers for their 'cotton' wedding anniversary. Cross stitch has given this writer a new creative outlet and fills her time when she has done enough reading and writing for the day.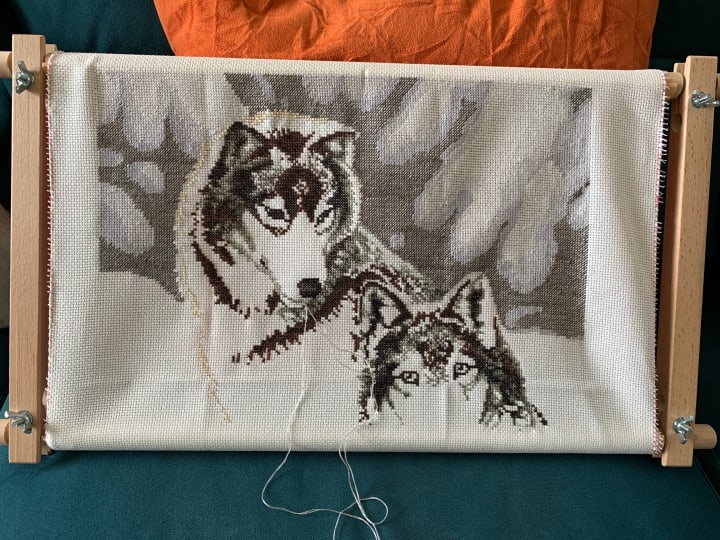 The gift and the rediscovered love of cross stitch couldn't have come at a better time and reminded Harmony that even when life feels overwhelming and impossible, she can always make one more stitch on the canvas of life. That's all any of us can do, and all that's needed … just one stitch at a time. And when, in quiet moments of reflection, we sit and look at what we've accomplished, we'll see the beautiful tapestry we've stitched from determination, bravery, perseverance, life, and love, and hope.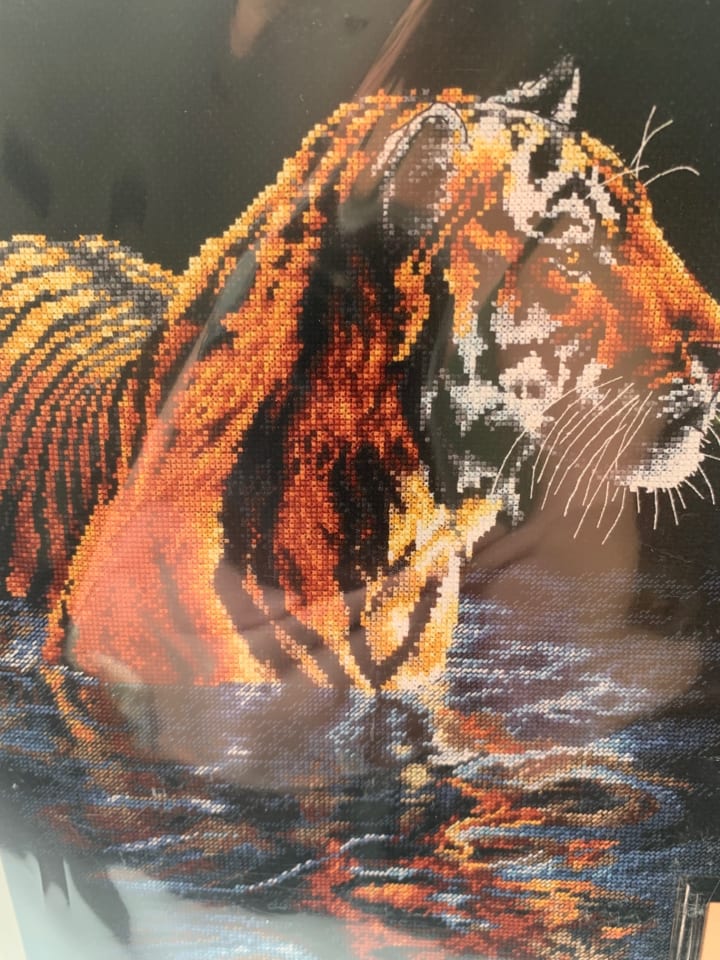 ______________________________________
Dear reader,
Thank you for sharing my story with me. I hope my words have inspired you in your own life, even if in the smallest way. I would be so grateful if you could leave me a like below, and if you're able, a small gift to help me continue sharing my stories with you.
Warmest Wishes, Harmony :)

healing
Harmony Kent began writing at 40 after a life-changing injury. An avid reader & writer, Harmony also offers reviews and supports her fellow authors.
You can find Harmony at https://harmonykent.co.uk