8 Ways You Can Start Your Day With More Mindful Intentions
I have a love-hate relationship with mornings.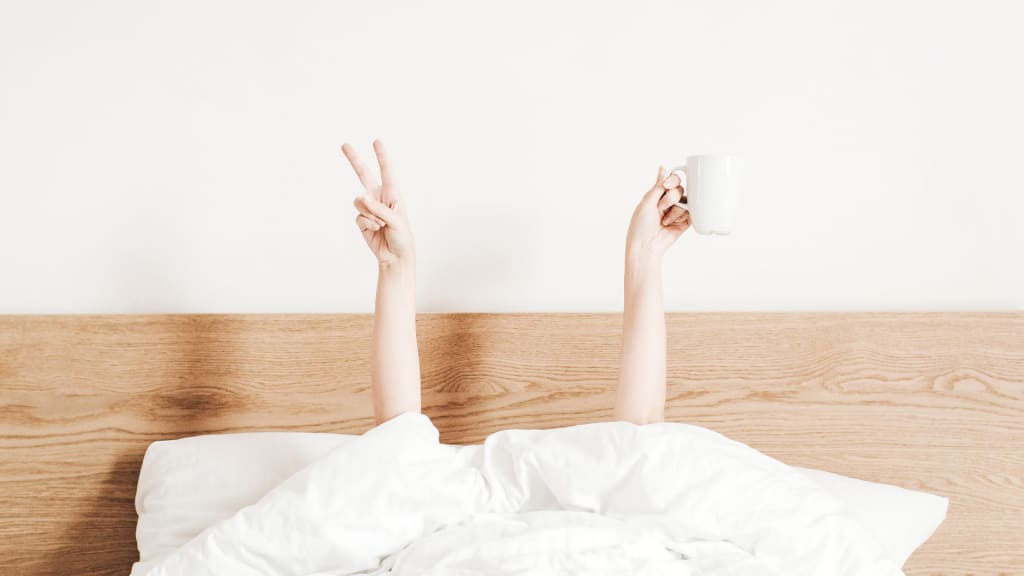 Some days, I get out of bed well-rested and ready to take on what the day has to offer with open-mindedness and gratitude.
Then other days, I'm overcome with anxiety, dread, and fear and would rather just crawl back into bed. These days are often triggered by insecurities and some are harder to shake than others.
But I hate wasting a whole morning, or even an entire day when I let my anxiety take over. So I stick to my routine, remain gentle to myself and I remember that each action I do every morning should be done with mindful intentions.
1. Small stretches to wake up.
I have pretty wild dreams most nights so awakening my body and coming back to the present is an essential part of my morning. I do this before I even turn any lights on so that I can give my body and my mind a moment to reset.
These aren't meant to be full-body stretches like a pre or post-workout routine, but instead, just wiggle your toes and fingers, rotate your ankles and take a few deep breaths.
Then maybe sit on the side of your bed and let your feet touch the floor. This gets your blood flowing and gives you a moment to release any tension in your neck. Gently stretch your neck by lowering one ear to your shoulder, then the next.
2. Wake up the house.
This is something my girlfriend and I have started doing since we bought our home in May and we do it with one of our cats, Percy, who has anxiety and likes routines as much as we do.
If you don't have a pet you can do this with children or even just by yourself!
After I've gotten out of bed, I turn on the salt lamp on my nightstand because harsh lights in the morning can really trigger my anxiety. Plus, nobody likes waking up to a bright ass overhead light, right?
We always ask Percy if he's ready to open up the house to which he replies with a sleepy, "meow", which we assume is a yes. I pick Percy up and place him over my shoulder and hold his bum with one hand while with the other, I start opening up blinds.
Then we make our way to the living room where we have a small lamp that we turn on each morning, we open those blinds even when it's still dark out, and make our way to the coffee pot.
I never realized how something as simple as turning on soft lighting and opening blinds to wake up my home could be such a healing process for starting off my morning.
3. Wake up your hands.
If you're not a tea or coffee drinker in the AM then this may not fall into your morning routine, but it's another small and simple way to set a mindful intention for your day.
After I wake up the house, I pour coffee for my girlfriend and myself and bring it back to our bedroom where we watch the news. There are also mornings where we have our coffee in the living room by the fire as well. Feel free to enjoy it wherever you like be it the bed, a couch, a nook, or even outside.
Once you're settled, intentionally wrap your hands around your mug and feel your hands heat up. Take a moment to breathe in the aroma of your fresh brew and relax.
So many of us grab a coffee or tea on the go and rush out the door, but setting aside a quiet moment to appreciate the warmth of your own mug at home and waking up your hands with the sensation of the heat can truly make a difference to your morning.
If you are a fan of tea over coffee, check out Yogi teas. Each sachet tag has a short mindful reminder on it that can give you an extra boost for your day.
4. Wash your face.
This one is not new to me but it's new in the sense that I've stuck with doing it consistently for a week now. I work from home, so I often shower in the evenings for bed and because I do that, I easily neglect the practice of skincare in the morning.
I live in Arkansas right now where it's not frigid but it is cold and the air is dry. I've also lived in Iowa where the air is so cold and so dry it actually hurts.
Wherever you live, it's important to show your skin a little self-care and in the mornings is a great way to give you that burst you need before you start your day.
There's something about splashing a bit of lukewarm water that jolts me out of my sleepy funk in the best way possible.
5. Make your bed.
This is such a simple morning task, yet it's so often overlooked. And I'm not saying I'm perfect. There are definitely days where I'm feeling more sluggish and I look at my bed and shrug it off to do it later.
But for me, my bedroom is a safe space. I like to keep it clean and tidy so that no matter what happens in the middle of my day that may shake me, I can always come back to my bedroom for healing and rest.
Making your bed each morning before starting your day is also proven to fill you with a sense of accomplishment, improve organization skills, bring you a sense of calm, reduce stress, and enhance your sleep.
A tip I found through a YouTuber to keep your bedding fresh between washes is to fill a bottle with a bit of your softener and water. Shake it so it mixes well, and spray this on your sheets and pillowcases.
I spray mine generously on each layer. The fitted sheet, bed sheet, comforter, and each pillow. I love not only settling down in bed for the night to relax, but it smells amazing.
6. Journal.
This one is hard to commit to.
I've had numerous journals over the years and I always find myself committing to it for a few days, and then every other day, and then suddenly, it's forgotten about on a shelf collecting dust.
However, instead of journaling in the traditional concept, why not just write a few things down to show gratitude for the day or yourself. We are all writers after all, at least on this platform.
Write a few things down that you're thankful for, grateful for, things you'd like to accomplish for the day, mantras, or even doodle anything that comes to mind.
Getting your positive intentions or goals for the day written down helps to bring them to life. You've given them a little more purpose on paper vs letting them stay cooped up in your head.
7. Step outside on a sunny morning.
One of my favorite days is trash and recycle day.
Most homeowners are probably thinking I'm crazy, but I intentionally wait until the morning of to take the bins down vs doing it the night before.
Now I definitely don't get enjoyment from this on a rainy morning and if I know it's supposed to rain that day, I more than likely will take them down the night before.
But there's research behind sun exposure first thing in the morning.
Our sun fills us with natural vitamin D. Sunshine can help reduce stress and help fight off depression so why not start out your day soaking up a little sun.
And when weather permits, you can even combine waking up your hands with saying hello to our sun!
8. Light exercise.
Okay, I know how hard it is to get up in the morning and do a full-body workout. I'm not standing here as an advocate to tell you to do that. I'm talking about some light yoga or even a walk.
I don't do it often enough, but starting off my mornings doing Yoga with Adriene completely shifts my day to be filled with promise and gratitude.
Of course, you can do yoga however you like. Treat it like a silent meditation, go to a class, or follow along on another YouTube channel. But if you haven't checked out Adriene's videos I strongly suggest it.
She keeps everything relatable, calming, reassuring, and forgiving. So if you're a novice like me, there's a place for you in her community.
And if yoga is just really not your thing, go on a light walk. Anywhere from 10 to 30 minutes to get your body moving and waking up. This also gives you the opportunity to listen to your favorite podcast or audiobook. I used to walk in the morning and pop in my headphones to listen to Brené Brown for an inspirational start to my day.
But listening to My Favorite Murder is also a solid choice.
Sticking to routines can be difficult for some people, but I promise once you put it to practice, it will stick like Gorilla glue.
I encourage you to try these tips if you are finding yourself needing a change to your morning routines. Even if you just incorporate a few to see what works for you, there's no right or wrong way to set your intentions!
Just as long as you're doing it with thoughtfulness, gratitude, and self-compassion.
Thank you so much for taking the time to check out my writing. If you'd like to support me, sign up to get every new post sent straight to your email, or if you'd like, you can buy me a coffee!
Until next time,
Haley