4 Self-help Books that Aren't actually Bad
Moreover, they provide lots of value.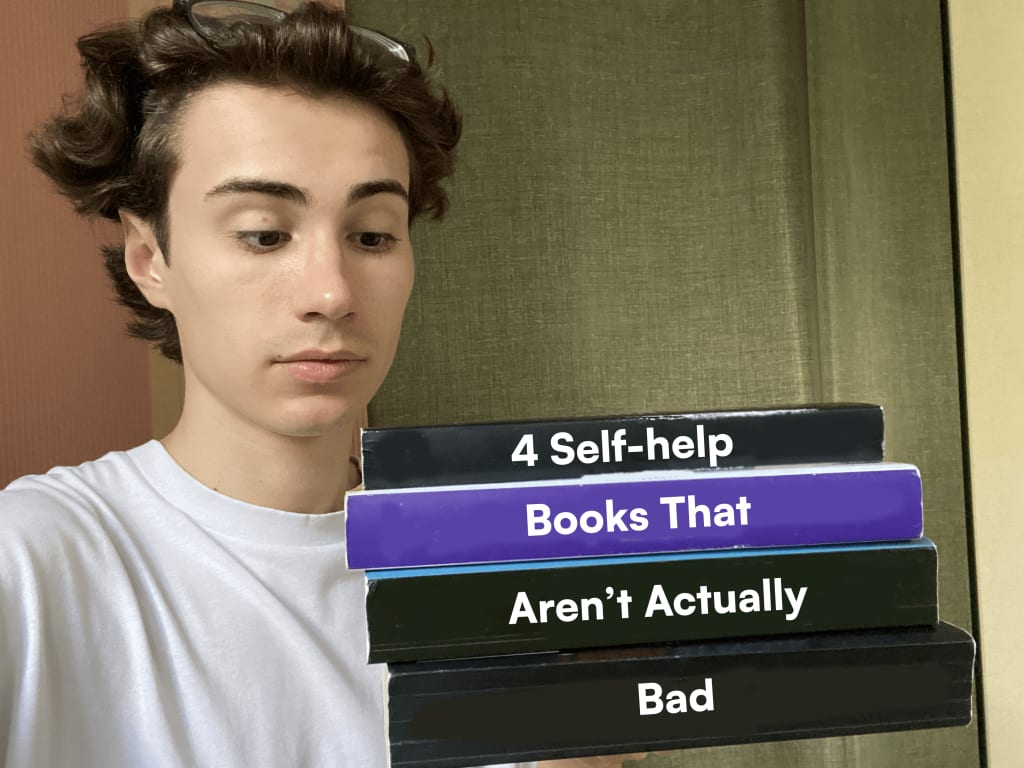 Author's Image - 4 Books.
I understand why people hate self-help books.
Most of the authors aren't providing any value. They rephrase the same "lessons" from other books and articles. Moreover, they get rich and popular from these books.
Reverse engineering.
Write a self-help book to achieve success. A great business plan in my opinion.
These types of characters are known in today's world as "gurus". They provide 0 value & say the most obvious stuff. All this is under a huge price tag. The "help" comes in different forms: courses, calls, discord servers and books.
They have always been around, and sadly, always will be.
It's sad that the reputation of self-help books is tarnished because of these individuals, but. I was introduced to reading through these books. They helped me a lot, especially at the beginning.
Like everyone else, I found some horrific ones. Through lots of seeking and recommendations from people I aspire to be, I found a few 5-star books that actually weren't bad.
They blew my mind.
They actually helped me, funny enough.
With their help I started writing and showing my work, helping me slowly build my confidence. Lessons that changed the way I act towards work, money and most importantly time. Rules that helped me shape the best version of myself.
Here are my favourite self-help books that aren't actually that bad —
1) "24 Rules For Life"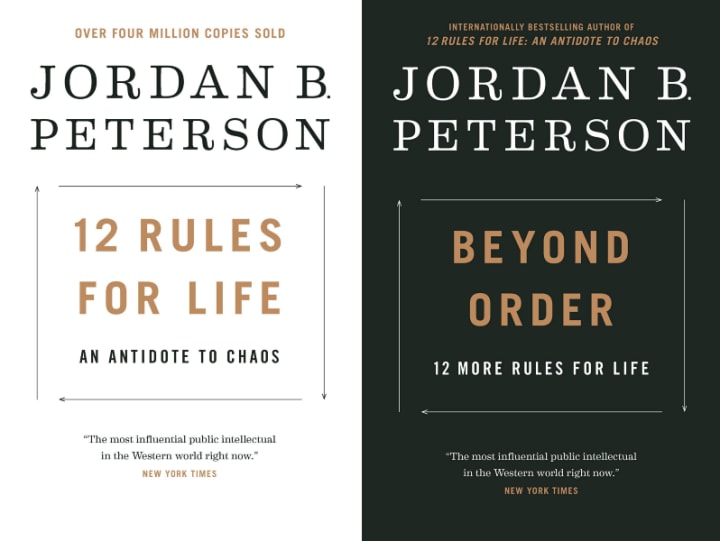 - 12 Rules For Life & Beyond Order — Jordan B. Peterson.
- ~400 pages each.
- both ~4.8.5/5 on Amazon.
---
The books that shaped my identity, helped me survive the worst and finally change my life.
I know, 2 books. I combined both of them, creating 24 Rules For Life.
I found out about this book from Pewdiepie!
Yes, that's right. The most popular Youtuber in the world. In 2018 he started a series called "Literature Club" where he read books together with his fans. In the first episode, Felix mentions the 12 Rules of Life.
He loved it.
It was so good that he realised its a self-help book only at the end. He found this book super insightful.
I totally agree with him.
I don't want to sound sassy, but, Jordan B. Peterson changed my life. With both of these books, he opened my eyes to all my problems. He proved to me that I was lying to myself and I am not pursuing what is meaningful.
These lies were destroying my life.
These books will uncover lots of unwanted secrets about yourself, but. That doesn't mean it's bad, I would call it a blessing.
My favourite rules:
- Tell the truth — or, at least, don't lie.

- Compare yourself to who you were yesterday, not to who someone is today.

- Work as hard as you possibly can on at least one thing and see what happens.

- Be grateful in spite of your suffering.
Seek the truth!
2) "Become An Artist"

- Steal Like An Artist, Show Your Work, Keep Going — Austin Kleon
- ~200 pages each.
- all 3 ~ 4.7/5 on
---
You are reading this article because of these 3 books.
I'm being honest.
I know, I lied again, now there 3 more books.
I'm sorry, but they are very short and if you read 1 you must read the other 2 as well.
I found out about them from Ali Abdaal, a productivity/self-help Youtuber. He always recommends great books.
I lied about the book count, but, I haven't lied that I'm writing this article and in general, writing, because of these 3 books.
I became so confident after reading them.
I wanted to write stuff online and express myself to an audience for a long time. It took me 3 years. Now, I don't give a single f*ck. Austin Kleon has explained to me why sharing your work is amazing and that no one cares about what you write, do, express and so on.
I was always afraid of copying others.
In his second and third books, the author explains how everyone comes across problems such as: getting inspired, being original and how fake it till you make it work out. Most importantly, consistency is everything. Just keep going.
My favourite chapters:
- Do good work and share it with people.

- Share something small every day.

- Teach what you know.

- When in doubt, tidy up.
Become an artist and build confidence!
3) "How to Win Friends and Influence People"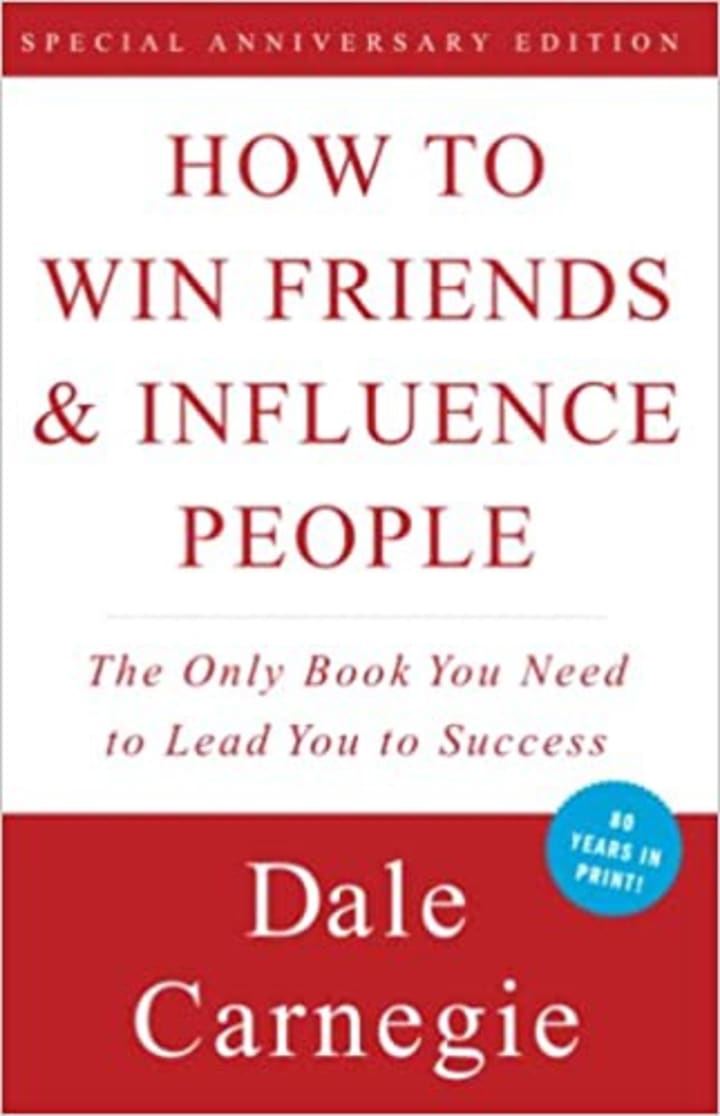 - How to win friends and Influence People — Dale Carnegie.
- 287 pages.
- 4.7/5 on Amazon.
---
This book was published in 1936.
It isn't bad.
This book is so up-to-date that I had to read half of the book to realise it is almost 1 century old. " We had built this house in the 1890s…"
It is so relevant.
Social interactions between humans never really changed.
We face the same social problems as our ancestors. We start fights, criticize each other, and start conversations with the wrong intention. Most of the time is because we put ourselves in the centre of attention, leaving no air for the person in front of us.
Throughout the book, the author explains his principles through real-life examples. He argues that you can achieve anything by communicating strategically, using his tactics.
I started smiling more and formulating my sentences in ways that didn't seem arrogant. Something that I had never done before. Also, people weren't listening back then as well.
My favourite chapters:
- Don't criticize, condemn or complain.

- Give honest and sincere appreciation.

- Be a good listener. Encourage others to talk about themselves.
Listen to when people speak!
4) "The 4-Hour Workweek"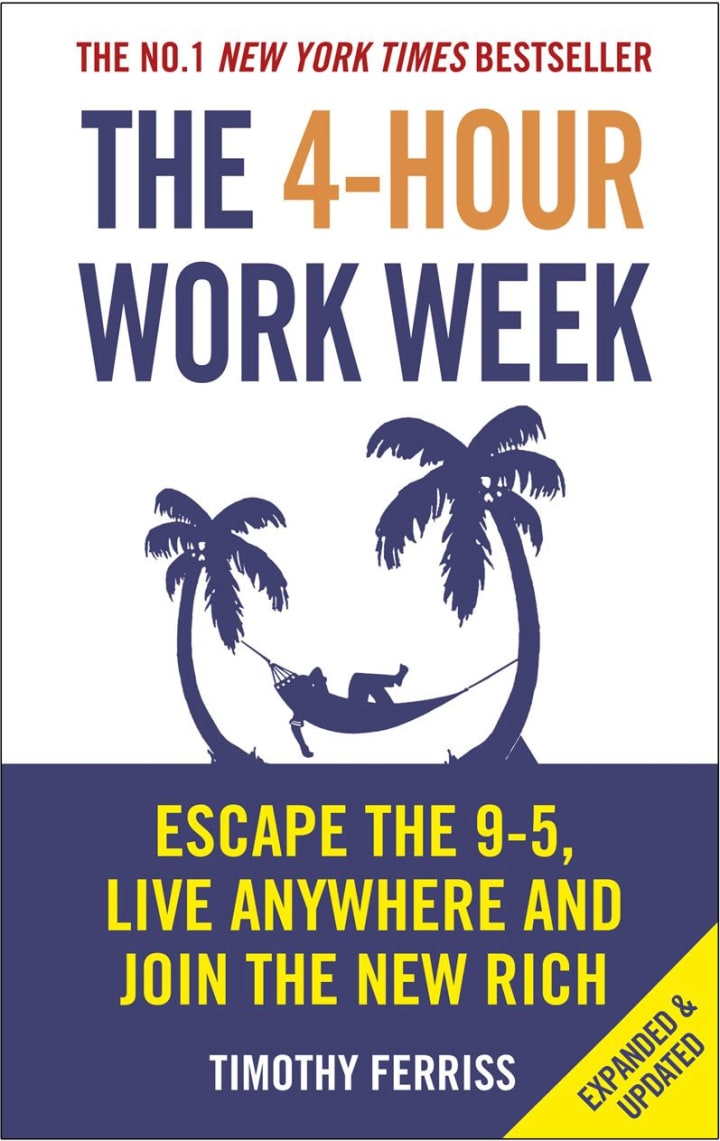 - The 4-Hour Workweek — Tim Ferriss.
- 448 pages.
- 4.5/5 on Amazon.
---
Time is the most valuable currency.
That's because only time can bring true freedom.
People don't want to be rich, they want to be free. Tim explains how to work as little as possible, but, live a comfortable life.
My favourite lesson from the book is the 80/20 rule, also known as the Pareto principle. He explains how people measure productivity by how much they work. The common hustle culture of today.
Tim suggests that you should spend your time effectively, spending 20% of your time to get 80% of the results.
Another good one is, validating your ideas. Make sure you are going to make money from them. He challenges people to go out of their comfort zone, something that I used to struggle with.
I'm an introvert, but, that doesn't mean you shouldn't be confident.
Go out there and ask, speak, and search for answers.
How else will you find out? After you fail?
Don't be afraid!
My favourite chapters:
- Dodging Bullets: Fear-Setting and Escaping Paralysis.

- Beyond Repair: Killing Your Job.

- Outsourcing Life: Offloading the Rest and a Taste of Geoarbitrage.
Work less, make more!
---
Thank you for reading, I really hope you find, at least, one of these books valuable! ❤
Optimize your reading list!
Check out this free Digital Bookshelf  -  a simple reading tracker template :)
About the Creator
Writing articles, reading books, listening to podcasts — constantly learning.
All my socials: bio.link/ionutzkazaku
Reader insights
Be the first to share your insights about this piece.
Add your insights