30 Days of Being Thankful Pt.3
The End of What I'm Thankful For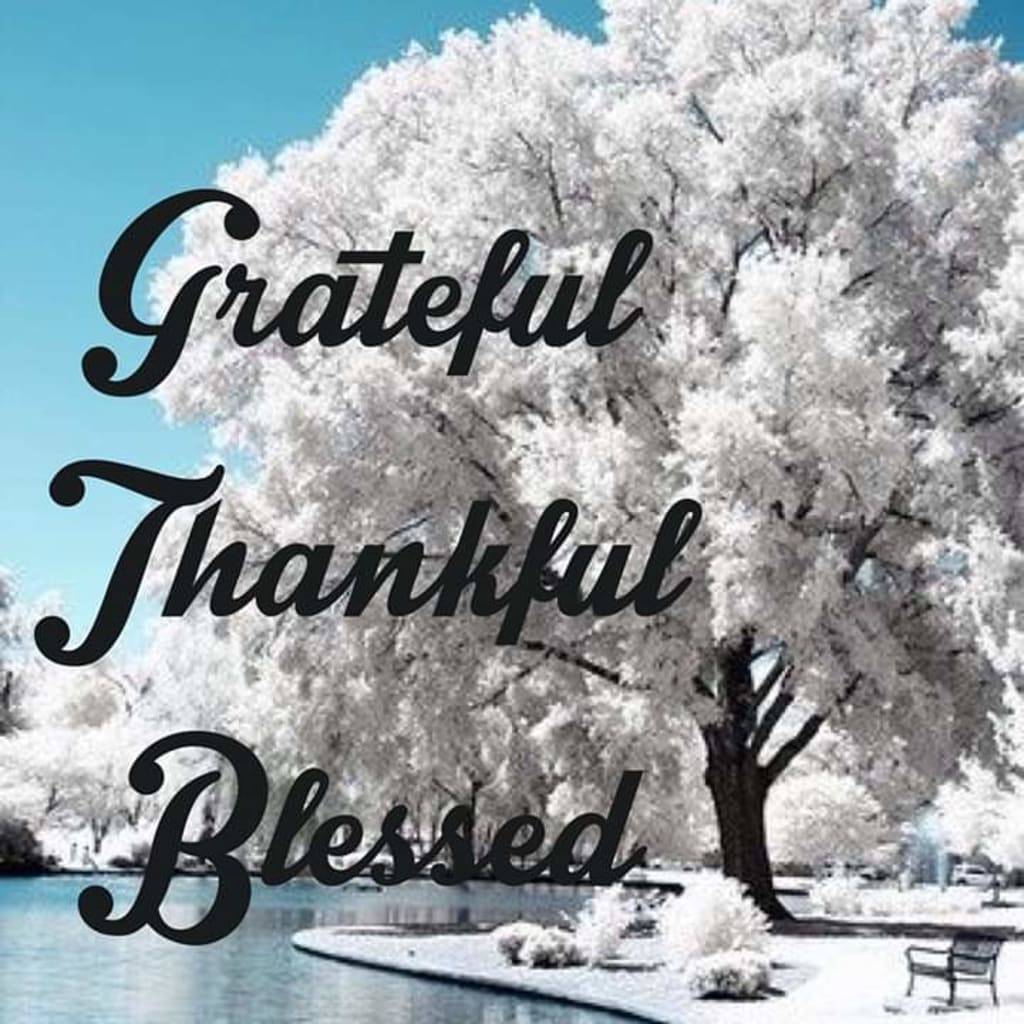 Day 20
I am thankful that I have a friend that knows the truth about my mother-in-law, and I can talk to her when I can't talk to my husband. When I am feeling nothing is ever going to get better, I know I can talk to her. I don't want to hurt my husband, but sometimes I just need to vent—sometimes, and she understands that.
Day 21
I am thankful I get to be a mom and a wife. I don't know what I would do, what I would be if I wasn't a wife or a mother. My life was not complete until I got my family. Then it was whole. I love my family very much, and they are the best part of me.
Day 22
I am thankful to be a high school graduate. In school when you are a kid, you just want to be done with school. When you get older, you wish you stayed in school or you were wanting to go back to school to learn better and have a better job.
Day 23
I am thankful to not be hooked on drugs, something that could take over my life. I chose to be a mom—instead of being on drugs and killing myself. I have a much better high doing what I do. It's so sad to see how people have messed up their lives by doing drugs and other things. These are toxic things that don't need to be put in our bodies, and they also kill our souls. My addiction has always been coke... Coca-Cola!
Day 24
As much as I detest my mother-in-law's shady behavior, her need for attention, and her controlling behavior when it comes to her son, if it wasn't for her, I wouldn't have my husband. Maybe I would be married to someone else, or I wouldn't be married at all. I wouldn't get to be with the great guy that I have. I love that man to death and couldn't imagine a life without him.
Day 25
I am thankful my kids do so well in school. They have a good time with their friends. They go out for teams and other things. Their proud of themselves, and we as their parents are so very proud of them as well. My son has gone out for soccer, JROTC teams, and hockey, just to name a few. My daughter has dance class. She wants to join JROTC. She wants to go out for sports, but can't yet. She has to wait for next year and she is also in the strings as well.
Day 26
I am thankful for so many veterans, and so proud of my family members that have fought for us all: Uncle Carl, Uncle James Mcqueen, Uncle Melvin, grandpa Charlie, cousin Melissa Martin, and so many more... my friends Gregory Williams, Patrick Edwards, and Leslie Frederick. Not all made it, but I'm so proud and thankful to know you all. I love you all. Thank you to all veterans, for not only fighting for us, but standing for us.
Day 27
I am thankful that my kids know of my mom, and they see her as not only a grandparent, but their only grandparent who would hate not being here. When I look at things with our family, Rhonda Reynolds and I often wonder what my mom would do in that situation, or would my mom plan this out: Would she dress up with the kids, would she take them trick or treating, would she be there on holidays—not working—but I will never know. And it is so sad. I try to make my memories live on for them as best as I can, but it's not the same. If my mom was here, my kids would have a grandparent. I think it's pretty sad when a child doesn't have a grandparent who cares. Shame on their grandparents. I had an amazing grandma instead who was my great grandma and I loved her so much, and when she died I was so broken. I miss her every day. I can't imagine having not had her in my life when most of my grandparents weren't much to have around, and unfortunately, my kids have less than that because my mom is not here. They are strong and they know their grandma—here or not—and if that's the only grandparent they can count on, so be it.
Day 28
I am thankful that my old man has gotten his head out of his ass. He is thinking and acting like a married man. He is acting like a husband and a father, not just a son. He is putting his marriage first. He is putting his family first, as a husband does, and I could not be prouder of him.
Day 29
I am thankful for days off work.
Day 30
I am thankful for my amazing husband. Without him I would not have such a rich and fulfilling life like I believe I do. I would not feel romance and love, nor passion and reassurance, but with him, I feel so much of this and more.
happiness
I am a proud mother of wonderful kids who I am trying to make proud as well. I am married and have been for 4 years. I am a writer, singer, dancer, home maker, homeschool teacher, and fur mama. I am a law student as well as work at home.
Receive stories by Amanda J Mollett in

your feed