12 Rules For Life : By Jordan Peterson.
12 Rules For Life is a stern, story-based, and entertaining self-help manual for young people that lays out a set of simple principles that can help us become more disciplined, behave better, act with integrity, and balance our lives while enjoying them as much as we can.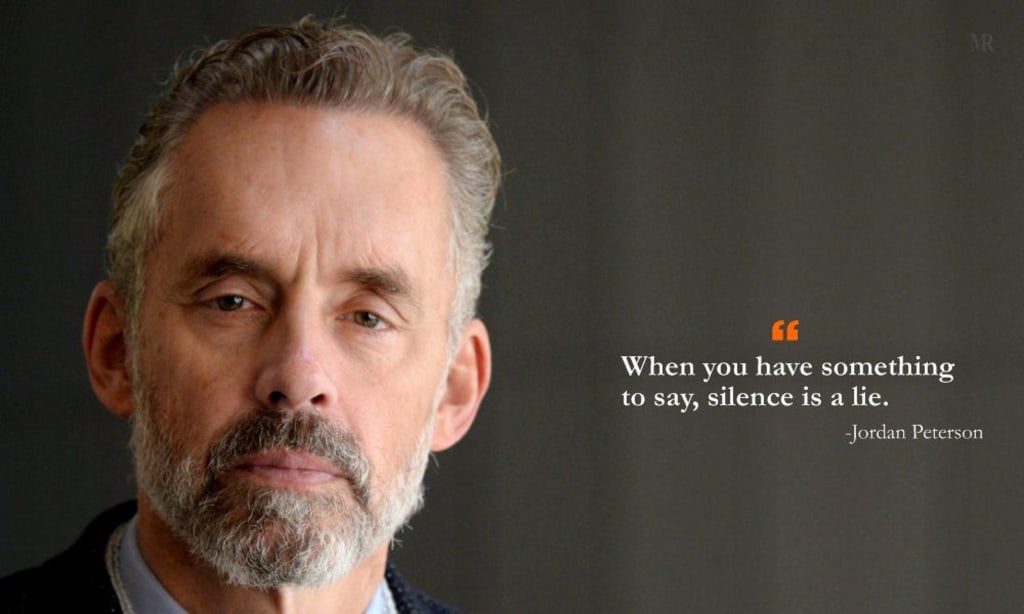 Rule 1: Stand Up Straight With Your Shoulders Back
Let's take an example of a common lobster. A lobster with high levels of serotonin and low levels of octopamine is a cocky, strutting sort of shellfish, much less likely to back down when challenged.
High serotonin/low octopamine characteristics are a fundamental inherent quality of the victorious . On the other hand, a high ratio of octopamine to serotonin, produces a defeated-looking, scrunched-up, inhibited, drooping, skulking sort of lobster, very likely to hang around street corners, and to vanish at the first hint of trouble.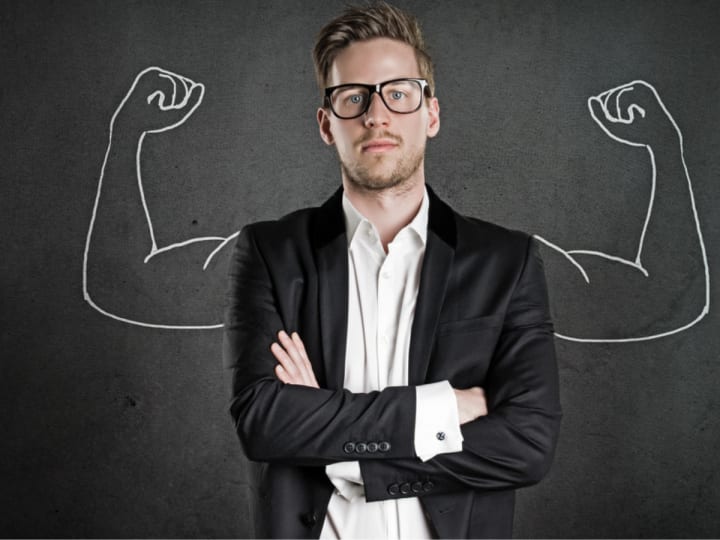 People, like lobsters, size each other up, partly in consequence of stance. If you present yourself as defeated, then people will react to you as if you are losing. If you start to straighten up, then people will look at and treat you differently.
To stand up straight with your shoulders back is to accept the terrible responsibility of life, with eyes wide open. It means adopting the burden of self-conscious vulnerability, and accepting the end of the unconscious paradise of childhood, where finitude and mortality are only dimly comprehended. It means willingly undertaking the sacrifices necessary to generate a productive and meaningful reality.
So, attend carefully to your posture. Quit drooping and hunching around. Speak your mind. Put your desires forward, as if you had a right to them—at least the same right as others. Walk tall and gaze forthrightly ahead. Dare to be dangerous. Encourage the serotonin to flow plentifully through the neural pathways desperate for its calming influence.
Rule 2: Treat Yourself Like Someone You Are Responsible for Helping
Nowadays, people are better at filling and properly administering prescription medication to their pets than to themselves.
In any case, that which we subjectively experience can be likened much more to a novel or a movie than to a scientific description of physical reality. It is the drama of lived experience—the unique, tragic, personal; the pain of your first love; the despair of dashed hopes; the joy attendant upon a child's success.
When the ice you're skating on is solid, that's order. When the bottom drops out, and things fall apart, and you plunge through the ice, that's chaos.
We eternally inhabit order, surrounded by chaos. We eternally occupy known territory, surrounded by the unknown. We experience meaningful engagement when we mediate appropriately between them.
When life suddenly reveals itself as intense, gripping and meaningful; when time passes and you're so engrossed in what you're doing you don't notice—it is there and then that you are located precisely on the border between order and chaos.
If we wish to take care of ourselves properly, we would have to respect ourselves. Then we might treat ourselves like people we cared for. We might strive to set the world straight.
There are so many ways that things can fall apart, or fail to work altogether, and it is always wounded people who are holding it together. To treat yourself as if you were someone you are responsible for helping is, instead, to consider what would be truly good for you. This is not "what you want." It is also not "what would make you happy."
You need to consider the future and think, "What might my life look like if I were caring for myself properly?"
Rule 3: Make Friends with People Who Want the Best For You
Here's something to consider: If you have a friend whose friendship you wouldn't recommend to your sister, or your father, or your son, why would you have such a friend for yourself?
You should choose people who want things to be better, not worse. It's a good thing, not a selfish thing, to choose people who are good for you. It's appropriate and praiseworthy to associate with people whose lives would be improved if they saw your life improve.
When you dare aspire upward, you reveal the inadequacy of the present and the promise of the future.
Don't think that it is easier to surround yourself with good healthy people than with bad unhealthy people. It's not. A good, healthy person is an ideal. It requires strength and daring to stand up near such a person. Have some humility. Have some courage. Use your judgment, and protect yourself from too-uncritical compassion and pity.
Rule 4: Compare Yourself to Who You Were Yesterday, Not Who Someone Else is Today
No matter how good you are at something, or how you rank your accomplishments, there is someone out there who makes you look incompetent.
You might object: I should be winning at everything! But winning at everything might only mean that you're not doing anything new or difficult. You might be winning but you're not growing, and growing might be the most important form of winning. Should victory in the present always take precedence over trajectory across time?
We cannot navigate, without something to aim at and, while we are in this world, we must always
Even when satisfied, temporarily, we remain curious. We live within a framework that defines the present as eternally lacking and the future as eternally better. If we did not see things this way, we would not act at all. We wouldn't even be able to see, because to see we must focus, and to focus we must pick one thing above all else on which to focus.
Perhaps happiness is always to be found in the journey uphill, and not in the fleeting sense of satisfaction awaiting at the next peak.
Pay attention. Focus on your surroundings, physical and psychological. Notice something that bothers you, that concerns you, that will not let you be, which you could fix, that you would fix. You can find such somethings by asking yourself (as if you genuinely want to know) three questions: "What is it that is bothering me?" "Is that something I could fix?" and "Would I actually be willing to fix it?" If you find that the answer is "no," to any or all of the questions, then look elsewhere. Aim lower. Search until you find something that bothers you, that you could fix, that you would fix, and then fix it. That might be enough for the day.
"What could I do, that I would do, to make Life a little better?"
Rule 5: Do Not Let Your Children Do Anything that Makes You Dislike Them
Two-year-olds, statistically speaking, are the most violent of people. They kick, hit and bite, and they steal the property of others. They do so to explore, to express outrage and frustration, and to gratify their impulsive desires. More importantly, for our purposes, they do so to discover the true limits of permissible behavior. How else are they ever going to puzzle out what is acceptable?
You can teach virtually anyone anything with such an approach. First, figure out what you want. Then, watch the people around you like a hawk. Finally, whenever you see anything a bit more like what you want, swoop in (hawk, remember) and deliver a reward. Your daughter has been very reserved since she became a teenager. You wish she would talk more. That's the target: more communicative daughter. One morning, over breakfast, she shares an anecdote about school. That's an excellent time to pay attention. That's the reward. Stop texting and listen. Unless you don't want her to tell you anything ever again.
If a child has not been taught to behave properly by the age of four, it will forever be difficult for him or her to make friends. The research literature is quite clear on this.
So now we have two general principles of discipline. The first: limit the rules. The second: Use the least force necessary to enforce those rules.
So here are a few practical hints: time out can be an extremely effective form of punishment, particularly if the misbehaving child is welcome as soon as he controls his temper. An angry child should sit by himself until he calms down. Then he should be allowed to return to normal life. That means the child wins—instead of his anger.
If your child simply runs away, laughing, when placed on the steps or in his room, physical restraint might have to be added to the time out routine. A child can be held carefully but firmly by the upper arms, until he or she stops squirming and pays attention.
Rule 6: Set Your House in Perfect Order Before You Criticize the World.
Success makes us complacent. We forget to pay attention. We take what we have for granted. We turn a blind eye. We fail to notice that things are changing, or that corruption is taking root. And everything falls apart. Do things fall apart because we have not paid sufficient attention?
Have you cleaned up your life? If the answer is no, here's something to try: Start to stop doing what you know to be wrong. Start stopping today. Don't waste time questioning how you know that what you're doing is wrong, if you are certain that it is.
Don't reorganize the state until you have ordered your own experience. Have some humility. If you cannot bring peace to your household, how dare you try to rule a city?
Rule 7: Pursue What is Meaningful (Not What is Expedient)
To share does not mean to give away something you value, and get nothing back. That is instead only what every child who refuses to share fears it means. To share means, properly, to initiate the process of trade. A child who can't share—who can't trade—can't have any friends, because having friends is a form of trade.
If the world you are seeing is not the world you want, therefore, it's time to examine your values. It's time to rid yourself of your current presuppositions. It's time to let go. It might even be time to sacrifice what you love best, so that you can become who you might become, instead of staying who you are.
Each human being understands, perhaps not what is good, but certainly what is not. And if there is something that is not good, then there is something that is good.
It was from this that I drew my fundamental moral conclusions. Aim up. Pay attention. Fix what you can fix. Don't be arrogant in your knowledge. Strive for humility, because totalitarian pride manifests itself in intolerance and oppression. Become aware of your own insufficiency—your cowardice, malevolence, resentment and hatred. Consider the murderousness of your own spirit before you dare accuse others, and before you attempt to repair the fabric of the world. Maybe it's not the world that's at fault. Maybe it's you. You've failed to make the mark.
You may come to ask yourself, "What should I do today?" in a manner that means "How could I use my time to make things better, instead of worse?"
To have meaning in your life is better than to have what you want, because you may neither know what you want, nor what you truly need. Meaning is something that comes upon you, of its own accord. You can set up the preconditions, you can follow meaning, when it manifests itself, but you cannot simply produce it, as an act of will.
What is expedient works only for the moment. It's immediate, impulsive and limited. What is meaningful, by contrast, is the organization of what would otherwise merely be expedient into a symphony of Being.
Rule 8: Tell the Truth, or at least Don't Lie
To accept the truth means to sacrifice—and if you have rejected the truth for a long time, then you've run up a dangerously large sacrificial debt. Forest fires burn out deadwood and return trapped elements to the soil. Sometimes, however, fires are suppressed, artificially. That does not stop the deadwood from accumulating. Sooner or later, a fire will start. When it does, it will burn so hot that everything will be destroyed—even the soil in which the forest grows.
You are by no means only what you already know. You are also all that which you could know, if you only would. Thus, you should never sacrifice what you could be for what you are. You should never give up the better that resides within for the security you already have—and certainly not when you have already caught a glimpse, an undeniable glimpse, of something beyond.
If your life is not what it could be, try telling the truth. If you cling desperately to an ideology, or wallow in nihilism, try telling the truth. If you feel weak and rejected, and desperate, and confused, try telling the truth. In Paradise, everyone speaks the truth. That is what makes it Paradise. Tell the truth. Or, at least, don't lie.
Rule 9: Assume that the Person You Are Listening to Might Know Something You Don't
Memory is not a description of the objective past. Memory is a tool. Memory is the past's guide to the future. If you remember that something bad happened, and you can figure out why, then you can try to avoid that bad thing happening again. That's the purpose of memory. It's not "to remember the past." It's to stop the same damn thing from happening over and over.
If you listen, without premature judgment, people will generally tell you everything they are thinking—and with very little deceit. People will tell you the most amazing, absurd, interesting things. Very few of your conversations will be boring. (You can in fact tell whether or not you are actually listening in this manner. If the conversation is boring, you probably aren't.)
Rule 10: Be Precise in Your Speech
When things break down, what has been ignored rushes in. When things are no longer specified, with precision, the walls crumble, and chaos makes its presence known. When we've been careless, and let things slide, what we have refused to attend to gathers itself up, adopts a serpentine form, and strikes— often at the worst possible moment. It is then that we see what focused intent, precision of aim and careful attention protects us from.
Chaos emerges in a household, bit by bit. Mutual unhappiness and resentment pile up. Everything untidy is swept under the rug, where the dragon feasts on the crumbs. But no one says anything, as the shared society and negotiated order of the household reveals itself as inadequate, or disintegrates, in the face of the unexpected and threatening. Everybody whistles in the dark, instead.
Confront the chaos of Being. Take aim against a sea of troubles. Specify your destination, and chart your course. Admit to what you want. Tell those around you who you are. Narrow, and gaze attentively, and move forward, forthrightly. Be precise in your speech.
Rule 11: Do Not Bother Children when they are Skateboarding
Of course it was dangerous. Danger was the point. They wanted to triumph over danger. They would have been safer in protective equipment, but that would have ruined it. They weren't trying to be safe. They were trying to become competent—and it's competence that makes people as safe as they can truly be.
Girls can win by winning in their own hierarchy—by being good at what girls value, as girls. They can add to this victory by winning in the boys' hierarchy. Boys, however, can only win by winning in the male hierarchy. They will lose status, among girls and boys, by being good at what girls value. It costs them in reputation among the boys, and in attractiveness among the girls.
Consider this, as well, in regard to oppression: any hierarchy creates winners and losers. The winners are, of course, more likely to justify the hierarchy and the losers to criticize it. But (1) the collective pursuit of any valued goal produces a hierarchy (as some will be better and some worse at that pursuit not matter what it is) and (2) it is the pursuit of goals that in large part lends life its sustaining meaning.
Power is a fundamental motivational force ("a," not "the"). People compete to rise to the top, and they care where they are in dominance hierarchies. But (and this is where you separate the metaphorical boys from the men, philosophically) the fact that power plays a role in human motivation does not mean that it plays the only role, or even the primary role. Likewise, the fact that we can never know everything does make all our observations and utterances dependent on taking some things into account and leaving other things out (as we discussed extensively in Rule 10). That does not justify the claim that everything is interpretation, or that categorization is just exclusion. Beware of single cause interpretations—and beware the people who purvey them.
Here's the fundamental problem: group identity can be fractionated right down to the level of the individual. That sentence should be written in capital letters. Every person is unique—and not just in a trivial manner: importantly, significantly, meaningfully unique. Group membership cannot capture that variability. Period.
It's a good idea to tell the person you are confronting exactly what you would like them to do instead of what they have done or currently are doing. You might think, "if they loved me, they would know what to do." That's the voice of resentment. Assume ignorance before malevolence. No one has a direct pipeline to your wants and needs—not even you.
Men enforce a code of behavior on each other, when working together. Do your work. Pull your weight. Stay awake and pay attention. Don't whine or be touchy. Stand up for your friends. Don't suck up and don't snitch. Don't be a slave to stupid rules. Don't, in the immortal words of Arnold Schwarzenegger, be a girlie man. Don't be dependent. At all. Ever. Period. The harassment that is part of acceptance on a working crew is a test: are you tough, entertaining, competent and reliable? If not, go away. Simple as that. We don't need to feel sorry for you. We don't want to put up with your narcissism, and we don't want to do your work.
Rule 12: Pet a Cat When You Encounter One on the Street
Set aside some time to talk and to think about the illness or other crisis and how it should be managed every day. Do not talk or think about it otherwise. If you do not limit its effect, you will become exhausted, and everything will spiral into the ground. This is not helpful. Conserve your strength. You're in a war, not a battle, and a war is composed of many battles. You must stay functional through all of them. When worries associated with the crisis arise at other times, remind yourself that you will think them through, during the scheduled period.
And maybe when you are going for a walk and your head is spinning a cat will show up and if you pay attention to it then you will get a reminder for just fifteen seconds that the wonder of Being might make up for the ineradicable suffering that accompanies it. Pet a cat when you encounter one on the street.
For further reading/ information, kindly visit the links given below:
1) Dr. Jordan Peterson Explains 12 Rules for Life in 12 Minutes
2) Jordan Peterson's Life Advice Will Change Your Future
3) Jordan Peterson Leaves the Audience SPEECHLESS | One of the Best Motivational Speeches Ever
Thank you!
Disclaimer: All reviews published here are personal. There is no intention of hurting anybody's personal, religious and cultural beliefs or sentiments.