Wellness 2021: How My Indian Wedding Inspired Me to Decolonize Beauty Shopping
I realized I needed to practice beauty techniques from the cultures who do them best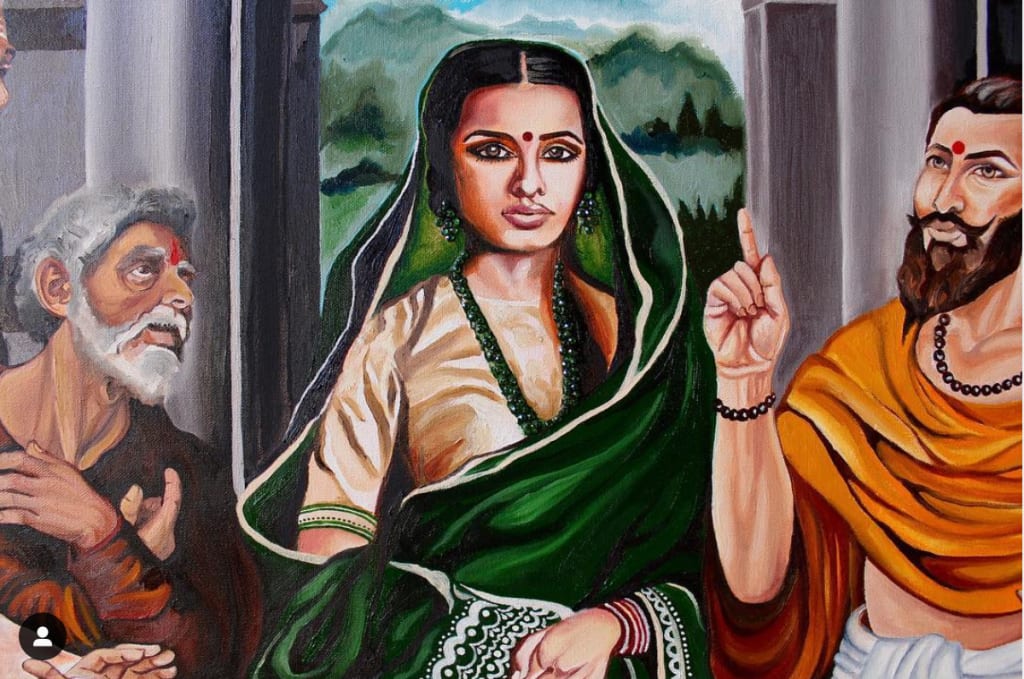 Gargi by Neha Kapil Art (@itsnehalicious)
2020 was the year the Internet collective adopted #ShopSmall and #ShopLocal as the unifying rallying cry. However, seeing these hashtags everywhere pushed me to think about what #ShopSmall as a blanket statement actually accomplishes?
While deep in these thoughts, all I had to do was turn on the news to see the answer. On Instagram, you can see one post of cringe-worthy white women appropriating Mahjong boards and selling them at extravagant prices, and the next could be a post about the Farmer's Protest in India, documenting the exploitation of farmers who have been driven to subsistence-level incomes thanks to the Western Corporate demand for products based on Ayurveda.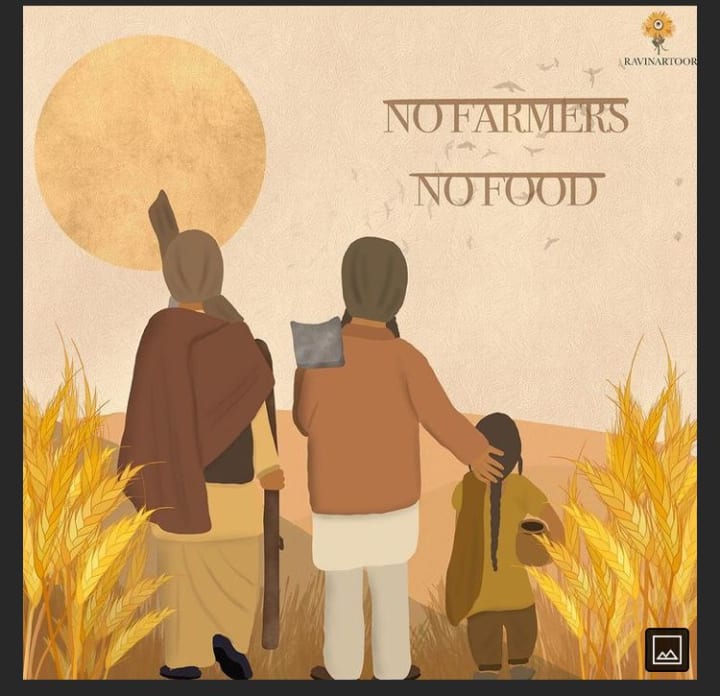 I realized that while I do want to shop small and local in 2021, I need to be intentional about my purchases so I can:
1. Honor the cultures that have gifted us with their skincare techniques and wellness customs
2. Honor my skin and body by giving it the best products available, rather than an appropriated/pirated version of the form
3. Honor ancestral legacies and economies by putting my money into the pockets of creators and artisans, rather than corporations that exploit humans for profit
I call this approach to beauty: decolonizing beauty
I stumbled into decolonizing beauty on the eve of my wedding in 2019.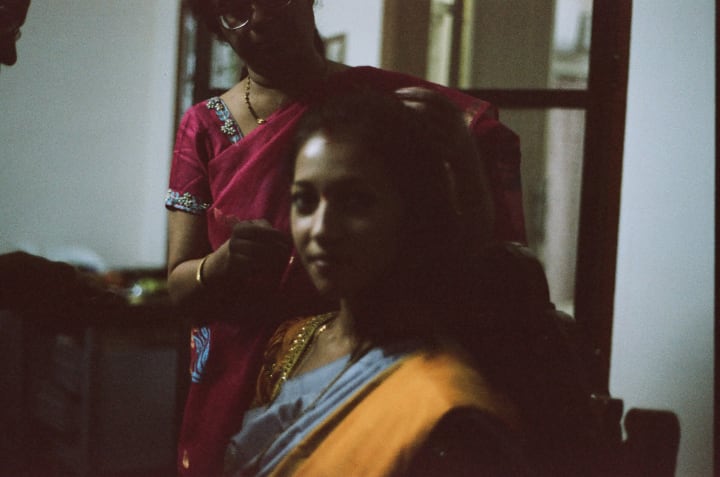 In the months before my November 2019 wedding, the stress and travel (remember that?) had sentenced me to a purgatory of breaking out, picking, scarring....repeat. The marks on my face were dark and possibly semi-permanent.
Usually, we bank on expertly painted wedding makeup to help us feel confident at our wedding, but my traditional Hindu wedding included a pre-wedding ceremony that is makeup-free:
The Haldi Ceremony is where the bride and groom are washed with herbal turmeric paste - it is exfoliating, soothing, and cleansing. It is applied by close friends and family. For what is supposed to be the most relaxing, intimate ceremony of the wedding, I was majorly stressed that my makeup was going to wash off and my hyperpigmentation would be immortalized on camera.
So, when we went to India for final saree and lehenga fittings in August of 2019, I asked my family what I should do about my skin, at the point where I would try almost anything. My family is deeply entrenched in both Ayurvedic practice and indigenous Tamil wellness practices, so I was introduced to this. I started by getting an acupuncture treatment to loosen my muscles. We visited a family friend who has been practicing for 30+ years, and I got an hour-long treatment. Then, I got several herbal facials which used ingredients like rose, turmeric, papaya, and licorice to address my specific issues (congestion and hyperpigmentation). The final beast to tackle was my hair, which I had been growing out for a year for the wedding, yet was now splitting at the ends. My aunt gave me a homemade shikakai (or shikai) paste to replace my shampoo, and I started using the deep conditioning oil of my youth again, which is a prewash to create thick, shiny hair (my partner's family gave me a coconut oil blend that was infused with curry leaves, hibiscus, jasmine, amla, and more).
By the time we got to the wedding, my hair and skin were much improved, though not perfect. Still, I think my skin turned out alright in my Haldi ceremony photos!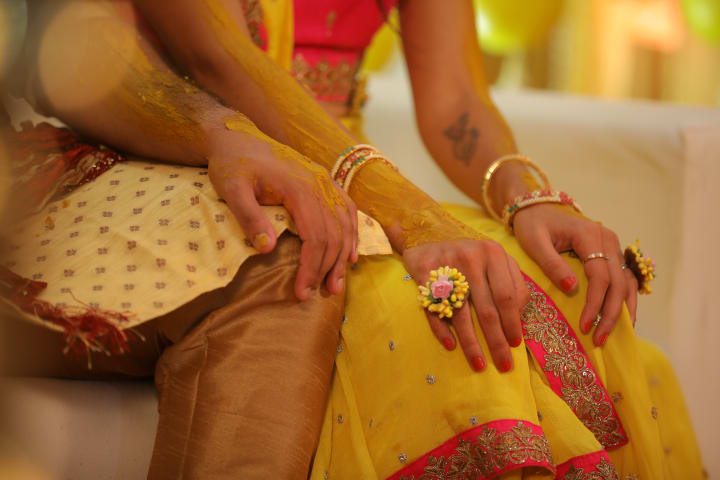 I loved that Ayurveda addressed my skin from the scalp down, my hair, my gut, and my stress levels. These practices connected me to my family and my culture, and it was all incredibly cost-efficient, given that many of the products were made with pure ingredients (no fillers or essential oils) and made expertly at home, following thousands of years of tradition. I came home with oil blends, spices, herbs to ingest, and a turmeric scrub to address my skin KP.
Of course, this is not possible for everyone, and my culture, Indian culture, is well-regarded for certain practices, but this is just the start of my decolonized wellness journey.
My next question to form my 2021 resolution was, what else can I learn and responsibly practice from other cultures that will help me along my journey of improved skincare?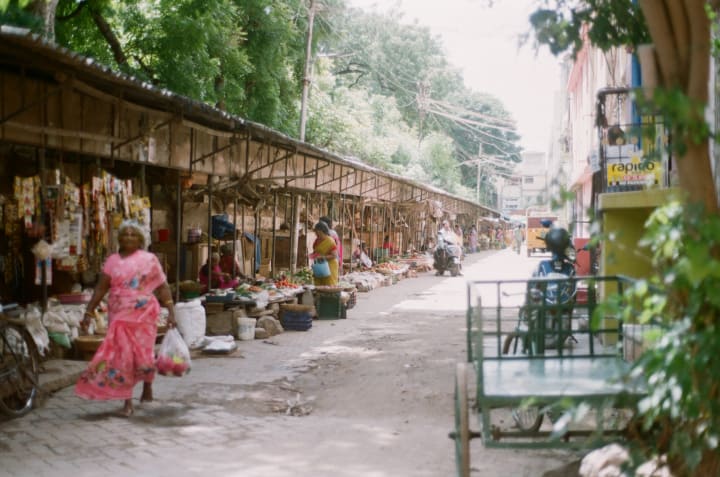 Just as my family and kin are a wealth of knowledge to bring decolonized traditional Indian beauty practices back into my life, I figured there must be a way to learn about wellness and beauty in other cultures without funneling money into Corporate America (which just bottles up these ancestral practices as wellness "tricks", adds diluted ingredients into formulas to draw in Western audiences, and ultimately creates products catered by and for the white gaze). For example, products by white-owned brands that use turmeric as a brightening product makes me cringe! They use so little of the product, and I can imagine that whatever cheap materials they are using ruin the anti-bacterial qualities of the turmeric itself, which is one reason why it is so potent.
Decolonizing my skincare and wellness is certainly going to be a life-long process for me, so for early 2021 I have chosen three main goals. This year, I am most interested in decolonizing my approach to double-cleansing/gentle exfoliation, skin-moisturizing, and rice-washing.
1. Double-cleansing/gentle exfoliation - most of us know what double cleansing is, but I actually did not know that products that whisper moisture onto your skin can be exfoliants until I started following Korean beauty bloggers. I learned about gentle toners and essences, and have been using this duo by Charlotte Cho, the Korean-American entrepreneur who makes Korean skincare techniques available to wider audiences in a responsible way.
2. Skin-moisturizing - Only when my family was introduced to the harsh winters of Michigan did we start using moisturizer. I have never seen anyone in my family in India use moisturizer beyond pre-bathing oils, so I have a lot to learn from cultures where replenishing and protecting the skin barrier is tradition. I have been doing research, but so far I have found coco and shea butters to work best for my skin. Instead of opting for Goop/Paltrow-flavored butters, I have been using this one: Eu'genia Shea (they share their Ghanaian traditions in their products and source from Ghana as well)
3. Rice-washing - I recently stumbled into rice-washing. Since a family member introduced me to it, I thought it was Indian until I read an article that shared it is a practiced inspired by the women of China's Guangxi Region. I have yet to find a product that is ethically sourced and decolonized in its approach, but if you know of one, let me know! In the meantime, I making the product at home using this recipe:
Ingredients:
Rice
Water
Pomelo Peels
Tea Bran
Ginger
Combine rice and water in a large clay pot. Heat on an open flame until boiling. Add pomelo peels, tea bran, and muddled ginger into the mixture. Stir and let simmer. Cool mixture and strain out large particles. Leave to ferment in a sealed container for three to four days. (From Vogue).
Just as an additional eco-tip, rice and bean water is also amazing to water plants, rather than pouring down the drain.
I know I have a lot of exploring and learning left to do in 2021. And my whole life.
I plan to improve my wellness practice by actually learning the history behind the practices I adopt and buying from companies that truly know what they are doing - which means looking for people who ancestrally own what they are selling (is that a word, ancestrally own?).
Before I send you off, I wanted to share some products based on Ayurveda and indigenous Tamil practices, which my family history is steeped in. These are all made small batch by people who are Indian and Tamil :)
fashion and beauty
Reading when I'm not writing - @booksnailmail for book gems, book drops, & diverse recs
Cash makes me happy! Tip below :P
Receive stories by Swati Sudarsan in

your feed