Watch: Couple get engaged in middle of Glasgow McDonalds
Shocked onlookers gave the couple a round of applause after the 'special moment'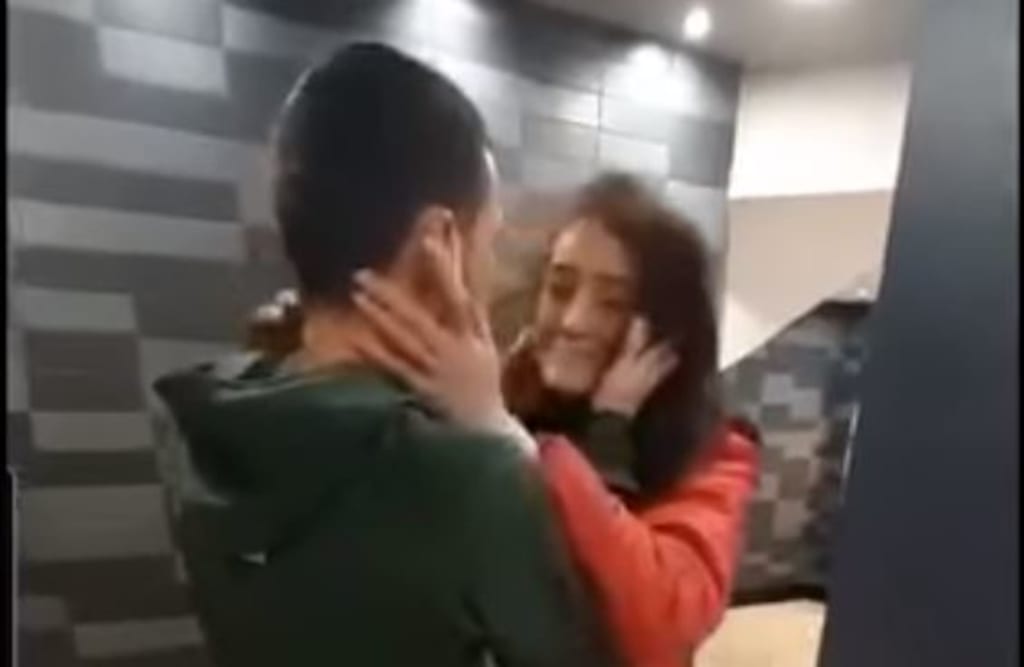 Who said romance is dead? A young couple showed us all that true love still exists in these troubled times with a tear-jerking proposal in a Glasgow McDonalds.
Gary and Shani-Lee, from Cumnock and Kilmarnock in Ayrshire, took the next big step in their whirlwind relationship after a romantic day out with friends in the big city.
The girl of the moment, who is also pregnant with her first child, was taken by surprise by her new husband-to-be who got down on one knee in the busy restaurant of the cheeseburger franchise on a busy Friday night.
After taking his beau into the McDonalds with the promise of a big-mac meal, he topped the day off by getting down on one knee and popping the question with a speech that left no eye dry.
The big moment was captured on camera by Shani-Lee's close-friend who cheered the happy couple on ecstatically while struggling to hold back the tears of joy for her two besties.
After getting down on one knee, the old romantic said: "Since the first day I met you and started talking to you... you have been my best friend, my soulmate, my rock.
"Without you I wouldn't even be here, you are sweet, funny, smart, honest and sexy.
"I love you so so much baby, will you please do me the honour... will you marry me."
He then produced a beautiful ring from his pocket and gave it to the gushing bride to be- who accepted the proposal.
The friend filming then gave a cheer and asked the rest of the customers in the McDonalds to give the happy couple a round of applause, of which they duly obliged.
Even staff and security applauded the beautiful sight as the pair then threw caution to the wind by removing her mask and giving her new fiancé a big smoocher right in the mouth.
Since being posted to Facebook - the video has been liked nearly 1000 times with over 2000 comments.
One said: "Think they are wanting a free Bic Mac?"
Another commenter said: "A free double chegbeg for their trouble I hope."
David Newlands wrote: "No way, that's that c*nt that got into the taxi with us the other day."
Rhiannon said: "This is my dream, who said romance was dead?"
Erin Craig said: "After a couple of pitchers at spoons xxx."
On posting the video to Facebook, Seann Kerrr said : "Someone getting engaged in Glasgow McDonald's ahahahah a love glasgow there a rare breed of cabbage."
One patron who witnessed the incident was left feeling overjoyed by it all.
She told The Glasgow Gospel: "It was amazing to see, such a raw moment of joy and pure emotion that was just so good to see.
"It was a special moment that you don't, and don't expect to anyway, see every day.
"It certainly certainly brightened up my day and most of nearly everyone that I have personally spoken to about it say the same as me that it completely and utterly cheered everyone up.
"Good luck to both of them on the big day, and I will be hoping for an invite now... maybe McDonalds could do them a buffet."
There are no plans yet for the big day - but we predict a long and fruitful relationship for Shani Lee and Gary.
Congratulations to the lovely couple.
It kinda reminded us of this other classic Scottish proposal: "Right stinky breath, you gonny marry me?"
Where is the strangest place you have ever seen love blossom? And where would your ideal engagement location in Glasgow be?
Let us know in the comments and follow The Glasgow Gospel Facebook page for more.