Tips to Help Your Child Save Money on Their Wedding
How to give your child the wedding gift of saving money.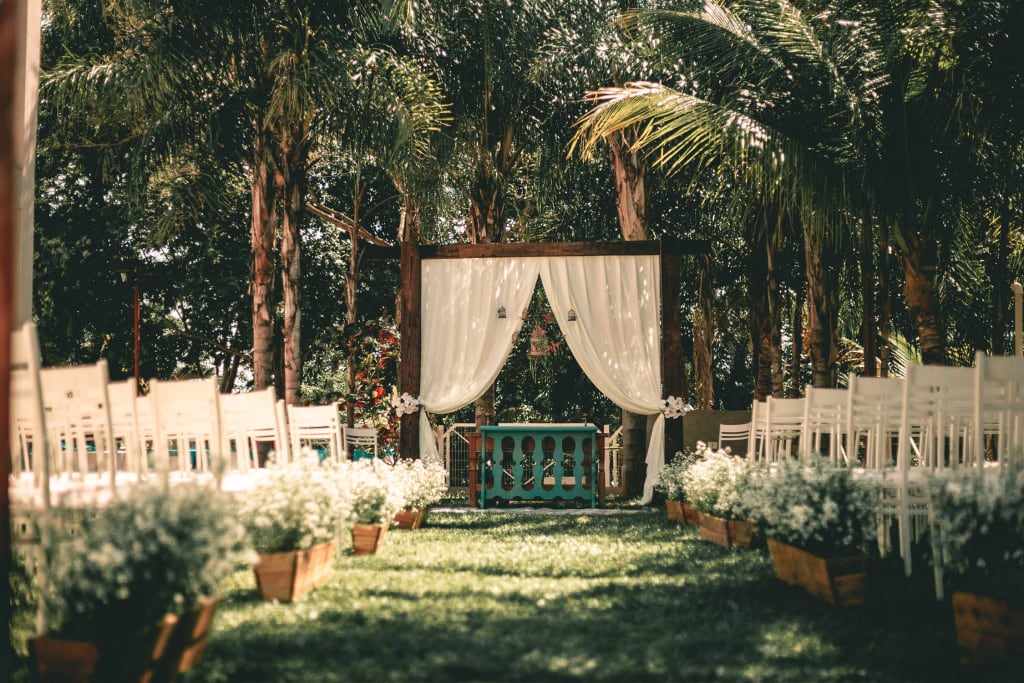 If you're a parent, you'll be faced with helping your children plan their weddings at some point. While you will have to let them make most of the big decisions themselves, the best way you can be helpful is by offering money-saving tips that will help them trim their wedding budget. Considering they still have a honeymoon to plan and a new life to get started, finding ways for the happy couple to trim wedding expenses can be a tremendous help.
The Invitations
There are a few ways to save money and stay eco-friendly in preparing the wedding invitations. First, the wedding couple can do without the envelope liner by switching to colored envelopes. This is already enough to save you several hundred dollars on the invitations, and, by making the reply cards only one-ply stock, even more money can be saved. The invitation itself can still be two-ply, but there's no reason to use all of that excess paper for the envelopes and reply cards.
RSVP Online
Aside from the initial invitation to the wedding, you may need to send out invites and notifications for the bridal shower, rehearsal, dinner, and other events related to the wedding. Instead of blowing a quarter of the couple's wedding budget on more invitations or RSVP cards, they can simply create a wedding website. You can help them create a blog post for each event and ask people to RSVP by email or by leaving a comment on the relevant blog post. This will be much more convenient for guests and it will save more money for the bride and groom.
Save on the Wedding Dress
In terms of making the day a special one, the wedding dress is as important as the engagement ring. Just as man made diamonds can help the groom save on the ring, there are various ways for the bride to save big on a wedding gown. The best way to reduce what you spend on the wedding dress is to stop shopping specifically for wedding dresses. Many brides find great deals by shopping prom dresses during the off-season and having them altered. In fact, any formal gown can serve as a wedding dress, and, if you know a good seamstress, the gown can be personalized to suit the bride's tastes.
Ditch the Florist
You can also help the happy couple save by suggesting they get rid of the professional florists and look for cheaper alternatives. You can usually order flowers at your local grocery store for lower prices than a florist would charge and the flowers you get will be just as vibrant. You can supplement the flowers with potted plants donated by friends and family members to save even more money. Streamers, balloons, and table runners can help you keep a color scheme, while accentuating the floral arrangement.
Choosing the Venue
No matter where you live, there are certain venues that wedding planners use regularly and, for that reason, these venues are more expensive. By choosing a venue that isn't as popular with wedding parties, you can save a significant amount of money. You can begin by finding out what type of venue the couple wants for their wedding. Whether they choose a religious venue, a hall, or an outdoor venue, there will be plenty of options to consider. A little browsing can help you find the best deals for the wedding couple.
Catering Alternatives
Depending on the venue you choose, you may be required to use their on-site catering. If this isn't the case, there are cheaper alternatives to using a professional catering service. You can use high-end plastic cutlery, cups, and plates, while bringing in hot dishes prepared by family members. You might also consider placing orders with a favorite restaurant or area deli, but be sure to place large orders well in advance.
Many young wedding couples are opting for a more do-it-yourself celebration instead of going with traditional services. By taking your own photos, renting a sound system instead of hiring a DJ, and bringing in your own decor and refreshments, you can help the bride and groom save a significant amount of money. This can leave them funds left over to help them enjoy their honeymoon, or to help them build their new life together.