The Wedding Road Less Traveled
How I ended up getting married in a Buddhist Temple in Nagoya, Japan.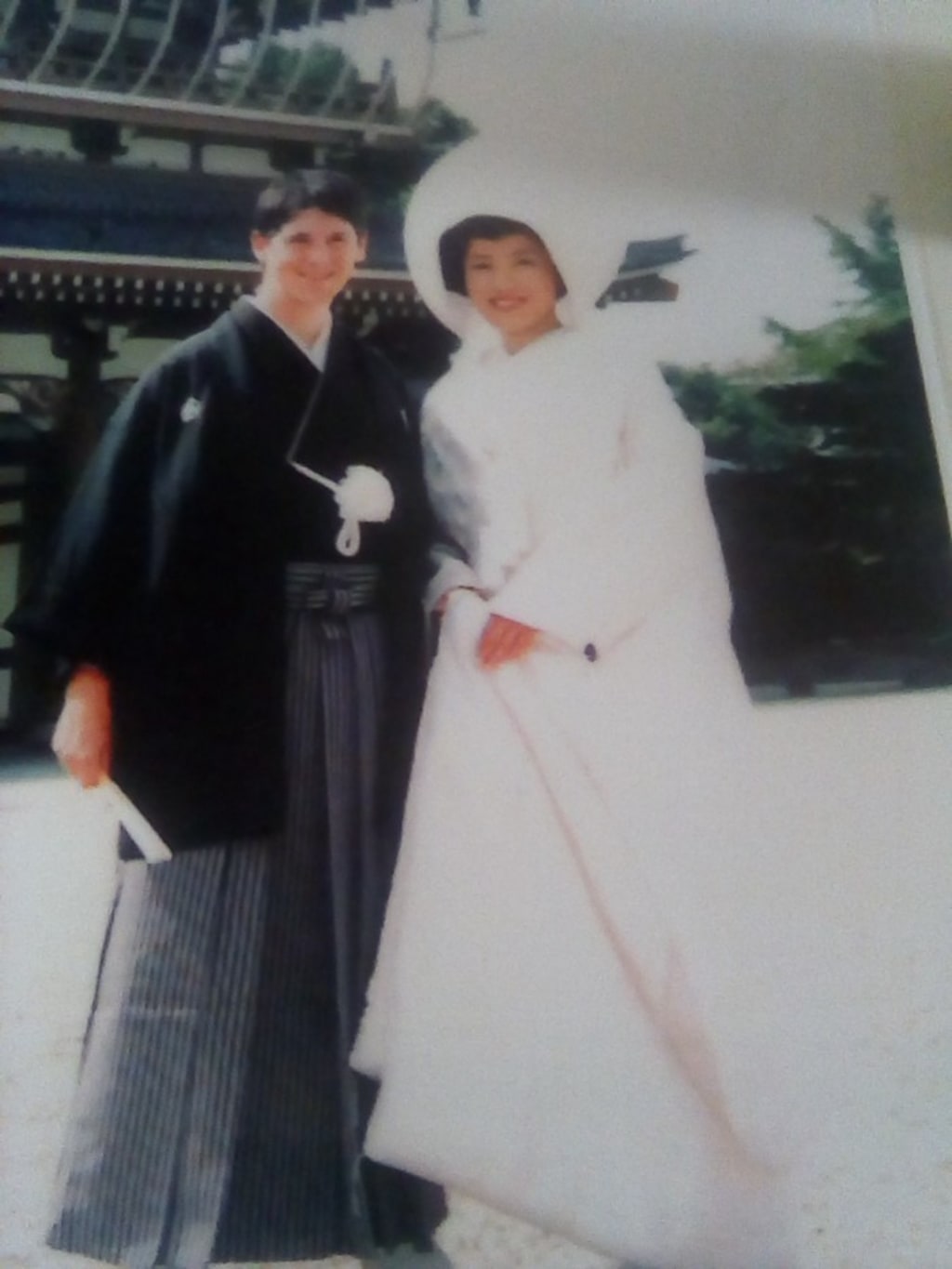 October 1st, 2005 was an auspicious day. At least according to the Buddhist monk that officiated our wedding. The journey from first date in October 1998 to our wedding on October 1st, 2005 was a long one in many ways.
We met in Washington State on Sept 21st, 1998 at my friend's wedding (Auspicious? Maybe.) Four great years of dating and living together during college led to me decide to come to Japan to marry Chieko and become an English teacher in 2002.
Life isn't always a romantic comedy though and there were a few very big hurdles to overcome before we could tie the knot. Before I could move to Japan I had to find a job. Tourist visas are only good for three months. A working visa was the best option for me if I wanted to stay in Japan longer.
Chieko returned toher home in Nagoya, Japan in July 2002 after her student visa expired. I moved back to the Seattle area from our college town up north in Bellingham and took a job at a bank. In my free time I applied for teaching positions in Japan.
The school season in Japan though is from April to March, so I was applying at the wrong time. Most English schools in Japan don't get serious about hiring for teaching positions until December. So I spent July-December sending out resumes with very little interest.
Then in late January 2003, a small English school in Sendai, Japan offered me a job. Even though it was about five hours from Nagoya by Shinkansen (Bullet Train) and about nine hours by bus, the cheapest way to get there, I jumped at the chance.
Sendai was fantastic in many ways, but I was pretty lonely being that far away from Chieko. At the time she was attending college again to get a teaching certification. I continued to teach, fail miserably at learning Japanese, and explore Sendai.
After one year in Sendai I was able to find a new teaching position in Gifu, Japan, only one hour by train from Sendai. Being able to see Chieko a lot more often made life in Japan for me much better for me. I finally felt like we were making some progress towards our goal of getting married and living together in Japan. I spent a cold winter and hot summer , but a good year overall, in Gifu teaching at another small school where I made a lot of really good friends.
Finally, in 2005 I was living and working in Nagoya. Chieko had finished her degree and we made plans to get married. Our original plan was to have a beach wedding in Hawaii. To us it made perfect sense. Hawaii was in between Japan and the West Coast of the US where most of my family and friends lived.
But for some reason my son to be father in law wouldn't have it. He insisted that we get married in Japan. This unfortunately meant we would have to also do something in the US as well since most of my family wouldn't be able to make it to Japan for our wedding.
So, we had a small pre-wedding dinner for my family in August in Seattle which also doubled as our pre-honey moon. When we returned to Japan though we faced another dilemma. Weddings in Japan come in three flavors for the most part, Shinto weddings, Shinto/quasi-Christian weddings, and the extremely rare Buddhist weddings usually reserved for Buddhist monks (yep, monks in Japan can marry).
Shinto weddings are pretty conservative and performed at Shinto Shrines. Neither Cheiko or myself were conservative, so that wasn't going to work.
Shinto/quasi-Christian weddings are not so conservative, but they are pretty tacky and horribly expensive. I say quasi-Christian because they have all the trappings of a Catholic wedding, but in a wedding hall (fake church) and conducted by an always foreign and almost always fake priest. (Nothing against the fake priests by the way, plenty of my friends make a good living doing it). At that time I wasn't an atheist, far from it actually, but I definitely wasn't a Christian, even a quasi one, either. And neither of us wanted to make the three costume changes required for one of these things. You start out in your traditional wedding garb like in the picture at the top of the article, then switch into a western style wedding garb for the "Catholic" part, and then do one more costume change at the end into your after wedding party costumes. I was convinced I'd end up getting confused and walk out into the wedding crowd in my underwear at some point. So, that one got scratched real quick as well.
That left us with Buddhism. My wife had grown up Shinto/Buddhist of course and I was at that time extremely interested in Tibetan Buddhism. My wife did some research and found out that you don't have to be a monk or even a Buddhist to have a Buddhist wedding in Japan. Furthermore, she learned that her family's temple, Higashibetsuin Temple could perform the wedding ceremony for us.
This made her father very happy and to our surprise Buddhist weddings, possibly because they are uncommon, are unbelievably affordable compared with our other options (about $2000 at that time compared with $10,000 minimum for a Shinto/quasi-Christian one). It was half the price of even a beach wedding in Hawaii if you included the plane tickets.
And with that, after going through a few things a month or so earlier including the monks deciding on an "auspicious" weekend for our wedding, on October 1st, 2005 we were married!
If you are interested here are some of the details about having a Buddhist wedding in Japan.
They are held inside of a Buddhist temple, but because temples in Japan are public places of worship people can walk in during your wedding at anytime. Fortunately, temples are almost always very quiet places.
Buddhist weddings are extremely formal affairs requiring you to wear traditional wedding kimonos, and the women's kimonos and wigs are not comfortable at all, painful in fact, according to my wife. To do the wig, makeup, and kimono for the bride to be takes about three hours, for the groom to be, maybe forty minutes. The men's kimonos are fine, though figuring out the logistics of answering nature's call, as I learned, takes a little dexterity. Also, the ceremony itself is extremely formalized, so you will have to do several dress rehearsals to know what and where you are supposed to be. Though at our wedding there were two monks that served as guides which made it a lot easier.
You have to chant some very old Buddhist wedding sutras in Japanese. I had a cheat sheet though written in Romaji (Japanese words in English), so if you know the proper pronunciation it isn't too bad.
You have to sit in Seiza (kneeling with your legs tucked under your butt) on fairly hard tatami for at least an hour (not fun).
You will have to sip some Sake. I think that one was borrowed from either Shintoism or Catholicism since I'm pretty sure it violates the Eight Fold Path, but there you have it.
And finally, expect a ton of pictures before and after the wedding. Hey, it's Japan, what do you expect.
One last piece of advice in case you have read this and said to yourself, "Too cool dude! Me and my fiance are there!" I would recommend a Fall wedding if possible. Summers in most of Japan other than maybe Hokkaido or way up in the mountains somewhere are going to be horribly hot and humid. Spring is awesome, but also the most popular time for weddings, so it might be hard to book one. Winter, again depending on where, is probably going to be pretty cold and also potentially hard to book if it is around the end of December or into January since that is when the New Year's holiday takes place in Japan. Weather-wise late September through late October is usually pretty good (ruling out typhoons that is), things aren't too busy in terms of holidays and tourists, and if you time it right the falling leaves in Japan can be spectacular.
So there you have, Buddhist weddings in Japan 101!
About the Creator
Steve Howard's self-published collection of short stories Satori in the Slip Stream, Something Gaijin This Way Comes, and others were released in 2018. His poetry collection Diet of a Piss Poor Poet was released in 2019.
Reader insights
Be the first to share your insights about this piece.
Add your insights