Make It Yours
Do Not Let Anyone Tell You What Your Wedding Should Be.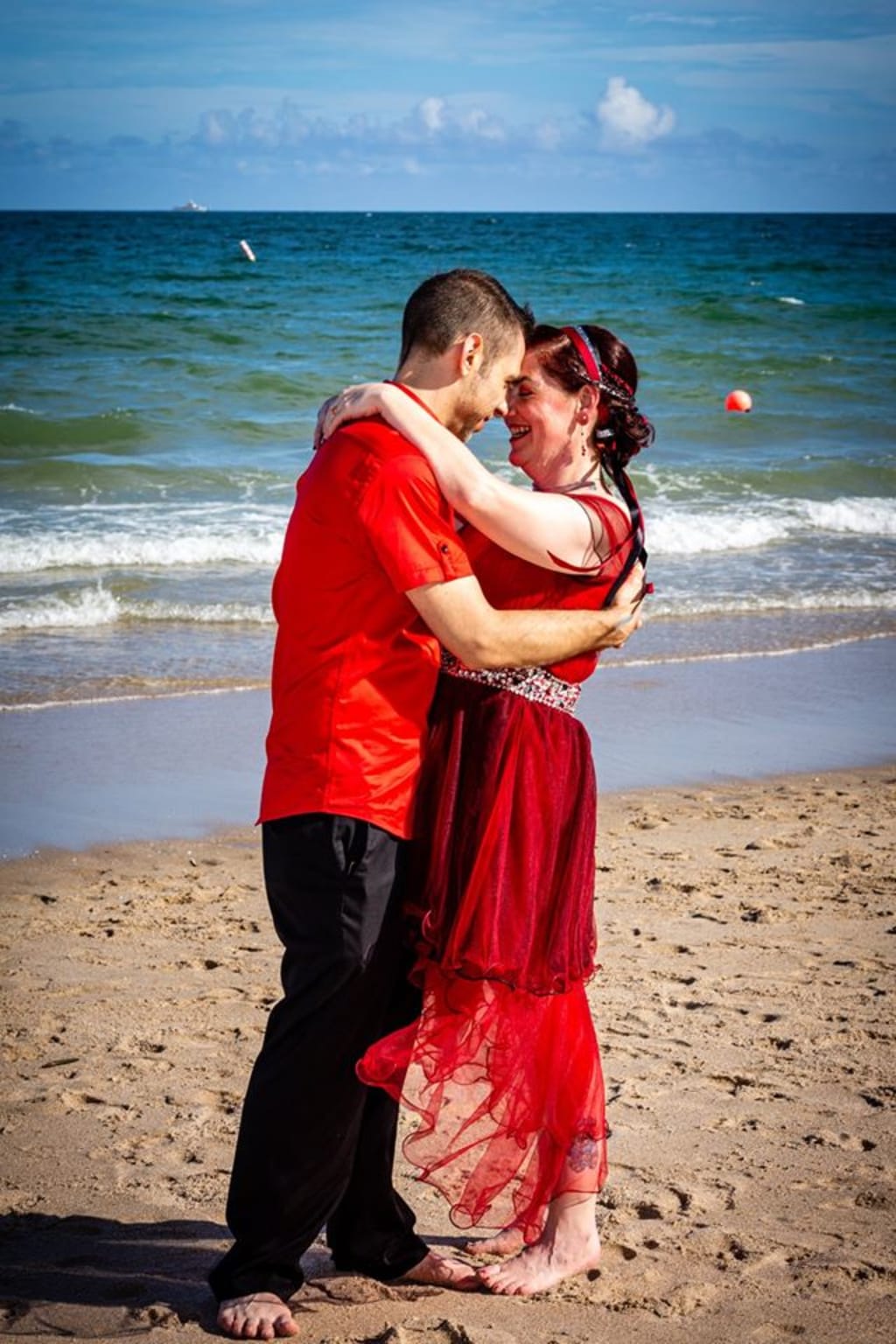 When I was planning my first wedding, I had this idea in my head of what a wedding was "supposed" to be. I would wear a white ballgown (even though white and my pasty skin tone do not mix) that puffed out in true Cinderella fashion, a veil, have 5-12 members of each side of the wedding party, everyone in hues of purple and silver and it would all take place in a grand hall. Guests would be black tie only because it was a day in celebration of ME...um my husband and I... and that was a formal occasion. There would be all the pomp and circumstance with a DJ and a cocktail hour and speeches and a giant white cake with a simple centerpiece.
Forget the fact that none of this was who I truly was as a person. It was what weddings looked like. At least, in my head. So 40 grand later, I had the wedding of someone else's dreams that I thought I was supposed to. I married the man I thought I was supposed to. I don't remember much of it. The wedding, or the short-lived marriage that followed. Mostly I remember being annoyed because people kept stepping on my stupid white dress. Why did it have to be so friggin fancy? I am not a fancy person. I can't even remember the last time I wore a dress on purpose for anything that wasn't an event. I don't wear make up. I don't care about my hair. I am a vet tech. My clothes consist of pajamas and scrubs, which are glorified pajamas, and I seriously do NOT look good in white.
The second time around.
When I got married again, I did everything differently. For starters, I had the right guy. That's important. Marriage for the sake of 'this is what I'm supposed to do and this is who my family likes' is never going to work. Ever. So get that out of your head. Don't marry someone because they're easy to live with; marry someone because they're impossible to live without. That's my second, current, and forever husband. And our wedding was everything that my first wedding was not, nothing my first wedding was, and it was so completely us that people are still talking about it.
First of all, as you can see in the picture, I wore red. The dress was custom made to my specifications, then remade when it wasn't what I had thought of in my head, but it was red with black tulle underneath. Red brings out the green of my eyes, works well with my skin tone and has an amazing array of truly gorgeous shoes to choose from. I love shoes. It's probably the only "girly" thing about me. Despite the fact that I hardly ever have occasion to wear them, I have a massive collection of stilettoes, none of which are any less than 6 inches high. The shoes, however, were only for the reception. We were married barefoot on the beach.
We live in South Florida while my entire family, and the majority of my in-laws do not so we knew almost everyone invited would have to travel and get a hotel room to come to our wedding. We decided to make it a weekend long event to make it worth the price they were paying to be here. We had an escape room, a trivia and pizza game night, a scavenger hunt that was composed of items from our life together and combined to tell our story. We had time for our guests to enjoy the beach and the pool in between events and the final day, was our wedding day.
Our life together centers around our animals. We currently have seven pets but at the time of our wedding, we had six; and they were part of every detail that went into that weekend. Even the centerpiece on the small cake that sat above our cupcake tower, was a custom made silhouette of our little furry family.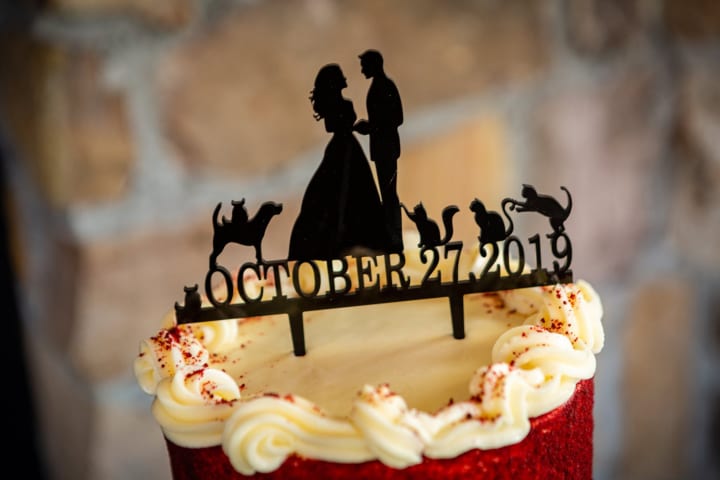 Our animals being such a major part of our lives, you'd think we'd have had them at the actual wedding. Trust me, it crossed my mind. But it wasn't feasible. Our first date had been on the beach in Miami so we'd decided right after our engagement that it would be fitting to get married on the beach as well. Our cats would think they'd just found the world's largest litter box and we'd never see them again, and it would be far too hot for my elderly dog and even more so too hot for our temperature sensitive chinchillas. But they were still there. At the ceremony, officiated by my cousin, instead of some alter or floral stands surrounding us, we had easels holding up portraits of our animals. We each only have one sibling. Both of us have a brother. So instead of a maid of honor, I had a best man too, and our entire wedding party consisted of us and our two best men. One of my cousins officiated while another videoed the ceremony with my phone, live streaming it onto Facebook so people that weren't there, could still be there. Having a small wedding of family only meant we only had six tables at our reception. Perfect. Six tables, six pets, so instead of table numbers, each table was named after our babies and held a photo of them sitting in a centerpiece - giant vases full of candy.
There were different candies on every table and each place setting had a bag for guests to fill with treats. We also made special goodie bags containing dog treats and cat treats for our guests with pets to bring home to their own furry family members. Each table also had a shelter treat bag set aside. Animals were so important to us and our lives, that we asked that one guest per table take that bag to a shelter near them and give a shelter animal a great day in our honor. Since no one else there had chinchillas, and we didn't want to leave them out, our guests received chinchilla treats for humans. Chinchillas love green tea leaves and oats so each guest received green tea bags along with oatmeal cookies. It was a lot of favors to put together, but in the end it was worth it when we saw our tables set up. The display was incredible, it was very much so US, and our guests loved it.
My sense of humor is innately part of my family's 'culture' and it was present at my wedding. As I noted, my cousin officiated the ceremony and only he was in on the little joke I had in store for after the kiss. He had the sign behind him, and when he said "you may now kiss the bride" and everyone was busy snapping photos of that kiss, he casually handed me the sign and I turned to our guests proudly holding it up. My new last name, Capone, was not going ignored in the historical reference it contains. Good ole Uncle Al Capone (no, there's no relation, we don't think...) gave me the perfect laugh in what was "supposed" to be a serious moment of romance and love... I caught Capone. It was my way of saying "this is me!" to my new in-laws. Luckily, they laughed with me.
The wedding invitation had boldly exclaimed "Escape the Traditional" and boy did we mean it. Not just because of the red attire, the bare feet in the sand, the animal references in every aspect and the candy land we created for favors, but this would be no ordinary wedding reception.
I am a vet tech now but for a large chunk of my adult life, I was in the psychology field with my main area of interest being the psychology of criminals. I wanted to be in the FBI. I wanted to study serial killers and mass murderers and create profiles of them. It's a long story about what led me to drop that dream and find my home in caring for animals as a career but my interest in true crime never diminished. I dragged my future husband into that world with me, watching documentaries and docuseries after docuseries, and discussing them at length. So our reception followed that vein of our lives and we decided to make it a murder mystery.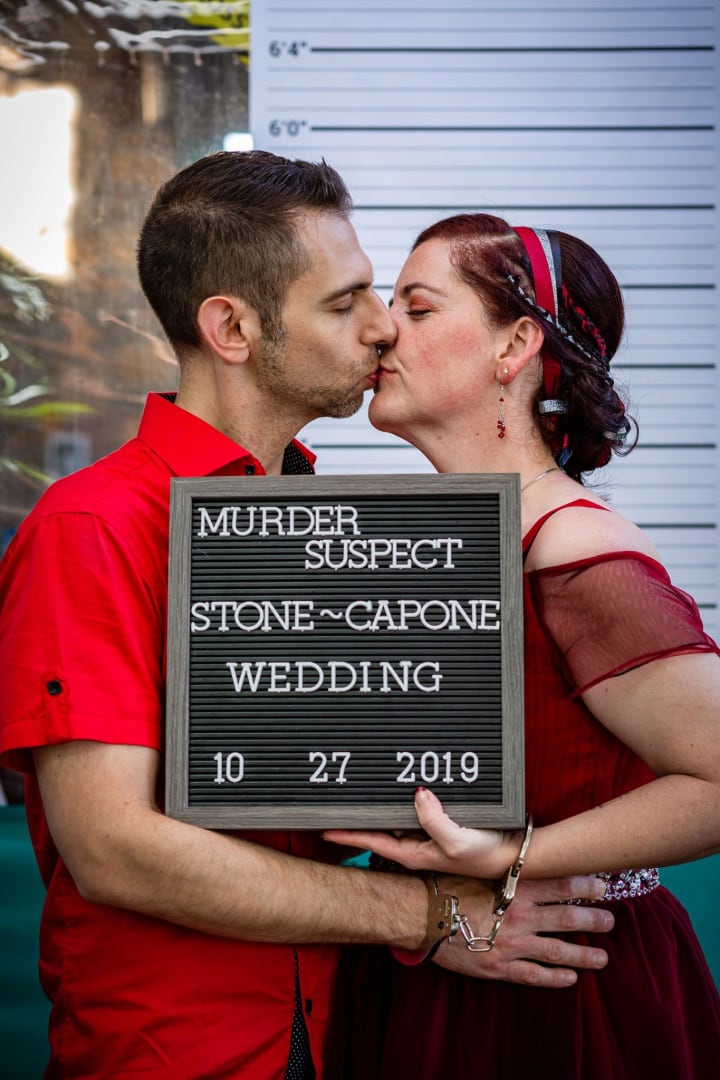 All of our guests had their mug shots taken before they were able to enter our reception venue. Upon entering, they found a body on the floor. The restaurant that held the reception had a blast with this concept and from what I heard, there were arguments among the staff about who would get to play the body. Our servers were hand chosen based on their willingness to play along, and tipped well for their unease around our potentially murderous guests... carefully taking away their knives, acting startled and afraid when called to a table... they were fabulous. I had purchased a murder mystery dinner party kit, then I rewrote it myself to fit a wedding instead of the theme the kit came with.
Our wedding contained a lot of moving parts, a lot of surprises and a lot of things we did ourselves. Our fathers had each given us a set amount of money to spend on whatever we spent it on, my mother purchased my dress, our cake topper and saved us a fortune by staying a week longer to stay in our apartment with our animals while we went on our honeymoon (boarding costs for six animals is no small amount). The rest we paid for ourselves which is why we kept it to family only. It was small but it was perfect and allowed us to do all of the things we wanted to, but maintain our real goal... which was never the wedding. Our real goal was a 'never say no honeymoon'. We wanted the bulk of the money we'd saved to go toward our time in Universal Studios and Disney World so that if there was something delicious to eat or drink, we could have it. If there was a souvenir we wanted, we would buy it. Our lives are typically lived frugally, spending more on our pets than ourselves. We don't eat at fancy restaurants or even go out all that often. But our honeymoon would be different. We'd do whatever we wanted, go wherever we wanted, see whatever we wanted, eat whatever we wanted and buy whatever we wanted. And we did that. But our guests never felt a lack of anything. In fact, to this day, our wedding is called the most fun wedding they've ever been to. Not only the most fun, but the most unique, and the most personal.
Seriously, make it yours.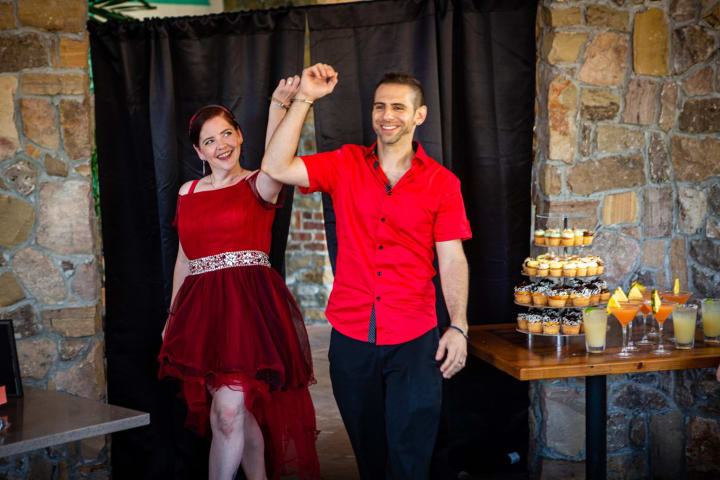 Don't get me wrong, if the big fancy white dress, black tie required, grand hall traditional reception with all the trimmings is who you are as a person then that's what you should have. I'm not saying it's a bad thing, it just wasn't us. My husband hates ties with a passion. If you even mention them to him, he will go off on a tirade about how useless and pointless they are, not to mention uncomfortable. White isn't my color. And big poofy gowns don't mix well with sand and salty air. The short in the front, long in the back style red dress was light, comfortable and perfect for me. My hair, which will frizz if I even THINK about the beach was pulled back with red, black and silver ribbons weaved, braided and swirled around it. I didn't have a veil, the ribbons were cut long so they hung down my back. It took my mother and I about two hours to remove them all but I loved my hair and kept the ribbons as mementos of the day. This is who I am, but it doesn't mean that's who you are. My perfect wedding was fun and funny, surrounded by family only and including my animals every step of the way.
Whatever your perfect wedding is, that's what you should have. Make it yours. But when I say make it yours, I mean add personal touches at every turn you can. Have favors that speak to your personality and your life together. Choose everything from your attire to your venue to your music (if you have music, we didn't, literally nothing about our wedding was traditional there was no dancing at all) to your theme and colors based on who you are. It's in those touches, those details, that people will remember your wedding. It's in those touches, those details that YOU will remember your wedding.
I think couples spend too much of their weddings thinking about their guests. Our guests had fun at our wedding because we made it about US. That's what a wedding should be, isn't it? It's a celebration of you, your chosen partner, and the love you share. Don't let anyone else tell you how that should be celebrated, because if it's not truly you, it's not truly yours.
Make it yours.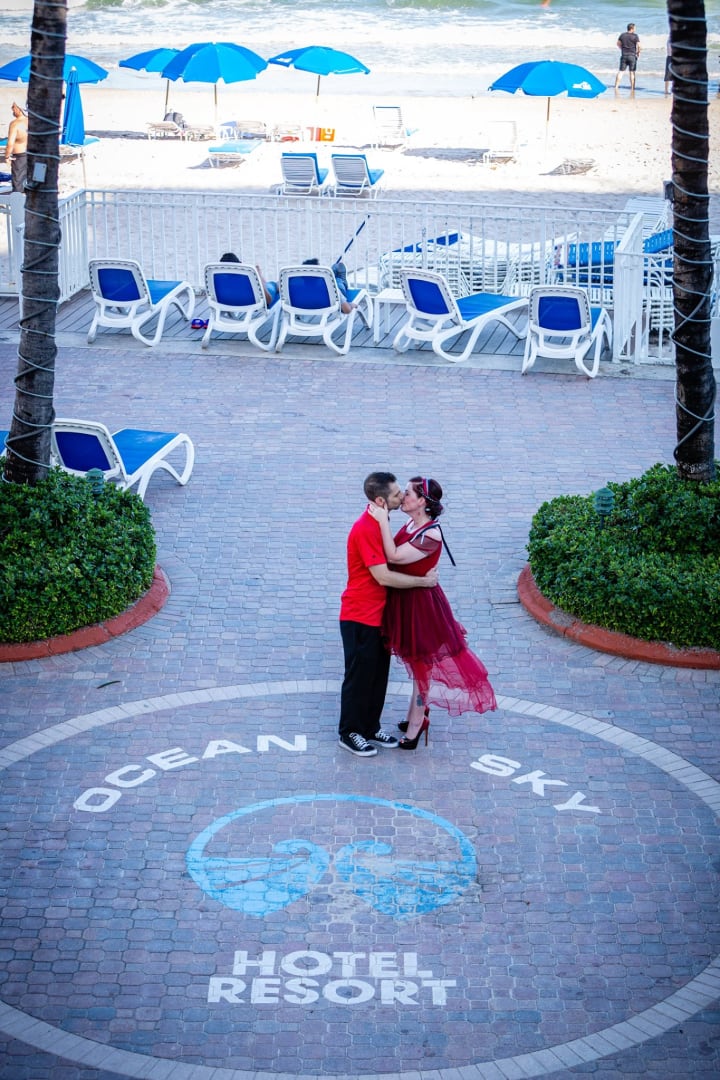 Good god, I love those shoes.
Happy wedding planning!
ceremony and reception
A veterinary technician, writer and animal advocate from New York. Currently living in South Florida and desperately trying to escape. Runs on Starbucks and the love of her husband and 7 rescue animals.
Receive stories by Courtney Capone in

your feed