A peaceful wedding I never had
A peaceful wedding was my childhood dream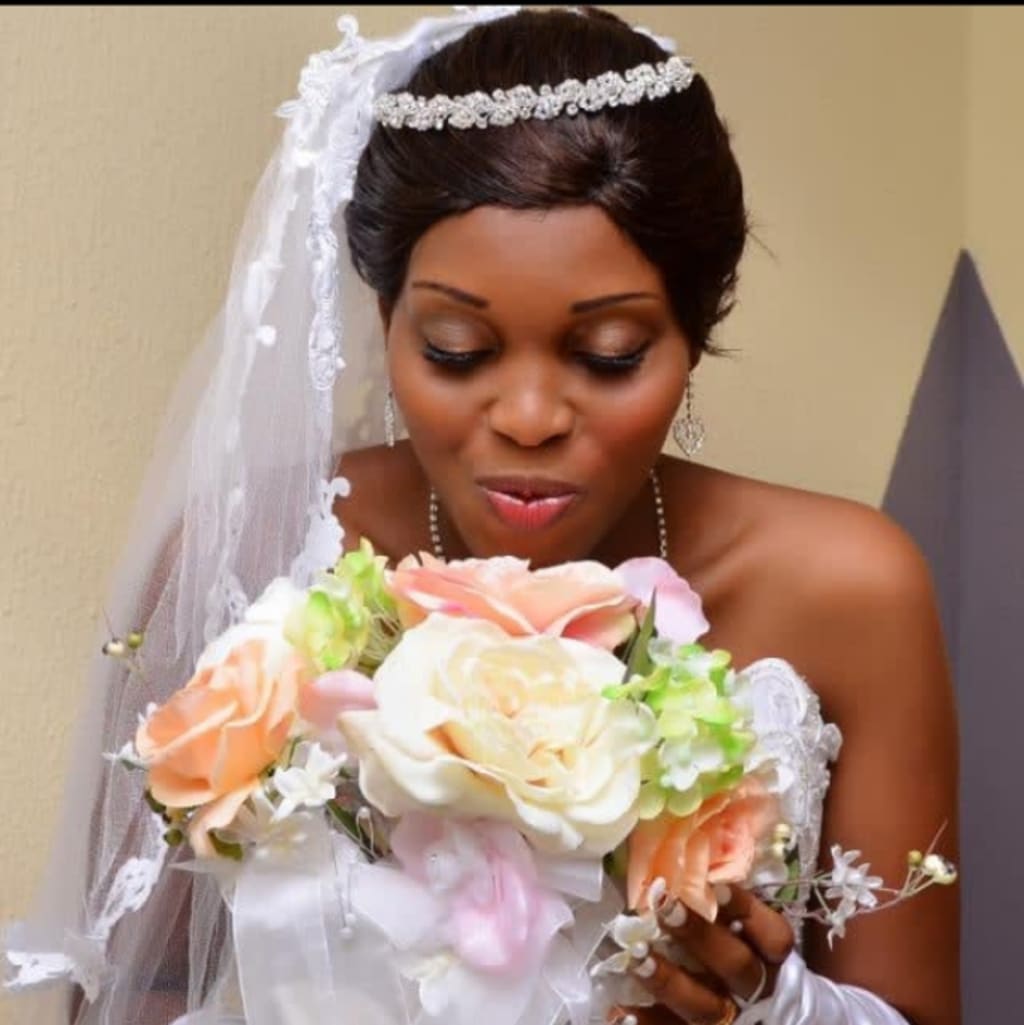 My dream wedding
My childhood dream was to have a beautiful wedding day.
All the time I would reach to my mom's old drawer, in search of wedding pictures of hers and those of her friends, then I will be throwing heavy admiration on those pictures even though they're too old and in black and white colors.
One of the pictures has a bride holding a bunch of fresh flowers (that's olden days tradition) because part of the world, where am from, fresh flowers signifies life and true love so that's what our mothers use during their marriage ceremony. On the wedding day, the bride had to enter the garden and pick beautiful flowers that can suit the wedding occasion.
I always admire weddings, seeing how beautiful the bride and her bridesmaids look, attracts my attention to weddings. I started from then to plan how mine would be, I do a lot of rough plans at a young age.
At the age of 25 when I found my life partner, we got engaged and those wedding plans and ideas that I used to organize in my mind at my youthful age became so pale because my partner does not have so much admiration for weddings. Am always the one that would call him on phone to organize one thing about the wedding or the other.
when my partner proposed to me, I was so happy because I know that very soon wedding bells will ring. Even when my partner was so busy with his tight schedule, I will always call him and flood him with questions and everything in my mind then was just about the wedding.
So on that faithful wedding day, everything was put in place the decorators planned and did a wonderful job and the invitees were in attendance, every invitee was present including young children and adults.
Just for the wedding ceremony to start after afterward, the sky begins to change. All of a sudden the weather became dark, thus signaling heavy rainfall. At that moment I was confused, fear grips my heart, I told myself how could this be, today of all days, today is supposed to be the most important and happiest day in my life.
Ever since I heard the first sound of the storm, my heart wasn't at peace, I knew at that moment the rainfall is not gonna show be mercy, I became so helpless, this is because the wedding venue happens to be held in an open field.
Right in front of me, the guests left one after the other, they were also disappointed everything became so disorganized and it was the minute am supposed to walk down the aisle. The breeze erase all the decorations, nice dishes were left and nobody had to eat them. Again all my plans and dream for a nice and remarkable wedding become shattered.
It is 8 years now, any moment I remember that I didn't have a dream wedding, I became so sad, it makes me very sad. But one thing that gave me hope is that I might still plan a stunning one to Mark our 10th wedding anniversary because at least I and my partner will be prepared both financially and otherwise. We have grown up together in our marriage and can sponsor a befitting wedding ceremony again not just using an open field where rain or storm might destroy our plans.
one thing I always have in mind is that no time is late for anything, your dreams can be actualized at any age. Even if you have faced a lot of challenges in life.
Thank you for stopping by.
ceremony and reception
About the author
A passionate writer, I love to blog about lifestyle. you can subscribe to get original content from my heart ❤️. I like to share real-life stories.
Reader insights
Be the first to share your insights about this piece.
Add your insights