What to Do if You Have Gum Disease
If your gums have recently become sore, swollen, or infected, you may be experiencing the early stages of gum disease.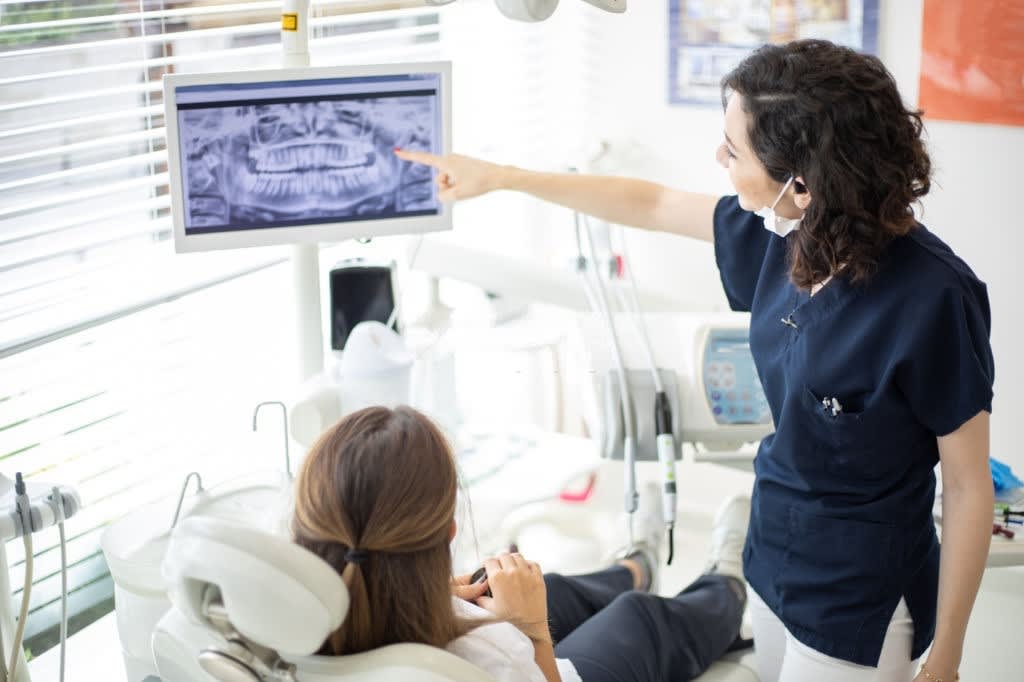 istockphoto.com
If your gums have recently become sore, swollen, or infected, you may be experiencing the early stages of gum disease. Gum disease is a very common condition and can be fixed with straightforward treatments if it hasn't been left to deteriorate.
Gum disease is seen more in adults, much less so in children, and most people experience it at least once in their lives. It's estimated that around 90% of adults in the UK have some form of gum disease, even if it's only a minuscule amount. So, if you do happen to stumble across it, you aren't on your own and it can be relatively easy to treat.
Improve your oral hygiene
Gum disease, or gingivitis, can be treated at home by simply improving your oral hygiene. There are types of mouthwash available to purchase over-the-counter that directly target gum disease, and should be used twice a day along with brushing and flossing.
If you aren't a flosser, it might be time to start. Flossing helps remove food, plaque and bacteria from between your teeth and works to prevent gum disease. Flossing can also reach places that a toothbrush just can, especially under the gumline.
Brush your teeth twice a day after flossing to maintain positive oral hygiene and visit your dentist regularly for cleaning and checkups. It's also worth noting that using a salt water rinse can soothe inflamed gums and ease the pain of gum disease.
Contact your dentist
If you are concerned about your gum disease or are enduring persistent symptoms despite changes in your oral hygiene, it may be worth contacting your dentist. You should visit the dentist every six months for regular checkups, and those more susceptible to dental issues should go every four to five months.
Visiting the dentist can confirm whether or not you are suffering from gum disease, and how exactly you can treat it. They may recommend simple home remedies, or (in more severe cases) they may talk you through the possibilities of periodontal surgery, but they will provide you with a solution.
In severe cases…
In severe cases of gum disease, you may be required to undergo periodontal surgery. Periodontal surgery, also known as gum surgery, aims to treat the gum disease and other areas of the mouth it has affected. This could consist of:
Removing affected teeth
Regrowing damaged bones and tissue
Reducing gum gaps between teeth
Eliminating the infection
A less severe surgical procedure includes deep scaling and root planing, which works to remove bacteria and tartar that has built up around the mouth. Root planing smooths out the roots of the teeth, leaving fewer places for bacteria to grow.
Bone grafting, flap surgery, and tissue grafting are also options for those experiencing a severe case of gum disease.
How to prevent gum disease
Concerned about developing gum disease? Change your dental routine to help prevent this disease from taking over your gums. Preventing gum disease is as simple as:
Maintaining healthy oral hygiene by brushing twice a day, flossing daily and using mouthwash.
Visiting your dentist on an annual or bi-annual basis for regular checkups.
Switching to a soft-bristled toothbrush or an electric one as they are nicer and more soothing for your gums, reducing the possibility of irritation from brushing.
Smoking also has strong links with the onset of gum disease, as it weakens your immune system. Quit smoking for healthier gums and significantly reduce your chances of developing gum disease.
Always contact your local dentist if you are concerned about gum disease or if you are experiencing symptoms. The earlier it's dealt with, the better.
health
I am an SEO specialist and committed professional who has the ability to run remarkably successful digital marketing campaigns in the most competitive sectors, using a unique blend of technical and creative expertise.