Top 10 Most Popular Sports Leagues In The World (Updated List)
In this article, we discussed the top 10 world's most popular sports leagues according to their average spectators.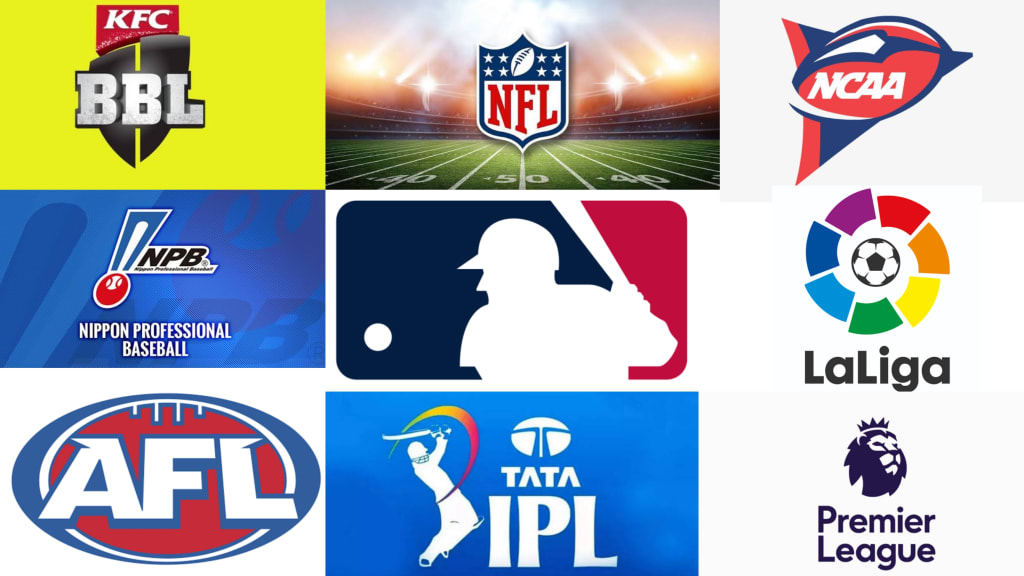 Logos of different sports leagues
There are many different types of sports in the world and there are many tournaments and leagues that feed these sports, but there are some leagues and tournaments that the world is crazy about. Millions of fans come to the stadium to watch the sports played in these leagues live by paying huge money.
So we will talk about the top 10 most popular sports leagues. How famous or popular a league is determined by two things, one is the number of spectator audiences available to watch sports in the stadium and the other is television viewership.
You must have often heard that the Indian Premier League (IPL) is the most popular cricket league in the world, but friends, if we talk about all kinds of sports organized around the world, then which is the most popular league in the world? So what can you tell which is the world's number one sports league in terms of popularity? So in today's article, we are going to talk about this, so read this article till the end.
10. Nippon Professional Baseball (NPB)
Japanese people love baseball. That's why Japan's most popular league is NPB. The Nippon Professional Baseball League was started in Japan in 1950. Since then it has been going on continuously till now. A total of 12 teams participate in this sporting event and two different leagues in this one league are the Central League and the Pacific League.
There are 6 teams in each league. At the end of the season, the winning teams of both the different leagues also clash with each other. There is also a series of matches between both the winning teams. According to the average, 28,248 fans are present in the stadium in every match of this series.
9. Big Bash League (BBL)
Big Bash League is an Australian cricket league that has just started and this league is highly inspired by the Indian Premier League (IPL). Big Bash League was started in 2011. Although cricket is a popular sport, it is not as famous as football, basketball and baseball in the whole world, but since leagues like IPL and BBL have come, people's attitude towards cricket has changed in the world.
Such leagues also approach other countries to participate in this sport. So at present, there are a total of 8 teams in the Big Bash League and these 8 teams have gained a lot of popularity. Now if we talk about the average, then 28,279 fans are present in the stadium in every match of the Big Bash League. Big Bash is the second most popular T20 cricket league in the world.
8. La Liga
The La Liga league has been one of Europe's most popular sporting events for a long time. It is a Spain-based football league which was started in 1929 and currently presents a total of 20 teams playing in this tournament. By the way, 9 different teams have become champions in the La Liga league. But both Real Madrid and FC Barcelona have dominated the La Liga league for many years.
Real Madrid won the title 35 times and FC Barcelona 26 times. If you are a football fan or not, you must have heard the names of Ronaldo and Messi. So Lionel Messi played for FC Barcelona and Cristiano Ronaldo played for Real Madrid club from 2009 to 2018. The La Liga League is the strongest in UEFA's league rankings for the last 5 years. The average crowd of fans in every match in this league is 30,300.
7. Major League Baseball (MLB)
When it comes to baseball, no one can match America's fan following for the sport. The MLB is an American-based baseball league that began in 1903 and has been running ever since. A total of 30 teams play in Major League Baseball, and there were two separate leagues within the MLB, the National League and the American League with 15 teams in both leagues.
Since 1903, these two leagues used to co-operate with each other. Legally these two were also different entities. Then in the year 2000, these two leagues merged and started operating together. Of the 30 teams in MLB, 29 are from the US and one team is from Canada. So the average crowd of fans in every match in this league is 30,500.
6. Indian Premier League (IPL)
I don't need to tell you how famous cricket is in India, you must have known. India is called a 'cricket-friendly nation'. So now let's talk about the IPL. BCCI started this cricket league in 2008. There are currently a total of 10 franchises in the IPL that represent different cities and states. Every year the graph of popularity of this league is seen going up.
IPL is one such sporting event in the world that was broadcast live for the first time in 2010 on YouTube. According to Statista, the brand value of IPL in 2021 is 4.7 billion U.S. dollars. According to the BCCI, in 2015 alone, IPL contributed $160 million to the GDP of the Indian economy, which is 1150 crores in Indian Rupees. So in every IPL match, the average spectator crowd in the stadium is 32,000.
5. Australian Football League (AFL)
Australian Football this sport is different from the football it is usually played in. Australian football is also called "Aussie rules". This game is played on an oval-shaped ground, think of it like a cricket ground. In this game 18 players play on the field in a team and the hand is also used in this football. Now let's talk about (AFL), the Australian Football League was started in 1897.
Then the name of this league was the Victorian Football League. With time, the name of the league changed but the craze among the fans did not diminish. There are currently 18 teams in the AFL that play from 5 states in Australia. By the way, there are only 6 states in Australia. So the average crowd of fans in every match of (AFL) is 33,500.
4. English Premier League (EPL)
It is an England-based football league that started on 20 February 1992 and has been running ever since. The world's 3rd most-watched football league is the English Premier League. When it comes to worldwide popularity, it also gives competition to the league (NFL). The popularity of this tournament is all over the world. The most dominant club in this league is Manchester United. This team has won 13 EPL titles so far and most recently the title of 2021-22 has been won by Manchester City and this is Manchester City's 6th title.
A total of 20 clubs compete against each other in this league. The English Premier League comes 2nd in UEFA's league rankings, after Spain's La Liga League. So the average crowd of fans in every match of this famous league is 36,500. This league is at number (4) based on the attendance of the fans in the stadium. But this league is broadcast in 212 territories worldwide, making this league reach 643 million homes in the world. So its potential TV audience is around 4.7 billion people so it is the world's 3rd most watched league on TV.
3. Football Bowl Subdivision (FBS)
This football is a different sport, this is American football. The players playing this game are quite muscular and tough because it takes a lot of power to play this game. So college sports have always been a part of American culture, and almost every American has a favorite college team. FBS is a college-level league that started in 1978. A total of 131 teams currently participate in the FBS league.
Like other leagues in the world, players have an advantage and players in this league are college students who are not in the team for a long time. So in this league, the advantage lies with the coach. The coaches are very famous, for this league the average crowd of fans in every FBS match is 43,200.
2. German Bundesliga
You must have understood from the name that this is a German-based football league which started in 1963, this league has been running since then. Since the start of the German Bundesliga league, 56 clubs have participated in this league and the club that has won the title the most times is Bayern Munich. Bayern Munich club has won the Bundesliga title 31 times.
At present, a total of 18 teams compete with each other in this league and the Bundesliga is ranked third in the UEFA leagues rankings. This league is the 2nd most watched football league in the world as this league is broadcast in 200 countries. So in every match of this league, the crowd of average fans is 43,400.
1. National Football League (NFL)
The NFL is a professional American football league but not a college league like the (FBS). This league was started on September 17, 1920, and since then this league has been running till now. The love of the fans about this league never diminished. A total of 32 teams participate in the NFL, and the NFL league season lasts a full 17 weeks, with each team playing 16 games, one match per week.
The NFL season begins in September and ends in late December. The National Football League (NFL) is the richest professional league in the world by revenue. The revenue of this league will be high because the number of spectator audiences of this league is very high.
The most surprising thing is that only Americans and Canadians like to see this league. Apart from this, people are not much interested in this league in other countries. Despite this, it is such a big league for two main reasons.
First, this league is at number (1) with a per-match average of 68,300 spectators. Second, the National Football League receives approximately US$1.8 billion for broadcasting rights for each match, which is the highest. Due to these reasons, the national revenue of this league is more than $11 billion US dollars, which makes this league the richest league in the world.
So, friends, this was the list of the top 10 most popular leagues in the world. Which league do you like and which leagues do you follow? Do tell by commenting below.
list
About the author
My name is kunal, I am enthusiastic writer from my childhood, and I am passionate about my work, and I love to write articles on different topics, mainly top 10 lists based articles on different topics.
Reader insights
Be the first to share your insights about this piece.
Add your insights