Throat Chakra and Inner Truth Crystals and Gemstones
A Go-To Reference for Throat Chakra Crystals and Gemstones
If you already know what the throat chakra is and you need a concise article that simply lists the crystals and their properties that will help balance your throat chakra, this the article for you. My source of reference is The Encyclopedia of Crystals by Judy Hall (2013).
Disclaimer: Though I advocate for crystal healing, I advocate for the advancements in medical science and psychiatric help. Do what you can to heal yourself, but know that these crystals are not a replacement for medicine or psychiatric advice.
Linked to: 3, Sagittarius, Venus
Metaphysical Properties: Egyptians believed this stone led the soul to immortality and opened the heart to love; a key to enlightenment; stimulates metaphysical abilities and personal power; adds serenity to the environment; wards off psychic attacks; reverses curses and disease; multidimensional healing, amplifies mental (etheric) energy
Physical/Mental/Emotional: makes one a better listener and learner; helps one confront the truth; expressing true feelings; repressed anger gets healed; heals the throat/larynx; decreases blood pressure; prevents migraines and helps with depression; helps healing loss; increases honesty and compassion; strengthens friendships
Metaphysical Properties: recharges someone after spiritual work; induces a meditative state; helps one break away from unwanted entities; helps one awaken inner wisdom and manifesting abilities; attracts soulmate; heals karma especially with relationships; connects to earth goddess; helps earth evolution
Physical/Mental/Emotional: stops self-destructive behavior and unwanted bonds; helps with important transitions in life; helps with trauma and oversensitivity; revives inner child; brings calms; has a strong connection to femininity; helps one bond with nature
3. Blue Kyanite (Disthene)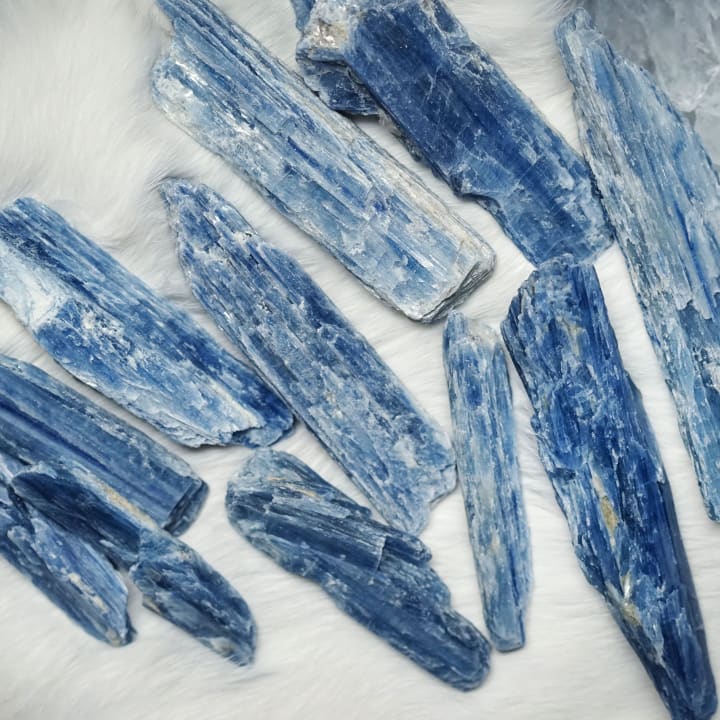 Linked to: 4, Aries, Taurus, Libra
Metaphysical Properties: amplifies high-frequency energy; great for meditation; helps with ascension process; connects to multi-dimensional frequencies; brings clear dream recall; helps those transitioning toward physical death; restores Qi
Physical/Mental/Emotional: accountability for the past; instills compassion and maturity; boosts Qi; healing for the physical body; stabilizes biomagnetic field; encourages speaking the truth; wards off blockages caused by fear; links to psychological truth; helps frustration and stress
Tip for Tarot Readers: A piece of blue kyanite in your tarot bag will help you with readings. Keep the stone close to your deck.
Linked to: 4, Sagittarius, Venus
Metaphysical Properties: unites the higher mind with the physical one; balances the third eye during meditation; balances male/female energies
Physical/Mental/Emotional: helps one to understand their true self; standing up for your beliefs; releases mental conditioning; gets rid of rigid beliefs; balances emotion and intellect; transforms defensive or oversensitive personalities; brings harmony between people; boosts solidarity; encourages interdependence
Linked to: Cancer, Venus
Metaphysical Properties: as it absorbs energy, it purifies and filters it; brings about clarity; imitates spiritual growth; amplifies purified energy, inner awareness, and metaphysical abilities
Physical/Mental/Emotional: addresses laziness; helps skin and immune system; great for children who need motivation for certain tasks; calms nerves; calms anxieties; better communication between thoughts and feelings; improve studying abilities; teaches discernment; boosts memory
Linked to: 2, 8, Gemini, Venus, Neptune
Metaphysical Properties: attracts divine energy; stimulates metaphysical abilities; encourages trusting divine energy/guides heals aura
Physical/Mental/Emotional: wonderful for artists and speakers; mental clarity; conflict resolution and meditation; keeps one calm; marries instinct and intent; helps dysfunctional relationships; encourages openness and resolve
7. Shattuckite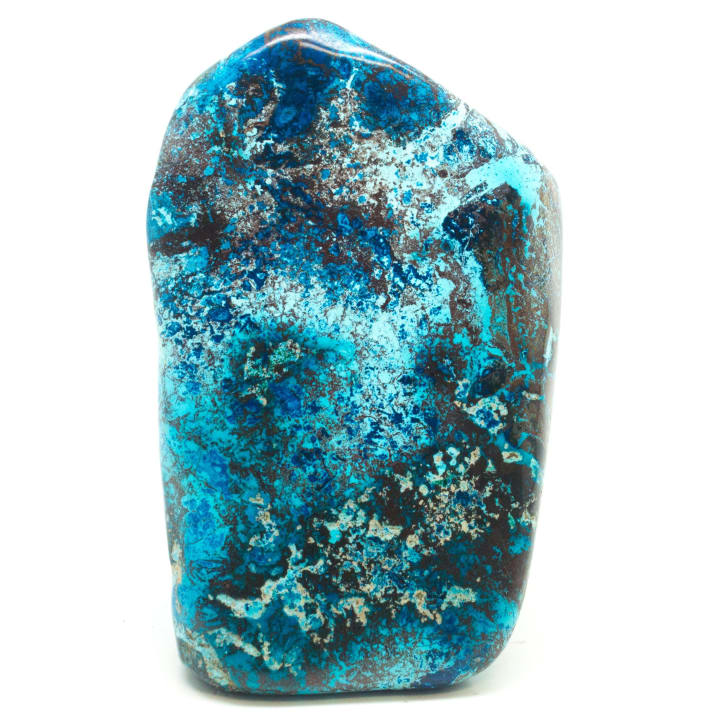 Linked to: 11, Taurus, Libra, Venus
Metaphysical Properties: a perfect stone for shamans, mediums, and other types of spirit workers; provides clear visions; clears past-life curses; addresses how past-life blocks affect metaphysical abilities; stops hypnotism; if channeling a spirit, this stone prevents the spirit from taking over the body; high vibrational energy conduit; helps with contact via telepathy and automatic writing; helps with contact with extraterrestrials
Physical/Mental/Emotional: helps with healing genes and helps with cell division; helps take care of blood clotting
8. Angelite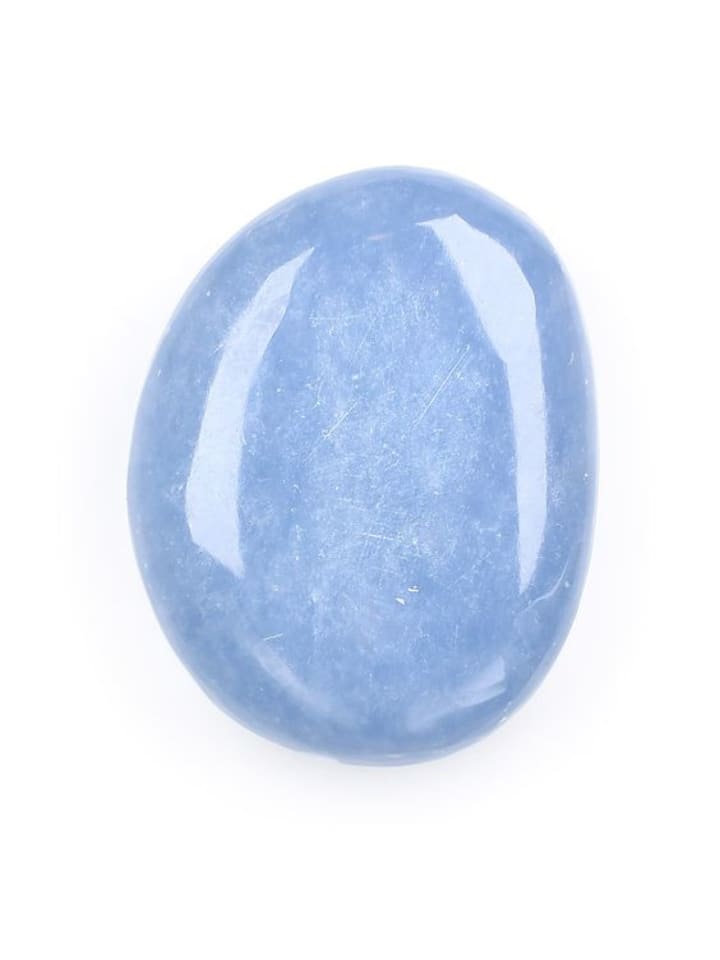 Linked to: 1, Aquarius
Metaphysical Properties: telepathic communication with the angelic realm; aids astral projection; helps astrologers; protective
Physical/Mental/Emotional: boosts knowledge of astrology, astronomy, and mathematics; boosts mental perception; encourages honesty and acceptance; helps with psychological trauma; cleanses environments from disorder
Linked to: Gemini, Pisces, Mercury
Metaphysical Properties: multilevel cleansing; stabilizes yin and yang energies, general spiritual growth; welcomes higher energies; stabilizes aura
Physical/Mental/Emotional: improves self-expression; decreases fear of judgment; decreases anger; deals with emotional trauma; counteracts fear of rejection; helps sensitive people, especially men; boosts self-confidence; helps concentration
10. Turquoise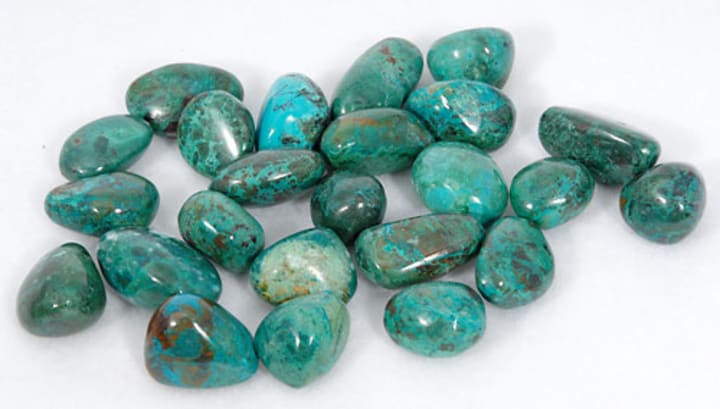 Linked to: 1, Scorpio, Sagittarius, Pisces, Jupiter, Venus, Neptune
Metaphysical Properties: Highly valued by Native Americans who see this stone as the bridge between earth and heaven; protective as an amulet; boosts spiritual attunement; boosts communication with the beings in the spirit realm; brings peace and solace to the spirit; helps one release old promises, inhibitions, and prohibitions; helps the soul with self-expression; increases awareness of the true meaning behind "fate"
Physical/Mental/Emotional: enhances good friendships and loyalties; helps one embrace accountability; gets rid of atmospheric pollutants, detoxifies; improves self-expression; helps with muscle cramps and viral infections; boosts a mentality of abundance and good fortune; heals depression, panic attacks, shame, and guilt
Thanks for reading. Check out the other chakra crystals/gemstones lists:
Sacral Chakra/Emotional Health
Solar Plexus Chakra/Self-Esteem
Also, if you are a small business and/or online store that sells crystals and gemstones to promote crystal healing, holistic health, and meditation, contact me on my Twitter or on Facebook and I'd be happy to mention your business in these articles. Thank you.