The Analogy Between Indoor Air Pollution Exaggeration and the Anti-vaccination Movement, Pt.2
After all, how should we take action? Abandon dogs/cats, non-stick pans, mattresses, or, at best, stay outdoor for the rest of your life?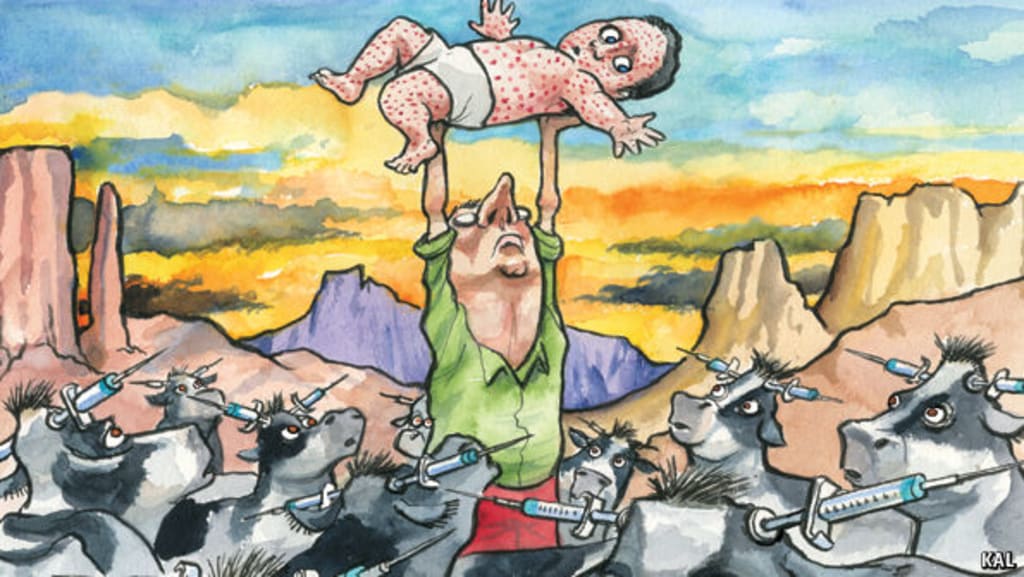 Your air conditioner, without regular maintenance, would, to all appearances, fan out the mold, bacteria, and even refrigerated chemicals. Take Freon as an example. This tasteless, odorless gas, after inhaled, could suffocate the lungs and breed gas poisoning.
When was the last time your mattress dried, or your sheets and blankets washed?
While you can answer those with specific "milestones," you could hardly ever know precisely how filthy those are (which might "award" you with allergies and asthma), or how many tiny dead skin cell devourers are lying by your side—pondering your monstrous scalp fungal? It's due to, in all likelihood, your "cultivating" fungal on your comfortable pillow.
For the most part, the pressed wood shelves embody formaldehyde, a resin-glue in the furniture manufacturing process. It might either evaporate or give off an obnoxious odor, which helps avoid such frustrating symptoms as eye/nose irritation and itching, wheezing, or sneezing. What should instead get on your nerves are the printed inks. Fortunately, you would only suffer from skin irritation or asthma. Otherwise, you would most likely be dogged by allergies and atopic dermatitis. Upon ventilating, some ink solvents can even induce dizziness, drowsiness, or central nervous system impacts.
And when we've got too much of VOC, volatile chemicals and indoor pollution, we would be in urgent need of some fresh air. And you decide to head towards the garden.
Passing the kitchen, you find an old non-stick pan lying in the sink. You feel some sense of relief since its Teflon layer has been proved harmless. Insomuch as you're lucky enough that plastic food containers containing BPA that breeds infertility in women have been ousted, and electric cookers have gradually taken over traditional gas cookers in your kitchen.
Outside, the fresh plants could allow you to let loose of your burdens and as well as nourish insects, bugs, or contain allergens. Your pets sunbathing in the corner have been proven to bring out positive mental impacts [18]. We must, nevertheless, be wary of the risks they pose, particularly fleas - the tiny insects once fanning out plague and modern-day cat-scratch diseases. Unless vaccinated, you would as well share the helminths with your dog. And you'd anyway end up embodied by Campylobacteriosis (tl;dr: diarrhea, cramps, stomach ache, and fever).
After all, how should we take action? Abandon dogs/cats, non-stick pans, mattresses, or, at best, stay outdoor for the rest of your life?
Let's...
2. Learn to think.
There is a reasonably specific case that fertilizer is an invention that helps the world not to starve to death, despite its high phosphorus. Still, after decades of development, there have been many standards and quality greatly improved.
Recently there has been a movement to eat organic food to protest against chemical fertilizers. No matter what, everyone has nothing to prove that it is less toxic. This natural sounds more like making household money than it is possible for the whole world, which is why, so far, no organic companies are significant, despite the large number of companies calling for capital.
I think this organic is not an invention, but more a trick, so it will only stop at a certain level. The fertilizer will probably still play an essential role for many years to come.
Firstly, the information should not immediately bring out the action. Let data puzzle our brain. It should be conclusions from processed information that spearhead activities.
I can always offer you with whatever information you desire. Good and bad news on your sofa, which would you prefer? The media and organizations have all too often hoaxed to feast on others' fears and call for actions. They're in charge of neither conflicting opinions nor positive information. It's you yourselves have to dig deep into these.