SYMPTOMS AND CAUSE OF SCARRING ALOPECIA
In this article, one will get to know about the reasons, symptoms of Scarring Alopecia - A Disease of Hair Loss found commonly today.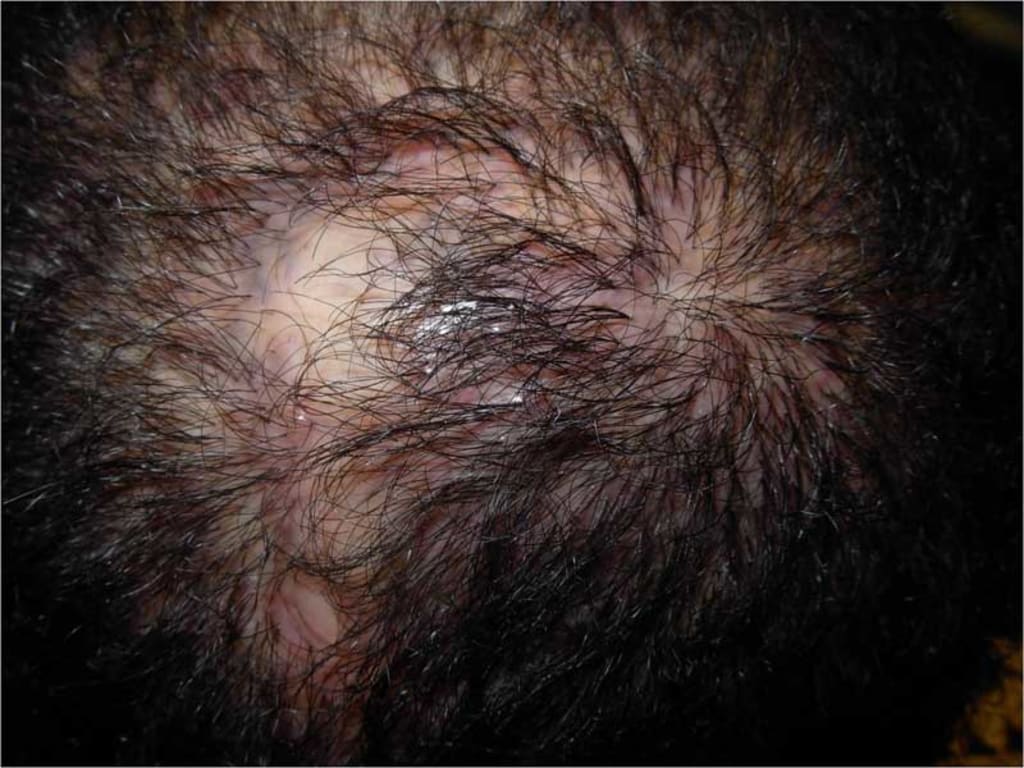 Scarring alopecia, also known as cicatricial alopecia, is a group of inflammatory hair loss illnesses that results in the death of hair follicles and bald patches on the scalp. Scarring alopecia is an uncommon hair loss illness that affects roughly 3% to 7% of healthy men and women, according to the best hair transplant surgeons in India.
Scarring alopecia patients are frequently dissatisfied since they have few alternatives for regrowing their hair. Scarring alopecia can be caused by inflammatory illnesses such as discoid lupus erythematosus, lichen planopilaris, and folliculitis.
Scarring alopecia symptoms: Scarring alopecia starts as tiny areas that can eventually turn into permanent baldness. The bald spots on the scalp appear to be smooth and shining. Furthermore, due to the full loss of hair follicles, the skin pores are missing. Other signs and symptoms include:
• Headache with a burning sensation
• Scalp itch
• Discomfort
• The appearance of blisters
• Pus
• Crusting
• Patches of rough and dry skin
Causes of scarring alopecia: Though inflammation is thought to be the primary cause, other factors that contribute to scarring alopecia include:
• Destruction of hair follicle stem cells (HFSCs).
• Hair follicle stem cells have a problem with self-maintenance (HFSCs)
• Changes in the lipid metabolism
• Burns, injuries, and tumours
• Genetic determinants
Scarring alopecia classifications: Scarring alopecia is frequently divided into three types: primary, secondary, and inherited.
1. Primary scarring alopecia: When the hair follicles are entirely damaged and replaced by scar tissues, this is known as primary scarring alopecia. Inflammatory cells such as neutrophils, lymphocytes, or a mix of these cells attack the hair follicles.
2. Secondary scarring alopecia: When the hair follicles are destroyed by malignancies, traumas, burns, or radiation treatments, this type of permanent scarring alopecia develops.
3. Hereditary alopecia: Hereditary alopecia, also known as male pattern baldness or female pattern baldness, is caused by a combination of genetics, hormonal imbalance, and ageing.
Treatments and Diagnosis: The first and most important step toward effective treatment is to diagnose scarring alopecia. It is mostly influenced by the following elements:
• Biopsy of the scalp
• An inspection of the scalp
• The patient's age
• Pull your hair out test
• Hair loss locations have no pores.
• Burning, itching, and a discharge from the scalp are common symptoms.
Types: Alopecia areata comes in a variety of types. Each causes hair loss, but the symptoms differ. Here are three most common types are as follows:
1- Alopecia areata patchy: It is the most common type of alopecia areata, characterised by one or more coin-sized (round or oval) patches of hair loss on the scalp or other body areas. It has the potential to progress into one of the more severe forms indicated below.
2- Alopecia totalis: Alopecia totalis is a more severe form of alopecia areata that causes entire hair loss on the scalp.
3- Alopecia universalis: Alopecia universalis is the most advanced form of alopecia areata, characterised by full hair loss on the scalp, face, and other regions of the body. This kind of alopecia areata is quite uncommon.
Who is Affected by This?
Individuals between the ages of 30 and 60 are most commonly affected by alopecia areata, however it can also affect older adults, teenagers, and toddlers. It is uncommon in children under the age of three.
Is There a Treatment?
There is no cure for alopecia areata except the Hair loss treatment. In Delhi, Panacea global hair service will give you a natural looking and permanent hair loss treatment. They are also giving the best laser hair treatment in Delhi.
health
Panacea Global Hair Services is one of the Best Hair Transplant Clinic in Delhi. We offer Hair Loss treatment, FUE, FUHT, Hair restoration and laser hair loss treatment at best prices.
For more - https://www.panaceahairservices.com/
Receive stories by Panacea Global Hair Services in

your feed