SPG Blocks: Treatment for Migraine and Cluster Headaches
A Procedure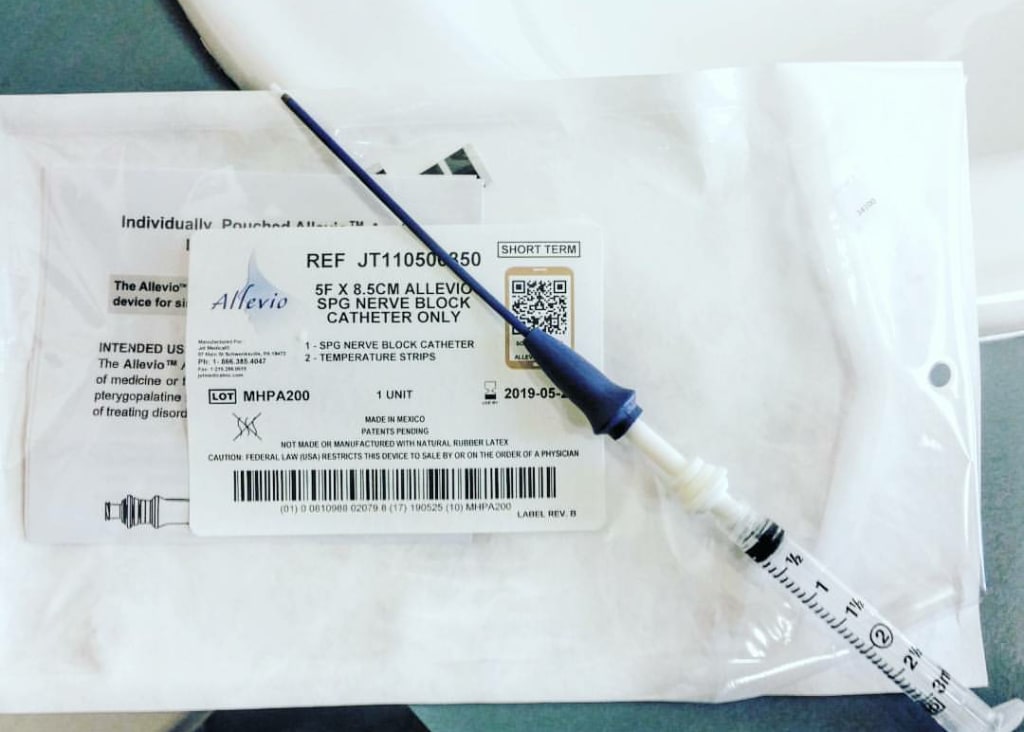 ***Disclaimer: I am not a medical professional. The information I am sharing is based off my own experience for this type of procedure. Please seek medical consult for further questions regarding the procedure mentioned in this article***
Back in March, my neurologist and I agreed it was time to move onto a different treatment plan, one that could help with both my migraine and cluster headache frequencies and debilitating symptoms.
I was now entering a 6-week commitment to try out a procedure called SPG Blocks. Once a week, I would get to spend roughly 5-7 minutes with a different neurologist than my own, one that was certified in doing these types of procedures.
I would now have wait it out and see if any of my migraine or cluster headache related symptoms lessened in frequency.
If the SPG Blocks proved to be successful after the 6-week period, I then return every other week for a 3-month time frame. If, within that period, I wasn't seeing an improvement, we could go back to the weekly injections. If that turned out to not be of any help, we were back to square one and looking for another plausible treatment.
Luckily, my body responded quite well to the injections. 9 months later, I've received 18 SPG Blocks and only need to schedule an appointment every 3rd week. If things keep progressing in the right direction, I would only need to go to once a month.
So, what are these SPG Blocks I'm singing high praises over?
It is a procedure to stop the transmission of pain through anesthesia to the nerve. In a SPG block, an anesthetic agent is administered to the collection of nerves in the ganglion. The least invasive way to access the SPG is through the nose.
(1)The sphenopalatine ganglion (SPG) is a collection of nerve cells that is closely associated with the trigeminal nerve, which is the main nerve involved in headache disorders. It contains autonomic nerves and sensory nerves. Autonomic nerves are specialized nerves that control organ functions, including gut and bladder movements, beating of the heart, sweating, salivation, tearing and other secretions. In the SPG, these autonomic nerves supply the lacrimal glands (which produces tears) and the inner lining of the nose and sinuses (which produces nasal discharge or congestion). The SPG is located just behind the bony structures of the nose.
Part of the injection process requires the patient to lie on their back with the head tilted back. Next, a small catheter is inserted through the nostril to the very back of the nasal cavity. With my brand (an AllevioTM device) a catheter drips onto the back of the nasal cavity, then is absorbed through the bone and into the SPG nerves.
According to the American Migraine Foundation, SPG blocks have been reported to treat the following conditions:
Cluster headache
Migraine
Trigeminal neuralgia
Herpes zoster
Paroxysmal hemicrania
Cancer of the head or neck
Facial pain that is atypical
Complex regional pain syndrome (CRPS)
Temporomandibular disorder
Nasal contact point headache
Vasomotor rhinitis
I have the top three neurological disorders and would never wish them on anyone.
My normal drill requires both nostrils to be injected with the catheter then I'm required to keep my head tilted back for 15 minutes, and once the time is up, I can leave the office to go about my day as per usual.
I've always been hesitant to try out new medications or procedures. My body always refused to cooperate, and I ended up worst off than the current state I originally was in. Let's face it, after 5 years of living with chronic vestibular migraine, I grew desperate. I'd welcome any type of relief regardless of the off chance I'd be throwing more money down the drain.
I needed to be a functioning human again! It was important for me to hold down a job and be the mom that gets to do fun activities with her kids. Being bound to a bed for hours, even days on end, was not an option!
Of course, with any procedure there are advantages and disadvantages. These are ones I personally experienced.
Advantages
Lower pain levels when a migraine attack happens — 2 months after initial injection, I'd be between a level 7-6 for the highest. 4 months after initial injection, I'd be between a level 4-5 for the highest (I do have the occasional level 10+, but I can count on one hand the times that has happened in these past 9 months. That's huge for me!)
Shorter time I'm fighting a migraine — When I experience a migraine attack, my recovery time is around 3-4 hours. There are some days I just can't shake my symptoms, but I can still get out of bed and do simple tasks in and out of the house.
I've taken less abortives and emergency medications — that in itself is a HUGE advantage!
The vertigo that normally accompanies my vestibular migraine, is less debilitating — The fact I can walk without assistance during a vestibular migraine attack, is enough for me to believe the SPG Blocks are working like I had hoped they would.
Disadvantages
The frequent office visits — Whether you are unemployed, work part or full-time, you must be consistent with scheduling your appointments. Because my commute was 2 ½ hours round trip, it can be a bit of a hassle, but not entirely impossible to line up future injections.
Your taste buds can be a bit off for 30 minutes to a few hours — It's not that big of a deal, but I refuse to drink anything right after my SPG Blocks. Everything I drink or eat taste terrible for a bit.
Coughing up small amounts of blood — at first, I was freaked out about this, but half the time I don't even have this happen to me.
Cost — If I didn't have the 2 types of medical insurances to cover the SPG Blocks, I'd be looking at a $585 out-of-pocket! That's not even including the price you are charged for the person administering these injections.
You find out it doesn't work — I know firsthand how frustrating it can be to invest so much time and money into a new treatment. The worst feeling is when you end up not getting any type of relief, but are required to try that treatment multiple times before throwing in the towel.
Please understand this is not a cure. Until that day comes (Hopefully in my lifetime) for migraine and/or cluster headaches, patients rely on a wide range non-pharmaceutical and pharmaceutical measures as a form of treatment.
One last thing: this procedure is something you normally don't get approved for right away. Most major insurance companies practice step therapy, or fail first, with their policy holders.
(2) This is an insurance practice that requires the least expensive drug in any class to be prescribed to a patient first, even if clinicians believe a different therapy is medically in the best interest of the patient's condition.
I cannot even begin to tell you how difficult it was for me to get approved for each treatment my neurologist felt I could benefit from. We had to jump through hoop after hoop just for me to get Botox injections. Getting approved for SPG Blocks wasn't as bad, but there were still some small hurdles we had to overcome.
Nonetheless, never be afraid to discuss alternative treatment options, like SPG Blocks, with your health care provider. An open line of communication is exactly what you need with the person that is trying to help you live a better quality of life.
References:
– 1. American Migraine Foundation
- 2. U.S. Pain Foundation
health
I'm a geek mom to 3 amazing kids, #1 best selling-author, an invisible illness advocate that loves to cook, spend time outdoors, and drink flavored coffee.