Simple Anti-Inflammatory Drinks
When your body needs a health boost, turn to these simple anti-inflammatory drinks to balance out your digestive system.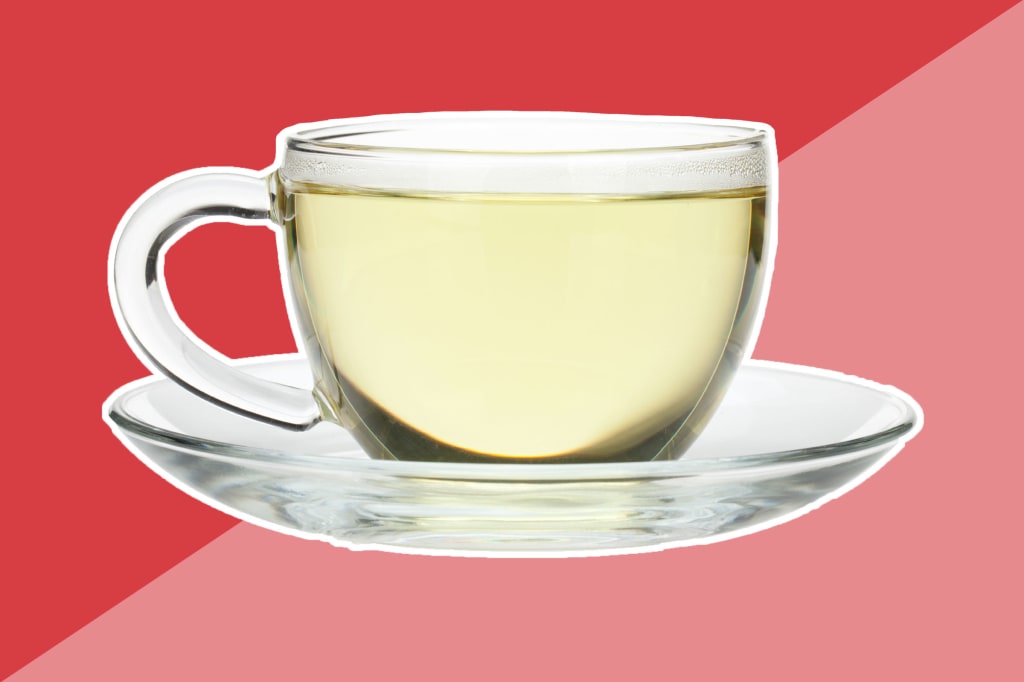 Whether you want to combat bloating, find relief from arthritis, or simply add healthy habits to your daily routine, this compilation of anti-inflammatory recipes will get you started on the right track. Many of these recipes feature key ingredients like ginger, turmeric, and whole fruits and vegetables thrown into a juicer or a blender. These ingredients are great alternatives to processed sugars and pre-made beverages that actually increase inflammation, aggravating join pain and throwing the digestive tract out of whack. The best part about these simple anti-inflammatory drink recipes is that you can pick and choose the ingredients that work for you, and swap out the ones that don't.
Apple Cider Vinegar Brew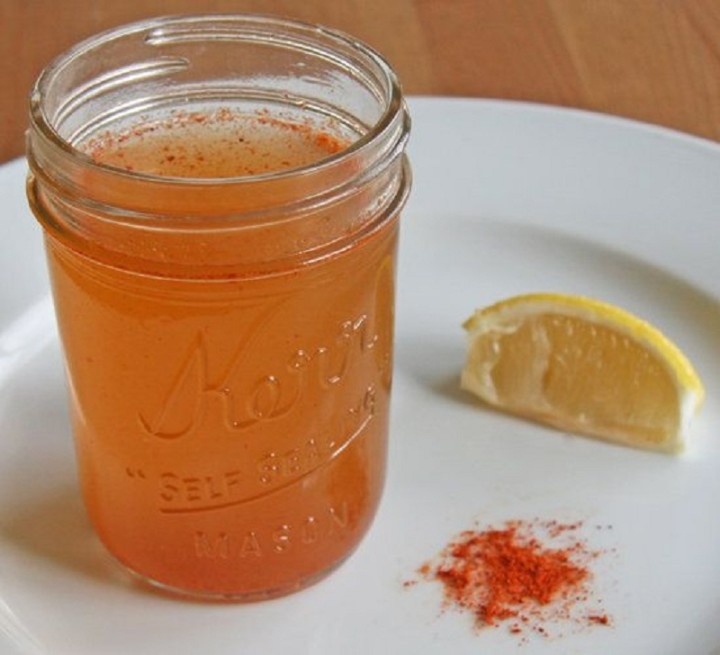 Featured ingredients: apple cider vinegar, honey, cayenne pepper, lemon
An immune-boosting powerhouse, this Apple Cider Vinegar Brew (found on Popsugar) has a spicy-sweet kick that is sure to please. The lemon and apple cider vinegar act as a digestive vehicle for the cayenne pepper's anti-inflammatory properties, while the honey soothes and sweetens. Not a fan of cayenne? Swap it out for ginger, or tone it down with other anti-inflammatory herbs like sage, basil, or rosemary. You'll be saying bye-bye to any cold symptoms and your gut will thank you.
Directions:
Boil ¼ cup water.
Combine water with ¼ cup apple cider vinegar.
Add 1 tsp honey and 1 tsp cayenne pepper (or muddle in fresh herbs of your choice).
Serve with a squeeze of lemon.
Detox Carrot Drink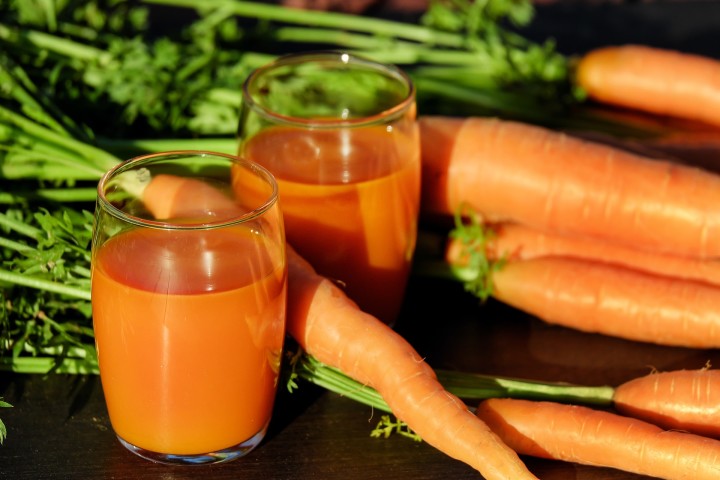 Featured ingredients: carrots, orange, apple, lemon, turmeric, ginger root, apple cider vinegar
This fresh juice from Lauren Kelly Nutritionis another great option to turn to when flu season is is full swing. The recipe calls for 9 carrots, an orange and an apple, alongside lemon, ginger, and apple cider vinegar. After doing my own research on turmeric (particularly since it has taken off as the latest cure-all craze), I tend to be skeptical of recipes that rely on it, but it would be really easy to skip the ingredient altogether in this recipe. With all the carrots packed into this juice, you wouldn't even notice the absence of turmeric's signature golden hue.
Directions:
Juice 9 carrots, 1 peeled orange, 1 apple, ½ lemon, ½ inch turmeric (optional) and ginger root, and 1 tsp raw apple cider vinegar.
If using a blender, add water or your favorite nut milk to get a smooth consistency.
Sunshine Juice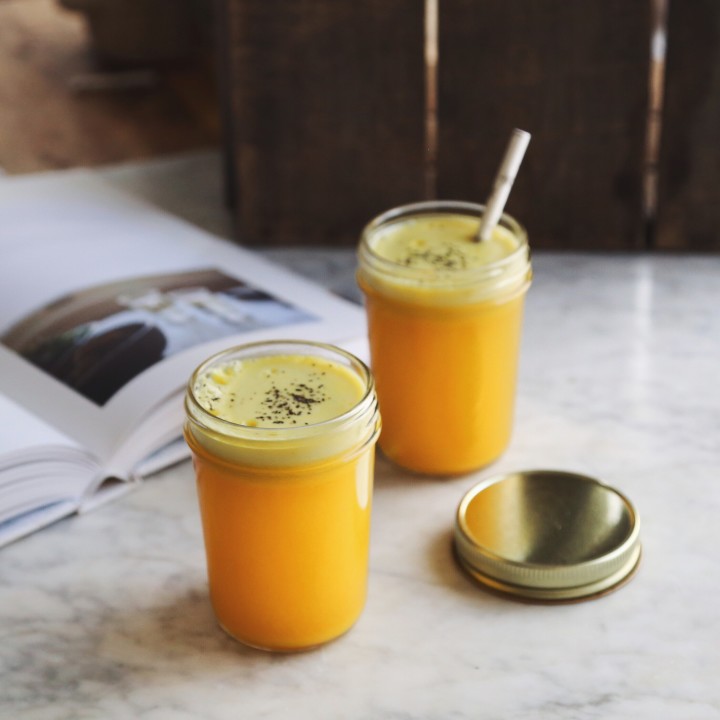 Featured ingredients: romaine lettuce or kale, lemon, carrot, celery, ginger root, cucumber, apple
Besides the adorable name, this simple anti-inflammatory drink fromRaw Food Recipes will improve digestion, boost your mood, and make your taste buds dance without unnecessary sugars. Similar to the Detox Carrot Drink, you can skip the turmeric without worrying about a decrease in effectiveness. This beverage would be best enjoyed in the morning for an energy kick, or on a warm, sunny day when you can revel in the healthy goodness.
Directions:
Juice together 1 head of romaine lettuce or bunch of kale, 1 lemon, 1 carrot, 2 stalks of celery, 1 inch ginger root, ½ cucumber, and ½ apple (optional).
Pour over ice in a glass to chill.
Enjoy immediately!
Purple Cabbage Anti-Inflammatory Juice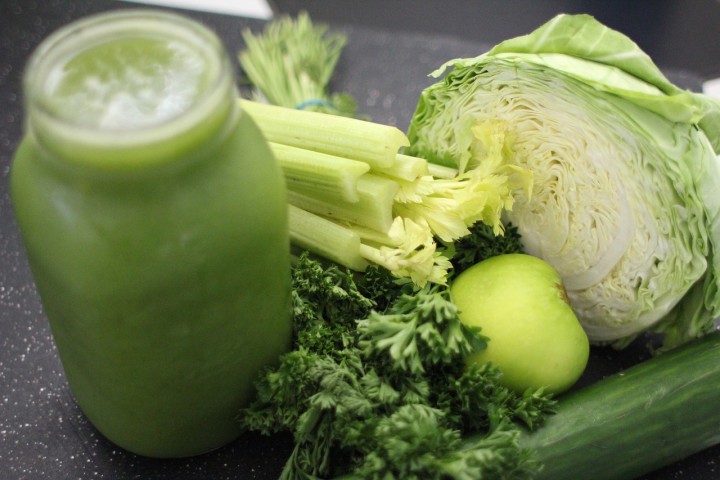 Featured ingredients: purple cabbage, beet, lime, apple, carrots, celery, ginger
As a lifelong cabbage hater, I was skeptical of this juice fromReal Foods Witch, but you really can't taste it! Similar to the idea of adding lots of leafy greens like kale or spinach to a smoothie, the purple cabbage in this beverage adds anti-inflammatory properties, but without the telltale green coloring. The lime and celery highlight the sweetness from the carrots, beet, and apple for a fresh, clean start to the day.
Directions:
Juice together 1 wedge (approx. 1/6th) purple cabbage, 1 medium-sized beet, 1 lime, 1 apple, 4-6 carrots, 4-6 stalks of celery, and ginger to taste.
Optional: add 2-3 leaves of kale or chard for a whole food boost.
Enjoy immediately!
Turmeric Tea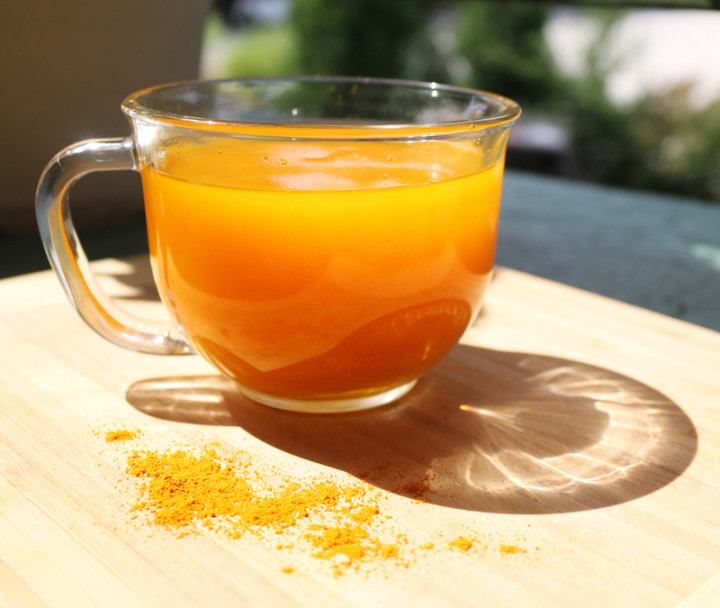 Okay, real talk time. These days, you'd be hard-pressed to find an anti-inflammatory recipe that doesn't have some form of turmeric in it (although I've done my best to find those few gems for this article). I mentioned my skepticism above, but it's important to note that turmeric really is pretty amazing - if the human body could properly absorb it. This turmeric tea recipe from Nourish Wild is pretty tasty, but I've tweaked it by adding black pepper, which has been shown to increase the bioavailability of turmeric by 2000%. No, that is not a typo. This tea would be great for clearing sinuses, using as a caffeine substitute, or simply pleasing any spice-loving palate. Bottoms up!
Directions:
Bring 1 cup water to a simmer.
Add ¼ tsp each turmeric powder, cinnamon, black pepper, and ground ginger.
Remove from heat and cover, allowing the 'tea' to infuse for 10 minutes.
Optional: strain through cheesecloth to remove sediment
Once cooled, drink with a squeeze of lemon and honey to taste. Stir frequently to redistribute spices if not strained.
Ginger Limeade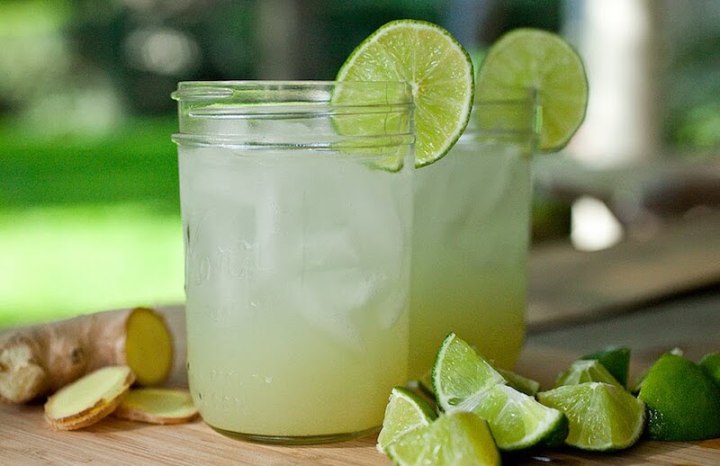 Featured ingredients: lime, ginger, turmeric, raw honey
When searching for a refreshing, simple anti-inflammatory drink to enjoy on a warm day, look no further than this ginger limeade from Live Love Fruit. The hard hitting anti-inflammatory benefits of ginger, combined with the zingy fresh flavor of lime will sure to be a crowd-pleaser and your body will thank you for the alternative to sugar-filled options! This recipe also calls for turmeric, but I imagine that swapping it out for some fresh basil would be quite the upgrade.
Directions:
Boil 2 cups water and let it cool slightly.
Add ½ cup each peeled/grated ginger and turmeric (optional) and cover for 5-10 minutes.
Pour through a strainer into a serving pitcher or bowl.
Add 2 tsp honey, juice of 1-2 limes, and fresh basil (optional).
Serve over ice and enjoy!
Anti-Inflammatory Hot Chocolate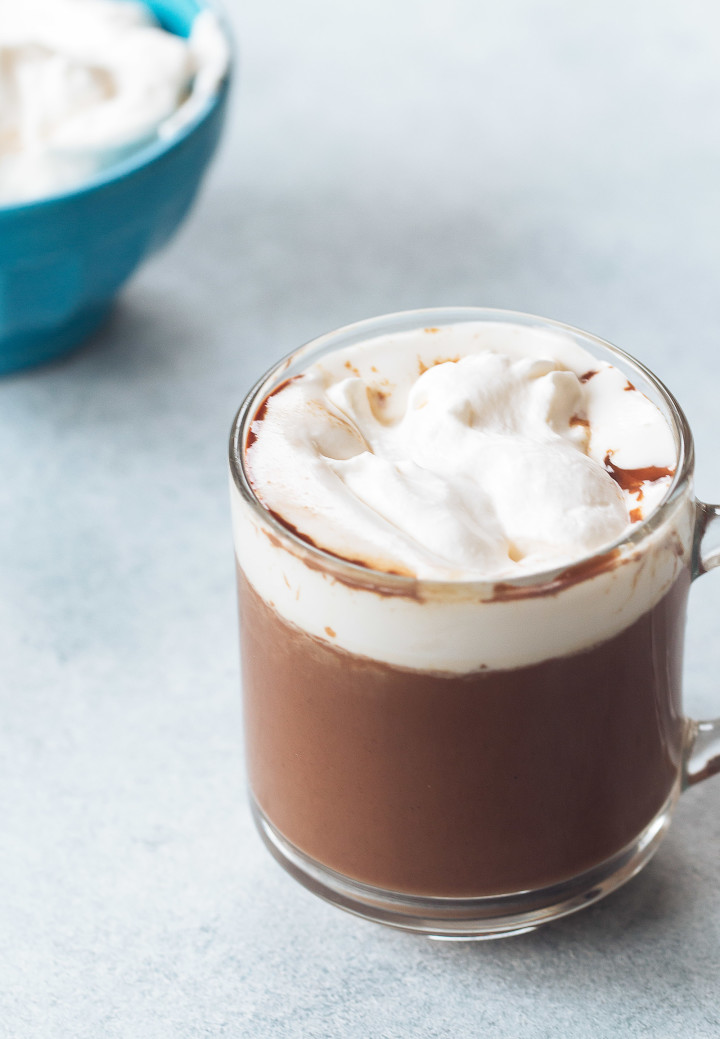 Featured ingredients: cacao powder, cinnamon, ginger, turmeric, cayenne pepper, coconut milk
One of my favorite drinks on a cold night (or most nights, to be honest) is a steaming mug of hot chocolate. Unfortunately, hot cocoa contains tons of dairy and sugar, which can cause inflammation and undo any progress towards a healthy, anti-inflammatory diet. I was delighted to find this alternative from I Quit Sugar - and it even contains black pepper to complement the turmeric called for in the recipe! These people get me.
Directions:
Add to a mug 1 tbsp raw cacao powder, ½ tsp each cinnamon, ground ginger, and turmeric, a pinch of cayenne pepper, sea salt, and black pepper.
Fill mug halfway with boiling water.
Stir in 1 tsp rice malt syrup or honey until the powders are thoroughly dissolved.
Add warmed coconut milk and enjoy!
Hibiscus Iced Tea Refresher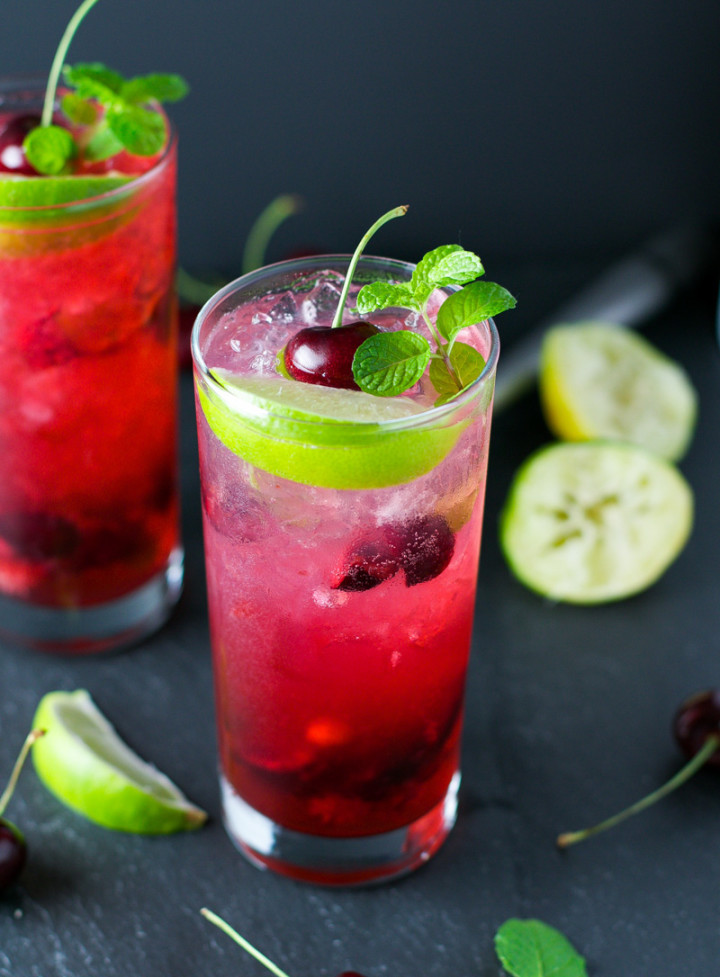 Featured ingredients: hibiscus flowers, mint, lime
To round out this anti-inflammatory lineup, this Hibiscus Iced Tea Refresher from My Beauty Bunny will be your new go-to beverage for any occasion. With its purported anti-inflammatory properties, hibiscus flowers add a gorgeous pink color and fresh, floral taste to this simple iced tea. You can use either chopped hibiscus flowers or hibiscus tea bags, which are becoming more and more available in the tea aisle of most grocery stores. Bring a pitcher to any party and it will sure to be a hit, without any added sugar.
Directions:
Steep hibiscus flowers or 5 tea bags, 12 mint leaves, and juice of 1 lime for an hour.
Cool in the refrigerator and serve over ice. That's it!
I hope that this list of simple anti-inflammatory drinks will help you add a few new go-to beverages to your daily routine. Cheers to your health!