Self-Love Reminder!
Loving yourself is not easy.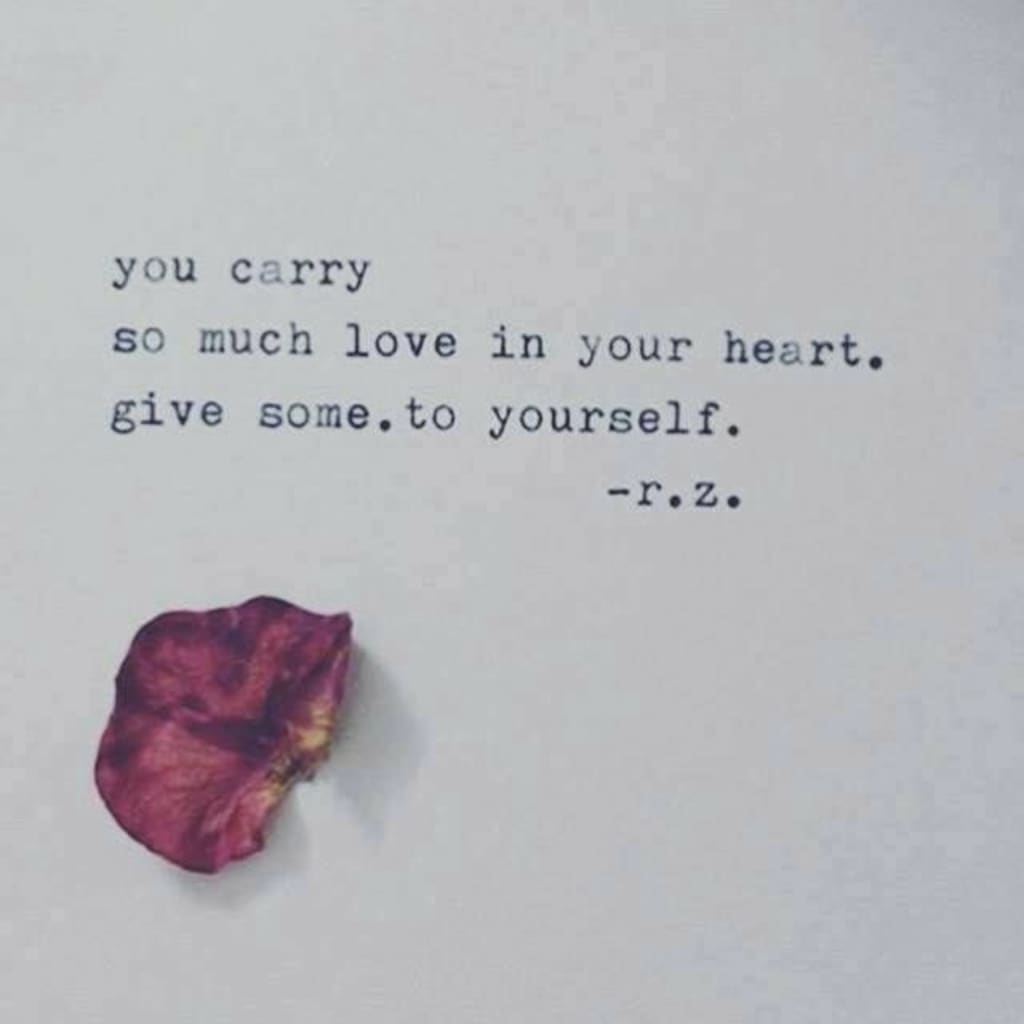 Saying "Love yourself" is harder than you might think.
Saying "It is ok. Everything will be ok" might be harder to believe than the bad things going on in your life.
But saying "I will try" is more than you could ever do!
The days feel overwhelming, and the moments feel heavier and heavier. You cry at night, where people cannot see it, and put make-up on in the morning to hide in daylight. We all have different coping strategies, but the truth is we all feel down sometimes, and we all want to be loved.
To be loved, you must first love yourself, the way you are, with all your flaws, rough moments, faded smiles, and wiped tears. Surround yourself with people who bring out the best in you, help make that smile a real one when you do not even want to have one, who give you a tissue for your tears and make a joke just to see the corner of your mouth rise. Surround yourself with kind people who will be there for you when you think you have no one, but most importantly surround yourself with people who will remind you about the amazing person you are, how your flaws make you stronger, and how beautiful you are even if your eyes are sad, and your smile hidden from the world.
It is hard to find the beauty within yourself and love every curve that you have! To accept and be comfortable is a brave thing to do, but to show the world how proud you are of your true self is to be naked and have no fear for everything that will be thrown at you once you do that! Step outside your comfort zone and find the missing pieces of yourself, put them together, and form the person you always knew you could be!
What a wonderful thing is it to free your soul from all the burden you have been carrying with you all this time, but not all people are as lucky as some of us. Some souls will be forever trapped inside with no sign of light. But we can help by letting people know how lucky you feel to have them, how happy they make you, and how grateful you are for being able to share moments together. We are here to let you know about all the blessings you bring every time. We are here to remind you how amazing you are, but most importantly we are here to love you no matter what, on days when you do not want to love yourself, and on days when you cannot love yourself harder!
I chose to write this post for anyone who might need a little reminder that they matter, how great they are, loved, and cared for even if they do not see it! I learned and am still learning how to love every piece within myself, how to accept every bit of my body, and have the courage to be naked in front of the world to become the person I know I can be!
For all my friends reading this post, just know how much I appreciate you, and how lucky I am to have you in my life! I am truly blessed to call you my family! I would not be the person I am today without you!
For anyone who is struggling, no matter what it is, we are here! Your friends, your family, or yourself. There is one person that you can count on no matter what, and that is YOU! You have the power to try and do your best! Once you know that, you will be unstoppable!