Productive Activities for Children with Autistic Spectrum Disorder
For Encouraging Speech and Cognitive Development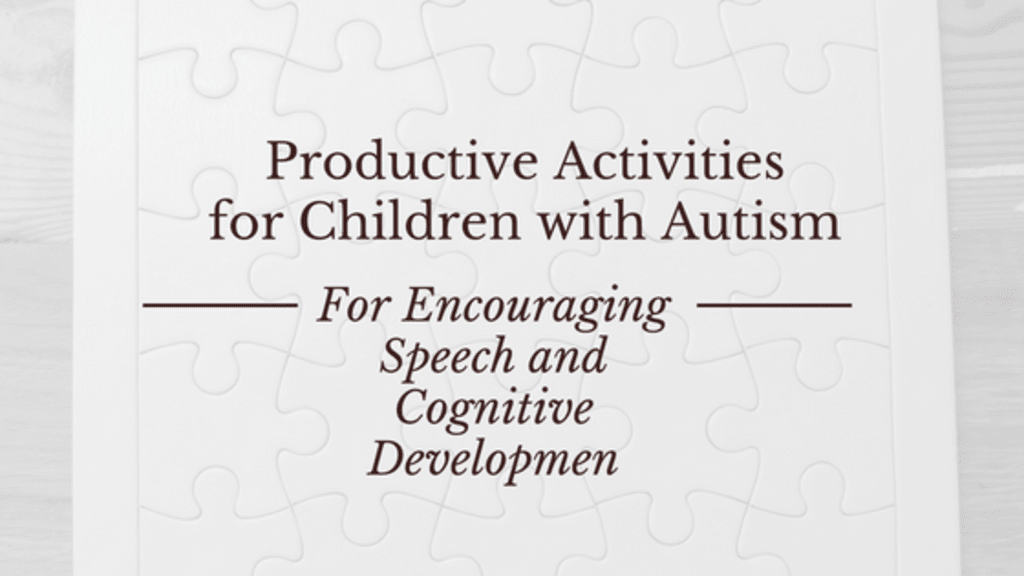 Every child with autism is unique and different, so the activities that would be done with each child need to be unique and different as well. More importantly, the skills that need to be practiced and worked on for each child vary. However, here is a brief look at the activities I have been using in my babysitting/care-taking experience for children and young adults with autism.
Before proceeding please note to only introduce one new activity or game at a time, maybe even only one per day. Sometimes bringing too many new things and ideas to a child can be overwhelming.
Games They Like
Not all productive games have to be a chore and kids naturally learn through play. If the child already loves a game that involves social communication, then playing that game is considered productive. This can even be something as simple as singing songs together.
Read to him/her.
This can be helpful in so many ways. It can help distract the child from the TV or an iPad. It can help them learn to speak orally by mimicking the reader and help them learn to enunciate. It can also sometimes help calm down anyone after a sensory overload.
Clipping Close Pins onto Fabric
An easy way to build hand strength and help develop fine motor skills is to have the child open close pins and close them onto some cloth. This could easily be turned in a game, like tic tac toe. So make it fun! :)
Organizing Items by Colour
This one is easy and fun. Simply buy a bunch of fun stuff from the dollar store that comes in primary or secondary colours. Then, put them in a pile together so you and the child can organize them into piles by colour. (Please be careful of choking hazards).
Organizing Items by Other Categories
This one is the same concept as the colour categorization, but a little more complicated. Buy a bunch different toys/items from the dollar store and put them in a pile to organize them into their specific categories. For example: all of the animals go in one pile and the cars go into another pile. (please be careful of choking hazards).
Sensory Bottles
I actually haven't tried this one, but I wanted to add it to the list so I don't forget it. Simply fill a bottle with water and some fun objects, like colourful buttons. If the child is feeling anxious or overwhelmed by their surroundings, simply show them the bottle to concentrate on.
Mazes
These 'mazes' can be as simple as drawing one line across a page, or a large swirly line around the page. Its purpose is really to help develop fine motor skills.
I do this by laminating printed sheets of easy maze or lines to follow. With the maze laminated, the child can use a dry erase marker and when they are done you simply just wipe off the ink and it can be used again and again.
Puzzles
You have probably heard this one a million times before, but it deserves a place on the list. Any puzzles with large pieces will do, there is no need to buy a 10,000-piece puzzle of a castle or whales. Large pieces and small quantity work well.
Bonus! Tips for Encouraging Speech for Children with Non-Verbal Autism
Please note that speech is not the only way communication can be made, there are other options including sign language, pictures, and even simple gestures. Everyone uses tone and gestures to communicate on top of speech.
Focus on non-verbal communications.
This can be as simple as raising eyebrows or pointing. Encouraging non-verbal communication will act as a foundation for verbal communication.
Imitate them when they do make a noise.
While this might sound like a strange thing to do, it can encourage the child to take turns communicating. Just please don't do it if they are exhibiting poor behaviour.
Reading to Them
I know I already mentioned this one, but I studied English literature in school, so I feel a personal need to stress the importance of reading to kids. Reading to any child will help them learn to speak at a drastically faster pace. So even if the child isn't really interested in listening, it really can't hurt to try.
Consider assistive technology.
There are tons of apps that allow non-verbal children to communicate by pressing buttons of pictures on an iPad. The message or word from the button gets said out loud or send as a text to their parent/guardian.
Here are two that I recommend:
CommBoards - AAC Speech Assistant ($15)
Go Talk Now ($80)
Please note that just because the second one is more expensive does not make it better, if money is tight than there is no need to spend $80 when there is another one that is just as good for $15.