Prime Healthcare Hospitals Receive Highest Rating from CMS
Centers for Medicare & Medicaid Services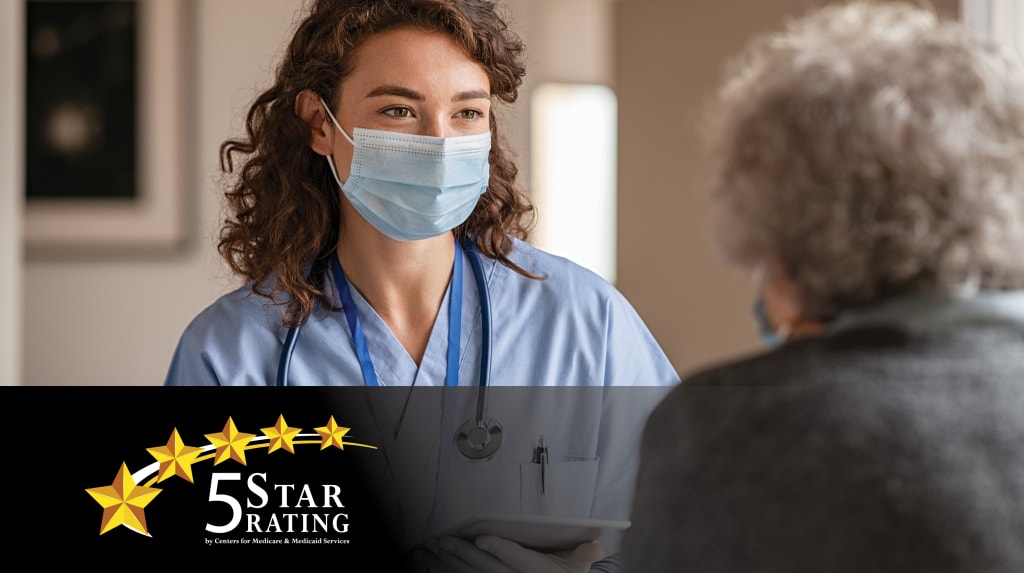 Seven Prime Healthcare hospitals have received five-star ratings for healthcare quality by the Centers for Medicare & Medicaid Services (CMS), the highest honor given the nation's hospitals for overall quality and service.
Fewer than 14% of the more than 3300 hospitals surveyed achieved the highest five-star rating in the most recent survey, which used data collected in October 2020. The annual survey by the federal CMS evaluates hospitals based on five separate measures – mortality, safety of care, readmission rates, patient experience, and timely and effective care.
"I am extremely proud of our hospitals for continuing to demonstrate the highest quality care for their communities," said Sunny Bhatia, MD, Prime Healthcare Region I CEO and Corporate Chief Medical Officer. "The CMS ratings are confirmation of our commitment to clinical excellence and reflects what can be accomplished when we unite around a common mission to serve patients with clinically excellent and compassionate care."
The seven Prime hospitals to receive five-star ratings include:
Glendora Oaks Behavioral Health Hospital, Glendora, CA
Sherman Oaks Hospital, Los Angeles, CA
Lake Huron Medical Center, Lake Huron, MI
Harlingen Medical Center, Harlingen, TX
Saint John Hospital, Leavenworth, KS
St. Joseph Medical Center, Kansas City, MO
Pampa Regional Medical Center, Pampa, TX
The annual CMS survey ranks hospitals based on set criteria, awarding points based on patient outcomes, quality of care and overall service. Hospitals are given weighted averages for each measure and category, and then assigned star ratings within each peer group.
"The CMS ratings are yet another clear indication of skill and dedication of our talented physicians, nurses and caregivers throughout the United States," said Kavitha Bhatia, MD, President and Chair of Prime Healthcare Foundation and Prime's Chief Medical Officer of Strategy. "This was a year when the delivery of compassionate, quality care has been the most challenging, which is why this recognition is especially significant. We are grateful for the unwavering and selfless dedication of our leaders, physicians, staff and especially our frontline caregivers for their remarkable and life-changing service."
Prime Healthcare hospitals have been named among the nation's premier medical facilities for clinical excellence since its founding in 2001. Headquartered in Ontario, California, Prime Healthcare's 46 hospitals in 14 states regularly receive highly coveted designations from national organizations every year. In the spring of 2021, 22 Prime hospitals earned As for patient safety from The Leapfrog Group. Prime Healthcare also received more than 300 awards in from Healthgrades this year, and its hospitals have also been recognized among the "100 Top Hospitals" in the nation 58 times by Fortune/IBM Watson Health. In addition, Prime Healthcare has more Healthgrades Patient Safety Excellence Award recipients for six consecutive years than any other health system in the country.
About Prime Healthcare
Founded in 2001, Prime Healthcare has emerged as one of the nation's leading hospital systems. Prime Healthcare was founded by Dr. Prem Reddy, a physician with a mission to save hospitals, improve community healthcare and provide the very best care to patients.
Our philosophy is that all healthcare is local. Each of our hospitals serve the unique needs of their communities while providing exceptional care with the strength and support of Prime Healthcare. Through a physician-directed and patient-centered model, passionate dedication to quality, evidence-based best practices, operational efficiency, technology and capital investment, our hospitals are recognized among the best in the nation. Prime Healthcare has been named a "15 Top Health System" by Truven and our hospitals are consistently among the "Top 100 Hospitals" in the country.
Prime Healthcare stands apart from others by its unique ability to save and transform hospitals. We have been named the "fastest-growing hospital system" in the country by Modern Healthcare. And as we continue to grow and fulfill our mission of "saving hospitals, saving jobs and saving lives," we remain committed to delivering exceptional care, and creating a legacy that will improve healthcare.
Prime Healthcare and the not-for-profit Prime Healthcare Foundation employ nearly 50,000 staff and own and operate 46 acute care hospitals in Alabama, California, Florida, Georgia, Indiana, Kansas, Michigan, Missouri, Nevada, New Jersey, Ohio, Pennsylvania, Rhode Island, and Texas. Prime Healthcare was recognized by IBM Watson Health as a Top 15 Health System in the nation in 2008, 2012 and 2013.
Reader insights
Be the first to share your insights about this piece.
Add your insights