Metaphysical Healing Properties Of Rhodonite
Rhodonite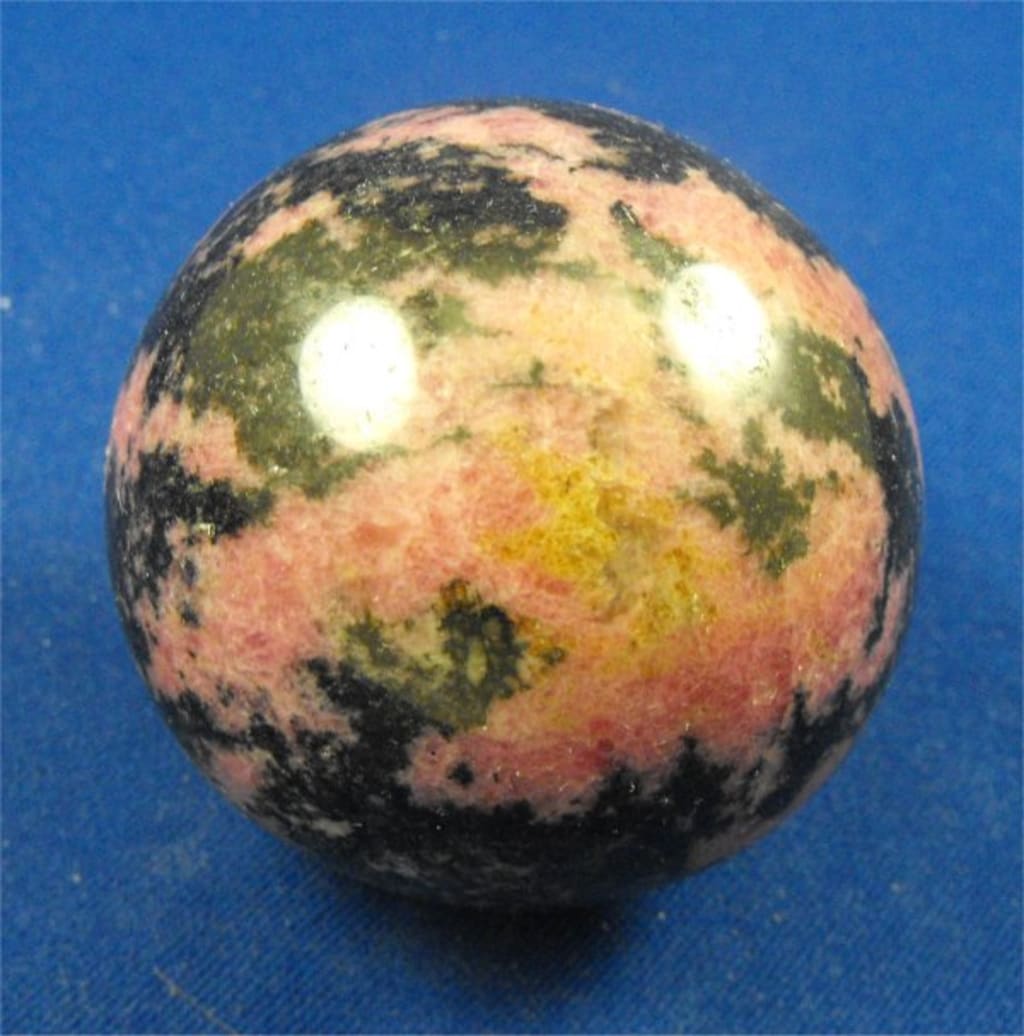 Rhodonite
Metaphysical Healing Properties Of Rhodonite, Rhodizite is a silicate of manganese and occasionally occurs as translucent to semi-opaque crystals, but usually forms as compact masses in colours of rose, red and pink with brown and red mottling and patches of black veining due to oxidation of the manganese. Rhodonite's name derives from the Greek word meaning "rose-red". It was once mined in the Russian Ural mountains and is now found in Sweden, Australia, India, Madagascar, Mexico, South Africa, Brazil, Canada and the USA.
Rhodonite is a stone of compassion, an emotional balancer that clears away emotional wounds and scars from the past, and that nurtures love. It stimulates, clears and activates the heart. Rhodonite grounds energy, balances yin-yang, and aids in achieving one's highest potential. It heals emotional shock and panic. Rhodonite aids in cases of emotional self-destruction, codependency and abuse. It encourages unselfish self-love and forgiveness. Promotes remaining calm in dangerous or upsetting situations. Builds confidence and alleviates confusion.
Metaphysical Healing Properties Of Rhodonite, is a stone of love, self-love, balancing the masculine and feminine energy within us (yin and yang) and a stone that brings dormant talents to the surface to be shared with the world. Its energy works primarily on the level of the heart chakra. Rhodonite relieves insect bites and can reduce scarring. It aids bone growth and the hearing organs. Rhodonite stimulates fertility. It treats emphysema, auto-immune diseases and stomach ulcers. Eases inflammation of joints and arthritis.
Rhodonite is an excellent support for weight loss, detoxification and purification of the body. Though not a purifier in itself, it stimulates and strengthens the organs and glands, allowing them to purify the body more effectively. It is good for ridding the body of gallstones or kidney stones and can support the healing of the liver from disease or damage. Rhodonite is a good stone to assist you in healing and balancing your physical body. When you are going through physical healing, emotional balancing, financial establishment or grief recovery, this stone reminds you that it is important to take the time to recover after you've been through the wringer. Recovery time is necessary to restore your balance so it doesn't result in future disease or imbalances.
Rhodonite helps heal from past trauma and blockages created by stressful events. It transmutes the energy into an energy of love and forgiveness. It helps you to love yourself and to let go of the hurt you may be carrying subconsciously. It helps to bring us to express our true purpose in this incarnation by surfacing hidden or repressed talents and abilities and encouraging the development of such talents. It then encourages us to be in service to the world by sharing such talents. It is said to help bring about synchronicities that work to facilitate the blooming and/or sharing of our innate talents. Rhodonite can be useful to help bring harmony in a relationship, especially one where there has been a lot of tension and dense energy. It is said to help reduce codependency and helping you feeling like you are enough. It is said to help with joint inflammation, wound healing and insect bites. It is also said to support the liver in the detoxication process and to promote healing from autoimmune illness.
Metaphysical Healing Properties Of Rhodonite, promotes the energy of love. In this case, the love is more outer-directed. This stone is one of altruism and generosity, using your talents to bring gifts to others. This path of generosity often offers greater satisfaction to yourself than any amount of receiving what you want can give. Rhodonite attracts the people and situations best suited for the application of your unique talents, by using them, you can experience the fulfilment of the deep desire to love and be loved. This is Rhodonite's gift, to bring more love into the world by acting as a catalyst for the fulfilment of your life purpose, through the expression of your hidden gifts.
This stone is capable of stimulating feelings of acceptance, forgiveness, and unconditional love. This makes it a suitable tool for when you're working to heal relationship issues. It can help you to determine whether the problem in your relationship is related to how you have been interacting, or if the issues are more related to your partner, or whether it is both of these things combined. Whether your issue regards an intimate partner, friend, or family member; rhodonite can help you to attain a more level-headedness that will allow you to avoid or solve conflict with that person.
As so often with stones of similar coloring, this one helps us to release guilt and shame from past actions, to let go of resentment, and to create healing within emotional issues of all kinds. Rhodonite will enable improvement when a person is dealing with low self confidence as well.
Associations:
Astrological Sign: Taurus
Chakra: Heart
Element: Earth
Planet: Venus
Crystals By Rob: https://www.crystalsbyrob.online