Metaphysical Healing Properties Of Pink Tourmaline In Albite
Pink Tourmaline In Albite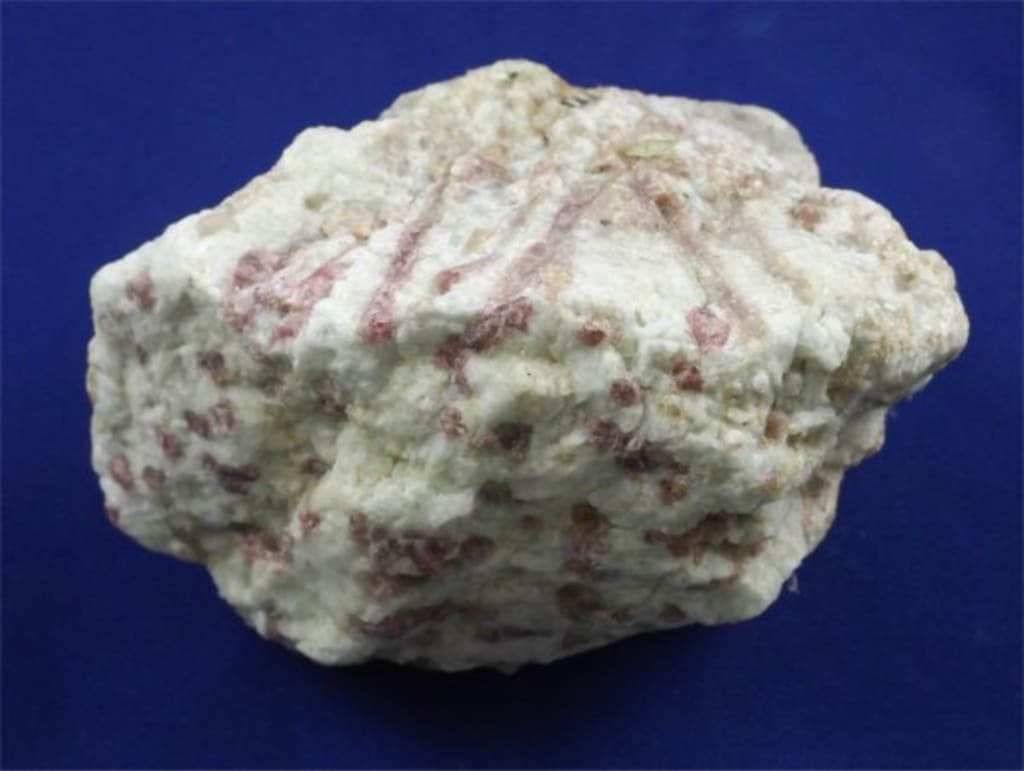 Pink Tourmaline In Albite
Pink Tourmaline is a variety of Tourmaline that can be found in pale light pink, to bright hot pink. This mineral can be seen in raw, transparent, and opaque formations. It's commonly found in association with Quartz, and other Tourmaline colors. Do not confuse this stone with Rubellite (Red Tourmaline), although they can be found within the same mines. California has been known to produce some of the most amazing Pink Tourmaline specimens, and also has a history of trading them. Chinese Empress Tz'u Hsi became captivated by this gem in the mid to late 1800's, and soon set up a direct trade line with California Tourmaline mines. Some of the most beautiful specimens at the time were being pulled out of San Diego area mines like the Pala Chief, Tourmaline King & Queen, Himalaya, and Stewart. This very important trade line lasted up until 1912 when the Chinese government fell. Fast forward around a hundred years, and Stewart mine is still producing some amazing gem quality Pink Tourmaline. Other notable localities include Afghanistan, Brazil, Madagascar, Sri Lanka, and parts of Africa.
Pink Tourmaline has a beautiful energy that vibrates within both the heart chakra and the higher heart chakra. This encourages an influx of love, joy and happiness to fill your life. This lovely pink crystal is high in lithium. This inclusion of lithium is known to help emotional and mood related problems such as depression anxiety and stress. Pink Tourmaline (Elbaite) brings cognitive awareness and experience of Universal Love. Elbaite is a very positive crystal, and is supportive of those who work with it, bringing strength during any trials in one's life. It has balancing properties which help one to move away from extremes, and into more equitable emotional and intellectual perspectives. Pink Tourmaline opens and brings a higher vibration to the Heart Chakra. It is excellent for connecting with the Earth on an emotional level. This connection illuminates the relation between the Earth and Humanity, and helps one to live that relationship in a way that promotes the health of our planet.
Pink Tourmaline is a stone of love, compassion, emotional healing and self love. It helps calm ones emotions in times of distress, and is the perfect stone to carry if you suffer from daily bouts of anxiety. This stone is such a strong healing stone due to it commonly being formed within Quartz masses. Quartz naturally amplifies any stone placed near it, so we regularly recommend Pink Tourmaline to anyone suffering from heavy emotional pain weighing on the heart. For people who have recently gone through a tragedy, heartbreak, loss of a loved one, or simply can't kick that daily depression, Pink Tourmaline is the stone for you. Try meditating with a piece over your heart and allow the crystals healing energies to directly absorb into your heart space. Allow yourself to face whatever it is weighing on you and look for resolution.
Pink tourmaline shares some of the clearing and balancing characteristics of black tourmaline, but works on the emotional level. If you are struggling with an emotional response to stress, pink tourmaline can help you find calm and balance. Pink and black tourmaline work well together. Black tourmaline protects your aura while pink tourmaline can help repair damage to it from prior encounters. Pink tourmaline also brings a loving energy to your aura and promotes kindness, which makes others more likely to treat you kindly in return. Meditating with pink tourmaline can surface old emotional patterns and help resolve them, especially ones that are interfering with your spiritual growth. It can restore your sense of adventure and willingness to risk your heart on new ventures and relationships.
Pink tourmaline also works with the Root Chakra, bringing strength, courage, and conviction to endeavors that are based on Love. It helps to gain the courage to overcome issues that hold the heart hostage, such as abusive relationships and negative work situations, and to recognize how why these issues come to be in one's life. Bringing the power to break free of such conditions, Pink Tourmaline can then provide emotional support for the transitional period when one is learning to live free of these destructive patterns that no longer serve. Pink Tourmaline can also facilitate the great emotional healing that takes place during and after a breakup, or other loss, but excels at healing old emotional wounds from childhood. Pink Tourmaline can help open up the Heart Chakra of those who have been closed off for years, and ultimately bring the joy back into living. This action improves the overall circulation of energy throughout the subtle bodies and the chakras.
Albite is a stone that activates the brain, gives a mental boost, and assists in memory. Albite is a beneficial crystal that you can use, since it may stimulate the brain that may then enhance the memory and boost your brain. This stone has a lot of beneficial effects in the brain and the crown chakra, including aiding you in thinking more logically and clearly. These amazing white crystals may assist you as well to be inspired in taking action when necessary and are valuable to use for meditation since their energy may activate the third eye that might intensify that intuitive gifts. In this article, we will discuss some more interesting and amazing facts about albite including its benefits.
Albite is usually white but can also contain shades of gray, and it forms as flat or plate-like crystals. Albite can be transparent or translucent and has a glass-like luster. Albite aids in clarity of thought and enhances tactful cooperation with others. Albite gives an easy and effortless flow to all relationships, situations and interactions. It will relieve any fears of the unknown by providing the energy of courage and confidence. It supports personal freedom and self-empowerment in times of change. Albite is a stone of action and resolution, encouraging and insightful. It aids in the connection to the psychic self, awakening the energy of the Third Eye and Crown Chakras. This crystal is beneficial for women suffering from post-natal depression, mood swings, and PMS. Albite is helpful in treating eye disorders, circulatory restrictions and muscular ailments. It is also beneficial for those with bi-polar disorders.
Associations:
Astrological Sign: Aquarius, Cancer
Chakra: Solar, Sacral, Third Eye
Element: Air
Planet: Saturn
Crystals By Rob: https://www.crystalsbyrob.online