Metaphysical Healing Properties Of Agate Geode Spheres
Agate Geode Sphere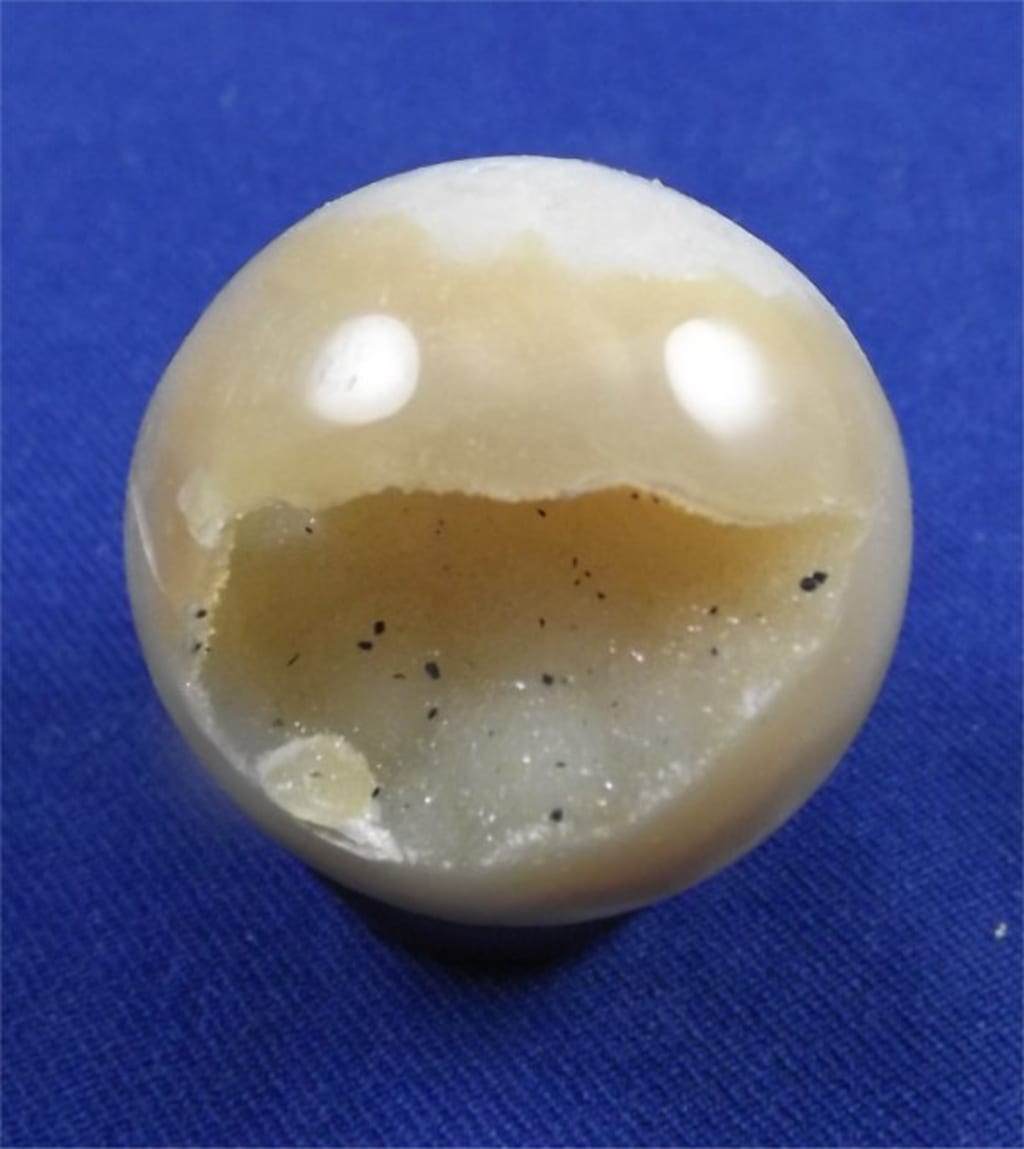 Agate Geode Sphere
A geode begins as a bubble in volcanic rock or a hollow in sedimentary rock. The outer shell of the bubble or hollow will eventually harden, and water forms on the inside of the cavity. The water contains silica precipitation that contains a variety of dissolved minerals. These hollows remain full with mineral rich water or get filled again if the water table rises. This water then with the constant drying out then re-depositing of mineral water forms the crystalline structures over a very long period of time. Another way these crystals form is through a leaching process. As the mineral rich ground water permeates the hollow, it begins to form the chalcedony shell through silica deposits. After continual permeation the remaining deposits eventually form hexagons shaped crystals and entirely fill the hollow if allowed to grow. On occasion some geodes that are completely filled have an inner layer of agate surrounded by the hexagon crystals. This is thought caused by a silica gel that got through the chalcedony and later dried.
Each geode holds a special energy and can hold just about anything. Geodes are more about reminding one of a feeling than about healing other things. It is important that you find the one that connects to you and holds a feeling you connect to when choosing to work with geodes.
Bigger geodes can help create a chi flow in areas of your home. Many see geodes as a feminine property due to the cavity which could represent the womb. Geodes can help communicate with divine beings and assist in creating better moods, balances, and energies that can help with meditation, stress, and decision-making. Their multiple uses come from the fact that crystal formations vary and each crystal varies in minerals held. Across the board, they have many health benefits and promote well-being.
A geode is a large, hollow rock, lined with crystals naturally growing inside the rock. It has a durable outer wall that is more resistant to weathering than the surrounding bedrock. This allows the geode to survive intact when the surrounding bedrock weathers away. The mineral lining the cavity is often a scintillating druse of tiny Quartz crystals underlain by multiple bands of translucent gray and white Agate. Many are lined with more spectacular treasures. Formed in nature and by nature, each geode has a different type of crystal and different type of energy within. The geode helps you connect with your inner self, healing from within, as the crystals in the geode grow inside the rock. A large geode can be placed in your room or office, to create a flow of Chi energy in the room around you. This energy and the inner connection the geode creates, helps calm the mind and relax the spirit. With a geode nearby, meditation, yoga, or simple relaxation will become easier, and more effective.
Agate is protective, healing and stabilizing. It comes in many colors and varieties, some of those colors represent other properties such as blue lace agate, moss agate and carnelian. So depending on which kind of agate you are using, you may want to check those descriptions as well. All agate do have similarities in which they are all strengthening and grounding. Agate can also help you connect further with the earth. Agate is said to cure insomnia if you place it under your pillow as you sleep, it also works to relieve stress and raise energy. Agate can help to ground and stabilize emotions therefore it is helpful for agate to one that feels unstable in the emotional department.
Quartz can be used to imprint with any energy or information and helps to focus the mind, aides in concentration and enhances mental ability. This crystal has been used to counter black magic, to perform diagnostic healing, and to communicate with spirits and other worlds. Crystal Quartz is probably the most versatile, multipurpose, powerful healing stone on the planet due to is unique helical spiral crystalline form. It is a master healer and can be used for any and all conditions. It's stimulates the immune system and brings the body into balance. It takes the energy to the most perfect state that is possible; going back to before the disease set in. It cleanses and enhances the organs and subtle bodies and acts as a deep soul cleanser, connecting the physical dimension with the mind. It is also quite beneficial for clarifying the emotional processes, which in turn will enlighten your creativity and inspiration. A stone used for studying and retaining information as is helps with concentration and retaining what is learned. Crystal Quartz is a power stone that harmonizes and balances. It enhances energy and thoughts, and purifies the spiritual, mental, and physical. It is also a powerfully protective stone, bringing the purified energy in.
Crystal spheres or crystal balls are inherently connected to the earth, sun, moon, and stars. They are an excellent tool in helping to open the 3rd eye chakra which helps to increase intuition and clairvoyance. It's no surprise that spheres are also a popular tool used for scrying. Scrying, also known by the names of hydromancy, crystal gazing and oculomancy, is the ancient art of revelation. Spheres can be passed through the aura in crystal healing or held over the chakras. They bring a peaceful and grounded energy to the home. Crystal spheres are also a great center in crystal grids for earth healing, harmony, protection or psychic development. Grids always require a larger central stone which is meant to be the main source of energy that you want the grid to focus on. A sphere in the center with it's ability to radiate outward in every direction is an optimal choice in shape. Pyramids and obelisks are also useful as center stones in grids.
The roundness of the crystal ball symbolically represents a sense of oneness, wholeness, completion, karma, and respect for cyclical energies. The smooth surface of the sphere facilitates clear communication and helps to keep the energy flow moving. Crystal balls help to empower the mind with awareness and direct supporting healing energies through the conscious body. Moving energy through time, Crystal balls and spheres may enable one to see circumstances from a different perspective. Crystal balls may be effective in purifying and healing any leaks in the auric field. Crystal balls and spheres are excellent "hand comforters" to use in times of stress. Holding a crystal ball brings its healing vibrations into one's auric field allowing for a shift in the energy fields. Crystal balls and spheres are also excellent crystal tools providing a focal point for meditation.
Overall, the sphere shape in crystal healing is possibly one of the most powerful. It radiates the energy of its crystal in every direction, displacing it evenly throughout the location in which it's placed. The sphere's connection to the Earth and stars make it one of the most revered and widely used shapes in crystal healing.
Associations: Gemini
Astrological Sign:
Chakra: Sacral
Element: Air
Planet: Mercury
Crystals By Rob: https://www.crystalsbyrob.online