I Was Prescribed Ozempic
the Poor Woman's Wegovy for Weight Loss: Part One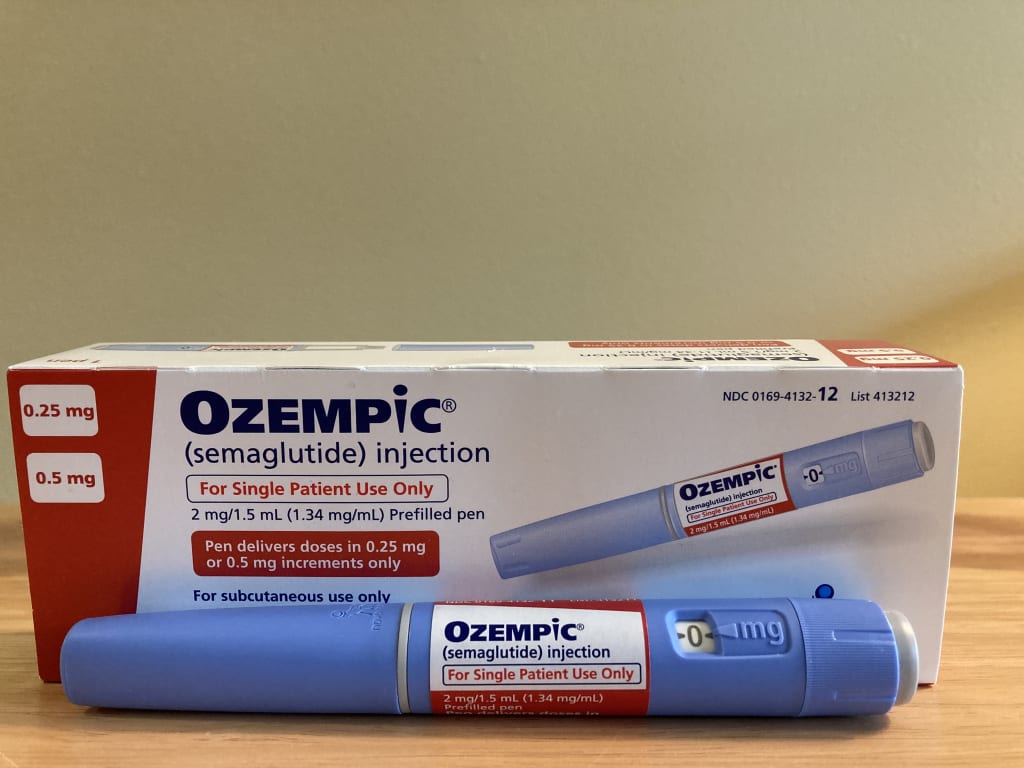 Ozempic is a medication used to help control blood sugar levels in type 2 diabetics, but studies suggest it may also assist people with weight loss. Patients on Ozempic may lose on average 15% of their body weight.
Ozempic comes in a pre-filled pen injector that is given once weekly.
The protocol is to usually taper up to the therapeutically higher 2mg dose where weight loss happens.
I started with .25mg doses for 4-weeks. These lower doses are called loading doses and prepares your body for the higher doses of medication, while it helps to minimize the likelihood of you experiencing side effects.
The side effects with Ozempic are nausea, diarrhea, vomiting, stomach (abdominal) pain, and constipation. There are other side effects, but they are less common.
There may be a possibility of thyroid tumors, including cancer but with my medical history the risk was very low. Ozempic has been shown to lower the risk of major cardiovascular events (such as heart attacks and strokes) which was a bonus.
I was afraid of injecting myself because I dreaded needles, but my worrying was for nothing. The needle is so thin that I barely felt it break the skin.
I was told by my doctor that a shot might sting some, if I administered the first dose of medication straight from the refrigerator. It's best to let the medication sit out for an hour to warm up. Ozempic must be refrigerated until the first use, then it can be left unrefrigerated up to 56 days.
I joined a few Ozempic/ Wegovy Facebook groups and learned about other people's weight loss journeys on the drugs. Wegovy is the same drug (semaglutide) as Ozempic but just a different brand name marketed exclusively for weight loss, and it can be dispensed at a higher dose (Wegovy's full dose is 2.4mg and Ozempic's is 2mg).
Wegovy also costs more than Ozempic. The cost of one Ozempic pre-filled pen was $1,169.68. My portion with insurance was $9.85. I learned the lengths that some people had to go to get this medication. Due to the fact, their insurance providers wouldn't cover the medication. A lot of group members were getting the drug out of the country, where it was cheaper. In Canada, it averages $300 a pen.
Members of the group were getting the same weight loss results as bariatric surgery patients.
The before and after pictures they posted were very uplifting. I gained inspiration from reading their posts about losing over 100lbs and decreasing their appetites.
They wrote about having a whole new relationship with food. They no longer lived to eat but ate to live. They wrote about getting off of high blood pressure and insulin medications and feeling healthier. I wanted all of that.
I also read other people's experiences of only having results at a higher dose or having no results at all. I prayed that I wasn't the latter.
Next, I started with .50mg doses for 4-weeks, these were more loading doses. I was hoping this time to feel something. I was even wanting to feel a side effect or two.
Be careful what you wish for because after the 6th injection I was reminded Ozempic is a serious medication. I developed terrible abdominal pain. My stomach was hurting so bad that I was curled up into a ball. After lying in bed and resting, the pain eventually went away after a couple of hours. That was my only side effect on Ozempic, so far.
I started to look out for that full stop I kept hearing about. It's when you eat and can't eat another morsel without experiencing a side effect.
Ozempic makes the stomach empty slowly to keep you feeling fuller longer. If a person ignores this fullness signal the side effects will make you nauseas and maybe even vomit.
This type of complete fullness is a deterrent that will keep me compliant to my eating plan.
I just keep reminding myself that this is only the start and I still have a long way to go. I must be patient.
My eating plan is in place and it's going well. I have an exercise routine that's doable and enjoyable.
I have 120lbs to lose which seems overwhelming but I'm going to take it day by day.
I will be starting the higher dose of 1mg Ozempic next; will this be my shot?
I'll write more about my continuing weight loss journey on Ozempic in part II of I Was Prescribed Ozempic the Poor Woman's Wegovy for Weight Loss.
health
About the author
I am a curious seeker of truth, and I also love Shoebill Storks.
Reader insights
Be the first to share your insights about this piece.
Add your insights