I Got My COVID-19 Vaccine Today
With over 16 million people in the UK having now been vaccinated, are you wondering when it could be your turn, and you don't know what to expect? Find out from one of our writers what she experienced when she had her vaccination.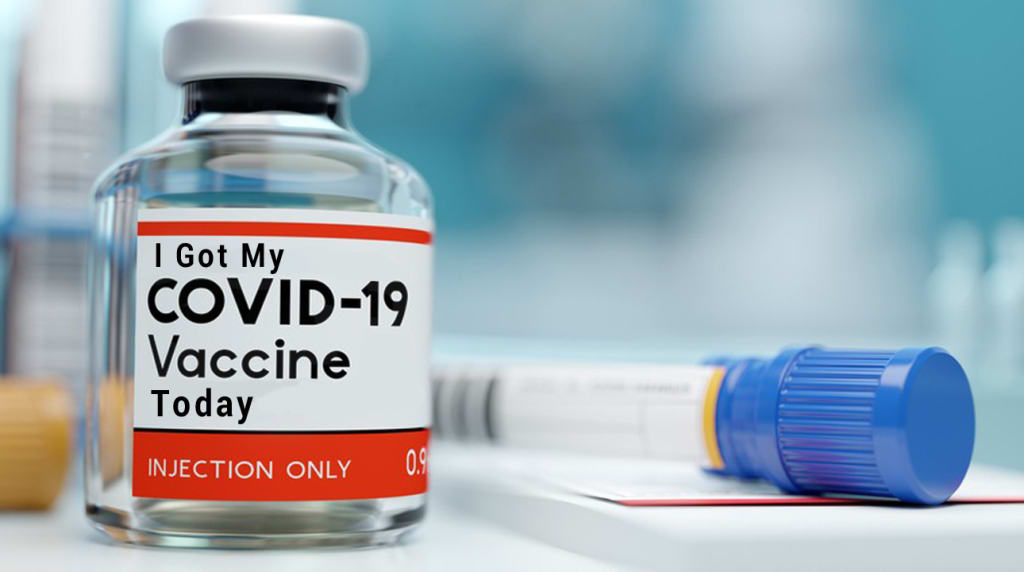 I got vaccinated today.
I'm a 23-year-old asthmatic with lung damage after contracting H1N1 (Swine Flu) as a child, and although it's been over a decade since, a few years ago, I had bacterial pneumonia, and my lungs still feel as though they have yet to recover fully. So it's safe to say that coronavirus would have a great time in my alveoli. It's no secret that I've been somewhat terrified since the moment it was announced that the virus had been declared a pandemic, so to be offered a vaccine came as a pleasantly welcomed surprise.
It started with a text message from my GP telling me that I had been invited to have a COVID-19 vaccination. It wasn't exactly the way I thought I would be contacted. Honestly, I did not know If I would even be contacted, whether I really was classed as 'clinically vulnerable' as all!
I followed the link that took me to a booking site; I was expecting to wait a good couple of weeks before I get jabbed, but no! There was a list of available slots for the following week, so I booked a place for the next Friday, and that was that. I received a confirmation text giving me the option to change or cancel my slot too. It seemed a little too easy; a part of me felt as though maybe this was all a scam of some sort.
Friday came, and my partner and I took a short bus ride to the St Barnados Church in Southfields. My partner had come with me for moral support, but as someone with a robust immune system, he wouldn't be offered a vaccine for some time and was curious about the process. I don't know what to expect when we arrived. A line out the door and down the street, security at the door, some things to that degree. I actually struggled to find the church entrance; there was no clear signage that this was a vaccination centre either, and for a moment, a part of me thought: Am I being punked?
Then I found a single arrow printed on a sheet of A4 laminated paper duct-taped to a fence. It was pointing down a secluded path along the back of the church. I followed the hint and found myself in a courtyard with a few benches spaced apart from each other, like an empty make-shift waiting area. The benches faced a wide set of glass patio doors that led into a community hall that had been converted into a pop-up vaccination centre. A part of me was flooded with a sense of relief that it really was here, and I wasn't about to be trafficked or scammed!
A man behind the glass beckoned me inside, and I opened the door to be a warm greeting. He asked me to expose my inner wrist to test my temperature and asked if I had been exhibiting any COVID symptoms. I was asked for my name and time slot, and even though I had arrived 10 minutes early, there were so many booths available they let me in any way. I sat down in a chair beside the desk of a man wearing a nurses uniform who asked me a series of questions: how old are you, have you had any other vaccinations in the last 7 days, are you allergic to anything, are you currently pregnant, and the previous question which I found to be the strangest: would you like to have the COVID-19 vaccine? I had not been expecting to hear that question and found it rather odd to be asked, why else would I be in the vaccination centre? Perhaps it had something to do with having verbal consent first? I didn't ask. As he was prepping the needle, he informed me that I was being given the Pfizer and BioNTech vaccine.
The vaccination itself was relatively straight forward. As quick as a flu jab and as relatively painless. The nurse gave me a leaflet entitled: Information for the recipient. Inside it outlined what the COVID-19 vaccine was, what it was used for, what you need to know before having the vaccine, how the vaccine administered, the possible side effects, how the vaccine is stored, and the vaccine's ingredients. I felt as though this should have been something that I should have been given before receiving the vaccine, but honestly, I knew that whether I had read this leaflet or not, my decision to be vaccinated would have remained the same. The nurse then told me that I would be taken to the church hall to wait for 15 minutes in case I had an immediate reaction to the vaccine. This wasn't new for me.
Growing up, I had an allergy to a protein in egg whites named albumin, which many vaccines are cultivated in, so I couldn't have the same flu or MMR jabs as everyone else. My parents would have had to order specialised vaccines, but they could not afford the price tag that it came with. When I entered university, I found that I had outgrown my allergy and started getting the seasonal flu jabs and completing my MMR vaccinations. Although, because I once had this allergy, I am always asked to stay back in case of an immediate adverse reaction, so I actually expected it. But once I got into the church hall, I was met with roughly ten people who sat patiently waiting in socially distanced rows. I realised they ask everyone who receives the jab to wait. It was a surprise, but after thinking about it for a moment, I remembered that many had feelings of scepticism when it came to the vaccine, how quickly it was manufactured, whether it had been tested thoroughly enough. Still, these had been within the general public. I found out that this was a precaution taken because there was still not enough data to estimate how many people could potentially have a severe allergic reaction to the vaccine.
It was a short, pleasant, yet somewhat strange experience, but I am glad that I was lucky enough to be given the opportunity to have the vaccine. The whole thing took just under twenty minutes, and I left with my leaflet, a sticker that said 'I've had my COVID Vaccination', and a vaccination card that the nurse instructed me to bring to my second round in 21 days (give or take.)