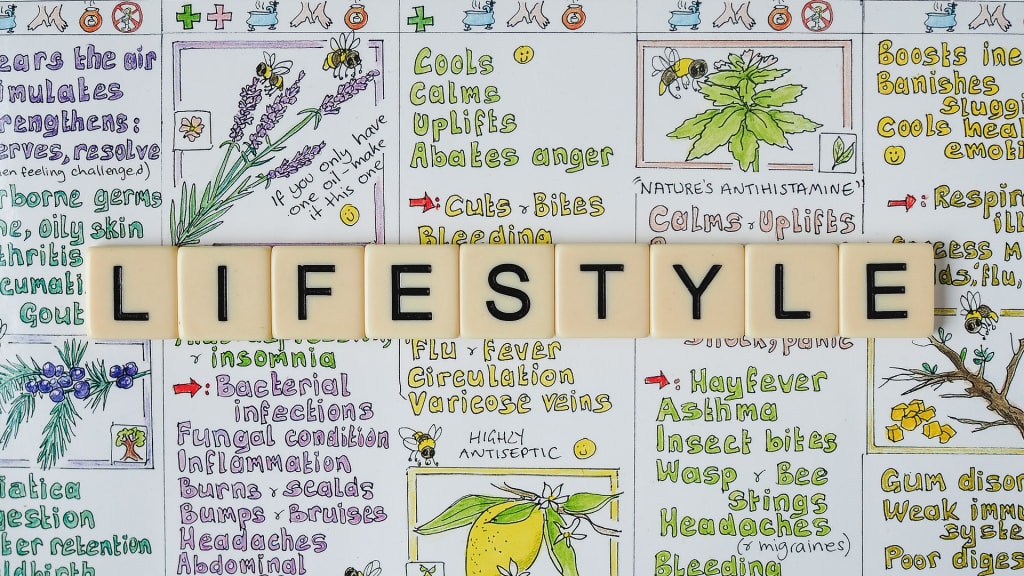 A healthy life is undoubtedly the greatest desire of all of us. After all, without health, life radically changes its meaning. The best way to feel happy, energetic and healthy in the future is to lead a happy, energetic and healthy life in the present. The benefits and pleasures produced are both immediate and long-term.
Even though there are many ways to live a healthy lifestyle that is seen as the 'right' way, doing it looks entirely different for each of us and means something different from one person to the next with regards to mental health. Regardless of what you choose to do, living a healthy lifestyle is most definitely an essential method for disease prevention, wellness, and longevity.
The information from this article will provide you with some basic guidelines for developing your own healthy living plan.
1- To Start, What is a Healthy Lifestyle !
Well, a healthy lifestyle is one that helps to improve and maintain your health and well-being. There is a wide range of things that you can do to start living a healthy lifestyle, such as eating healthy, becoming more active, maintaining a healthy weight, and managing your mental health. After all, a healthy lifestyle isn't just about healthy eating and exercise; it also means taking care of yourself emotionally and physically.
2- How To Start Your Healthy lifestyle !
Watching your diet and physical activity enables you to effectively balance all areas of your life and look at you as a whole. Here are the top things you can do to live a healthier lifestyle.
Eat Healthy Foods :
This is not new information, but it's still the core of creating a healthy lifestyle. Without proper nutrition, almost nothing else you do will matter. Fueling your body with clean energy is the key to building a healthy lifestyle.
Drink Plenty of Water :
If you're drinking your calories, you're doing it wrong. Water should be the main beverage you drink, and all (or at least most) of your calories should come from real food.
Regular exercise :
You should be aiming to exercise a least a few times a week, and this would tick that all critical 'regular' exercise box. Anything less and you're not hitting the mark. It's best if you can work it into a daily routine. Exercising daily can improve your health in an abundance of ways. It not only helps to increase your lifespan, lower your risk of diseases, and help you develop higher bone density it also helps you to maintain or lose weight.
Set a Regular Sleep Schedule :
Sleep is a fundamental core to maintaining proper health. In a perfect world, you'd get up and sleep with the sun cycle. Even if that's not realistic for your lifestyle, you should still set a regular bedtime and wake up time you follow every day.
Manage Stress in Your Life :
A small amount of stress or stress in short bursts is really good for you. Long-term stress can wreak havoc. It contributes to ulcers, depression, anxiety, headaches, high blood pressure, and diabetes.
So learning to manage stress is important to keep a healthy lifestyle.
3- Benefits of Healthy Life :
There are a lot of benefits of a healthy lifestyle. While it does take work to get there, the fundamentals are easy to understand and implement. The pros outweigh the effort it takes to establish healthy habits.
Eating healthy helps you maintain a proper weight, which is key to preventing most of the most common causes of death. But it also improves your memory, gives you better energy, and can clear up bad skin and even headaches.
Staying hydrated helps you keep clear skin. It lubricates your joints and airways and supports your brain. You can feel more alert and consume fewer calories throughout the day. But it also helps to flush out waste in your body and maintain your blood pressure.
Better sleep, better energy, more muscle tone, more physically capable longer in your life. You'll also be better looking, you'll be more active for longer, and you'll feel better about yourself. Regular exercise can even relieve symptoms of depression and anxiety.
A regular sleep cycle can help you wake up with more energy, and improve your focus throughout the day. It also improves your memory and fights inflammation in your body to keep you healthier. It can even help you lose weight.
Lowering stress helps fight inflammation, headaches, depression, and anxiety. It can make it easier to maintain a healthy weight and other healthy lifestyle habits too.
Hopefully, this simple guide will be able to help you on your way to a healthier lifestyle.
Bonus :
Healthy Dinner Ideas For Beginners :
Eating healthy and good food is one of the most enjoyable things we can do in life. We all know how important it is so keep a good diet and lifestyle, but many of us struggle greatly with coming up with ideas for a healthy quick meal or some healthy dinner ideas.
Most of us associate nutritious meals with being time consuming and pricey, but the truth is actually that eating healthy does not have to be difficult or expensive at all.
Here in this article you will find some healthy dinner ideas which are really simple to follow and do at home in easy steps.
Heavenly Chicken Pesto Zoodle Soup :
This particular recipe is a relatively simple chicken peso recipe that has zoodle added to it. But just what is zoodle anyway? To put it simply, zoodles are simply a zucchini that has been spiraled into noodles.
It looks like noodles but isn't. By cleverly combining zoodles and chicken pesto you will get a broth-based Italian delicacy that tastes wonderful and doesn't have any gluten, but a lot of healthy proteins.
You will need :
1 pound of skinless and boneless chicken breasts (sliced into one inch pieces)
extra virgin olive oil
pepper (1/4 teaspoon)
minched up garlic (1 1/2 teaspoon)
sea salt (1/2 a teaspoon)
dried oregano (1/2 a teaspoon)
spinach pesto (1/2 a cup)
diced up tomatoes (1 can)
rinsed and drained cannellini beans (1 can)
diced up and roasted bell peppers (1/3 a cup)
Chicken broth (2 liters)
1 spiralized zucchini
chicken seasoning (1 1/2 teaspoons)
How to make :
To begin you must take a stockpot and prepare it. You place it upon the stove and set the stove temperature to medium heat.
Next you warm some olive oil in the pot, add garlic, the sliced chicken breasts, and the seasoning. Then you let it sauté for around 8 minutes, and once the chicken breasts become light brown you add the zucchini and the bell peppers.
Once you have the zucchini and bell peppers in on the mixture you must carefully add the chicken broth to it. Also add the cannellini beans, the diced tomatoes and the spinach pesto.
Stir it up for a bit as you add flavor using sea salt, pepper and oregano. Let the mixture simmer for around 20 minutes in medium heat, stir a bit more and then serve.
Granola Trail Mix :
Granola is a fantastic addition to trail mix, as it adds low-fat fiber to your snack. This simple granola recipe will keep you full and satisfied. The peanuts and sunflower seeds offer a subtle salty flavor that pairs well with the rest of the ingredients.
Recipe :
1 cup of low-fat granola
1/2 cup of peanuts
1/2 cup of dark chocolate chips
1/2 cup of raisins
1/3 cup of sunflower seeds
Reader insights
Be the first to share your insights about this piece.
Add your insights