How To Create a Sacred Garden in Your Backyard
The Importance of Sacred Space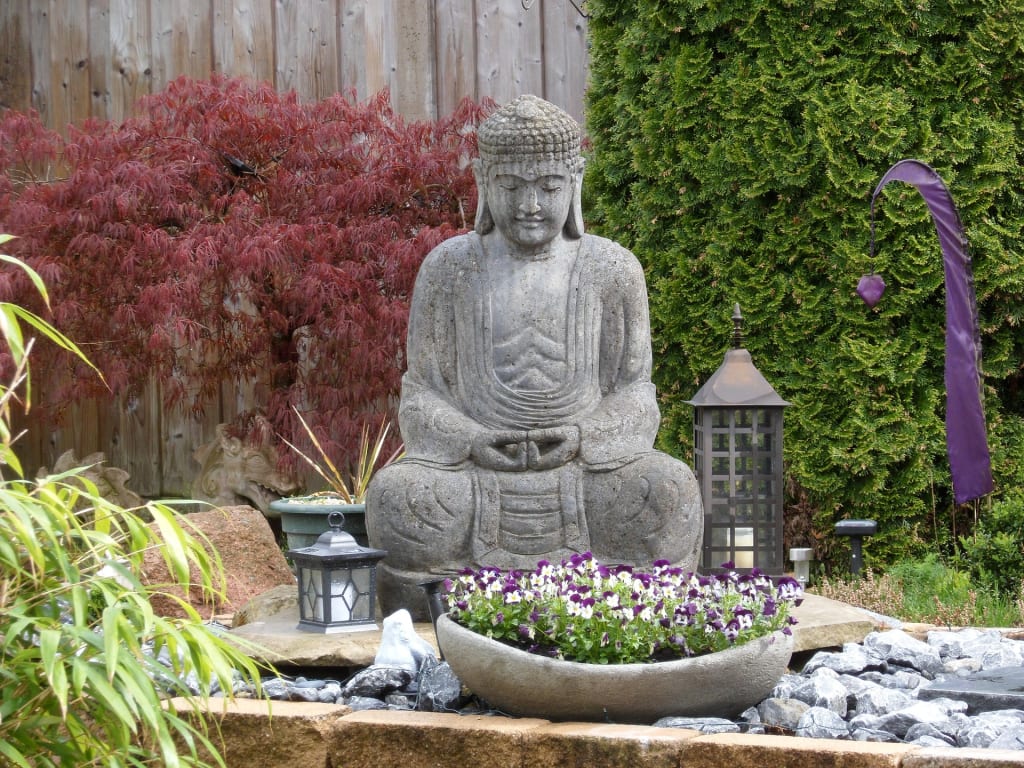 I learned a great deal about altars when I decided that Paganism was the path for me at the age of 13. These days I consider myself simply a spiritual person, instead of putting religious labels on myself. When I attended university to gain my Philosopher of Holistic Life Coaching degree I upped my game by learning much about sacred spaces, which are far more than just altars, but places where you can go to be alone with your soul. They make great meditation spots and more. Plus, they can be appealing to the eye and the soul.
Sacred gardens are places where you can do more than simply meditate. There you can pray, reach out to the universe or spiritual realm, or do spells, depending on what you want to do with that space. It is a place where you can cleanse your mind, body, and soul. There are sacred spaces you can have indoors, but for this article, we're going to concentrate on creating a sacred garden, a beautiful outdoor space created by you that is just for you. Because it is outdoors it allows you to get closer to nature and it gives you a silent place away from your family or the television. The sounds of nature can be relaxing as well.
It doesn't take a lot to set up a sacred space in your own yard. You need an area that is away from the house where there are trees or flowers (or space where you can plant some). Here are some tips for designing your own sacred space/garden.
Clear a spot.
Find the right spot, one with natural elements, like rocks and plants. You'll want space to sit and an area where you can place a focal statue of some sort. Maybe you want to be under a big oak tree because you feel a connection to it, or maybe you want to be in a sunnier spot.
Plant something.
If there aren't already flowers or plants growing in this area, you'll want to plant some. Pick plants and flowers that speak to you. You can look up the spiritual meanings of different flowers and find ones that will aid you in whatever prayers or spells you plan to do in your sacred space.
Find your focal point.
If you intend to mostly meditate in your sacred garden a Buddha statue would be an ideal focal point. If it's an area of prayer you can put in a statue of any Gods or Goddesses you prefer to pray to. Make this space your own.
Have a comfortable seating arrangement.
You want to be comfortable when meditating, praying, or doing anything in your sacred garden. Find a seat or cushion that works for you. You will probably want something close to the ground. A cushion for an outdoor chair will be weather resistant and comfortable. You could also make your own kneeling prayer bench with outdoor cushions.
Decorate your space.
Include other adornments that work for you and your intentions when it comes to your sacred space. Decorate with Chakra stones and other healing stones. Have potted herbs growing in that area. Keep a large shell for burning sage and other spices. You want all the things you need for spells and meditations right at your fingertips (and on evenings of the full moon your crystals will automatically be cleansed).
In the end, this space is for you, so fill it with things that make you happy, make you feel relaxed, and express your soul, visions, and goals. Only you yourself should dictate what things go in your sacred space.