Fortuna De Oro RV Park in Yuma, AZ
My favorite RV stay so far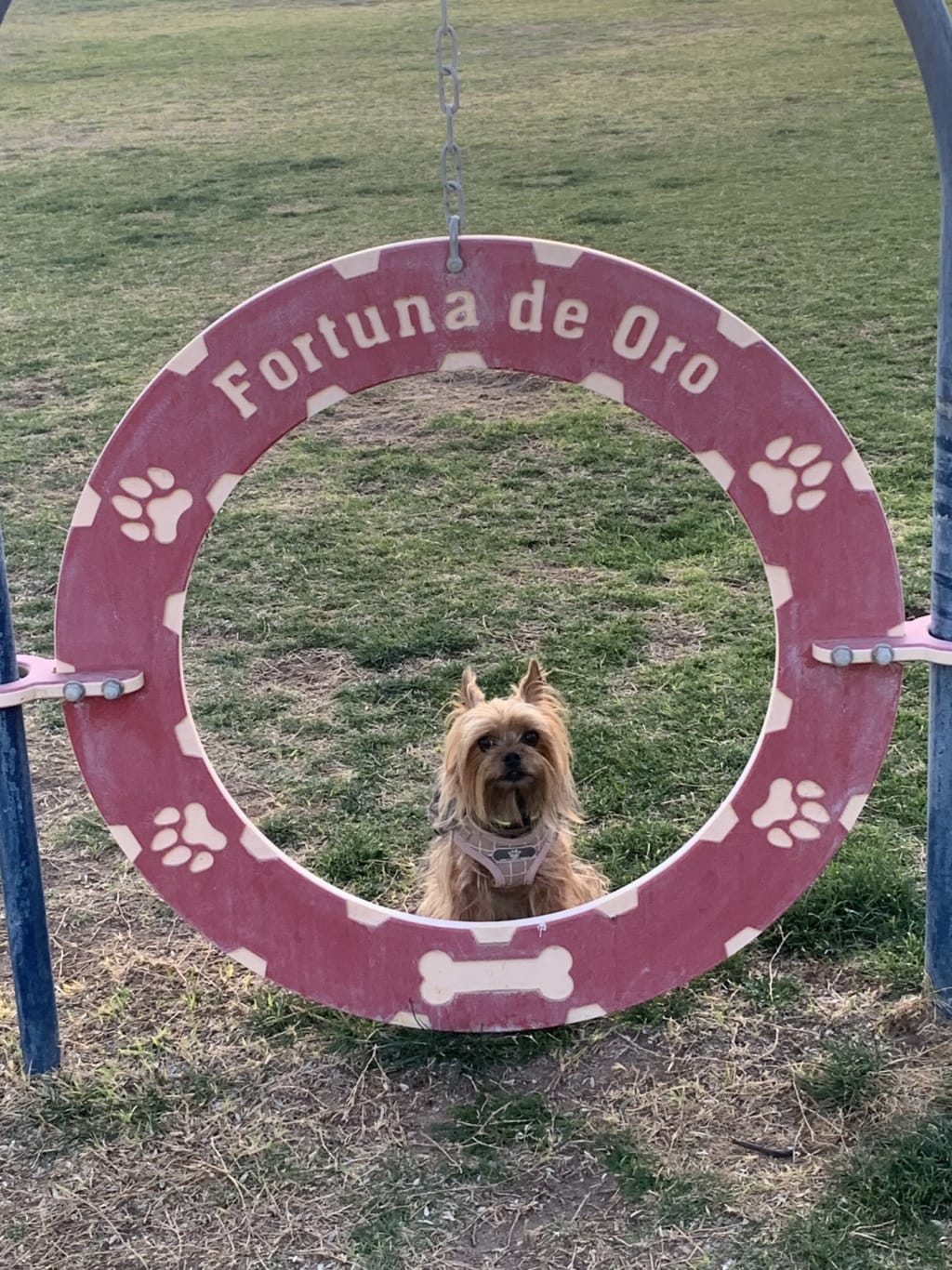 Image from author's photos
I feel apprehensive even sharing this because I don't want it to be booked solid the next time I wish to make a reservation. However, if I plan to write an RV travel blog then I most share. I actually heard about Fortuna De Oro RV Park from a reader. He mentioned it as a great 55+ resort so we headed for Yuma, AZ.
We had never been to Yuma before, and some friends even cautioned us to not go, saying it was too close to the boarder and an ugly destination. They couldn't have been more wrong. It is close to the boarder, but how does one define too close? We experienced no negative impact from its location. In fact discovered an opportunities for exploration in the future.
I suppose ugly would be defined by the eye of the beholder. Coming from Idaho, the evergreens and foliage relax our spirits. In Yuma, the color green rarely comes into view. But the magnificent mountain ranges, various types of palm trees, and unique desert plants spark a desire to explore.
Upon entering Fortuna De Oro, visitors are greeted by a gate tender who requires ID. This person could be labeled security, but with each changing of the guard the inviting greetings and smiles welcome each vehicle. I learned resident can earn a little extra money by taking on duties in the park, but they are not allowed to work more than 10 hours a week.
The park has 1,300 spaces. Some are permanent residents while many stay in RV's. A large proportion are Canadian residents who stay 4–6 months to escape the harsh weather of Canada. Though it is large, we never felt overwhelmed or found an area crowded to the point of limiting our options.
The people we met were happy. Such a simple statement that holds great meaning. My husband joked that his got tired of waving as we walked around. A cliché, possibly a marketing slogan, we often heard, "If you are bored here, it is because you choose to be." We were never bored. The 30 page newsletter we were handed during registration provided opportunities for every personality type.
Music jam sessions
Bingo
Multiple live bands throughout the week
Game nights for various games: pinochle, cribbage, pegs & jokers, dominos, bridge
Church
Dance classes
Three dog parks
Three swimming pools with hot tubs
Karaoke
Church service and bible studies
Athletics: 9 -hole golf course, volleyball, pickleball, tennis, shuffleboard, bocce, horseshoes
Hiking club
Baseball field and a park team
Woodshop
Stain glass room
Billiards
Fitness center: morning stretch classes
A poker room where a game is usually in session
Randy and I relived our youth participating in events we had not enjoyed in some time. During our week stay, we played two rounds of golf, danced, participated in a pinochle party, rode our bikes almost daily, swam, and sat outside drinking beer and listening to music. We planned to stay 3 nights, ended up staying a week.
During our week stay we also attended several events that were either free or offered at a minimal price.
Free donuts and coffee on Tuesdays
$4.00 pancake feed one Saturday
Free concerts
Free going away party for long-term guests. Three times a year the resort hosts a dinner for all residents. We were fortunate to time our visit when one occurred. The parking lot was set up with long tables, tablecloths and center pieces. Dinner was served through a line that moved efficiently. Free beer, wine, soda, and water flowed.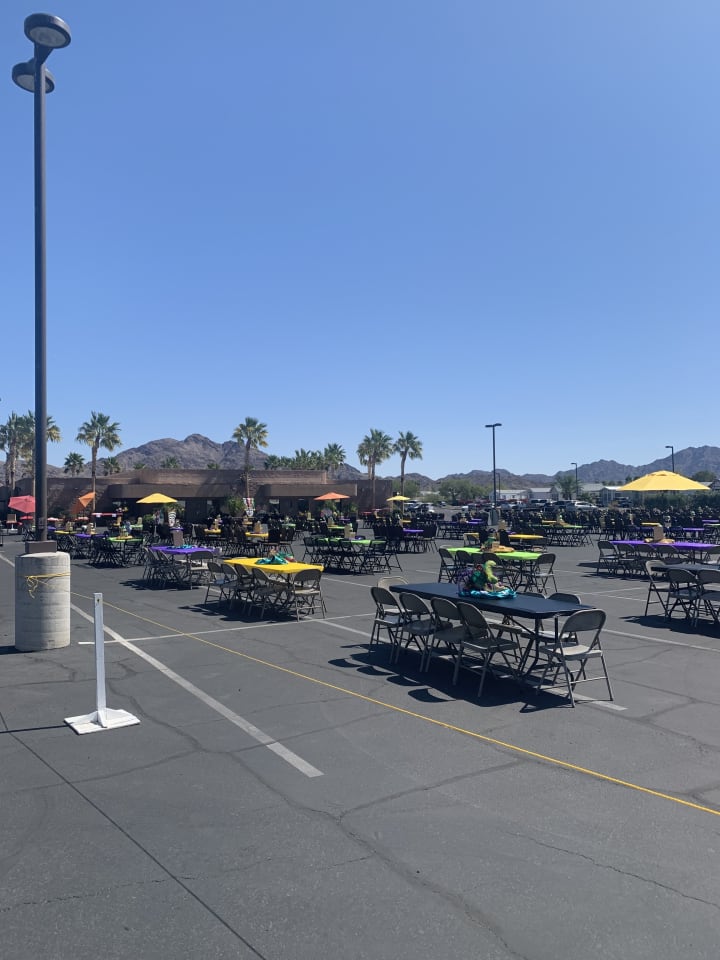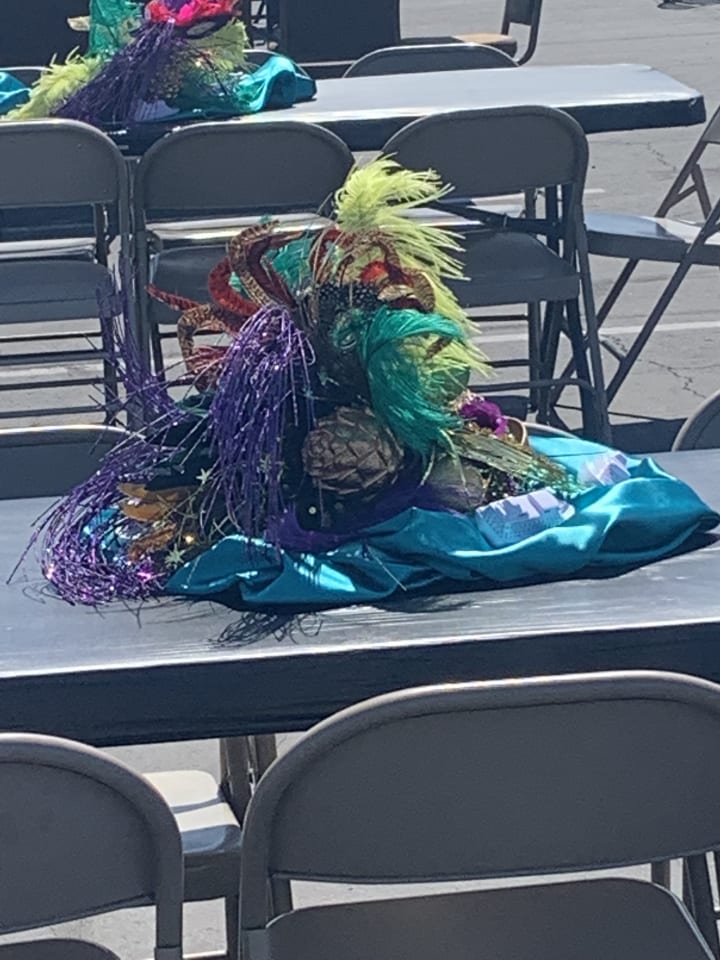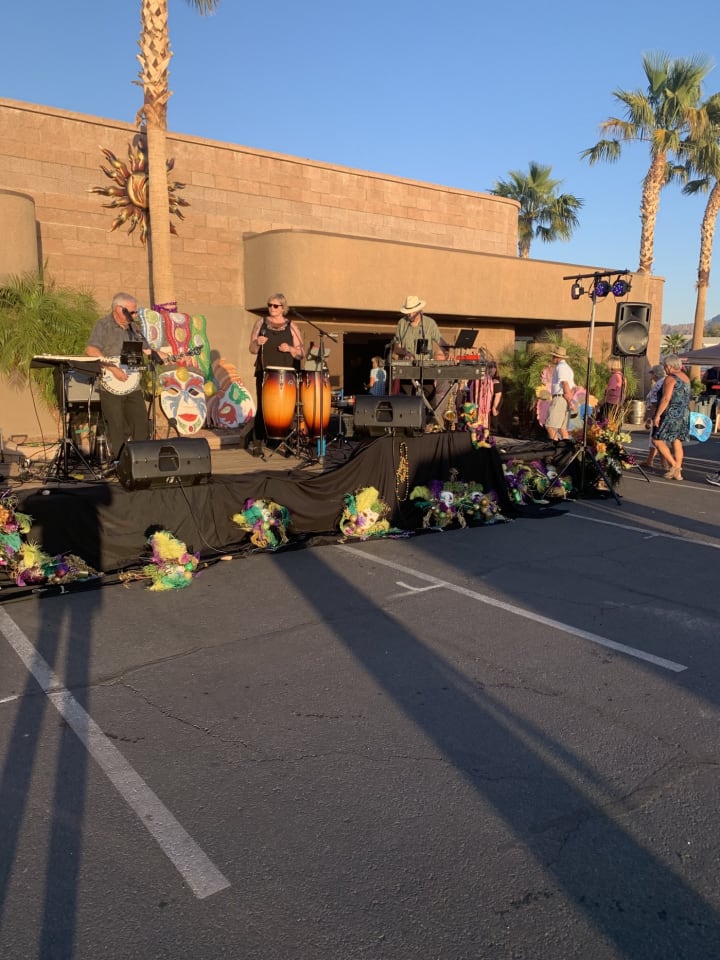 The party theme was Mardi Gras and many people dressed up which was entertaining in itself. (Same occurred on St. Patrick's Day. We had to return to our RV to change into green clothes.) As we walked through the line to fill our plates, there were a couple stops for pictures in photo booths. I felt like we were at a senior's prom, without the drama.
I would be amiss to not mention some of the many sightseeing opportunities in the area.
We explored Castle Dome Ghost Town, a living museum. It also has a silver mine tour for interested visitors.
Image from author's photos
A short distance away are numerous outdoor markets, food fairs, and farmer's market
Sponsored motorcycle rallies
NASCA racing
The possibilities are endless, requiring an extended stay to appreciate. Thus, the reason we plan to return in the fall.
_________________________________________________
We would love to have you join our adventures. Subscribe to the blog I AM My Best!
travel
About the author
Stories about life that inspire emotions - mostly humor.
Lessons about writing based on my textbook, Strategies for Teaching Writing.
Poetry and essays about the of art of being human.
I write therefore, I am.
Reader insights
Be the first to share your insights about this piece.
Add your insights