Fighting The Internal Fight
The Fight Within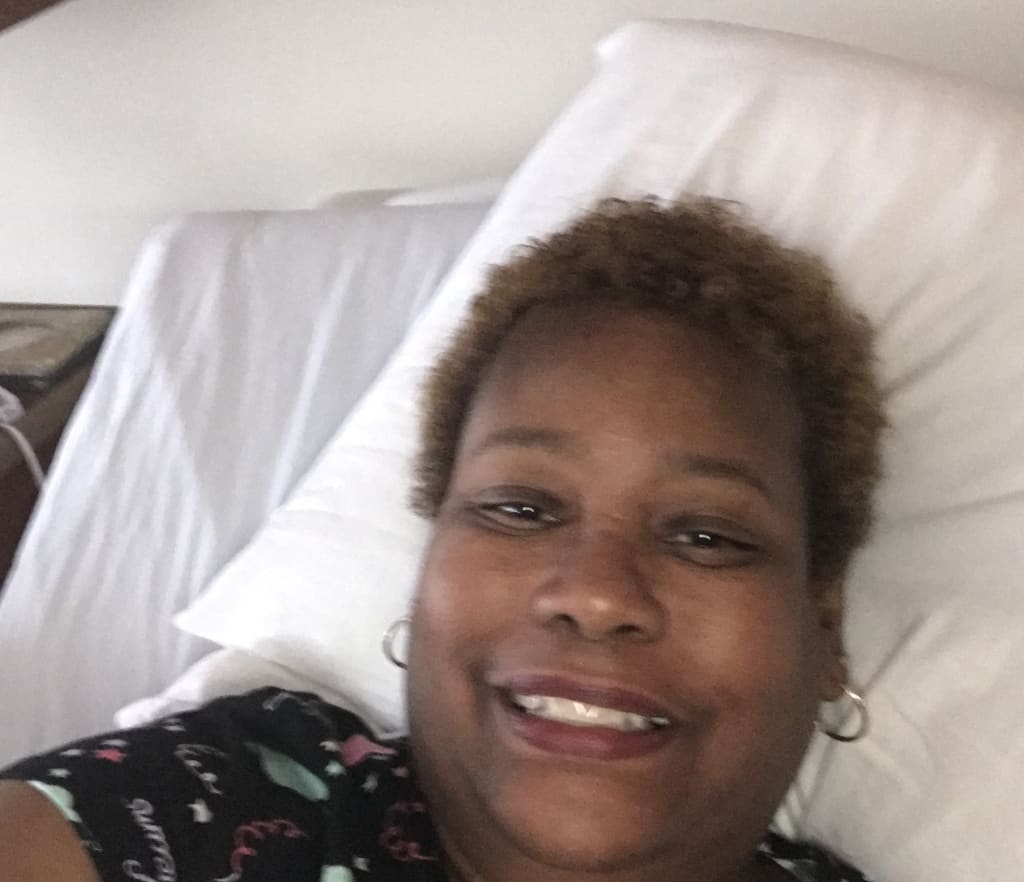 "We must let go of the life we have planned, so as to accept the one that is waiting for us."
Joseph Campbell
I was drowning in a sea of despair filled with sickness, chemotherapy, doctor's appointments, depression, and most importantly no will to continue my life's journey. Home was a king size bed that swallowed up my energy, my force and my will to be an active participant in life. Life became overwhelming, blurred, and ugly. The cancer that had invaded my body was multiplying and consuming all of the inner strength that I once possessed. The "fight within" was being destroyed gradually until I noticed that the fight within no longer existed. The "fight within" is the internal battle to challenge life, knowing the obstacles that exist but surpassing those obstacles to achieving personal goals and embracing life to make a contribution that will help someone else in living their life's journey.
The rescue mission was compromised of rescuing the fight within before the cancer invasion smothered the internal fight. Understanding that trajectory I discovered that to win the war I had to rescue me with every conceivable measure that was available to me. My obvious first step so I thought was to turn to the local rehabilitation center. This center was designed specifically for this purpose to assist persons like me whose life has been turned upside down as a result of catastrophic disease. I began to have hope in the rescue mission, I began to feel the heat of life again versus the flatness of being confined to a king size bed. I commenced the rescue mission at the rehabilitation center, only to be told that the programs offered did not have the appropriate funding and I would be placed on a waiting list. I was also told that my education level at the time was not within the parameters of the clients they served. In other words I was locked out by my prior life. A life that cancer stole from me. Discouragement and despair begin to take hold and the image of the king size bed flashed brightly saying "come back to me."
That image, that awful image ignited the "fight within" anew. I felt an internal push that seemed to order my next steps. It focused my attention to the realization that I had to get myself into a place that would push me to wanting to live life on my terms even in the midst of this new normal. New normal the scariest two words in my life. It signals an end to life as I once lived it and places choice in the picture. Am I going to drown in the waters of cancer or swim to a new current, new way that could place me on a better plane making renewed life a place that reflects the person I am at this moment in time.
I choose to swim in the new current to dig very deep and find that "fight within." After accepting the disappointment of the rehabilitation center, I turned inward to discovery the answer. That discovery took me back to an environment where my heart, mind, and soul could be stimulated, encouraged, utilized and given the capability of choice once again. I returned to Morgan State University as my way of swimming in my new current.
The rescue mission forced me to look deep and hard at what interested me while being a career path that was exciting and impactful. I turned my long-held passion of historical study into an intentional goal of achieving a docatorate that placed purpose and intention back in my life. It gave teeth to the internal fight forcing me to face daily challenges and hurdles. It took cancer out of the drivers seat of my life and made all of the pain, anguish and treatments a part of my life not the totality of my life.
Having a tangible purpose something that I could visually hold on to pushed the residual and side effects of cancer and chemotherapy into a more manageable box that I could control. The pain remained excruciating, treatments were extreme, and reoccurrence still took place. However, as I continued to face these factors I was supported by my fight within keeping that fire lit continuously thereby, destroying feelings of hopelessness, despair and depression. To be clear I still had many moments of why and what will happen next. Despite those moments I never went back to being defined or driven by the cancer, I stopped defining my existence by the inside my doctor's office and how many time in a week I had to go to the hospital.
I began to focus on the world around me the new space where I now went to everyday. I interacted with people again, classmates, professors, faculty and staff. As the days of study passed by the greatest accomplishment was turning a childhood passion into the hub that would anchor my new life, new normal. Becoming a historian placed me on a journey that pulled my through my roughest health challenges. It opened my sphere of persons that I was now interacting with and introduced me to a world that I could belong to. It proved to me that I had skills from my previous life that could transition to this new life. The greatest gift led me to accepting that the "fight within" took away the fear of a new normal. Explained that "new normal" means finding your fight within and allowing it to push through the multiple and varied factors of handling a catastrophic disease.
As you face this journey never let the disease define you. Open yourself to the possibility that your old life has evolved and it is natural given the circumstance. Remember that transition to a new normal keeps the core of who you are, the skills that you have acquired and gives you choice to infinite possibilities for change that supports your current situation. My journey gives me inner empowerment that I have a sustainable goal that I will reach. It has had some stop and go moments, some setbacks but I pick it up and continue the race. I will achieve the goal and my internal fight has an eternal flame.