DR. BACH FLOWER REMEDY THERAPY
Enter the world of the most efficient nature therapy!
I have discovered Dr. Bach flower therapy remedies back in 2008-2009 when I was in search of a course to take to improve, enhance and help with my psychology studies. I recently finished Module 1 of Dr. Bach Flower therapy remedies and even though this type of therapy has been around for so many years now, there are few people who know of its existence and who even think of using it.
There is no need for more explanations for the benefits of nature, of plants, of herbs, of flowers. SIDE NOTE - because why not - continue reading below
THE MIND BLOWING NATURE THERAPY
I recently had a read through the book called "The Signature of all Things" by the lovely Elizabeth Gilbert, the author of "Eat, pray, love" and most recent book named "The Big Magic" (on which I wish to get my hands on asap!) and here are some excerpts to help you shape more into your mind and spirit the health benefits of various plants and herbs.
"JACOB BOEHME (…) WHO HAD MYSTICAL VISIONS ABOUT PLANTS WAS (…) AN EARLY BOTANIST (…) AND BELIEVED IN SOMETHING HE CALLED

– NAMELY, THAT GOD HAD HIDDEN CLUES FOR HUMANITY'S BETTERMENT INSIDE THE DESIGN OF EVERY FLOWER, LEAF, FRUIT, AND TREE ON EARTH. ALL THE NATURAL WORLD WAS A DIVINE CODE, BOEHME CLAIMED, CONTAINING PROOF OF OUR CREATOR'S LOVE. THIS IS WHY SO MANY MEDICINAL PLANTS RESEMBLED THE DISEASES THEY WERE MEANT TO CURE, OR THE ORGANS THEY WERE ABLE TO TREAT.

BASIL, WITH ITS LIVER-SHAPED LEAVES, IS THE OBVIOUS MINISTRATION FOR AILMENTS OF THE LIVER.

WALNUTS, SHAPED LIKE BRAINS, ARE HELPFUL FOR HEADACHES. AND SO ON, AD INFINITUM."
"GOD HAD PRESSED HIMSELF INTO THE WORLD, AND HAD LEFT MARKS THERE FOR US TO DISCOVER."
"IF YOU LOVE ANYTHING ENOUGH, IT WILL EVENTUALLY SHOW YOU ITS SECRETS."
Dr. Edward Bach trained and qualified at University College Hospital and gained the Diploma of Public Health at Cambridge in the early 1900s. He was mostly interested in the patients themselves, than in their diseases.
He believed and it is true, that the body is a mirror reflecting the thoughts in the mind. It was the sufferer himself, the person, who needed treatment and help to overcome his worries, his fears, his depressions, hopelessness.
Dr. Bach always believed that our physical health depends on our way of thinking, our feelings and our emotions. Good health is harmony, rhythm, when we think happily, positively, constructively. Ill-health is when we think negatively, unhappily, destructively.
Dr. Bach came into contact with Hahnemann, the founder of homeopathy, who said that the patient is the most important factor in the process of healing. Homeopathic remedies were prescribed and still are for the personality of the patient, his characteristics, his idiosyncrasies as well as the physical symptom.
Dr. Bach concluded through his later examinations and treatment of patients that physical disease was not of physical origin, but as he mentioned it "was the consolidation of a mental attitude".
Dr. Bach discovered 38 flower remedies and each one of them is aimed at a different state of mind or emotion. They do not treat physical illness directly, but by restoring harmony to the mind they allow the body's natural defences to work more easily.
Dr. Bach system is complete because it treats emotions and not the triggers that cause them. It is not just for today, yesterday and tomorrow, but for all the time.
Dr. Bach placed the 38 flower remedies into 7 groups.
For Fear: Rock Rose, Mimulus, Cherry Plum, Aspen, Red Chestnut
For Uncertainty: Cerato, Scleranthus, Gentian, Gorse, Hornbeam, Wild Oat
For Insufficient Interest in Present Circumstances: Clematis, Honeysuckle, Wild Rose, Olive, White Chestnut, Mustard, Chestnut Bud
For Loneliness: Water Violet, Impatiens, Heather
For those Over-Sensitive to influences and ideas: Agrimony, Centaury, Walnut, Holly
For Despondency or despair: Larch, Pine, Elm, Sweet Chestnut, Star of Bethlehem, Willow, Oak, Crab Apple
For Over-Care for Welfare of Others: Chicory, Vervain, Vine, Beech, Rock Water
The remedies are explained by describing the emotion or personality trait for which they are needed, but of course, there is a positive side to all of them.
It is emphasized throughout the Bach Remedy literature that the treatment is based on personality, and so whatever the problem might be, the remedies should be selected according to the emotional outlook, the mood, temperament and personality of the individual concerned.
Dr. Bach strongly believed that physical ill health was a result of disequilibrium within our minds and that it was therefore of utmost importance to treat the mind in order to bring about healing of the sick body. Indeed, there are many instances where this philosophy is well established and accepted within medicine generally. Tension, anxiety, worry and so on, all have the potential to create a variety of physical problems, manifesting in different ways.
There are however, certain conditions which do not have a definite emotional cause. And there are some conditions which are purely organic and although the Bach Flower therapy remedies have an important role to play in re-establishing the person's overall well-being, a more conventional, orthodox approach may be essential. In these cases, the remedies cannot take the place of vital treatment when it is needed and it should always be sought if there is any doubt or cause for concern about your physical health.
However, whatever the problem, there is no doubt that worry, fear, depression, self-pity and other negative emotions which so often accompany ill-health, hinder our recovery and retard convalescence. But because the remedies treat these negative feelings, with their help our inner strength can be revived and this will aid our recovery and return to health.
There are remedies to help us if we lose our way, or find ourselves turning back, or if we are uncertain and feel afraid about taking the next step.
Life is full of challenges – pleasant as well as unpleasant – but whatever it is that presents a stumbling block in our lives, it is there for a purpose, to help us learn about life and give us experience.
There is something for us to understand from all experiences, good and bad, and always something to gain, for no matter how negative a situation might seem, there is always a positive aspect to consider.
Having endured the suffering, whatever it might be, it is then up to us to take head of these warning signs should they ever return, and correct the imbalances before it has a chance to make us feel unwell again. And that is our lesson. The Bach Flower therapy remedies are there to help and guide us, but true progress – our real healing – comes from within.
Bach Flower therapy remedies is a complete system of healing prepared from wild plants, flowers and trees of the countryside. Using them, you will be able to start discovering more of yourself, more about the power of nature as a therapy and heal yourself and others around you.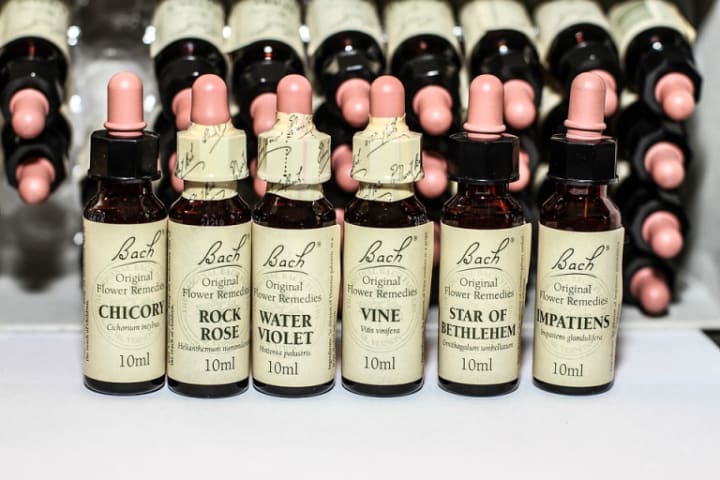 What will you be exploring from Dr. Bach Flower Therapy Remedies?