COVID-19
Information competing with misinformation may kill many.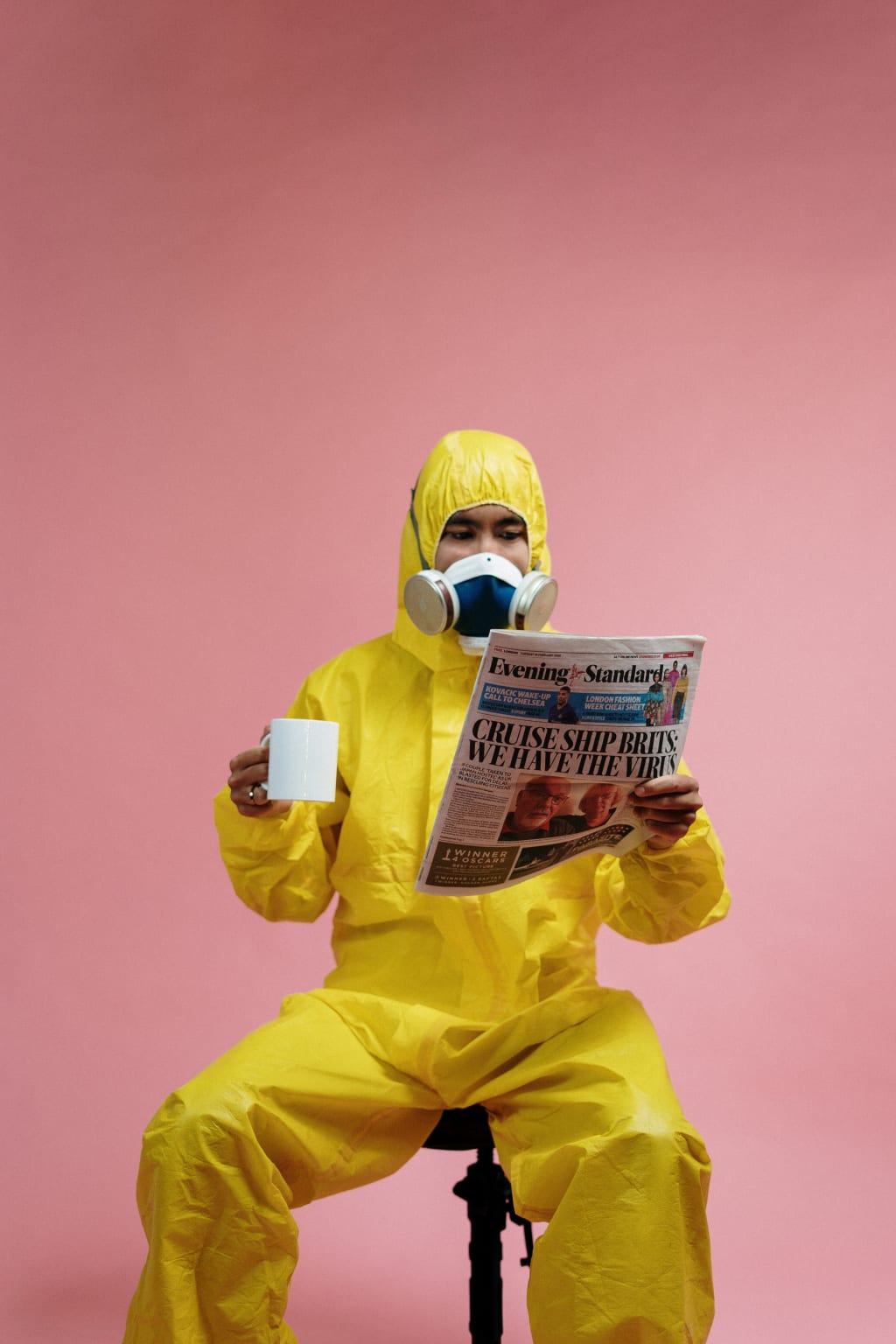 Photo by cottonbro from Pexels
During the month of March, the average citizen of Canada began to hear reports of a new and deadly disease spreading from China into other regions of the world.
Most individuals did not know that scientists within Canada (and around the world) had already begun to step up to the challenges faced by the entire world.
Healthcare workers in Ontario, Canada were notified in October 2019 that it was expected to be a bad viral year from the viruses we already live with (called endemic viruses), like the ones that cause our common-cold symptoms. Public Health officials announced that the flu vaccines for the 2019-2020 year would fight strains of the H1N1 and H3N2 viruses that can cause death in the general population, especially in patients with other health issues. The flu shot program, however, has persistently suffered from lower annual participation rates than hoped for, from misinformation about the nature of the vaccines ingredients as well as efficacy.
Three months later, the first Covid-19 patients were noticed by Dr. Li Wenliang, who had taken samples from the lungs of patients with pneumonia of unknown origin (in Wuhan, China), and sent them for testing which found the novel (new) coronavirus on December 30th, 2019. He succumbed to the disease on February 7th, 2020, at the age of 34, after alerting health authorities, including the World Health Organization, and doing his best to contain the outbreak. There have been arguments about China's treatment of the doctor, who is now lauded as a hero by the government, but he was not tortured and killed as some misinformation campaigns insist.
It is thought that the virus jumped to humans from animals (zoonotic origin) in an illegal wet-market (a place where wildlife is bought, sold, and slaughtered for food or other traditional uses). No, it was not created as a super-weapon from the Chinese government to bring down the West (yes, this theory is actually out there in the public domain).
China immediately isolated the virus and began to sequence the genome, having learned from the SARS epidemic of 2002 what researchers would require to create therapies, and hopefully a vaccine. During the next three months China would experience 81,000+ infections, and unprecedented death.
The initial genetic code was closest to the bat coronavirus strain, BatCov RaTG13 (February 2020 W.H.O. Report: China Joint Mission on Covid-19), and was later to have been found to resemble (99.9%) a coronavirus found in pangolin (an animal resembling an armadillo).
China followed worldwide acknowledged protocols of infectious disease treatment, and tracked all known cases in a joint mission with the World Health Organization. The time between infection and onset of symptoms, was found to be an average of 5 - 7 days.
Some politicians, insisting that Canada was safe (or that the infection rates and case fatality rates were not as reported). argued that the economy could not survive a close down of the country, and the borders remained open, though there were reported cases in Canada. Most countries around the world had the same reaction.
Increased infections began to be reported in Canada.
The last pandemic (H1N1 Swine Flu, 2009) had a case fatality rate (CFR) of 0.02%, which claimed hundreds of thousands of lives across the globe, and infected 1.6 billion humans.
The COVID-19 case fatality rate (for those reporting symptoms where it was confirmed via diagnostic test) at this point is unknown, because the numbers are fluctuating. Broad testing is only beginning in Canada, and in many countries, using tests developed within the last month and a half (after the full genome of the virus was sequenced), but the fatality rate is thought to be around 2 - 3% of those infected.
The provincial government closed public gathering places to reduce the rate of transmission, and the federal government closed the border in stages, but left the option of repatriation (returning to Canada) open to hundreds of thousands of Canadians in other countries. Some of the repatriated Canadians, unknowing carriers of the virus, were not tested upon landing at airports or returning from ships, and many were not told to self-isolate for 14 days. Meanwhile, some resident Canadians did not take self-isolation seriously, and held house parties during the week leading to St. Patrick's Day.
It was discovered that the virus could be transmitted to others approximately 2 - 3 days before the onset of symptoms, but it was too late to stop tens of thousands of possible new infections worldwide.
In all grade 12 Biology courses, and some of the grade 11 and 12 Math classes, there is a unit called Population Dynamics, where students learn about the math behind growing and shrinking amounts of people, animals, and bacteria. The same math applies to viral replication, and watching the numbers quickly rise into an exponential growth pattern, I panicked.
I will be honest, and say that I attempted to take my child out of the city near the end of March to self-isolate for 14 days, when more options could have opened up for us to be safely away from so many other people. Unfortunately, I learned that not all other Canadians are compassionate, including our own family.
We were not allowed at any location where a family member was residing. Most said that we may be infectious and told us to stay away, and one said she could be infectious from traveling to a local hospital for radiation therapy for breast cancer.
We tried camping out in the bush for 14 days on Crown land across the road from my mother-in-law's cottage, but after notifying the one family member in the area that we were present, had our vehicle broken into and items stolen that night. Police were called, and we returned to the Waterloo area after 6 days with the heartbreaking knowledge that our family had actively run us off.
Returning home, my friend D, who works at a local long-term care home as a personal support worker, called me in tears. She was shocked to learn that a coworker had tested positive for Covid-19, putting D, 23 years old, into immediate self-isolation, deep fear, and also denying her the opportunity to care for her patients. While on the phone with me, she described how terrifying it is to know that she will be on the front lines, exposed to the virus (if she hasn't already been). She only graduated from the p.s.w. program a year ago, yet has the goodness to need to get back to the care of her patients.
It is amazing how knowledge from my science courses, through my teachers from St. Louis Adult Education Center in Kitchener, has given me the opportunity to understand what is occurring in the world today.
On March 11, 2020 there were 93 cases, and 1 death in Canada, and as of April 11, 2020 (32 days later inclusive) there were 21,226 cases, and 531 deaths.
This represents a large jump in the amount of cases over the course of a month, and can only be explained by exponential growth, where 1 person infects 2 or 3 other people, who go on to infect 2 - 3 others, and so on. The actual number, known as R0 (called r naught) is thought to be about 2.2, and may be as high as 5.5 per infection.
In fact, looking at the graphs of how the virus is spreading, one can actually see the exponential growth factor that the World Health Organization is so worried about, and understand why social distancing to reduce that number is so vitally important.
Canada has a population of around 37,000,000, which at a 50% infection rate and 3% case fatality rate could have meant a 555,000 death incidence. All ICU's would have been overrun, all medical staff would have been exhausted, and protective equipment would not exist at all. Instead, Canada has had a lower death rate than some countries, due to our public health response. We should be beginning to produce personal protection equipment needed for Canada (and other countries) shortly, with government subsidies for the companies willing to retool to make life saving equipment.
The amount of disinformation coming from people who are denying the pandemic's existence (including one Canadian who walked into an ICU while video recording trying to 'investigate the hoax'), as well as those who are unwilling to understand the science in a country as educated as Canada is supposed to be, is a very sad monument to our society.
In the space of a week, over 80,000 people have signed up world-wide for online courses with the W.H.O. (OpenWho) to learn what protocols will be needed to help our public health systems, including basic knowledge about the virus, infection control procedures, and measures to reduce the transmission.
The same organization that the President of the United States of America not so subtly threatened to withdraw funding from is leading the public education on the virus, and has been even when he was denying the crisis existed.
However, the general public needs to understand that:
1) The virus was discovered only four months ago, and spread to Canada as early as January 15th, with travelers returning from the affected areas of the time.
2) It was not fully understood in terms of transmission (and still isn't).
3) It has now infected over 1.7 million people world-wide, killing over 110,000,
4) It could still take 18 months to have a vaccine, however testing is becoming more widely available to help quarantine infected patients quickly.
5) Therapies being tested are not confirmed until after the results have been repeated through independent laboratory study.
Pray to your deity to help if you want a vaccine faster, or begin to help in some way to alleviate the pressure of the social services and public health services.
Realize that millions in Canada have lost a way to pay for a roof over their heads and groceries, and some lost access to medical services and transportation they require for other health issues as well. Some had already lost jobs to economic factors before the pandemic as well (including the oil sector). Many will get governmental help, and many will not qualify due to individual circumstances.
If you have the ability, funds, and/or moral strength to help others during this time: Do it! If you have tested positive, consider giving blood after the infectious period is over. In the meantime, WASH YOUR HANDS, and stay 6 feet away from anyone not in your immediate household.
Drive a person to an appointment, consider donating money ($2 even) to your local food bank, think about others who may be in quarantine when doing your groceries, and limit grocery shopping to one person (wearing a mask, and maintaining distance) from each household once a week.
Practice the best methods of hand hygiene, and educate yourself about physical distancing and why it is absolutely necessary at this time, but not to the extent of losing one's humanity.
Every step of the pandemic response has been guided by the World Health Organization from studying previous pandemics like SARS, Ebola, and Zika. The information, facts, genetic sequence of the virus, which countries are researching which protocols to create a vaccine, etc. are all being tracked by the world's top scientists working in conjunction with each other, and that is great, and gives the rest of the world hope in a future beyond Covid-19.