Are Removal Braces Effective?
Do Removal Braces Work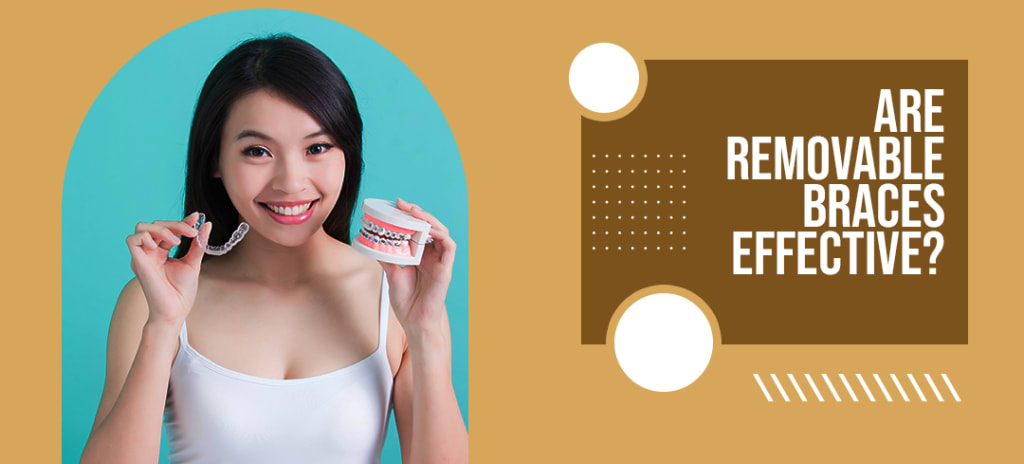 In the past, orthodontists only provided fixed braces to straighten the teeth. Fixed braces were the perfect treatment for realigning the teeth and a common option for fixing different misalignment issues, but teeth straightening has gotten better and more comfortable, and less visible alternatives to fixed braces are available.
Some of these options still use metal brackets and wires but can also get clear brackets to straighten your teeth discreetly.
Although technological advancements have made fixed braces less obvious and more comfortable, they may not be suitable for everyone. People who do not want to straighten their teeth with fixed braces have several options, including Invisalign.
Invisalign is a relatively new orthodontic solution that discreetly straightens the teeth. These clear removable teeth aligners have helped millions of people achieve a straighter and better-looking smile. The aligners are virtually invisible, which means people will rarely notice you are undergoing orthodontic treatment and can remove the aligners to drink and eat anything.
Although Invisalign is fast becoming a preferred teeth-straightening option, people still ask whether the aligners are as effective as fixed braces. If you're one of those asking this question, you will find the answer below.
How well do Invisalign aligners straighten the teeth?
With the introduction of Invisalign in the mid-90s, people had mixed feelings about the new teeth straightening technology. Although patients were more willing to try out Invisalign, many orthodontists were sceptical about providing Invisalign to their patients.  
When Invisalign was introduced, it could correct simple misalignments, but it could not carry out complex realignments like the fixed braces. Invisalign barely supported vertical teeth movement, so it was not suitable for most people. Even in cases where Invisalign could straighten the teeth, fixed braces offered a better result.  
As Invisalign gained more popularity, the aligners evolved and can now compete with fixed braces in proving better-looking result. Most patients are now suitable for Invisalign treatment. Presently, Invisalign may be more suitable for correcting certain misalignments like an open bite than a fixed appliance.  
Removable braces vs Invisalign
Invisalign is the most advanced teeth-straightening aligner system. The aligners are custom-made from patented SmartTrack material, making them more comfortable and easier to remove or reinsert in the mouth.  
Invisalign became available in the market after about eight years of development and research, so it is more advanced than other removable aligners available online.  
Invisalign is now better at moving teeth vertically due to the introduction of Invisalign attachments. These attachments are small tooth-coloured composite dotes placed on selected teeth to help the aligners have a better grip on the teeth and move them faster. The aligners available online do not include attachments, so they carry out limited teeth movement.  
Other Invisalign features that make them more unique include the 3DClinCheck software used to preview your smile and the power ridges which help make them upright.
Invisalign treatment is shorter as some patients can switch to a new set of aligners every week instead of two weeks. This helps reduce the treatment time by half, and simple realignments with Invisalign may take about six months.  
Do Invisalign aligners have limitations?
Although Invisalign has come a long way since its introduction in the mid-90s, it is still not suitable for certain orthodontic issues like rotated, tilted, or severely crowded teeth. Invisalign also be unsuitable for correcting an orthodontic issue if you have small or rounded teeth. Fixed braces may be more suitable for these cases.
If you want a less discreet orthodontic treatment but unsuitable for Invisalign, you can opt for incognito braces or clear fixed braces.
Invisalign can perfectly correct different orthodontic issues, so you can get Invisalign if you want to straighten your teeth discreetly.
Visit Adult Braces Clinic today to get started on your Invisalign treatment in London. Our orthodontist will examine your teeth to determine whether you are suitable for Invisalign or not.