A Touch Of A Thai Temple
An Escape And Preparation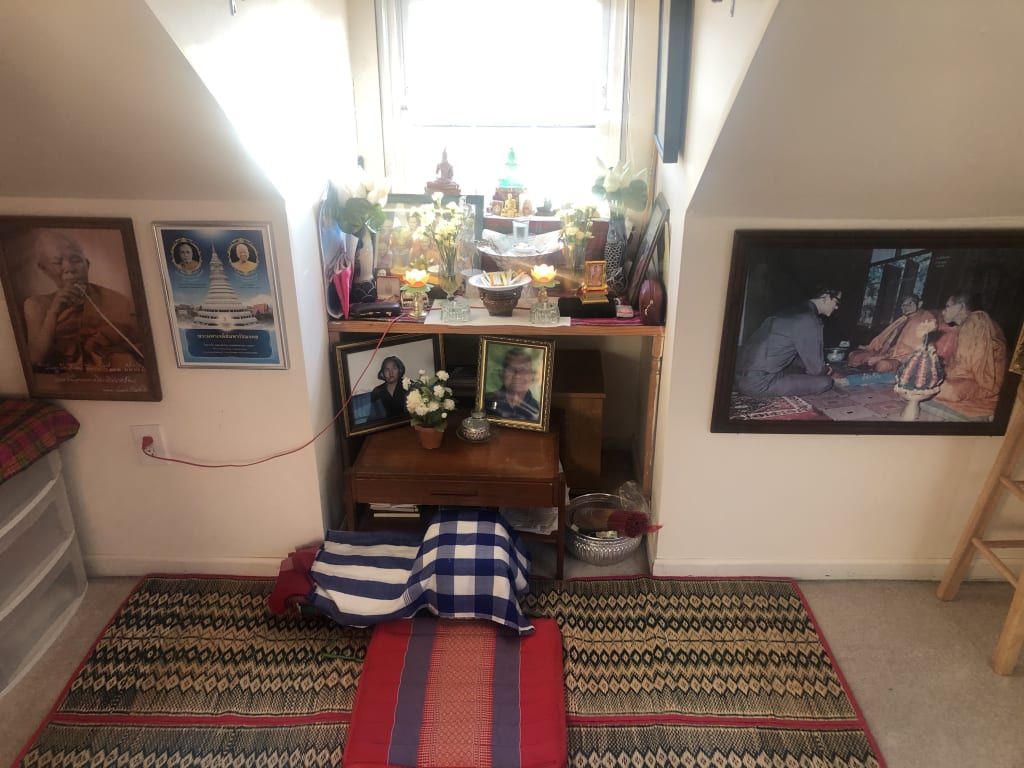 On the second level of my home, there is a room that I enjoy spending some quality time in. Even though the room is very small, I consider this room incredibly special to me. It is a Thai temple inspired room which was set up with love and tenderness, thanks to my mother. This amazing room is literally one of the corner rooms of the house. I call it the Buddha Room.
There is something special about setting this little room up as a Thai temple. Here is a little bit of my background. My biological mother is Thai. Ever since I was a little girl, I would fly out to Thailand to visit my family on my mother's side for the whole summer once every few years. My summer trips to Thailand gave me the opportunities to learn more about the Thai cultures and visit many tourist attractions – like the Thai Buddhist temples. I remember attending a small temple in the village where my family live. We would attend this temple a few times a week. Along with the Buddhist monks, my family and the other villagers would pray, chant, meditate and even eat at this local temple. I have been fascinated by this experience ever since.
As much as I love Thai Buddhist temples, I do not consider myself as a Buddhist. However, I do have a great amount of respect for the religion and the lifestyle that my mother and her family (in Thailand) practice. Besides, my father was Catholic, and it was not easy for me to decide on a religion while growing up anyway. I guess having more than one religion in the family help me explore my spirituality even deeper.
If I am not a Buddhist, then what do I use the Buddha Room for? Well, I use this room for meditation. I enjoy the feeling of meditation. I enjoy the many benefits that meditation has to offer. I mean I could write an encyclopedia of all the benefits of meditation if I want to. There are benefits like relieving stress, gaining focus, increasing my creativity, and even connecting to my higher self. That is how essential meditation is to me. Even the simple thought of meditation makes me smile with complete joy like a little kid in a toy store. Without a shadow of a doubt, meditation is one of my favorite activities that I genuinely enjoy.
The layout of the Buddha Room has small Buddha figurines, Thai good luck charms, candles, flowers, images of Thai monks and images of my late grandparents displayed by the window. There are images of Thai monks on the walls. One image includes a young King Bhumibol Adulyadej meeting with two monks. There is a floor mat and a seat pillow in the center of it. There are only two small pieces of furniture which are plastic, short drawers; and that leaves the rest of the room spacious. I believe that a room with no clutter and more space is a great place to meditate.
When I enter the Buddha Room, it becomes my personal space. It makes me feel completely safe from the real world. It gives me a sense of serenity to practice my meditations. The room gives me the opportunity to either prepare for the real world or escape from it. For example, if I want to prepare, a morning meditation in the room would be best for me. There are different morning meditations for me to choose from. I could use my morning meditation to help boost my positive energy, hoping it would get me through the day. If I need to escape from the real world, I usually go with a guided visualization meditation; an enchanted garden or a gorgeous beach setting usually does the trick for me. Sometimes I use candles during my meditations. What I really like using are incense sticks. The scent of Jasmine flowers is commonly used in the room. Other scents like Nag Champa have been used but not as often. As far as sound, unless I play a recommended meditation YouTube video (guided or not) in the background, most of the meditations I practice are silent.
I take good care of the Buddha Room and treat it with love and respect regardless of what religion I am. It is true that anyone can meditate anywhere; it does not necessarily have to be in a temple-like environment. One can meditate in a simple room like a bedroom or even a bathroom. This room, however, is my comfort zone. It reminds me so much like my trips to Thailand when I was a kid. I think of the Buddha Room like a vacation home, and that is why I am very comfortable with meditating in this room.