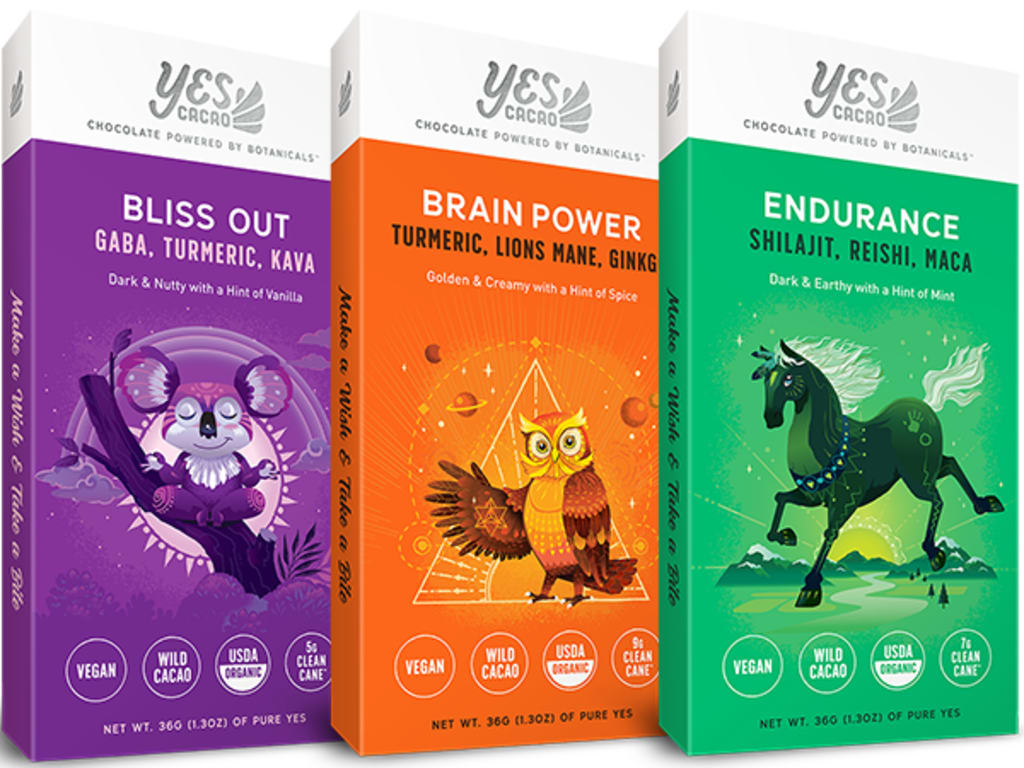 This Valentines Day, don't just give your Valentine chocolate; provide them with chocolate that is actually good for them too!
Introducing YES Caco chocolate powered by botanicals. YES Caco is raw organic, wild-harvested cacao formulated with botanicals and chocolate to deliver noticeable effects on your mind, body, and nervous system. Each YES Caco bar has enough potency for you to experience a shift.
Everything in these bars is beneficial and clean AF. Even the raw, sundried cane sugar (Clean Cane™) is chalked with minerals and enzymes to optimize bioavailability and minimize glucose spikes. All their cacao is harvested from the wild jungles of the Andean mountains in Ecuador and third-party tested for potency. Coming in three varieties, BLISS OUT, ENDURANCE, and BRAIN POWER, there is a chocolate to fit any mood or romantic scenario.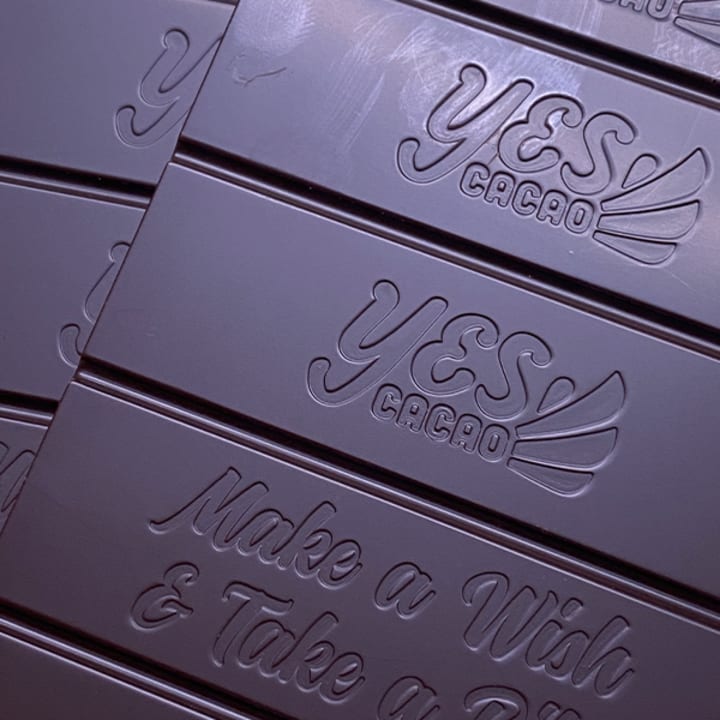 REVIEW
BLISS OUT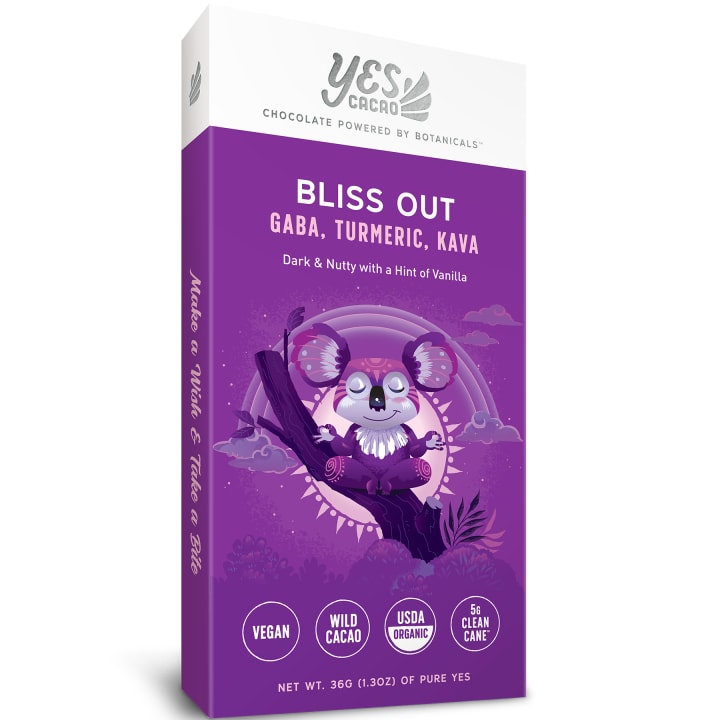 Here is a chocolate you can eat when you are stressed. This chocolate is entirely stress-free. When the day intrudes on your comfort zone, grab a snack, chill off, and enter your flow state. This recipe is about getting that breath you've been searching for all day while calming the mind and relaxing the nervous system.
Featuring:
Kava - To help reduce anxiety and boost mood and cognitive function
Gaba - To help quiet the mind and dissolve stress (and it's sleep-friendly!)
Blue Lotus - To help you access tranquility and relax into dreams
Safe to consume before bedtime; that is what I did! Switching my melatonin for chocolate, um, yes, please! This rich, smooth dark chocolate bar contains four break-off rectangle pieces, and one rectangle piece is all you need. Melatonin can hit you hard. Bliss Out doesn't do that. I was amazed at how gently it lulls you into relaxation and allows you to fall asleep naturally.
Living with Fibromyalgia, I may be ready for bed, but my brain and body are often still buzzing, making it hard to fall asleep. One piece of BLISS OUT I felt my brain and nervous system calm, and my body could make its own melatonin, letting me fall asleep naturally. I stayed asleep most of the night and woke up feeling rested.
Great for the Kids
Due to his autism, my son has difficulty sleeping and staying asleep, but giving melatonin to him every night, I worry. Bliss Out is a beautiful alternative, and I had no problem getting him to take his bedtime chocolate!
ENDURANCE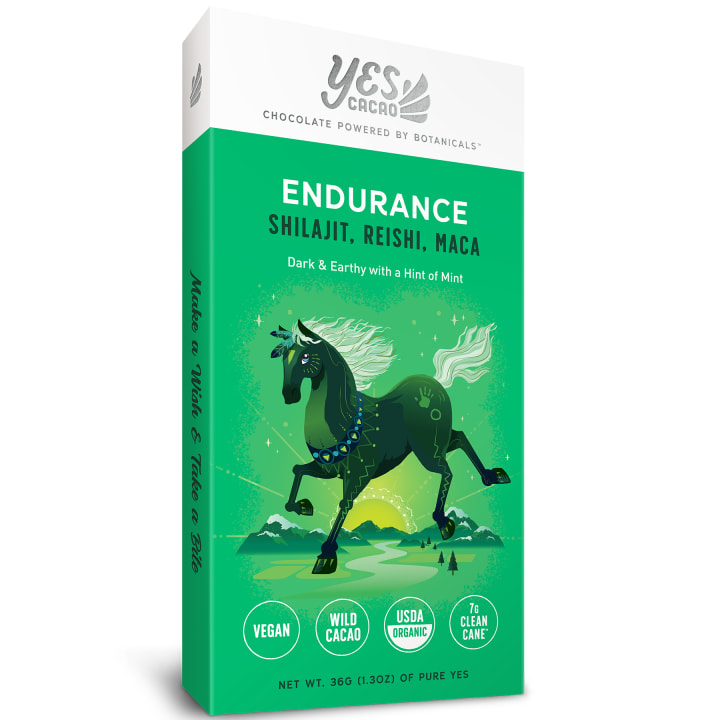 It's a long day ahead, and your demands are high. Dig deep and meet this challenge with chocolate! Their Endurance formula is all about going the extra mile with a pleasure-soaked smile.
Taste-wise, Endurance is my fave. It has a rich dark chocolate earthy taste with just a hint of mint at the end, which was a pleasant surprise—Endurance Features.
Shilajit mushroom - Longevity, physical strength, and detoxification
Reishi - Calms spirit, immune adaptogen, insulin reistant
Maca - Cognitive function Libio & stress resistant
Do you get what I call mid-day sleepys? It never fails; around 2 pm, my energy starts to sway. Swapping out my cuppa joe for chocolate didn't sound so bad. It wasn't until my day was over that I realized the chocolate gave me some pep in my step to get me through my day, where I'd typically lagged.
BRAIN POWER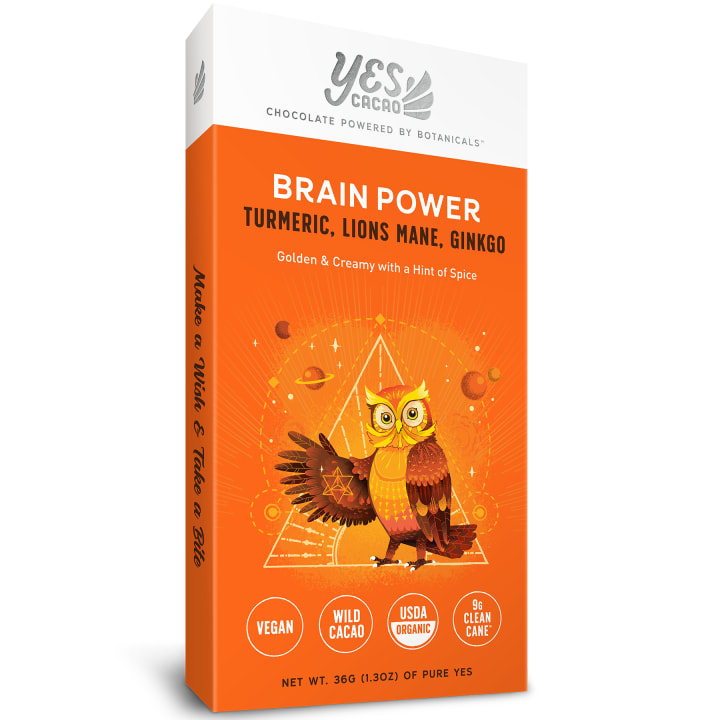 Improve your mental clarity with chocolate. This formula is all about remembering people's names, where you put your car keys, and the famous "What did I walk into the bedroom for again? Containing Turmeric for brain and liver health, Lions Mane mushroom to help increase focus and neurogenesis, and Ginko for enhanced cognitive function and blood flow.
A bit different from the rest, Brain Power looks like it's milk chocolate, but it's not. Containing wild cacao and 41% white cacao butter, Brain Power has a creamy and delicious texture with a hint of spice at the end, which was surprisingly good.
While eating it I did feel it helped with my writing a bit, but It wasn't until I ran out that I realized WOW this chocolate really helped with my mental clarity. Brain power lifted the hazy fog from my brain. Help me keep my thoughts organized in my head. I didn't forget my brainstorming idea I had in the kitchen by the time I reached finding some pen and paper. Move over brain power gummies that I am never motivated to take. I am motivated with chocolate now with YES Cacao!
ABOUT YES CACAO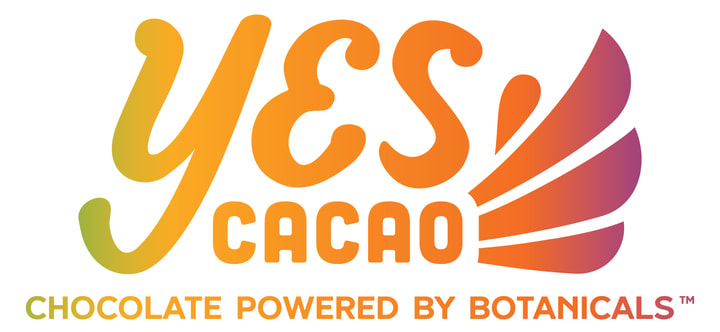 Creator and Minister of Chocolate Justin Frank Polgar have been in service of the cacao bean and its many talents, namely as a delivery system for botanicals. In his early adolescence, he was exposed to several "forgotten foods," like ginseng and spirulina, that changed how he felt in his body. This sparked a quest to find more magical botanicals that benefit our energy levels. Many of these foods don't taste particularly yummy, BUT he recognized that folding their flavors into chocolate was highly effective and more pleasing to the palate.
Focusing his perspective on chocolate innovation and education in the holistic health and wellness category, Justin has formulated over 50 delicious potions blended into wild-harvested chocolate. He is the inspirational cheerleader for everyone to find their YES.
To learn more visit yescacao.com
About the Creator
Janny C is an established freelance writer. A bit of a jack of all trades writer Janny has found a niche in beauty writing, earning a reputation as a beauty product reviewer, which she shares here on Vocal Media.
Reader insights
Be the first to share your insights about this piece.
Add your insights