6 Self-Care Tips for Making the Most of This Fall Season
Fall's finally here, it's officially time to start thinking about cozy, comforting self-care routines.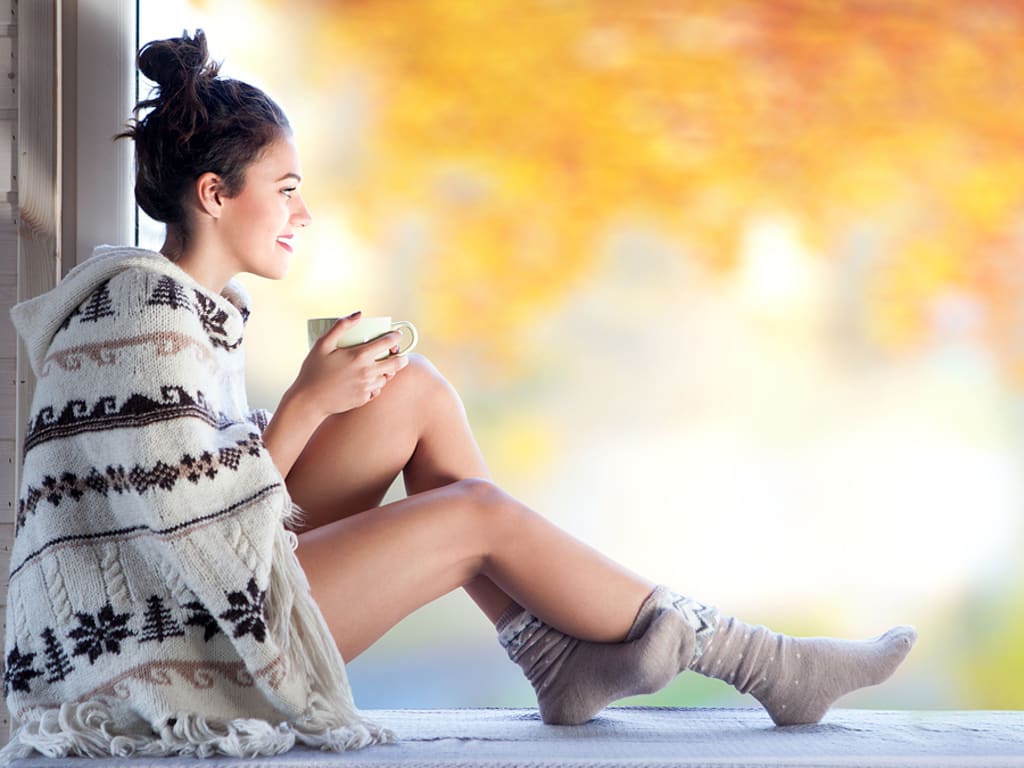 At this point, it's pretty safe to say 2020's done a number on us all. Thankfully, now that fall's finally here, it's officially time to start thinking about cozy, comforting self-care routines. Your frazzled body, mind, and soul not only need them but deserve them – especially this year. Here are some ideas to get started with.
1. Reboot your sleep cycle.
If you're like most people, you've lost sleep lately thanks to everything going on in the world. However, there's no time like fall to get all caught up or give your system a much-needed reboot. Start by adding the occasional cat nap to your schedule as needed.
Then leverage that extra daylight savings hour to snag some additional shuteye on Sunday morning. You can even turn it into an event with some fresh, clean sheets and a long, relaxing bath before bed the night before. If you're married or in a relationship, you can even do it together with your partner. Are you riding out the season sassy and single instead? Treat yourself to a new vibrator to help you relax before bed instead.
2. Get the jump on your cold-weather workout routine.
It's easy to be active during the spring and summer. Gorgeous, sunny weather is the perfect excuse to get up, get out, and go for a run or a bike ride. (Who wants to be cooped up inside at a gym during a pandemic, anyway?) Fall is the perfect time to adapt your workout routine so that you stay fit throughout the winter.
Invest in some new home workout equipment and come up with an exercise plan you'll be able to stick with once the mercury drops. Browse the web for some fantastic routines to get into. Staying fit will keep the winter blues at bay and have you feeling much better than another winter spent in couch potato mode would.
3. Cook your favorite comfort dishes.
There's no time of year quite like fall when it comes to incredible things to cook. Farmer's market stalls are packed with seasonal produce options like squash, Brussels sprouts, cauliflower, and sweet potatoes. Grab a few of your favorites and whip up some tummy-warming homemade soup one evening soon.
And what's fall without enjoying a little Halloween candy? Whether you're leaving candy out for the neighborhood kids this year or spoiling your own family with some discounted sweet treats the day after, don't forget to pick up a little something for yourself, too. There's nothing like your favorite sweet indulgence to put the finishing touch on a relaxing fall day.
4. Revisit your favorite stories.
If spring and summer are for checking out the latest blockbusters on streaming video and picking up new reads from your favorite authors, then fall and winter are definitely for revisiting old staples. There's nothing like revisiting a beloved story and characters to soothe the soul and relax the mind.
Make a standing date with your partner or best friend to binge-watch a favorite TV show you haven't seen in awhile or partake in a marathon viewing of a beloved film series. When it's time for a little alone time, make yourself a hot cup of cocoa, cozy up with your all-time favorite book, and get lost for a while.
5. Plan a few seasonal adventures.
Although the other three seasons have their perks, fall may have the most enjoyable weather to its credit. The stifling hot days of summer are over, but the bitter cold of winter is still a long way off. The leaves are turning, and there's a certain magic in the air. It's the perfect time to spend some quality time outdoors with loved ones or even on your own if you prefer.
Slip into your favorite sweater and go apple picking. Hit up the local pumpkin patch with the kids or some friends. Steal a weekend away at a cozy bed and breakfast with your partner. Spend some time at your favorite local farmer's market or specialty shop and splurge on some new teas, candles, or other treats to enjoy. It's like a balm for the soul.
6. Get in touch with your creative side.
The calming benefits of creativity aren't just for kids, and the popularity of coloring books for adults is living proof. Tapping into your creative spirit can be an excellent way to recenter yourself this fall. And, of course, you can do this on your own or in the company of people you love.
Buy some art supplies and try your hand at landscape painting. Log some time on your laptop penning some poetry or launching a blog. Try your hand at cake decoration. If it channels your artistic self and makes you smile, it's a great choice. Try it and see!