12-Week Challenge with "Sweat with Kayla"
What I loved, what I hated and, how I lost 16 lbs in 12 weeks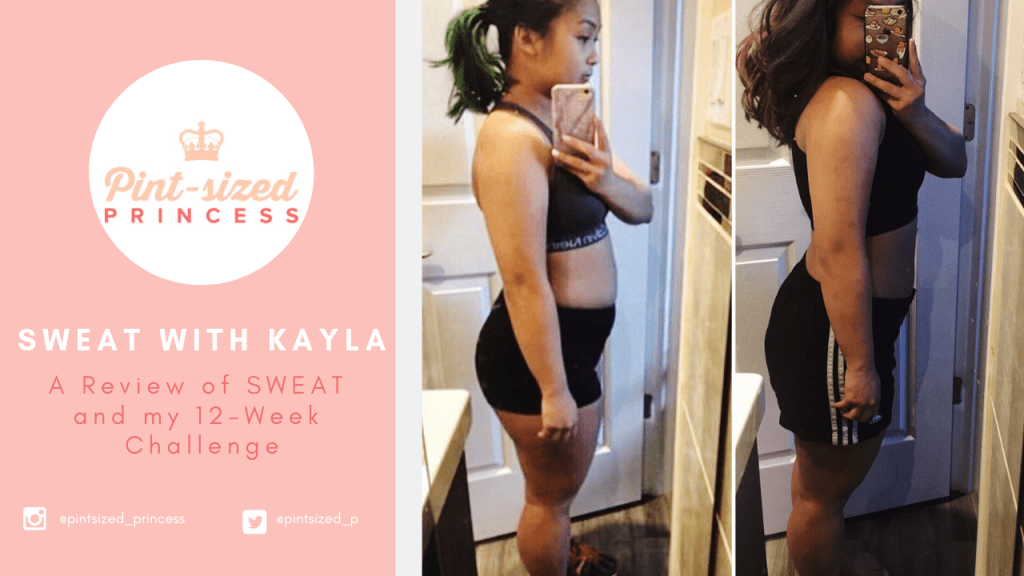 For the first time in history I kept my New Years resolution of working out. And I worked out for 12 weeks straight, which was big for me because when it comes to me and working out, I do not commit more than one month and a half. And to toot my own horn a little more, I did it while in school, and it didn't affect my grades or my social life (crazy, I know).
I had the opportunity to gain full-access to Kayla Itsines' SWEAT mobile exercise app for the 12 week span of the SWEAT 12-week challenge, thanks to Heartbeat Co., a social influencer platform that offers campaigns with brands for micro-influencers. So not only will I chat briefly about my workout experiences with SWEAT, but I will also share my thoughts on the app, meal plans, and so forth.
I would like to preface that for my 12-week challenge I committed myself to the BBG Program, as I was weary about working out again after nearly a three year break from consistency, I did progress into BBG Stronger during the later weeks of my program.
The App
PROS:
I like that you can choose how "hard" you want to work based on your goals and your fitness experiences (e.g. BBG for beginners and weight loss, PWR for resistance, gym related workouts, etc.)
I like that there is an understanding that over time, you do get stronger and that over the weeks the workouts, although the same, increase in difficulty (i.e. using more weights, increasing reps, etc.)
There are lots of features of the SWEAT app; such as a set meal plan to fit your type of diet like vegetarian, gluten-free, etc., options for workouts outside of your program, like yoga, or workout challenges.
The forum is a wonderful place to meet like-minded people, get questions answered and find people to support you through the workouts.
CONS:
I was not a fan of having to mark my rest days (just seems like if you're taking a break from working out, you should be able to take a break from having to use the app).
I found that, although there is a lot of equipment involved, even with the BBG program, which is advertised as being a more "at-home" program. So I found myself having to accommodate a lot of exercises to things I do have, like step ups I had to find a stool tall enough to use, etc.
In addition to the amount of equipment, I also felt like there wasn't a lot of room for adaptation. I had sustained a nerve injury in my shoulders while running this program, and while in physiotherapy I had to find other exercises to do on arms and abs day because putting weight on my wrists would hurt me too often.
The Program
I found the program really easy and as I had mentioned above, it improved with you so things were constantly challenging for you at a good pace.
I really wish there were a few more ways to modify certain exercises in the situations in which there are injuries, or lack of equipment stated. I do however, love the freedom to do what you are comfortable with and to prompt the app to move onto the next set manually, to ensure you're getting your reps in to the best of your ability.
The Meal Plans
I didn't really follow the given meal plans provided by SWEAT for a couple of reasons, the main one being is I personally feel that a healthy eating lifestyle should be able to incorporate anything, just within limitations and within reason. So I found at times, when planning my meals or my coffee, to just think ahead in order to not worry about incidentals (i.e. "I am a little peckish/bored between class, why not grab a coffee?" turned into "I have a snack with a low/already accounted for caloric intake I can have while waiting."
However, I would ask myself too many times if I have the calories left to eat or drink something and I personally find calorie counting culture not the healthiest for a person who has a history of disordered eating (side note: an eating disorder and disordered eating are different things. Eating disorders are extreme cases of disordered eating whereas disordered eating is unhealthy eating behaviours and body image issues). Calorie counting I find to be one the easiest and better ways of managing your food consumption (WHO REALLY HAS THE TIME TO WEIGH THEIR FOOD JUST SAYING) it's not for everyone—clearly, food weighing is not for me! And that's cool!
Another reason why I didn't follow her meal plans is that between respiting foster kids, working my part-time job and being in classes full time I physically did not have time to grocery shop for some of the recommended meals let alone cook them. I found the best success with prepping what I could make based on what I already had on hand and cooking late Sunday night and packing it all for the week. I used sites like Very Well Fit's Recipe Calorie Calculator to help figure out a general caloric number for the meals I had prepared and I used MyFitnessPal to track my steps and calories.
My Journey
When it comes to exercises I am incredible non-committal. I enjoy working out, the results of working out and the feeling of working out, however I find it incredibly difficult to self-motivate to just. bloody. do. it.
And with doing all I said above with cooking and shopping, I now had to find an extra 30+ minutes to work out! It was definitely a doozy the first few weeks, with no other choice really but come to the gym on campus early in the morning before classes and on my off class days when I got home from work (which usually was 10:30 to 11PM, with class in the morning). I definitely did try to make all my workouts, but also had many more unscheduled rest days for those times I just physically had no energy left in me to exert. Which is really important to do, as I feel like sometimes with workout culture there is this need to just push through whatever you're going through to get to where you want to be, which can be really toxic (i.e. thinking like "if I miss today I'm weak, etc.).
In addition to listening to my body for when I should work out, with all that was going on in my life during this challenge I actually ended up taking a month off because I wasn't in the best headspace for me to work out, because of all this toxic thinking I noticed myself developing and all the stress I was encountering in my life. I took the month off to put myself in a better mindset because I truly believe that being healthy is not just putting the right things into you and ensuring to exercise, but also to take care of your mind and soul because mental health is health that is very much overlooked. Near the end of the challenge (~2 weeks), I ended my challenge early and had to deal with the feelings I had about "failing" and being "weak" and "inferior," but again, I was stressed out and spreading myself far too thin to handle it all and was dealing with a terrible shoulder injury, which really inhibited my mobility as a whole.
Overall, I think I did succeed in the challenge as it did not just challenge me physically, but also mentally and it really showed me the importance of having to take care of your mind as much as your body and that the two do go hand in hand. I made some major successes in school during the months of the challenge that I am significantly proud of, and I am also happy I was able to keep my commitment to exercising and that the work really did pay off, I lost more than a pound a week, which I find incredibly impressive given how much time I had to take off to take care of my mental health as well.
I am really thankful for SWEAT and Heartbeat Co. for giving me this amazing opportunity, and it really gave me this journey I can look back on with pride because I can go and say "I did that!"
If you too want to work with apps and brands like SWEAT I highly recommend joining Heartbeat Co. they are an amazing influencer network that hooks you up with brands like TOMS, SWEAT and more and you get paid! I was paid $20 USD for two posts for SWEAT on Instagram, and I got to use the app to my hearts desire for 14 weeks. My only complaint is that being based in Canada there are not a ton of campaigns looking for international influencers.