10 Things I Learnt From My Cancer Diagnosis
Advice From a 23 Year Old Who's Life Was Destroyed and Rebuilt Around a Brain Cancer Diagnosis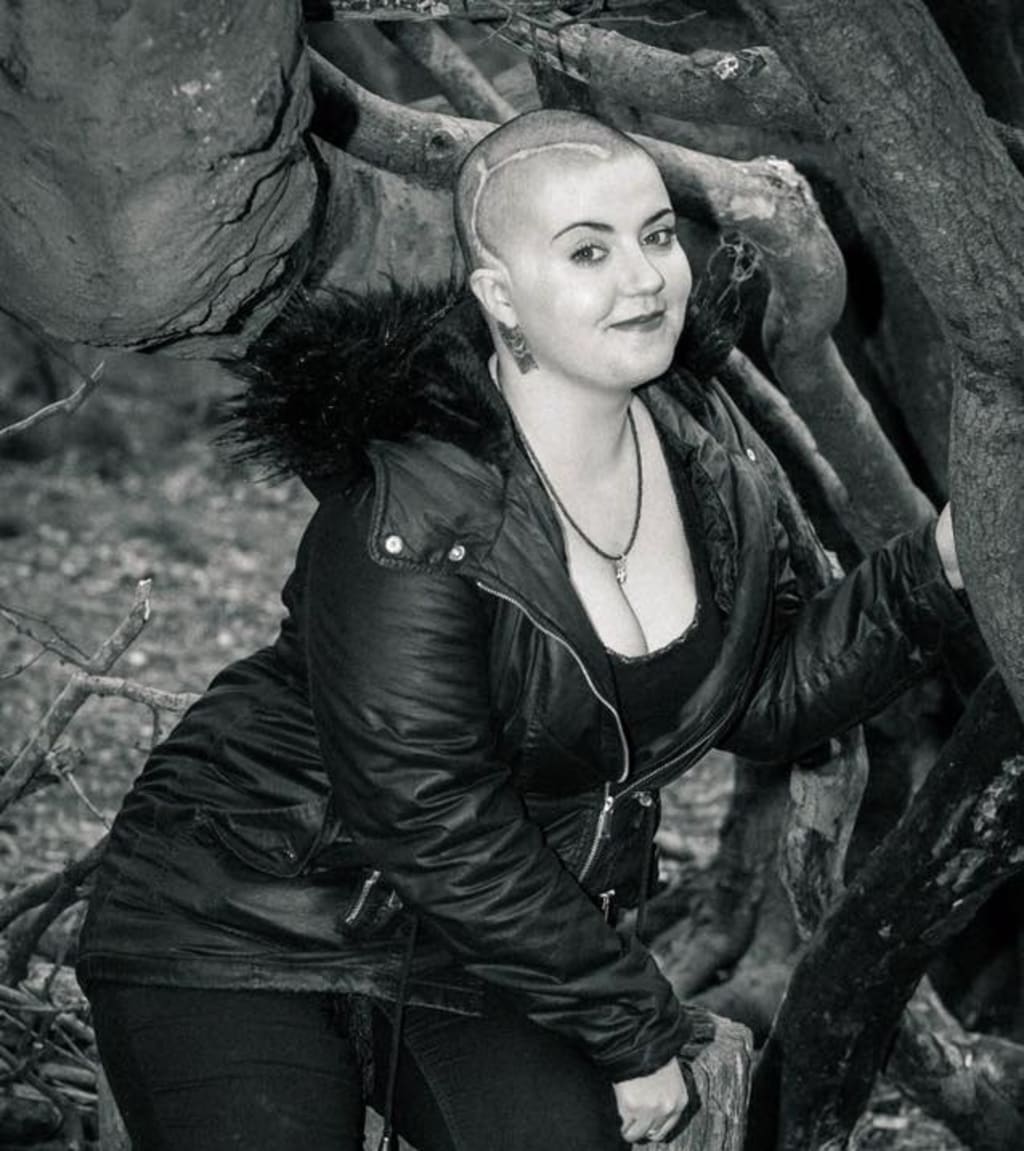 1. Not all things that happen for a reason are good things.
Picture it. 15 years old and loving life, I was getting more and more socially confident and finally connecting with a bigger circle of friends; life was fantastic and I was excelling. I had exams coming up and revision was going well, except I kept getting these weird health problems which I was being seen at the doctors for. April 2010 comes along and I am diagnosed with a Low Grade Brain Tumour. My hair starts to fall out from stress, I fall into a pit of depression and become socially withdrawn. I then spent the majority of the rest of my mainstream education in and out of hospital. How could this be happening for a reason? Around comes results day and I scored top of my year group; despite barely being there. I had nothing else to do except study and having one to one tuition in the hospital improved my academic levels ten-fold! From here I've gone on to achieve high standards of A-Levels and commit to a degree, when my doctors at the point of diagnosis told my family I'd be lucky to have function of my brain, let alone survive past the age of 20 years old.
2. Some friends who you thought were forever friends, turn out to be never friends.
Most people go on to realise this when they fall pregnant, split up with a partner or a relative dies. At the point of cancer diagnosis, the relationship dynamic with 90% of the people you know will change. Those of your friends who were forever friends, from my experience are often those who you never realised would be your friends for life. I was incredibly shocked following my initial diagnosis to find the amount of people who were insistent 'leeching' attention and drama from my own traumatic situation to create an image and situation which benefited themselves. There were friends who would send cards and presents and visit me privately to wish me well following any time I fell ill who spoke to me less frequently before, there were friends who were constantly besotted with me before my diagnosis and hair loss who couldn't FaceTime with me following all of this as they felt uncomfortable and didn't know what to say and finally there were friends who would visit in all my worst moments and made grand gestures, ensuring their camera phone was always on hand, with the latest hash tags and a good internet connection to upload the snaps to social media. Through this time of my life, I realised the type of support I needed when I was sat up desperately wondering if these would be my final moments. As I debated my existence and how my life had changed I realised following cancer diagnosis you can categorise friends into three sections by what you see. Section One – Flowers and Grapes. Section Two – Camera Lens. Section Three – Nothingness.
3. Not everyone will understand your coping mechanisms.
I've been to every support group that charities for young people with cancer in my area would sign me up to. I was lost, confused and desperately seeking guidance. I met some people who thought like me and some people who coped as if they were on a totally different planet. It's bizarre, how people all hit with the same umbrella of illness can be traumatised to reacting in such different ways. I've always reacted with a sense of humour regarding my condition, whereas I met others who meditated their worries away and other people who would go for a run or write a diary when they felt worried of scared about what they were going through. As I've grown up slightly I must admit I have adapted my coping mechanisms to suit my lifestyle but the underlying message is that EVERYBODY COPES DIFFERENTLY. Each of us have a different genetic, sociological and psychological make-up and if receiving bad news makes you want to put on your dancing shoes and take to the streets then so be it! Each and every person has to adapt to news in their own way and build their own story because it will be the way you learn to grow and move on from your diagnosis. However DO NOT be afraid to ask for help if you feel like you can't cope. Ask in a support group, a charity worker, a nurse or on an online chat room anonymously. There is always someone to turn to until you've got yourself and your coping mechanisms figured out.
4. You still have a lot to learn about yourself.
Before I was diagnosed with cancer, I had life planned. There was nothing knocking me off my pathway to becoming a successful doctor and would have a lovely life in a house, just me and a dog. I had it all planned, settling down alone my sole focuses being a pet dog and a full time and very hectic and rewarding career in medicine. Life was set for me and I had no plans of changing this.
Until of course I learnt there was a tumour growing in my brain. Life was flipped on its head. I destroyed all plans in my head almost instantly, there is a fear of planning anything initially (especially for me) following a shock diagnosis. But I started to blossom, as I lost my hair, I unleashed a new found confidence and with the help of a gal pal, was happily wearing my brand new wig that was fundraised for me, by a local family.
My grades were still exceptional from GCSE level up to A-Level but after long consultations it had been confirmed by my Neuro-Oncologist that I would never ever work as a Doctor due to a compromised immune system I was developing through treatment. I learnt to adapt.
So here's the long story short… Life before cancers plan was solo life for one as a doctor with a strong love for her dog. Here I am now however; settled down with the love of my life and looking to buy a house together and pushing myself to start a career in writing. My life has flipped entirely on its head, I have learnt so much about myself in this time, as you will.
It turns out I realised I can help make a difference to the world through charity work if I am unable to through a medical profession. That being loud isn't always a bad thing, I've had my voice heard by neurosurgeons, nurse, patients, charity workers and researchers at a variety of events about a cause that's close to my heart. Last and not least, I've learnt that I have much more inner strength than I ever believed pre-diagnosis and that I can face anything.
5. Beauty isn't how you see it in the magazines.
There will be moments where you stand in front the mirror in complete shock and full of devastation about how your appearance has changed. Mine was age 21, 22nd November 2016, I had just gotten strong enough following my meningitis diagnosis and emergency surgery which had (unbeknown to me at this point) left me with a missing section of my skull. I had gained the strength to walk the 100 steps to the bathroom and clasped onto the rail on the wall to take a rest before continuing. I looked ahead and staring back at me in the mirror was a face with a big white piece of tape across it that said 'NO BONE FLAP' in black sharpie marker which surrounded what seemed like a gigantic dip in my head. The skin was sunken in and I couldn't even hide it as I had no hair at this point. I felt absolutely disgusted in myself and shocked by how I looked. I remember thinking to myself that 'Beautiful women don't look like this.' I couldn't face it and simply turned in tears and went to bed.
More and more people came to see me in hospital and no one treated me differently due to my appearance. When I was out of hospital, a few people stared out at me, and eventually with my coping mechanism of humour, I started to offer photographs with people who stared too long. My friends and I built a full selection of jokes around the 'dip' in my head, with one friend likening it to a crisp bowl and another person informing me it'd be the perfect size to fit a wine glass into. I've had my head rebuilt now with a titanium plate, my hair has grown back. (I promise you it will grow back, until then PLEASE PLEASE enjoy wigs and the joy of just putting your hair on in the morning, an extra hour of sleep can do you the world of good when you are drained and fatigued from treatment and you can style your hair colour to your mood and outfit!) Most people are surprised now that I even have an incurable tumour, I look relatively normal except on the odd occasions when the wind blows my hair and you catch a glimpse of my wishbone shaped scar.
You are so beautiful, despite any changes to your external appearance… and this journey you're on is making you grow ever more beautiful on the inside.
6. Life is better when you're all together.
We've already mentioned about losing friends as an unwanted side effect of a cancer diagnosis, but you will make a new network of people that will be the best support as long as you all stick together.
For me this came from support groups, which I honestly attended begrudgingly initially believing they'd do me no good; yet I am still speaking to other patients I met years later. I met a great team of other young people (the young ambassadors) at The Brain Tumour Charity who were all going through similar experiences, they took me under their wing and I became a young ambassador giving me a strong network of young people and even the charity workers to turn too in my darkest hours or when I simply need some advice. The final group of people I met and bonded with unexpectedly was the group who also trekked across Iceland with me for Charity, since the event we've all been bonded for life and meet up regularly from all over the country and have group messaging to keep in touch.
I never expected to make friendships or any bonds at all with new people due to my diagnosis, and despite the cliche of it all; life is much better when you surround yourself with other people who can understand what you are going through.
7. Experience everything you can.
When I realised I may have a life limiting condition, I made a decision, ONLY I WAS GOING TO LIMIT MY LIFE. So I sat down and created a life list. I intend to do lots of things with my life, I want to visit a specified percentage of countries in the world, I'd like to have a job in a writing profession, I'd love to do a volunteer project abroad and raise £25,000 for The Brain Tumour Charity, who supported me through the worst of my cancer treatments and surgeries.
My advice for anyone with a diagnosis would be to grasp every opportunity you get. When a charity offers you a day of sailing or an experience day, please take it. You'll make incredible memories and from my experience, a day walking with Alpacas or a trip up to the Lake District can make the world of difference to your mental health and well being. Honestly for a few seconds surrounded by other people going through what I was going through, I started to feel like I fitted in.
8. You have to open your heart to love.
It's true when people say that hate is the strongest emotion. Hear me out here…
When I was first diagnosed I hated the world, I hated my damaged body, I hated the tumour that was trying to kill me, I hated the hospital I felt like a prisoner in, I hated God (if there was one, I wasn't sure at this point what I believed), I hated that other people were normal, I hated that I couldn't live like other people, I hated my bald head, I hated my ever expanding waistline, I hated cancer research adverts being on TV because that meant there still wasn't a cure and I hated the look on people's faces when they learnt it was cancer. I wasn't willing to let any love in, I let hate overcome me and I became bitter and depressed. I didn't want to fight my disease anymore and I honestly felt like I couldn't do it. I had two options at this point, and I'm glad I was guided in the right direction by my family and friends. I started to accept love. It has to be a conscious effort however though when I started looking for where there was love in the world, it was everywhere. Those cancer research adverts had thousands of people generously donating from the kindness of their hearts. My bald head meant that everyone could see and commented on my beautiful big eyes. My expanding figure meant I wasn't starving to death when I vomited due to medication as I had enough supplies of fat, my body loved my life enough to keep me alive at all costs. When I started to look for it I realised there was love all around me, as soon as I started to accept it, the weight of the world started to lift from me, I felt happier and eventually I found a real love. Love for life, myself and eventually someone else romantically.
9. Guidance comes from the most unexpected places.
You may not always agree with your doctors opinions. The best people to ask, as I've mentioned earlier are those you've met before in support groups or your clinical support worker. Your clinical specialist nurse has heard every question that you think is silly, trust me they've heard worse… (Especially if they had to work near me post-surgery!) Ask questions to anyone you feel comfortable with. Ask, ask and ask again because you will find the guidance and support. Call up your charity support line because they may be able to help you. I found so many answers from late calls to The Brain Tumour Charity support line. The kind hearted strangers who work at these charities will make every effort they can to get you the answers you need and guide you through anything you need.
10. Your family are priceless.
There are times where you will feel completely alone in this, because you feel like no one else can understand what you are going through. During my treatment I was totally oblivious to it, but my family were in fact battling through their own process of worry and grief of watching me change throughout treatment and my illness as a whole; all while they kept an outer appearance of strength and support for me through my hardest times. Without the strength of my family, despite every obstacle that was thrown in our direction I would have never made it through the darkest hours of my life. My advice to anyone receiving a cancer diagnosis is to remember that you'll be surprised by the amount of support you'll receive from those closest to you because you and your family are all in this together. Good times and bad times, you'll all feel it, in different ways of course; but you are all on a connected journey linked to their love and bonds with you.
TRUST ME – I'm speaking from experience here, there will be times that you feel like they totally don't understand it from your eyes; but it's all personality differences and sometimes at your lowest, you could benefit from listening to those more optimistic influences in your life.
health
About the author
I'm a 23 year old aspiring writer, who writes a selection of work inspired by my personal experience as a Brain cancer patient as well as a selection of creative writing pieces! All money earnt from any views is for charity!